Date: Saturday 21st November 2015, 3pm.

Venue: St. James' Park

Conditions: moribund





Newcastle United

Leicester City

0 - 3

.

Teams
45+1 mins: Where's Daryl Part 1: Jamie Vardy picked up the ball down the Leicester left and played it inside to Leonardo Ulloa before timing his run and picking up the return pass. The visiting number nine wrong-footed Moussa Sissoko before rifling in a shot inside Rob Elliot's near post at the Leazes end. Our right back was midway inside his own half.

Half time: Magpies 0 Foxes 1

62 mins: Where's Daryl Part 2: Like Louis Armstrong, Riyad Mahrez had all the time in the world to get inside the box and pick out the completely unmarked Ulloa at the far post who headed firmly past Elliot. Janmaat was standing motionless on the penalty spot and even glanced round to see Ulloa as Mahrez steadied himself to cross.

83 mins: Where's Daryl Part 3: Danny Simpson was fed the ball on the right of the six yard area and fired in a shot that Elliot that parried up into the air. As the ball came down, Chancel Mbemba and Elliot got in a tangle and committed hari-kiri allowing Shinji Okazaki to head and then scramble the ball over the line. Once again Janmaat was a statuesque onlooker.

Full time: Magpies 0 Foxes 3
Steve McClaren:

"It was the worst performance we've had this season, very disappointing and off the back of what has been a very good run. Believe you me the message to them is back on the training field on Monday and try to get some consistency in our performances.

"We've had a big setback today, but that wasn't us, that was nowhere near good enough, and all we can do is lick our wounds and work hard and make sure we're better next week.

"We know we've got the talent, but we have got to fight for that every day.

"I can give nothing but praise to Leicester. As bad as we were was as good as they were. It was a team performance, they were very well organised and didn't allow us to play. We couldn't handle it.

"Actually, I would not say it was a shock (to lose that badly). We've always known what the job is and it is a tough one. We know we're going to have bad days, and this was certainly one of them.

"We have to recover from that now. That is the key now. Have we recovered before? Yes. We need to do it again.

"You can see what our problems are - we were 1-0 down, but there were still 50 minutes to go.

"We need to create consistency and know what we are going to get week in, week out. You need to know what level of performance you are going to get and at the moment we do not know that.

"That's something we are searching for. We'll have to work very hard on the training pitch to find that.

"The players know what they are capable of and there have been times when they have shown it.

"We have seen it in the last five or six games, and even by digging in to get the result at Bournemouth. They showed a different set of qualities there.

"They know how to do it, but it is hard work doing it, and that is what it takes. Lots of things come into it, but we had collected seven points from the last four games so there were signs.

"But I have been saying all along that it is not that easy, and we're not at a level yet where we can have a degree of consistency week in, week out.

"At the moment, we do not know what we are going to get. I thought we looked fragile out there and that is something that can only be solved from within, both within each individual and within the dressing room as a whole.

"That is what we keeping working towards, and stress that is what we need to win in the Premier League."

Jovial Claudio Ranieri said about Vardy:

"I'm very, very happy for his performance. It's not easy to equalise a big champion. I want to say, 'Well done and thank you!'

"When a manager has a striker who is scoring goals, he's very happy. I want to say it's a great achievement - I hope he can beat it next match.

"It's fantastic, I love the English spirit. It's not important, the shirt, it's how the players play. That was the same when I managed (Gianfranco) Zola. I want to also say thank you to all the (Newcastle) fans who clapped Jamie.

"I say every time I want to see the horses at the end of the race, now it's not important. It's important for us because it's important we have 28 points, 12 (more) and we achieve our goal.

"After, we can speak about other things but now we are very, very focused on our goal.

"I am proving that I'm not past it like it seemed after the defeats with Greece (when he was their national team coach). It doesn't look like things have improved much with them since I left either.
"Now is when things start to get difficult. We've got Manchester United, Swansea, Chelsea, Everton, Liverpool and Manchester City."

Punts - in association with FREEBETS.com



Sadly the 7/1 enhanced price offered by favourit on a home win proved to be a pipedream and all the other optimistic punts we highlighted went up in smoke. We just couldn't bring ourselves to back the ten in a row man....


The Foxes met the Magpies for the third time in 2015 and City maintained their 100% record, following a 1-0 win in the FA Cup and 3-0 success in the PL - both coming at the Walkers Stadium.

NUFC last eight PL seasons after thirteen games:

2015/16: 10 points, 17th (scored 13, conceded 25)
2014/15: 19 points, 8th (scored 14, conceded 16)
2013/14: 23 points, 6th (scored 19, conceded 18)
2012/13: 14 points, 14th (scored 13, conceded 19)
2011/12: 26 points, 4th (scored 19, conceded 12)
2010/11: 18 points, 7th (scored 21, conceded 16)
2008/09: 13 points, 17th (scored 17, conceded 22)
2007/08: 18 points, 11th (scored 19, conceded 21)

Foxes in Toon - last 20:

2015/16 lost 0-3
2014/15 Won 1-0 Obertan
2009/10 Won 1-0 Guthrie
2003/04 Won 3-1 Ameobi, OG, Jenas
2001/02 Won 1-0 Solano
2000/01 Won 1-0 Cort
1999/00 Lost 0-2
1998/99 Won 1-0 Glass
1997/98 Drew 3-3 Barnes, Tomasson, Beresford
1996/97 Won 4-3 Shearer 3, Elliott
1994/95 Won 3-1 Albert 2, Howey
1992/93 Won 7-1 Kelly 3, Cole 3, Lee
1991/92 Won 2-0 Hunt, Clark
1990/91 Won 2-1 McGhee, Sloan
1989/90 Won 5-4 McGhee 2, Quinn 2, Gallacher
1986/87 Won 2-0 Goddard, Wharton
1985/86 Won 2-1 Clarke, Beardsley
1984/85 Lost 1-4 Beardsley
1982/83 Drew 2-2 McDermott, Keegan
1981/82 Drew 0-0
1979/80 Won 3-2 Shoulder 2 (2 pens), Cartwright

Full record v Leicester:
| | | | | | | |
| --- | --- | --- | --- | --- | --- | --- |
| | P | W | D | L | F | A |
| SJP | 56 | 37 | 11 | 8 | 106 | 66 |
| FS/WS | 55 | 10 | 14 | 31 | 69 | 111 |
Former Stocksbridge Park Steels, Halifax Town and Fleetwood Town striker Jamie Vardy became only the second player to score in ten successive Premier League games by notching here today.

Vardy emulated the achievement of Manchester United's Ruud Van Nistelrooy in 2003, netting in the closing eight games of the 2002/03 season and the first two of the following campaign. That sequence included goals at SJP in both April (his 3rd) and August (the record-breaking tenth).


Waffle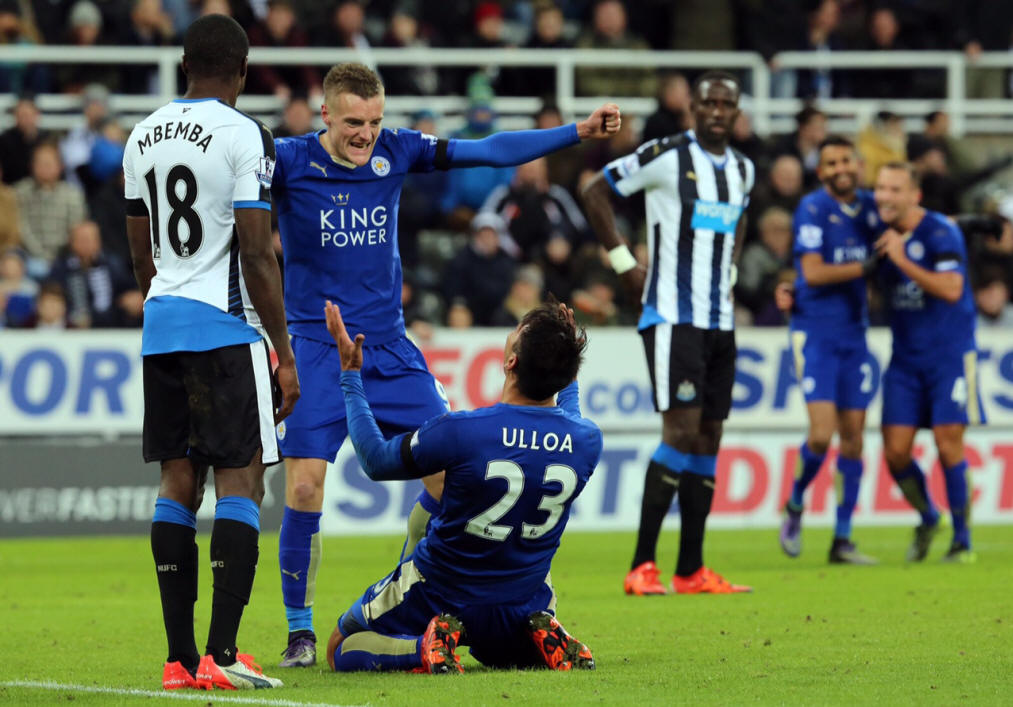 The language Steve McClaren used on the eve of this game when describing the state of his team included "fragile", iceberg and "Titanic" and those fears were soon justified as a side enjoying both form and momentum left HMS Newcastle holed below the waterline, having hit a Foxes glacier.

What was said afterwards in the home dressing room remains undisclosed, but the grumbles audible in the ground were amplified in bars and people's front rooms across Tyneside on Saturday night by a thoroughly disheartened fanbase fed up the careless antics of this excuse for a football team.

It's not losing that riles people - it's a meek acceptance of defeat and indifference to our fate. In the language of the billiard hall: this lot just don't give a f**k. After thirteen games, we sit fourth bottom as we did at that point in the relegation season of 2008/09 - but having gained less points, scored less goals and conceded more than in that miserable campaign.

Avoiding Match of the Day has become a regular feature of 2015 for Newcastle fans, but today was one of those games when it became a necessary evil: a second viewing required to fathom just how we defended so badly and achieved so little in attack across the course of 90 minutes.

In fairness though this was no real shock, with the fortuitous victory at Bournemouth last time out bearing many of the hallmarks of this defeat: no threat in the front third, space for the opposition in the middle, dereliction of duty leaving Rob Elliot in the firing line at the back and a staggering degree of ineptitude across the field when passing. Oh aye, and yet another team looked fitter than us.

Jamie Vardy grabbed the headlines with his tenth consecutive scoring game, but Claudio Ranieri's side excelled in all areas, aided in their quest to top the table by the departure of Cheick Tiote with a groin strain before half an hour was on the clock. Do you think he'll hurry back?

With Jack Colback still a fortnight away from fitness, that left only Vurnon Anita as a recognised central defensive midfielder and the consequent re-organisation at that point and again for the second half left United either completely befuddled or in a collective sulk, depending on your view.

How feeble can this lot be if relocating them 12 yards across the field causes them to become instantly worthless? File that under the same mysterious phenomenon as this confidence lark, allegedly sky high after fluking a win last time out but now now seemingly back below sea level.

The psychology of telling the players how great they were beating Bournemouth badly backfired here. Perhaps the club could install a giant pendulum on the back of the Gallowgate Stand, so that the drastic mood swings of the squad can be visible across the city 24 hours a day....

At the foreground of the home side's ineptitude was Aleksandar Mitrovic, a now familiar mixture of misplaced aggression, laziness and play-acting - having reputedly spent the international break at loggerheads with his national team colleagues for similarly brainless behaviour.

Substitute Florian Thauvin's flouncing reached new heights meanwhile (how is it possible to cost that much money, yet be a poor man's Cabella?) and Georginio Wijnaldum emulated his Dutch national teams displays by appearing to be completely invisible for large parts of proceedings.

This is the norm now: a lack of responsibility; an absence of concern. One word, indifference. If the glorious exception was the Norwich home game, this has come to be the rule. Steve McClaren may speak of needing consistency in our performances, regrettably we've found it in a negative sense.

And once behind, our inability to respond remains consistent - in stark contrast to Claudio's comeback kings. In order to lose the initiative however, one has to have it in the first place.

Janmaat was rightly criticised for being out of position as was the case against Norwich, but his other role as the main channel for our attacking efforts does at least partly explain his absence.

Trailing 0-1 at the break, changes were desperately needed, but casting an eye across the bench gave precious little cause for optimism that anything other than a defeat lay in store for us. If nothing else though, our current plight should suit Siem De Jong, now that our tempo is painfully slow enough to accommodate him.

Yoan Gouffran didn't get on the field today, but prepared for a central midfield berth in place of Tiote at Palace on Saturday with a reserve runout 48 hours later. Hopefully that rare start will go better than his last appearance in that role - the 1-6 defeat at Manchester City.

It's difficult to shake off the notion that McClaren and his staff are wasting their breath trying to instruct and cajole this bunch of jokers. Be it new arrivals or old stagers, this performance was collectively phoned in. At least against the mackems the penalty/red card incident knocked us out of what could be called a stride - no such situation existed today.
Had the home crowd chanted "you don't know what you're doing" it would surely have been aimed at the players rather than McClaren. Apparently uncoachable, this lot now appear unmanageable. The identity of those in the dugout appears increasingly irrelevant, as a team with no apparent clue what they are trying to achieve - or how to achieve it - go through the motions only too visibly.

Rather than email another ghost written apology to supporters, a far more relevant posting from the club would consist of transfer guru Graham Carr's analysis of this dreadful display - and justification of why his hand-picked, so-called superstars all performed so awfully.

One senses that the head coach would be an interested reader.

Biffa