Date: Saturday 28th November 2015, 3.00pm.

Venue: Selhurst Park

Conditions: crushing

Admission:

£

32 (£32 in 2013/14, £22
with PL fan fund discount in 2014/15)

Programme: £3.50






Crystal Palace

Newcastle United

5 - 1

Teams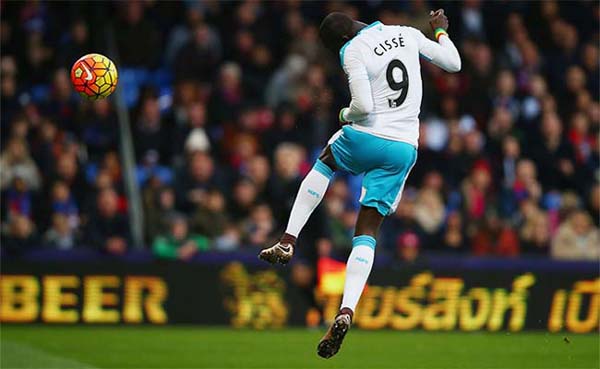 10 mins Paul Dummett's tackle down the United left put Georginio Wijnaldum in possession. The ball moved forward via Vurnon Anita and Ayoze Perez to Daryl Janmaat down the right. He ran inside and dinked over a lovely cross for Papiss Cisse to head home via an upright at the Holmsdale End.

The number nine looked offside and even looked across for a flag before celebrating, but for once he'd timed his run perfectly and TV footage showed the linesman had made a fine decision. 1-0

14 mins Chancel Mbemba's poor header back into the home half was launched up to ex-mackem Connor Wickham. He held off Fabrico Coloccini's weak challenge before squaring the ball to James McArthur, whose shot took a sizeable deflection off Dummett and wrong-footed Elliot. 1-1

17 mins Jack Colback got himself into bother in the centre circle allowing Palace to break at speed. Wickham's weak cross from the right beat Coloccini, Anita and Janmaat before reaching Yannick Bolasie, who lashed the ball past Elliot. Schoolboy defending would be harsh on schoolboys. 1-2

41 mins This time it was Anita who surrendered possession and Wickham trotted down the left with far too much time and space to pick out Wilfried Zaha in acres of space. His shot was hit into the ground and it bounced over Dummett, Elliot and Coloccini into the net 1-3

Half time: Eagles 3 Magpies 1
47 mins Half time substitute Jamaal Lascelles conceded a free-kick when climbing over the top of Wickham. Former Magpie Yohan Cabaye floated the dead-ball to the back post, where Damien Delaney beat a static Janmaat and nodded the ball down for Bolasie to fire past Elliot. Lascelles seemed more intent on blocking the player rather than clearing the ball, which didn't work.... 1-4

90+3 mins Mbemba lost the ball in the Palace half allowing Bolasie to break down the left and his cross was only half-cleared by Lascelles straight to McArthur, who hit a hard and low shot past Elliot from a narrow angle. 1-5

Full time: Eagles 5 Magpies 1

Steve McClaren said:

""That was not us, that is not Newcastle United. That is not what we expect, what the fans expect. That is not good enough.

"We are in a relegation fight. There is enough time (to stay up) and I think there is enough (quality) in that dressing room to do so. It is so, so disappointing.

"It is not about systems, it is not about tactics, it is about attitude and fight. It is about running backwards as quickly as you run forwards, but when the third goal went in that went down.

"Sometimes you have to go through adversity, no one better than myself and the staff have experience of that and coming through it. We have to instil that into the players we have.

"We are not coping very well in 95 minutes or game by game. We have good spells and bad and then we cannot recover.

"I said to the players 'back to work tomorrow morning'.

"These players have got to come through this, but there's no one more determined than myself to do that, starting tomorrow morning (Sunday). We hadn't planned the extra session.

"It's not right. We need to sort it out. You're going to do that on the training field, within the group, and within the work, and we've got to come through together.

"I'm hurting as much for the fans as ourselves. I'm really hurting. I've hurt in the past and we knew this was a tough job but this is getting tougher by the weeks.

"We know we're in a relegation battle, we've got 24 games left. It's about coming through adversity and bad times, getting stronger, showing character. And character, mental determination and fight - that's what you learn through adversity.

Asked if he still had the fans' support, he said:
"Well, I can understand that after today probably not. They showed their frustration, disappointment and anger, and rightly so, but we're as disappointed, hurt and angry as them.

"Every job I have started has been difficult at the beginning, from my first experience at Middlesbrough, where we lost the first four games. We were pointless and clueless, as we were called then, and it took a good six, seven months to get through that. Really bad times.

"Then (in the) second year we built a bit of belief. But the first 18 months were very, very difficult. We expect the same here. But thatís what I can draw on. Itís getting back to work: youíve just got to do the right things.
"While everyone else around you is losing their heads youíve got to keep yours. Youíve got to keep calm, perspective. I think thatís the key thing Ė thereís no panic.

"If there were six or seven, eight games to go, down there, then people would be, but weíre not panicking and I think thatís where experience tells.Ē

Steve McClaren first 14 PL games record:

Boro: 16 points (W4 D4, L6, goals F16, A20)
Newcastle: 10 points (W2, D4, L8, goals F14, A30)



Alan Pardew commented:

"(All our players) were really on it today. It was a pivotal game in our season, whoever the opposition was. Were we going to become a mid-table side or put ourselves back in contention? Because the top eight sides are really good sides. We've put ourselves amongst the Everton's and the Tottenham's and that's where we want to be.

"Look at Palace down the years when they play very well, this is the sort of team we have. With the energy and the quality of Cabaye in there, it makes us dangerous. Everyone is talking about how good Spurs have been and everyone. And we're right in there.

"The boys have a Christmas party so I hope they enjoy that and behave themselves and it will be a good weekend.

"Our crossing was fantastic as was some of the play up the top of the pitch. Connor Wickham showed all the kind of potential we thought he had as a number 9. Three or four assists - I thought he deserved man of the match, even though Mcarthur and Bolasie ran him close.
"It was a really great performance from us, we're sixth so it's not just about today, but about all season. It was our reaction on the training ground that got us the result today.

"There's no extra satisfaction (in beating Newcastle). It's difficult to talk about the opposition, I love the staff and players who are there, and the fans. Whatever I say about that club it gets contrived. All I would say is I hope their fortunes improve going forward.

"I think it's important that the group stays strong. Sometimes (when I was Newcastle manager) I felt in the position where you need everybody to pull for you and that's where they are now.

"Steve (McClaren) understands that as a manager. All the staff and players now have to really stick tight, get the barriers up and get themselves a win. I hope they do that next week.

"It looks like they're going to have to really fight for the rest of the season, but with the crowd and the way it is there they can reverse things."
The Eagles notched up a first win over the Magpies in 12 league and cup meetings, since a 2-1 league win at Gallowgate in March 1998. Since then we've won eight and drawn the other three.


The 36th Premier League goal Papiss Cisse
scored in our colours leaves him seventh in our PL scoring list, one behind sixth-placed Nolberto Solano.


This was only the fifth time in 820 Premier League games that we've lost by a 1-5 scoreline:

Aug 1999 Manchester United (a)
Feb 2008 Manchester United (h)
Dec 2008 Liverpool (h)
Nov 2010 Bolton Wanderers (a)
Nov 2015 Crystal Palace (a)

Newcastle have surrendered 10 points from winning positions in Premier League team so far this season, the highest by any team (ahead against Southampton then drew, ahead against Chelsea then drew, ahead against Manchester City then lost, ahead against Palace then lost).

We've also failed to recover from a losing position in any game in 2015. The last time we managed to do it anywhere was the 3-2 home win over Everton in December 2014 and the most recent one on the road was the 2-1 success at Spurs two months before that. We were 0-1 down both times.

Magpies v Eagles @ Selhurst - all time:

2015/16 lost 1-5 Cisse
2014/15 drew 1-1 Cisse
2014/15 won 3-2 (aet) Riviere 2, Dummett (LC)
2013/14 won 3-0 Cabaye, og(Gabbidon), Ben Arfa(pen)
2009/10 won 2-0 Nolan, Ryan Taylor
2004/05 won 2-0 Kluivert, Bellamy
1997/98 won 2-1 Tomasson, Ketsbaia
1994/95 won 1-0 Beardsley
1983/84 lost 1-3 Beardsley
1982/83 won 2-0 Waddle, Varadi
1981/82 won 2-1 Waddle, Mills
1978/79 lost 0-1
1972/73 lost 1-2 Tudor
1971/72 lost 0-2
1970/71 lost 0-1
1969/70 won 3-0 Davies, Dyson, Robson
1964/65 drew 1-1 Cummings

Full record v Palace:

| | | | | | | |
| --- | --- | --- | --- | --- | --- | --- |
| | P | W | D | L | F | A |
| SJP | 15 | 9 | 4 | 2 | 22 | 10 |
| SP | 16 | 8 | 2 | 6 | 22 | 18 |
| League | 31 | 17 | 6 | 8 | 44 | 28 |
| SJP(FA) | 6 | 5 | 0 | 1 | 13 | 4 |
| SP | 0 | 0 | 0 | 0 | 0 | 0 |
| SJP(LC) | 0 | 0 | 0 | 0 | 0 | 0 |
| SP | 1 | 1 | 0 | 0 | 3 | 2 |
| Cup | 7 | 6 | 0 | 1 | 16 | 6 |
| Tot | 38 | 23 | 6 | 9 | 60 | 34 |
Waffle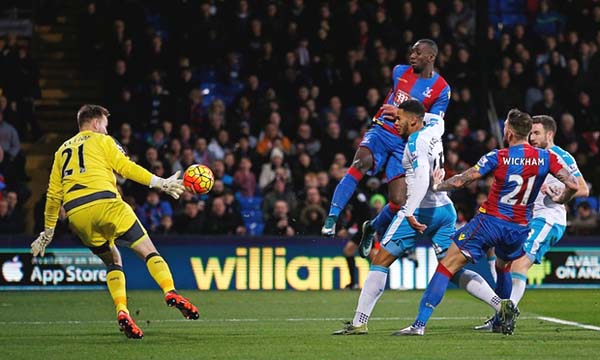 The Palace players may have celebrated victory with a night out dressed as cartoon superheroes, but their on-field display confirmed them as average Joes - the Clark Kents of the Premier League.

Sadly though, that unassuming manner was more than enough to dispose of a Newcastle side who fleetingly showed some application and athleticism before reverting to type and imploding again.

Five days earlier at Selhurst Park, the Eagles were sluggish and unimaginative in failing to carve open a reshaped mackem defence - before gifting a late goal to hand all three points over.

For Alan Pardew, failing to beat the mackems is hardly a novelty although the 4-1 howking his side inflicted on them last April was Palace's best Premier League scoreline until today. This was his 100th success in that competition as a manager and surely the least stressful of that century.

His successor had attempted to add goals and grit to his selection; fit-again Jack Colback returning to a midfield that was without the injured Cheick Tiote. Our flabby Serb meanwhile was rotated out of the side to be replaced by Papiss Cisse - whose opening goal on his 108th top flight appearance maintained a one goal in every three game ratio perfectly.

The fourteenth game of a campaign that has already contained some catastrophic lows at least brought the earliest goal Newcastle have scored in the league since March 2014, despite going ahead with only their third away strike in seven games this season (since Cisse headed in at the same end back in February we've managed to net just four times in 13 away games).

From then on though - after Cisse and Moussa Sissoko efforts were blocked in quick succession - the goal action was at the other end of the field and McClaren's ill-judged comments about "feisty" training sessions were firmly rammed back down his throat.

United were simply outwitted and out-fought. More fitting "F" words for this apology for a football team would be feckless, fearful or flippant, while away section chants of "you're not fit to wear the shirt" and "we're shit and we're sick of it" caught the mood precisely.

The joint worst defence in the division turned a lead into a deficit in four first half minutes and once again United fell into their designated role of victim only too readily. By half-time Palace had a third but any element of fortune in Wilfried Zaha's finish is tempered by the absence of marking.

With a resounding loss apparently inevitable, McClaren attempted to stem the tide by leaving the uninvolved Ayoze Perez in the dressing room and introducing Jamaal Lascelles in a switch to a three man central defensive line. That new formation held firm for precisely 97 seconds - admittedly a vast improvement on the 20 seconds we held out for when Lascelles arrived at Manchester City...

A defeat of epic proportions looked likely, but wayward Palace shooting rather than any revival prompted by the arrival of Siem De Jong and Yoan Gouffran delayed the fifth until added time, as Palace secured their most emphatic victory over us in 38 stretching back over a century.

The drift away of disconsolate away fans turned into a surge at that point, with vastly reduced numbers remaining to jeer at players and coaching staff as they indulged in the usual meaningless applause - about as sincere and meaningful as a ghost-written email from the training round cat.

An eighth loss of the season coupled with a win for the mackems and 98th minute late point saver for Bournemouth saw United tumble to second bottom, with only Aston Villa beneath us.

If losing to a side managed by Pardew is annoying though, enduring his patronising comments after full time is the ultimate indignity. An oil slick of insincerity inevitably oozed out: no animosity, wish them well, remember them in happier times - as if we were an ex-partner.

Speaking of marriage, a steadily increasing number of our followers look to be citing irreconcilable differences and limiting their attendance, if not boycotting completely. Today's away support came from across a large age range but a groundswell of toon teens were much in evidence: heartening on one level that the tradition is carrying on, but symptomatic also of mass mid-life desertions.

Regardless of our own feelings that he's going through the motions in the manner akin to that of Harry Redknapp's final season at QPR, our malaise is bigger than the manager - with many of the same dressing room shirkers that betrayed Pardew and Carver proving still re-offending.

Changing horses at this point would risk repeating our revolving door desperation of 2008/09 - not because we have particular faith in McClaren's managerial powers, but more for the sure and certain knowledge that no manager with any level of credibility - or alternative employment opportunity - would be desperate enough to try and solve Mike Ashley's ongoing cart/horse conundrum.

With the prospect of no more input into January transfer activity than last summer (when all the player deals were in progress before he put pen to paper) and warning shots across his bows for daring to brief journalists, it's easy to see just how compromised McClaren actually is - and consequently as doomed to failure as the next man.

Does he start with a blank team sheet when preparing for games, or are Colo and Moussa's names are pre-printed on the instructions of his superiors - along with a footnote about not to be considered for substitution under normal circumstances?

And as for his assertion that he wouldn't be walking away - obviously not, when there's a lucrative compensation package for getting the boot. Whether the blame game bypasses him and finally sees those responsible for selecting and signing this motley crew held to account remains to be seen.

Where else could a team drop into the bottom three of the league with two of their major signings absent - not injured, but on the bench, deemed too much of a risk to actually start or introduce?

To that we'd add in Pardew's alleged attempt to buy Colo in the summer and the curly-haired one receiving a new contract soon after - turning down the bid as barmy as extending the United career of a player whose physical powers fade by the week and who patently doesn't fancy it.

Taking any vestige of personality or backbone out of the squad - creating a dressing room stocked with dummies - also jostles for position in the stupidity stakes with a fixation on getting value by refusing signing a player with any experience of the league we currently play in.

At some point when the penny drops that the consequence of this flawed policy is to be excluded from the next financial bonanza, someone will pay the price, albeit in a well-compensated fashion.

The lesson of this regime though is that such a sacrifice will be no more than a blood-letting exercise and the inexorable decline of this club will continue, amid increasing indifference.

When your players don't give a toss, the temptation is to follow their lead.


Biffa