Date: Sunday 6th December 2015, 4pm.
Live on Sky Sports

Venue: St. James' Park

Conditions: miraculous





Newcastle United

Liverpool

2 - 0

.

Teams
Half time: Magpies 0 Scousers 0

69mins With no way forward down the United right, Moussa Sissoko funneled a pass back into his own half to Chancel Mbemba. The defender exchanged passes with Jack Colback before spotting that the visitors had been sucked infield and left Sissoko alone out on the touchline.

Gaining possession and with Daryl Janmaat lurking ahead of him, the French midfielder carried the ball forward before a deep but flattish centre picked out Georginio Wijnaldum as he made his way into the Liverpool box.

The Dutchman took a touch to kill the pace of the ball and switched feet before slipping the ball in front of his own team mate Papiss Cisse and away from covering defender Dejan Lovren, Taking a away from goal towards the North East corner of the ground, Gini's right footed shot (or cross) glanced off the knee of Martin Skrtel at the near post and into the Leazes net from five yards.

TV replays indicated that Wijnaldum's effort was heading across goal rather than in, but it didn't stop him from trying to claim the goal as his own. Proponents of the "level themselves out" theory meanwhile may match this goal up with Palace's opener against us the previous weekend, when the deflection wasn't enough to register an OG but left goalkeeper Rob Elliot completely helpless 1-0

90+3mins Clearing headers from Paul Dummett and Janmaat failed to eradicate the danger but at the third time of asking, Fabricio Coloccini muscled past Daniel Sturridge to nod the ball into the path of Yoan Gouffran.

He hooked it out to the United right where Sissoko had time to gather it and advance, evading a weary challenge on halfway from Alberto Moreno. Going towards goal, Newcastle's number seven looked up to see Ayoze Perez keeping pace with him but threaded a low diagonal pass between a pair of defenders for the onrushing Georginio Wijnaldum to reach and expertly flick right-footed past ex-mackem Simon Mignolet for our second goal of the game from our first effort on target.

The goal was greeted with an explosion of relief across SJP and as the game restarted, Liverpool boss Jurgen Klopp offered a congratulatory handshake to McClaren that was duly accepted. 2-0

Full time: Magpies 2 Scousers 0
Steve McClaren: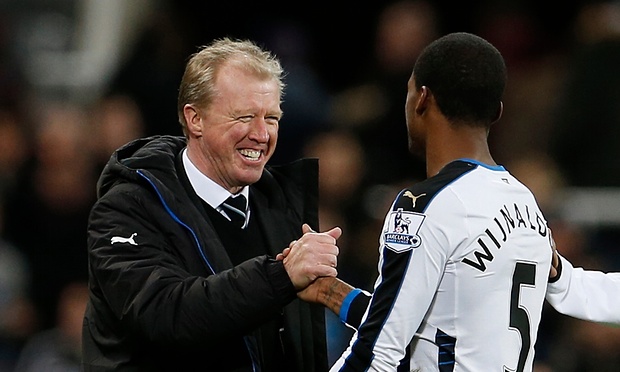 Drop you? No! would a fellow Dutchman ever do that!?

"(It's) sheer relief because even then I thought with a minute to go, we could likely concede two with the way we go. It was relief because you know Liverpool, they have got quality players in any moment and that could have spoiled it, like Chelsea, conceding just at the end.

"It could have spoiled it, but it didn't today. We'll enjoy this for 24 hours, Tuesday morning we will review it, bounce heads off the wall again and get back to work and get ready for next week.

"Now we have got to take that on. We are not getting carried away, we have a lot of work to do. People say, 'Where do you solve it?' You only solve it on the training field, you can only solve it through hard work, and that's what the team got back to today.

"It was a deserved win. We looked nervous at the beginning, but we said before the game the one thing we had to do was out-work Liverpool and if you work hard and you out-work a team like Liverpool, you have got a chance of winning.

"Hard work, then you get the luck, so I think we deserved it. We grew into the game and we showed what we are capable of doing. We hope that's the lightbulb moment that turns it around and we do that week in, week out.

"We might not get results, but it will certainly keep the crowd with us and certainly keep the spirit and give us a chance of picking up points.

"It's absolutely huge, absolutely massive. Once or twice we've taken ourselves to the brink of crisis and clawed our way back and that's what we've done today.

"That's the frustration of this job. You know what they (the players) can do, it's just confidence and belief. We looked very nervous at the beginning, the crowd looked nervous, but we grew into the game.

"When we get results, we have crawled off the field. We have done that today but we need to do that every week. It's an old cliche but the harder you work the luckier you get. Everything evens itself out and it's about time we had some decisions."

"We have been looking at various things. Changing the personnel. I considered leaving out every one of them! On Thursday evening we slept on it and said, 'Well, that team, more or less, that started the last six or seven games, were collecting points.' It was a case of people outrunning opponents. Being competitive. We gave everyone the chance to put it right.
"It has been a tough two weeks. The team have taken a lot of criticism — rightly so. We have no qualms. The only response you can give is on the pitch. We said you have to out-work Liverpool. Then you have a chance of winning.
"It has nothing to do with my job. It is to do with belief. We believe in this team and these players. They are young and confidence can be knocked easily and drained. In terms of me personally, it saves me from banging my head against the wall and wondering what to do next week.
"We grew into the game and have shown what we are capable of. We hope that is the light-bulb moment, when we [will now] do it week in, week out. We have had false starts. We felt we had turned the corner a bit three weeks ago. Something happened in the international break and we came back a different team.
"Today started with hard work. This team has talent and ability and when they show belief and confidence, they showed they are good players. They have crawled off there. They are exhausted. That is what happens when you win games.
"It is added (satisfaction) because it is Liverpool, the run they are on, the team they have and the energy they have. It was a huge test.

"It is okay doing it for Liverpool, but we have to do it the next week and the next one."

Asked what had gone wrong, Jurgen Klopp said:
"Nearly everything, I would say. The start, the middle and the end. I don't know. This was obviously not a really good football game, and that was 50 per cent because of Newcastle and 50 per cent because of Liverpool FC.

"It was an open game with no rhythm from our side. We were not creative enough, so we had no chances. We got this goal - it was something like a Christmas present or whatever. We made our goal, but because we weren't good enough today, the linesman thought, 'Don't make world-class goals if you play this s***'.

"The second goal I'm not interested in, it was a counter attack and that's normal. So we have to take this game and think about why it happened. That's not the biggest issue in the world.

"I think we deserved a point maybe but not more because we didn't play well enough. I like to take the dirty points too - it's no problem. If Alberto's goal was given it was 1-1 then the game can change. Until then we didn't play as good as we wanted to.

"I have to watch the game again. From the first second, we were not really in the game."

"I'm sorry if somebody is disappointed - we are not part of this discussion (about whether his side can win the league this season). We only try to play football and sometimes it looks better, sometimes worse. It was not a holiday game, I would say.

"I hope people did something better than watching this game. It wasn't the biggest fun."
Punts - in association with FREEBETS.com



The NUFC.com exclusive enhanced match offer from Ladbrokes came in, with Gini Wijnaldum an anytime goalscorer at a whopping 10/1.

Find all the latest offers for new punters online here



Newcastle
's eighth P
remier League

home game of the season
brought only a second victory at SJP and a welcome leap to nine points from a possible 24 (
three
losses, three draws, two
wins).


The eight home games in the same time period during the 2014/15 season harvested 14 points (two losses, two draws, four wins).


In the whole of 2015 to date (with two games to play), Gallowgate inhabitants have endured eight defeats, six draws and just four wins - or 18 points from a possible 54.

Martin Skrtel's own goal was the 37th to have counted for us in the Premier League and the Liverpool defender was also responsible for the 36th, at Anfield back in May 2014.

His seven PL OGs puts him level with fellow Red Jamie Carragher (although none of his were in our favour) but still behind the competition record holder Richard Dunne. His tally of ten included one against Newcastle - in the colours of Manchester City at SJP during October 2008.

Georginio Wijnaldum scored his seventh goal in our colours - all of which have come at SJP. His effort today was the first time we've scored after the 90 minute mark in any game since Steven Taylor's 91st minute effort against Cardiff City here in May 2014.

Siem De Jong started only his second PL game since joining Newcastle in July 2014 - a 3-3 home draw with Crystal Palace a month after that his first. At the current rate of progress he'll reach a half century during the 2051/52 season....by which time he'll be aged 63.

Fabricio Coloccini maintained his place in the side and the captain's armband for what was his 200th Premier League appearance - all of which have come in the starting XI. Three more games will see him become the Argentinean with most the PL games, beating the 202 of Carlos Tevez.

Liverpool's failure to win today means that they remain level with Manchester United as the team who have inflicted the most number of defeats on Newcastle - 81 in all competitions.

Reds @ SJP - Premier League era:

2015/16: Won 2-0 og(Skrtel), Wijnaldum
2014/15: Won 1-0 Perez
2013/14: Drew 2-2 Cabaye, Dummett
2012/13: Lost 0-6
2011/12: Won 2-0 Cisse 2
2010/11: Won 3-1 Nolan, Barton, Carroll
2008/09: Lost 1-5 Edgar
2007/08: Lost 0-3
2006/07: Won 2-1 Martins, Solano (pen)
2005/06: Lost 1-3 Ameobi
2004/05: Won 1-0 Robert
2003/04: Drew 1-1 Shearer (pen)
2002/03: Won 1-0 Robert
2001/02: Lost 0-2
2000/01: Won 2-1 Solano, Dyer
1999/00: Drew 2-2 Shearer, Ferguson
1998/99: Lost 1-4 Guivarc'h
1997/98: Lost 0-2 (LC)
1997/98: Lost 1-2 Watson
1996/97: Drew 1-1 Shearer
1995/96: Won 2-1 Ferdinand, Watson
1994/95: Drew 1-1 Lee
1993/94: Won 3-0 Cole 3

Full record against the Reds:

| | | | | | | |
| --- | --- | --- | --- | --- | --- | --- |
| | P | W | D | L | F | A |
| SJP | 80 | 33 | 24 | 23 | 118 | 99 |
| Anfield | 79 | 11 | 15 | 53 | 79 | 180 |
| League | 159 | 44 | 39 | 76 | 197 | 279 |
| SJP(FA) | 4 | 4 | 0 | 0 | 6 | 1 |
| Anf/W | 5 | 0 | 1 | 4 | 3 | 13 |
| SJP(LC) | 1 | 0 | 0 | 1 | 0 | 2 |
| Anf | 1 | 1 | 0 | 0 | 1 | 0 |
| Cup | 11 | 5 | 1 | 5 | 10 | 16 |
| Tot | 170 | 49 | 40 | 81 | 207 | 295 |
Waffle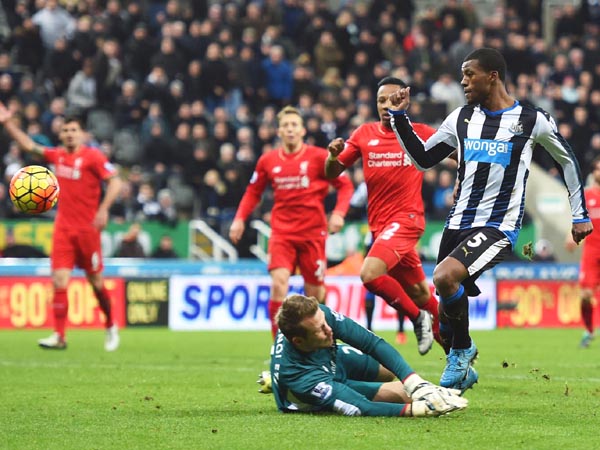 Having lost just once away from home this season and arriving at Gallowgate

on the back of

a 6-1 victory

at Southampton in midweek

, the only uncertainty about

this

game

appeared

to be

exactly how many goals Jurgen Klopp's side would win by.

However that grim outlook failed account for a flat Liverpool display, the scoring instincts of Gini Wijnaldum and the fact that our best performances this season have come with

Sky cameras

in attendance

.

All three of United's league wins

were witnessed by

live TV audience

- although

this

second successive home win over the Reds was undoubtedly the least expected

of that trio.

Asked whether he'd enjoy a celebratory glass of wine post-match, Steve McClaren admitted that he would be fast asleep instead.

However, even in his wildest dreams the Magpies coach surely couldn't have imagined a better way of answering the criticism of his methods and squad that had built steadily following back to back surrenders to Leicester City and Crystal Palace.

The biggest

home

crowd of the season witnessed a much-improved

showing

from

Newcastle

as they outfought and outplayed

a listless Liverpool side featuring a below-par old boy James Milner.

Having recalled Mike Williamson from his loan at Wolves only for him to promptly render himself hamstrung (as was fellow defender Jamaal Lascelles), the United coach left his back five alone and made only one change to the side howked at Palace, replacing Ayoze Perez with Siem De Jong.

The Dutchman has been trying to recapture a semblance of form and fitness since the start of 2015 and although hardly looking sprightly today, he at least had some sort of presence and contributed more than during his non-appearance against Sheffield Wednesday earlier in the season.

Having been club captain at Ajax, De Jong's attempts to organise and cajole his colleagues were evident here - a vocal presence in our side noticeable partly because neither set of fans were in particularly good voice during a forgettable first half.

With only two quarter chances falling to Papiss Cisse in an opening period when our best moment was a backheel from Janmaat, United began to expand their horizons following the break. Liverpool however remained unimpressive (at least until mesrs Sturridge and Lallana arrived); their display like many of ours this season - enjoying

harmless bouts of possession and

carrying

no goal threat.

A

game of few chances

saw

Rob Elliot required only for a couple of routine stops

, although visiting forward Christian Benteke should have buried a nodded down corner from inside the six yard box on 21 minutes - his effort somehow clearing the crossbar.

The Newcastle goalkeeper was beaten by Moreno's first-time volley that had already been wrongly flagged as offside and would have brought the Reds level just 10 minutes after falling behind. TV pictures showing the Spaniard to be onside, although play had stopped before his effort went in.

Had we conceded at that point, it's hard to believe we'd have gone and won it, but for once we rode our luck and gained just reward for a

spirited display

. Some strong challenges saw Colback, Vurnon Anita and Cisse all go into the book, but defensively the Magpies looked infinitely more organised and committed with Dummett and Coloccini visibly more solid that at Selhurst Park.

As is often the case with us, the opening goal was absolutely crucial and once it arrived, the home crowd roared their approval as an improbable three points suddenly seemed possible and the recent frustrations melted away. And further afield, black and whiters bellowed encouragement and shook fists at TV screens, sensing something worth supporting for the first time in far too long.

Klopp's side kept winning possession but they weren't creating many clear openings and as the time ticked away the black and whites looked like holding on. An incredible five additional minutes were summoned from somewhere to add another layer of tension, but in the third of those, Sissoko teed up Wijnaldum to dink home the clincher and provoke wild and extended celebrations.

The win left

us

in

the bottom three but took us a point above the mackems, joining Bournemouth and Norwich

City

on 13 point

s and halting talk around Tyneside that McClaren would be out by before Christmas in the wake of expected losses to Liverpool and Spurs.

Welcome and unexpected this win was though, it does underline our inconsistency and tendency to raise our game against the "big" teams. We've lost just one of our last eight home games against Liverpool and Chelsea combined, but less celebrated teams continue to come here and prosper.

Frankly though, beating anyone after our recent showings was a massive bonus and partial payback for those who endured the dereliction of duty against Palace and Leicester but still turned up for more punishment - players kissing the badge a week after wiping their backside with it. And by the way, how anyone can seriously talk of turning corners after the Bournemouth game remains a total mystery - a game only valuable in terms of the result and gained via a diabolical performance....

Is it too simplistic to say that the level of performance seen today is motivated by envy and a desire to swap shirts on a more longer term basis than at full time? Are the contributions of messrs Sissoko and Wijnaldum any different to Chris Waddle scoring at Spurs this week back in 1984?

If that were the case, then it would tie in with our declared blueprint but hardly engender a feel good factor on Tyneside as to our future as a club, although one couldn't blame them.

For now, our expectations have shrunk so much there's a gratitude verging on the pathetic when players do what they are told - and paid - to do, actually try and look as if they give a toss for their employer. In some ways, cheering them off the field was akin putting a garland round the bus driver's neck for getting you to the Haymarket on time. Winning didn't used to be a rarity.

Something needs to motivate them though, and until today it didn't seem to be a former England boss. Let's hope that a few of them fancy a Seven Sisters switch almost as much as a Liverpool home. Perez first goalscorer next Sunday then....

Biffa