Date: Sunday 13th December 2015, 4.00pm.
Live on Sky Sports

Venue: White Hart Lane

Conditions: exultant

Admission:

£

42 upstairs / £37 downstairs (unchanged for the third successive season - although NUFC funded a £10 reduction in 2014/15)

Programme: £3.50




Tottenham Hotspur

Newcastle United

1 - 2

Teams
39 mins Having flicked a shot over the bar, Magpies goalkeeper Rob Elliot made a rare error from the resulting corner. As Eric Dier headed a Christian Eriksen corner goalwards, Elliot palmed the ball in a vain attempt to block - instead taking it beyond Vurnon Anita at the far post who could otherwise have cleared it off the line. 0-1

Half time: Spurs 1 Magpies 0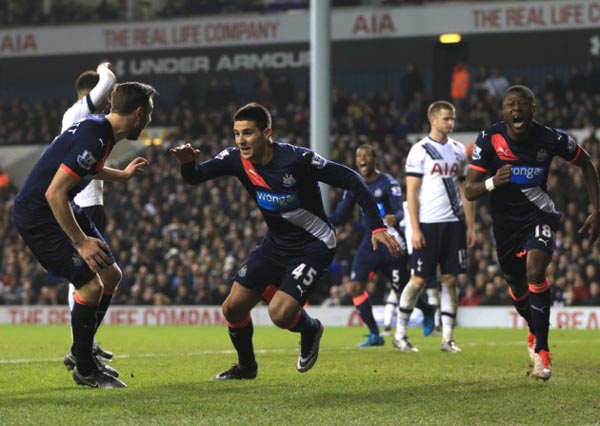 74 mins Former mackem, Danny Rose, blocked Daryl Janmaat's attempted cross with his arm and Jack Colback lined-up the free-kick down the Newcastle right, a short distance in from the corner flag.

His whipped centre initially seemed over-hit but Fabricio Coloccini did well to peel away to nod the ball back across goal to Chancel Mbemba. His stooping goalward header somehow eluded both Hugo Lloris and Toby Alderweireld, allowing Aleksandar Mitrovic to poke it over the line from inches out.

The goal came barely 90 seconds after the Serbian had appeared on the pitch and he ran towards the visiting dugout before embracing fitness coach Alessandro Schoenmaker - who had told Mitro just moments earlier that he would score in the game. 1-1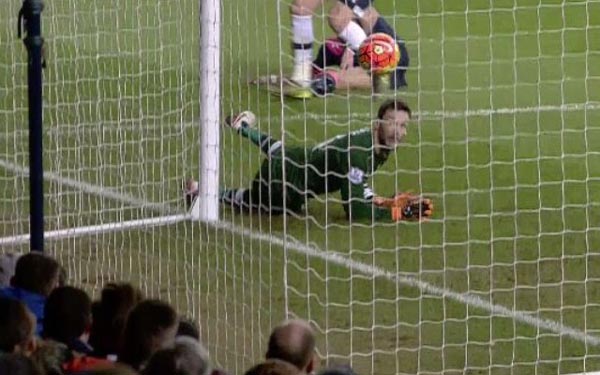 90+3 mins A weak clearing header from Spurs was nodded back from halfway by Jack Colback and met by Mitrovic, who laid it infield to Georginio Wijnaldum. The Dutchman's first-time cushioned flick forwards with the outside of his boot then found Mitrovic advancing into space and he was able to nod it over Jan Verthongen and into the Spurs box for Ayoze Perez to run on to.

Running out of pitch and with Verthongen breathing down his neck, the Spaniard allowed the ball to roll off his chest and as it dropped he hit a first-time right-footed shot with power. Lloris reached it and slapped the ball into the turf with both hands but the momentum saw it nestle nicely in the net at the Park Lane End of the ground. The more you watch the move, the better it looks..... 2-1

Full time: Spurs 1 Magpies 2
Steve McClaren:

"I thought the players were fantastic today. It's answered the critics we have had over last four weeks and it was a great performance in the second half and a great result.

"We have asked for consistency and the last two weeks they have provided that and it has brought everyone closer together. We kind of lost something in the international break and it's taken us two weeks to get that.

"This was a win for the players. Half-time was a big test for this team. We've come in at half-time before and the dressing room has been quiet and disappointed, but it was so vocal here.

"There was such a determination among the players not to lead down the normal path of losing the game. The response in the second half was fantastic.

"There was so much going on in there – Robbie Elliot, Fabricio Coloccini, to be fair, all of them. We couldn't shut them up, and they took it on board. That's the pleasing thing for me. We've not won back-to-back games for over a year, we've not had a comeback win for about a year, so to do it was immense. You can talk and talk but the players did it on the field.


"There have been two excellent performances and results. We said after Liverpool: 'That's what we are. That's what we want to be.' And today: 'That's what we are. That's what we want to be.' We want to be this every week. It only comes from a platform or a bed of hard work and attitude and commitment and discipline. And the players had that. When they do that, we have got a chance of winning games.
"We've had difficult times and the season has been up and down. We've asked for consistency and the last two weeks have provided that, on the back of a lot of criticism. But there's still a long way to go. And we've got a tough one next Saturday against Aston Villa.
I haven't spoken to Mike Ashley. He is probably pleased he saw that. We have had glimpses of that and threatened to do that on occasions. But the character in the dressing room was great. It was great to be in there.

"All you ask from players is that they give a response. If you are on the bench, come on and have an impact. Ayoze and Mitro have not played so they are disappointed. You can be disappointed, come on and not perform but they were disappointed, came on and showed that they wanted to play. They've won the game for us. Today will do them and the team a world of good."

Mauricio Pochettino commented:
""We feel very disappointed. We played very well in the first half and deserved to score maybe one or two more, but you know, in football, when you don't kill off the game, things can happen.

"In the second half we were in control until they scored. The problem is not about energy but if you make mistakes, you can pay and today was unlucky because the second half was under control and if we analyse the game, it's not fair that we lost.

"But you need to work hard for 90, 95 minutes and it's never finished until the referee's whistle. You always need to learn and this is a good mentality - we need assess why it happened. In football, sometimes it's difficult to explain.

"I thought the first half was fantastic and it's difficult to understand why we lost control in the second half. One nil up always gives the opponents the chance to come back into the game.

"We lost concentration and made easy mistakes, we started to give the opponents the belief they can win the game.

"The chances that we conceded were easy for Newcastle, we need to analyse the game. Our first half was fantastic and our second half we need to analyse - I want to see the game again.

(Am I) concerned? No. In football you can always improve. After the first half we were happy in the stadium but in the second half it was not the same, it was a bad night for us.

"If you want to play for the top the pressure is top but it is not about the age, the first half was one of the best we have played, we are disappointed in the end result."

NUFC last eight PL seasons after sixteen games:
2015/16: 16 points, 15th (scored 18, conceded 31)
2014/15: 23 points, 7th (scored 18, conceded 22)
2013/14: 27 points, 6th (scored 23, conceded 22)
2012/13: 17 points, 14th (scored 18, conceded 23)
2011/12: 27 points, 6th (scored 21, conceded 19)
2010/11: 19 points, 11th (scored 24, conceded 25)
2008/09: 16 points, 16th (scored 19, conceded 24)
2007/08: 22 points, 10th (scored 23, conceded 26)
Steve McClaren guided his side to successive Premier League wins for the first time as Magpies Head Coach - the last time we managed it was in November 2014 under Alan Pardew (when we went on to win five in a row).

We also recovered from going a goal behind to win in the PL for the first time since the 3-2 home success against Everton during December 2014. The last away turnaround of that type came at Spurs in October 2014 when we also turned a 0-1 HT deficit into a 2-1 FT win.

Newcastle recorded their ninth PL away win over Spurs in 22 visits - making White Hart Lane our most lucrative venue for points collection after SJP. Until this visit, the Cockerels had shared the title of most welcoming hosts with Aston Villa (eight wins).

United's third successive victory at White Hart Lane matches our best-ever run there, with a trio of top flight wins coming in our maiden three league visits (1909-12). The best sequence of away wins in the PL remains the four against Crystal Palace at Selhurst Park from 1994 to 2013.

We've scored a total of five goals in those three wins - all at the Park Lane End. The last Magpie to net at the Paxton Road End was Yoan Gouffran during a 1-2 loss in the 2012/13 season.

Moussa Sissoko is the only player to have started the trio of victories here, with Vurnon Anita and Yoan Gouffran playing some part in all three.

And the Magpies continued their run of PL victories live on TV this season, all four having come in front of the cameras (Sky with three including today, BT with one).

Ayoze Perez bagged his fourth goal of the season and the eleventh of his Newcastle career - all of which have come in the PL. That brings him level with current colleague Yoan Gouffran, plus former Magpies Nicos Dabizas, Robbie Elliott, Keith Gillespie and Steve Watson.

After defeats at Swansea and the mackems, a third airing for the dark blue change strip brought our first goal and first victory in it.

Magpies @ Cockerels - Premier League era:

2015/16: Won 2-1 Mitrovic, Perez
2014/15: Lost 0-4 (LC)
2014/15: Won 2-1 Ameobi, Perez
2013/14: Won 1-0 Remy
2012/13: Lost 1-2 Gouffran
2011/12: Lost 0-5
2010/11: Lost 0-2
2008/09: Lost 0-1
2007/08: Won 4-1 Butt, Geremi, Owen, Martins
2006/07: Won 3-2 Huntington, Martins, Butt
2005/06: Lost 0-2
2004/05: Lost 0-1
2003/04: Lost 0-1
2002/03: Won 1-0 Jenas
2001/02: Won 3-1 Acuna, Shearer, Bellamy
2000/01: Lost 2-4 Solano, Dyer
1999/00: Drew 1-1 Speed (FAC)
1999/00: Lost 1-3 Solano
1998/99: Lost 0-2
1997/98: Lost 0-2
1996/97: Won 2-1 Ferdinand 2
1995/96: Drew 1-1 Ginola
1995/96: Won 2-0 Sellars, Ferdinand (FR)
1994/95: Lost 2-4 Fox 2
1993/94: Won 2-1 Beardsley 2
Full record v Spurs:

| | | | | | | |
| --- | --- | --- | --- | --- | --- | --- |
| | P | W | D | L | F | A |
| SJP | 70 | 28 | 19 | 23 | 120 | 103 |
| WHL | 71 | 23 | 11 | 37 | 82 | 131 |
| League | 141 | 51 | 30 | 60 | 202 | 234 |
| SJP(FA) | 4 | 4 | 0 | 0 | 13 | 1 |
| WHL/OT | 5 | 1 | 2 | 2 | 5 | 5 |
| SJP(LC) | 2 | 1 | 0 | 1 | 4 | 3 |
| WHL | 2 | 0 | 0 | 2 | 0 | 5 |
| Cup | 13 | 6 | 2 | 5 | 22 | 14 |
| CS | 1 | 0 | 0 | 1 | 1 | 2 |
| Tot | 154 | 57 | 32 | 65 | 224 | 248 |
Waffle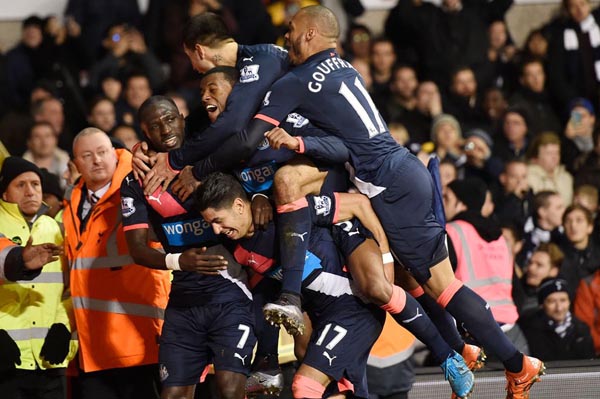 Substitute pair Aleksandar Mitrovic and Ayoze Perez, gave Newcastle a spectacular victory at White Hart Lane as they came from behind to record back-to-back League wins for the first time in 2015.

United's third successive league triumph at what should surely now be renamed Black and White Hart Lane took them out of the bottom three and up to fifteenth after six unlikely points from two games.

Quite where this latest triumph came from - after a miserable first 45 minutes in which Rob Elliot's agility kept the score down to one - remains a mystery but yet another live Toon TV thriller had a memorable finale.

One point against a team in grand form would have been gratefully accepted, but Steve McClaren's side confounded expectations to take all three off a side who were unbeaten in fourteen league fixtures since the opening day of the season.

Unsurprisingly unchanged from the Liverpool victory, our best effort of the opening half came after just five minutes, when Siem de Jong's goalbound shot looked to be heading for the top corner until it hit Papiss Cisse who had inexplicably strayed into its path.

Thereafter, United seemed to have reverted back to old habits when creating very little, cheaply surrendering possession and looking shaky at the back - with the busy Elliot denying Harry Kane and Erik Lamela twice and fit enough to kick the ball upfield today (relying on long throws last Sunday).

The second from Lamela was a fine tip over the bar but from that corner Spurs took the lead as Elliot blotted his copybook and the game seemed to be over as a contest with a measure of relief that we trailed by just one goal.

For once though, McClaren's half-time instructions seemed to have an effect and his side emerged to show a spirit and endeavour that had been noticeably lacking.

Moussa Sissoko slotted in Cisse but the striker dragged his shot narrowly wide when an equaliser looked likely. And at the other end, Elliot saved a long shot from Kane and then Sissoko found Cisse again but his header lacked power.

With the travelling fans rightly sensing that Spurs were in their comfort zone and fading with a lack of offensive options on their bench, the shouts went up for Ayoze Perez to be introduced - and he was quickly on in place of Siem De Jong.

Mitrovic soon replaced Cisse - after he'd dragged a shot wide when well place - and the impact was almost immediate with an equaliser (although the substitute looked to have got away with an elbow aimed towards Kyle Walker in his first challenge after arriving).

That sparked scenes of wild celebration in the away corner at that end of the ground, but little did they know what was to follow - Mitrovic appearing to have cost his side the win on 90 minutes as he somehow failed to make contact with Sissoko's low centre from the right in front of goal.

Inches away from a famous victory it seemed, but there was still time for Perez to worm his way into the box and fire the winner past Hugo Lloris for the second time in two seasons. That came in the third minute of added time and there were only two more minutes to survive before referee Roger East blew the final whistle to signal huge partying among the away fans and players.

United climbed to fifteenth, leapfrogging Norwich, Swansea and Chelsea to join Bournemouth on 16 points after 16 games. That's still some distance from safety or respectability, but a quantum leap away from the despondency that fans felt returning from Palace just a fortnight earlier.

And while the coaching staff can take credit for their role in reviving our fortunes, the praise falls squarely on the shoulders of the players - just as the blame did earlier this season, when they played as individuals and looked anything but committed to the cause.

Areas of concern remain, not least the lack of a threat down the left flank and the issue in keeping Georginio Wijnaldum involved in away games, but uncomplicated effort and commitment is beginning to pay dividends. Much more of this and we might be able to try at Watford in the Cup.

What now looks to be a golden opportunity to gather three more points them comes against Aston Villa on Saturday, as Newcastle bid to win back to back home games for the first time in 2015. That sobering fact alone should be enough to dispel thoughts of complacency though, or delusions that anything other than stopping the (considerable) rot has been achieved as yet.

Having never sampled what it feels like to walk out of Wembley as a winner, there aren't many better feelings than striding down the Seven Sisters Road having nailed this lot in their own backyard once again. And to do it in the final seconds just adds a further level of pleasure.

Pedro 90 minutes 1993, Jenas 90 minutes 2003, Perez 90 minutes 2015. The toast is late scorer.


Biffa

(
Thanks to RB for provision of celebratory rum ration)