Date: Saturday 19th December 2015, 5.30pm. Live on Sky Sports

Venue: St. James' Park

Conditions: Not quite Brunton Park, but on the wet side of soggy and looking in danger of an abandonment before the interval.




Newcastle United

Aston Villa

1 - 1

.

Teams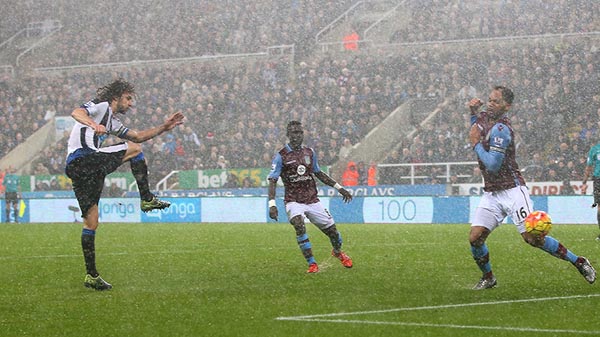 38 mins In driving rain, substitute Aleksander Mitrovic reached Jack Colback's free kick from the right flank to head goalwards, Brad Guzan tipping it over for a flag kick in Strawberry corner.

What looked like a poor delivery from Siem De Jong skidded across the Villa area before finding an unmarked Fabricio Coloccini who hit a firm low shot from eight yards that went through Guzan and found the back of the Gallowgate goal. 1-0

Half time: Magpies 1 Villans 0

61 mins Visiting substitute Rudy Gestede made a ridiculous two-handed push on Chancel Mbemba that went unpunished and won a corner that Colback cleared at the near post. There didn't seem much danger when Jordan Veretout's inswinging cross from the right reached Jordan Ayew towards the edge of the box, but with Daryl Janmaat opting not to track him, the former Marseille player turned to sweep an excellent effort over the helpless Rob Elliot and into the top corner. 1-1

Full time: Magpies 1 Villans 1
Steve McClaren - who really should have had a brolly - said:


"I have just seen it again (De Jong's miss) I have seen him thousands of times just put that in. I don't know, he was maybe unsighted - I think the defender just got across - but it was kind of the defining moment.

"Two minutes later, they go and equalise and then we have a bad 10-minute spell. But then I thought we recovered well from that and really went for the game at the end and again had two good chances with Gini and Ayoze.

"So it's frustration, for definite, but the players - we should win that game with the chances. But that's football and sometimes you do, sometimes you don't.

"I must say from where we were to where we are finishing at Christmas, it's a lot healthier and the key thing is the attitude of the players.

"They are staying in the game, they are fighting for 95 minutes, they are finishing games strong - they did last week and won the game there, and nearly did it this week. But we'll take seven from nine and move on.

"They know when their team don't try and don't put the effort in and don't show attitude and don't want to win the game.

"We were going forward at the end, we opened the game up, put a wide player on for a defensive player and wanted to win the game and went for the game so I was a little surprised.

"But you know you are always going to get that in football and you can't satisfy everybody. We have to overcome the emotional fragility of the crowd and I thought we did that to a large extent as we did against Tottenham and in the previous two games.

"We are trying to convince them to fight and come through it and see what you can do and conditions were really poor to play good football which is what we like to do and the players did well in it I thought.

"Everybody is beating everybody else and you should show no disrespect to anyone else, no matter how many points they've got because it is so tight and it's not a given to win any game, as we have seen with some of the results today and a lot of away wins, but I think you will find that, although it may even itself out towards the end of the season.

"But we are growing, we are getting better, we continue the run, we would have taken seven from nine and we move on to Everton.

"We've got the points, the performances and the way the team is fighting, ten-12 games ago after conceding, you could tell there was nervousness, we came back from that which pleased me and we had chances to win the game at the end and it's frustrating we never."

"We are not at that level yet but that is the level you want to get to. We have a certain strategy and game plan in each game and that does not necessarily mean controlling a game through possession.

"Sometimes we are a better team when we are breaking, as we saw again on Saturday. We are trying to get that balance between the two so we are growing, developing, we are not there yet but as long as we keep battling and picking up the points and always being competitive.

"Every manager says they could be doing this and that in their interviews, in the last two weeks with Liverpool and Spurs and previous to that we were talking about eight games, 13 points, we had two bad performances.

"Of course it is going to be nervy and that ebbs through from the whole stadium. You can feel the tension in certain spells of the game but the one thing I did like was the way they did overcome that.

"We had a bad 10-15 minutes and overcame it and finished the game strong and that pleased me because I thought ten games ago we would have lost that game."

Remi Garde said:
"You know, maybe this is the point that we will need at the end of the season, and then I want to be optimistic regarding the way we reacted in the second half.

"Of course if you look at the first half, obviously for me it's a lack of confidence of my players coming into the game and saying, 'We don't know exactly what is going on'.

"When you are bottom of the league, the confidence is not straight away within the game. We have to battle for that and when we are in a situation where we have nothing to lose, we start to play and that was the case this afternoon.

"The difficulty is to do it for 90 minutes, this is our problem currently, to play a whole football game with intensity, to win the duels at the start of the game.

"We have to work on that and the next game will be very important, it's very, very important for us."
Punts - in association with FREEBETS.com



The NUFC.com exclusive enhanced match offer from PaddyPower of 7/1 for a Toon win seemed a cracking punt but only Siem de Jong knows how that didn't pay out....

Find all the latest offers for new punters online here

Villa haven't beaten Newcastle on Tyneside since the infamous Dyer/Bowyer "fight" game in April 2005, when we finished with eight men and lost 0-3.
Since then we've won six and drawn four.

Our last defeat anywhere to this lot came at Villa Park back in April 2010 when we lost 0-1. Since then there have been five Newcastle victories and four draws.

Todays' failure to collect three points means that Newcastle have failed to register back to back home victories during the whole of 2015.

Fabricio Coloccini scored his first competitive senior goal since November 2014 and his seventh for the club in all competitions:

Sep 2009 Cardiff City (a) header (won 1-0) CH
Feb 2010 Watford (a) header (won 2-1) CH
Oct 2010 Wigan (h) header (drew 2-2) PL
Jan 2011 Spurs (h) shot (drew 1-1) PL
Sep 2011 Forest (a) header (won 4-3) LC
Nov 2014 West Brom (a) header (won 2-0) PL
Dec 2015 Aston Villa (h) shot (drew 1-1) PL

For the third successive meeting of these sides at SJP, both sides had different managers: (2013/14 Alan Pardew v Paul Lambert, 2014/15 John Carver v Tim Sherwood, 2015/16 Steve McClaren v Remi Garde).

Villans @ SJP - Premier League Years:

2015/16: Drew 1-1 Coloccini
2014/15: Won 1-0 Cisse
2013/14: Won 1-0 Remy
2012/13: Drew 1-1 Ben Arfa
2011/12: Won 2-1 Ba, Cisse
2010/11: Won 6-0 Barton, Nolan 2, Carroll 3
2008/09: Won 2-0 Martins 2
2007/08: Drew 0-0
2006/07: Won 3-1 Milner, Dyer, Sibierski
2005/06: Drew 1-1 Shearer (pen)
2004/05: Lost 0-3
2003/04: Drew 1-1 Robert
2002/03: Drew 1-1 Solano
2001/02: Won 3-0 Bellamy 2, Shearer
2000/01: Won 3-1 Glass, Cort, OG
2000/01: Drew 1-1 Solano (FAC)
1999/00: Lost 0-1
1998/99: Won 2-1 Shearer, Ketsbaia
1997/98: Won 1-0 Beresford
1996/97: Won 4-3 Ferdinand 2, Shearer, Howey
1995/96: Won 1-0 Ferdinand
1994/95: Won 3-1 Venison, Beardsley 2
1993/94: Won 5-1 Bracewell, Beardsley 2, Cole, Sellars

Full record against Villa:
P

W

D

L

F

A

SJP

77

48

15

14

162

90

VP

76

20

19

37

80

136

League

153

68

34

51

242

226

SJP

(FA)

2

1

1

0

5

3

PB/VP/W/CP

5
1
0
4
3
15

SJP

(LC)

0

0

0

0

0

0

VP

0

0

0

0

0

0

Cup

7

2

1

4

8

18

Tot

160

70

35

55

250

244
Waffle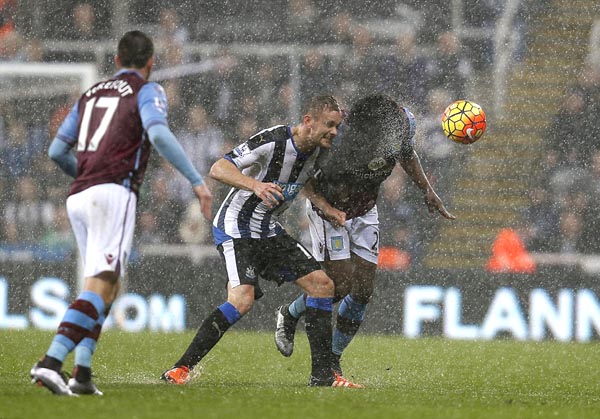 Hopes of a third successive win for Newcastle drained away at a saturated St. James' Park on Saturday, as the Premier League's basement side came from behind to salvage a point in the live TV teatime kick-off.
Winless in 15 games, Villa deservedly trailed at half time, although all United had to show for their efforts was a Fabricio Coloccini shot following a corner seven minutes before the interval.
At that point the chief obstacle to Steve McClaren's hopes of securing all three points looked to be the Tyneside weather - with a downpour of increasing volume leaving the pitch sodden and visibly impeding both sets of players at times as the ball began to stick in one or two areas.
Thankfully the rain abated in the second half and allowed the game to finish, but Villa got back on level terms thanks to an unstoppable effort by Jordan Ayew that flew past Rob Elliot.

That came just moments after Siem De Jong had missed a glaring chance to double his side's lead, heading Georginio Wijnaldum's deep cross wide from point-blank range. The Dutchman later found it necessary to apologise via twitter - an unnecessary gesture, but one that will probably become compulsory within a season or two.....
Going in search of a winner at 101, Gini himself finished the move of the match by shooting weakly at a grateful Brad Guzan. And when Moussa Sissoko broke into the Villa box from the right flank late on, Ayoze Perez looked odds-on to reprise his last-gasp winner at Spurs a week earlier - only to blaze his shot harmlessly over the crossbar.
A result that most of Tyneside feared after our recent unexpected resurgence could have been even more damaging had the visitors taken advantage of their superiority at 1-1, substitute striker Rudy Gestede becoming the latest average front man to unnerve our centre-back pairing.
For United, Papiss Cisse supplied the only two moments of goalmouth incident in the first half hour with two headers, but was forced off through injury and replaced by Aleksandar Mitrovic - who found the going rather too soft for his liking after a header forced the corner from which we scored.

The Serbian Mark McGhee may be getting fitter but his hold-up play still needs a lot of work and doesn't seem happy with balls played up to his head and rarely bothers to leave the ground. Today he was dragged into a battle with defender Joleon Lescott and his preoccupation with him meant that the position of the ball became something of an afterthought.

Criticised for a cautious approach in some quarters, McClaren attempted to boost his side's attacking options by introducing Florian Thauvin - who seemed excited by the surf-like conditions and was soon aqua-planing through a puddle. His attempts at tackling were little better than the crosses that he served up however, with no hint that they were anything other than random. We had a lad who could do that and cost a damn sight less, Sammy Ameobi.

Elsewhere there weren't many great individual performances, although swamp-like conditions made it difficult for anyone to shine. Sissoko still looks to be sulking when played out wide and his decision-making about when to charge forward and take on multiple opponents remains questionable.

Pushed out towards the opposite flank and equally peripheral for the most part, Wijnaldum's display echoed his seen away from home, drifting in and out of the game, rather than taking it by the scruff of the neck. And although he gave the appearance of gliding across the sodden surface when others plodded, many of his flicks and tricks were superfluous and inferior to a simple, accurate pass.
Some mild booing at the end was a measure of the frustration felt by many fans and clearly irked McClaren who rightly stressed his satisfaction with the effort levels of his players today, compared to home games earlier this season.

Had we drawn at Spurs last Sunday and won today, then our points tally would be identical to what it is now - only in rather more expected circumstances. But in typical United fashion, we did things backwards and came home with a scalp only to slip up in our backyard - something that goes far further back than this manager, this owner or these players. Maybe it is just in the DNA.
Wins for Chelsea, Norwich and Bournemouth earlier in the day saw United gain a point but drop to seventeenth. However, Swansea's 0-0 home draw with West Ham on Sunday meant that we at least avoided falling into the bottom three for Christmas. Failing to beat Villa leaves us two points worse off than after seventeen games of the 2008/09 season.
At this stage, the mackems and Villa look to be in sufficient peril that it would be a disaster to be overtaken by either of them - this result today doing nothing to help Remi Garde's plight and the requirement to deprive the red and whites of three points by winning a derby as important as increasing our own points tally and self-respect.

However, Bournemouth's unbelievable run without their best players and Swansea's squad strength ahead of a new managerial arrival leaves us looking back when thoughts of upward movement after three wins on the bounce should have been occupying us. Seeing the likes of Leicester and Watford firmly in the top half of the table adds to the confusion, but Chelsea's proximity to us may not be a feature of the league table for much longer.

He may have bemoaned De Jong's miss, but this result probably didn't surprise the head coach, who previously spoke of the ups and downs he expects this season and saw the inadequacies of the squad he inherited demonstrated once again, albeit with greater spirit evident.

Nice though the Liverpool and Spurs results were, he'll be in no doubt that there's work to do in the next transfer window, as was the case in when January 2013 brought an influx of players to boost a side who had 20 points when Auld Lang Syne was sung. Ahead of Everton and Albion we have 17.

Biffa/Niall