Date: Monday 28th December 2015, 3.00pm.

Venue: The Hawthorns

Conditions: Gloomy - on and off the field

Admission:

£25

(£15 in last two seasons thanks to a reciprocal pricing deal).

Programme: £3.50





West Bromwich Albion

Newcastle United

1 - 0

Teams
Half time: Baggies 0 Magpies 0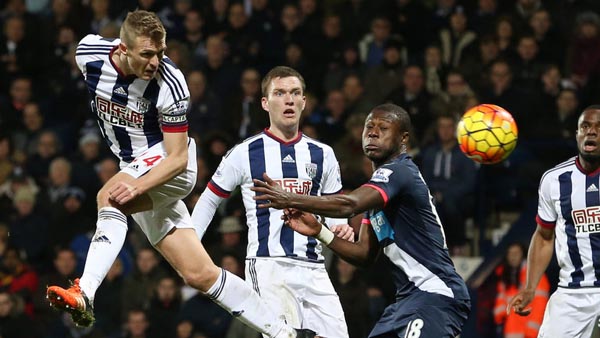 78 mins A spell of home pressure saw United unable to clear their lines fully, with Saido Berahino's shot rebounding back to him on the edge of the box when blocked by Fabricio Coloccini.

The Albion substitute knocked a pass out to the lurking Stephane Sessegnon, who cut in from the right flank with Paul Dummett shadowing him before feeding the ball back to Claudio Yacob.

His hoisted ball into the box allowed an unmarked Darren Fletcher to head downwards towards the centre of Karl Darlow's goal from around seven yards out. The 'keeper somehow dived over the top of the ball and it squirmed under him into the back of the net at the Birmingham Road End. 0-1

Full time: Baggies 1 Magpies 0
Steve McClaren said after the game:

"It is a game we never deserved to lose.

"It is a blatant penalty, I have seen it three or four times and the referee when he sees it again will realise he has made the wrong decision. The defender has grabbed Mitrovic around the waist and has put him off his shot before we lost to a soft goal at the end.

"We have ended the first half of the season with a bit of consistency but have been unlucky with our last two results.

"I am more disappointed for the players because they are fighting and showing attitude and endeavour.

"I am interested to know if there were boos (from fans at the end) because I think the team went over and were applauded.

[Yes, Steve. Plenty of boos, four-lettered abuse and Paddington-like hard stares....]

"Sometimes you don't get what you deserve in football and the last two games we haven't but we have to continue what we have been doing knowing - and I know - it will turn around."


Tony Pulis commented:

"It's a great victory for us and a good performance. The players' fitness levels were superb.
"The recovery and the work the medical side have done to get them turned over so quick as they have and put in a performance like that was absolutely first-class.
"We deserved the victory. It was a good, open game. The first 10 minutes we could have been 3-0 up, they defended stoutly but thank goodness the dam did burst in the end.

"They were dangerous on the counter and we had to defend the set-plays well, but I don't think there's any argument that we should have won the game. The disappointing thing again is that we should have scored more goals.

"Victor Anichebe on his day is unplayable. He's got everything you'd want from a centre forward."

On Saido Berahino:

pre-match:

"He's lucky to be on the bench, never mind starting. Sometimes things go on at football clubs that you people don't see and don't realise. He's a smashing kid but he lets himself down at times."

post-match:
"Sometimes supporters don't realise and understand exactly what goes on behind the scenes.

"I always want the team to be a team, the supporters, the players, the management side, the directors, everyone together.

"Sometimes Saido does things that break away from that. He's been told, but he's been fine as you've seen today his reaction coming on was absolutely fantastic.

"He worked socks off and he's fine - no problems. At times you have to make him understand it's about the group and about the team.

"It's more a reminder it's about the group. You've got to look and understand Saido's had almost five months where he's not prepared himself or got himself ready and prepared to play in the team.

"He's a terrific player and he's got great ability and that great knack, even today coming on, of getting in great positions. He's a top player.

"When Victor (Anichebe) turns up he's a top player. He's shown that today, he was a handful for them and they just couldn't handle him."

Halfway the lads:
(NUFC last ten PL seasons after nineteen games):
2015/16: 17 points, 18th (scored 19, conceded 34)
2014/15: 26 points, 9th (scored 22, conceded 28)
2013/14: 33 points, 8th (scored 29, conceded 24)
2012/13: 20 points, 15th (scored 23, conceded 30)
2011/12: 30 points, 7th (scored 26, conceded 25)
2010/11: 22 points, 13th (scored 28, conceded 29)
2008/09: 22 points, 12th (scored 25, conceded 27)
2007/08: 26 points, 11th (scored 26, conceded 29)
2006/07: 25 points, 11th (scored 20, conceded 21)
2005/06: 25 points, 11th (scored 18, conceded 21)

NUFC PL record in calendar year 2015:
Played: 38
Won: 7
Drawn: 9
Lost: 22
GD -32 (goals for: 37, goals against: 69)
Points: 30 from a possible 114
That level of performance would have seen Newcastle relegated in every 38 game Premier League season since the league was reduced for the 1995/96 season.
Karl Darlow's Premier League bow made him the 25th player to feature in our 19 PL games to date this season.
The 25 year-old native of Northampton was making a top-flight debut but has

played
over 100 Championship games for Nottingham Forest -

so much for "throwing in a young kid" as Ian Wright asserted on Match of the Day. Presumably he thought it was Freddie Woodman.


Darlow becomes the 202nd Magpie to represent us in the Premier League and is the eleventh custodian within that group: Pavel Srnicek, Tommy Wright, Mike Hooper, Shaka Hislop, Shay Given, Steve Harper, Jon Karelse, Tim Krul, Rob Elliot, Jak Alnwick, Karl Darlow.

He's the eighth PL debutant for United this season, after Georginio Wijnaldum, Chancel Mbemba, Aleksandar Mitrovic, Florian Thauvin, Kevin Mbabu, Ivan Toney and Jamaal Lascelles.


Magpies @ Throstles - last 20:
2015/16 Lost 0-1
2014/15 Won 2-0 Perez, Coloccini
2013/14 Lost 0-1
2012/13 Drew 1-1 Gouffran
2011/12 Won 3-1 Cisse 2, Ben Arfa
2010/11 Lost 1-3 Lovenkrands
2009/10 Lost 2-4 Carroll 2 (FAC)
2009/10 Drew 1-1 Duff
2008/09 Won 3-2 Duff, Lovenkrands, S.Taylor
2005/06 Won 3-0 Owen 2, Shearer
2004/05 Drew 0-0
2002/03 Drew 2-2 Jenas, Viana
1990/91 Drew 1-1 Quinn
1989/90 Won 5-1 OG, Brazil, Brock, McGhee, O'Brien
1985/86 Drew 1-1 Wharton
1984/85 Lost 1-2 Baird
1977/78 Lost 0-2
1976/77 Drew 1-1 Barrowclough
1973/74 Won 3-0 Tudor, Macdonald, Barrowclough (FAC)
1972/73 Won 3-2 Tudor 2, Smith
Full record v West Brom:
| | | | | | | |
| --- | --- | --- | --- | --- | --- | --- |
| | P | W | D | L | F | A |
| SJP | 59 | 30 | 14 | 15 | 123 | 84 |
| TH | 60 | 14 | 19 | 27 | 76 | 112 |
| League | 119 | 44 | 33 | 42 | 199 | 196 |
NUFC's year ending results - Premier League era:
2015/16 West Brom (a) lost 0-1
2014/15 Everton (h) won 3-2
2013/14 Arsenal (h) lost 0-1
2012/13 Arsenal (a) lost 3-7
2011/12 Liverpool (a) lost 1-3
2010/11 Spurs (a) lost 0-2
2009/10 Derby County (h) drew 0-0
2008/09 Liverpool (h) lost 1-5
2007/08 Chelsea (a) lost 1-2
2006/07 Everton (a) lost 0-3
2005/06 Spurs (a) lost 0-2
2004/05 Arsenal (h) lost 0-1
2003/04 Blackburn (h) lost 0-1
2002/03 Spurs (h) won 2-1
2001/02 Chelsea (h) lost 1-2
2000/01 Manchester United (h) drew 1-1
1999/00 Leicester City (a) won 2-1
1998/99 Liverpool (a) lost 2-4
1997/98 Liverpool (h) lost 1-2
1996/97 Spurs (h) won 7-1
1995/96 Manchester United (a) lost 0-2
1994/95 Norwich City (a) lost 1-2
1993/94 Chelsea (a) lost 0-1

Waffle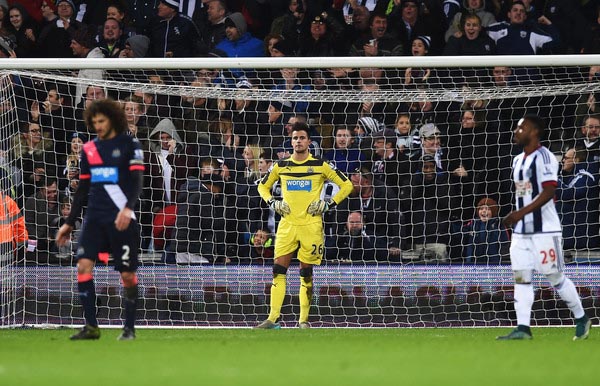 Perusing the papers before this game, a survey claimed that 2.59pm precisely would be when people reached the lowest point of the festive season. For Toon fans however - and Karl Darlow - the moment of maximum misery proved to be slightly later, around 4.37pm to be exact.

That was the point at which the last game of a vastly disappointing year slipped out of our hands, as the ball squirmed away from the 'keeper to deny him a clean sheet on his Premier League debut.

Darlow had been a late inclusion in the side (too late for the stadium PA man to read his name out) after Rob Elliot succumbed to illness during the warm-up and the former Forest man endured a nervous 45 minutes in which a succession of home corners flew over his head as he stood still.

Some half time coaching looked to have ironed out that almost-fatal hesitation but the critical error was still to come, handing Tony Pulis a late Christmas present as the Baggies ended a five game winless sequence.

In fairness though, ending this game empty-handed wasn't entirely Darlow's fault, with no less than 22 goal attempts and 18 corners from the home side underlining a rearguard action that we fought for the most part and looked to be pulling off thanks to various desperate blocks and tackles.

A valid penalty shout (on Mitrovic) and two close range efforts off the woodwork after the break (from Dummett and Coloccini) may have given the impression we made a fist of trying to win this, but that wasn't the feeling at the time; our counter-attacking both lethargic and mis-directed.

If one thing summed up our current plight, it was in comparing the respective centre forwards on show. Making his first league start since scoring at SJP in May, Victor Anichebe looked chubby but lacked nothing in application and had his first shot on goal within three minutes of kick off.

Contrast that with our 21 year-old bruiser, presumably in his school team when Anichebe scored against us for Everton back in 2006. Today he again looked isolated and immobile, with no goal threat to speak of. Emmanuel Riviere is on the verge of return apparently, lucky us - swapping a Serbian lump with no striking instinct for a French one. Some clubs do have 'em.

Having spoken of using his full squad over the festive season, McClaren named the same side before the goalkeeper swap was forced on him. A hamstring injury to Vurnon Anita then required Cheick Tiote's introduction before the second half arrivals of Florian Thauvin and Siem de Jong. Both were of purely statistical significance, making no difference. Tactics questionable, impact minimal.

Three games on from the apparent upturn of the Liverpool and Spurs wins, we've managed one point and one goal against inferior opponents, reverting to our default position: unthreatening and introverted. McClaren and his coaches may have got them trying a bit harder and showing more collective spirit but there's seemingly little else he can extract in attacking terms. That's fatal.

His use of the word consistent after this game was entirely correct - we are consistently poor and destined to go down. There was little from those clad in blue and pink to suggest we're equipped for the second half of a survival battle that begins at Arsenal while occupying a relegation place.

Looking slightly less brittle at the back isn't enough - taking a point here today from a 0-0 draw would still have been another wasted opportunity to join push away from danger. In order to stay up we simply need to gain more points than three other teams. Quite how that could actually come to pass is open to question, after having taking just one point from six off the two below us.

The list of teams we appear capable of beating shrinks by the day and the logic-defying comments from Moussa Sissoko and others about achieving a top ten finish underline that the true desperation of our situation doesn't seem to have dawned on them - unless he meant the team he hopes to join in January (see also Ayoze Perez).

Salvation via the imminent transfer window seems the only game in town, with the fear of falling off the Premier League TV gravy train seeing the sports shop owner splash the cash per 2013.

That's the widespread assumption, but even if the money is there and the recruitment restrictions removed, it's by no means certain that anyone with any credibility (or Premier League experience) will pitch up here next month. After all, we know who's doing the picking and the dealing don't we?

Quite when these predicted reinforcements will arrive also remains to be seen. Excluding the FA Cup tie, there are four games in January, meaning that 12 points are at least theoretically available, although anything other than a howking at the Emirates will surely raise questions of match fixing.

If we're still trying to get deals over that mythical line by the time Jim White whips himself into a frenzy on February the first though, then best make a note of MK1 1ST....that's the postcode of the MK Dons ground. There's still time to save our own miserable skins before the bottom three are cast adrift, but not much. Confident? No, me neither.

Biffa