Date: Tuesday 12th January 2016, 7.45pm. Live on BT Sports

Venue: St. James' Park

Conditions: epic




Newcastle United

Manchester United

3 - 3

Teams
9 mins Daley Blind's flag kick from the South West Corner reached Marouane Fellaini at the back post and his header struck the jumping Chancel Mbemba on the wrist from point blank range. One person in the ground thought it was a handball - and unfortunately he had a whistle. Wayne Rooney calmly guided his spot kick home as Elliot guessed wrong 0-1

38 mins Yet again Newcastle gave the ball away in the opposition half and were quickly punished as Herrera set Rooney off towards goal. Arriving at the home box with Coloccini shadowing him, the striker paused before playing a reverse pass to the onrushing Jesse Lingard, whose low angled shot went through Elliot's legs 0-2

42 mins Coloccini's forward pass into the box was directed towards Mitrovic but although Marouane Fellaini won the aerial duel, the ball dropped towards Gini Wijnaldum, who smoothly volleyed home without breaking stride - the timing rather than the power beating De Gea 1-2

Half time: Magpies 1 Red Devils 2

67 mins That rarest of rarities - A Newcastle penalty - came after Chris Smalling tried his best wrestling smackdown move on Mitrovic as a corner came over. TV replays showed that the coming together began as the home striker tried to shake the visiting defender warmly by the throat. Aleksandar Mitrovic kept his cool to send De Gea the wrong way with a low conversion. 2-2

79 mins Visiting substitute Memphis Depay cut across the box and although his first effort was blocked by Mbemba, the ball fell invitingly for him to try again, rebounding back off Paul Dummett. Sadly it then fell to Wayne Rooney to hit an unstoppable 25 yarder past Elliot. 2-3

90 mins Moussa Sissoko's right wing cross was cleared but Darly Janmaat clipped it into the area and when the ball dropped on the edge of the box, Paul Dummett sprinted forward and lashed it into the roof of the Gallowgate End net via Smalling's elbow to send St. James' wild. 3-3

Full time: Magpies 3 Red Devils 3
Steve McClaren said after the game:

"I have calmed down a bit now. We had to show what we are all about. We have shown everything there. We played football, created chances, we came back, we had to equalise again.

"You can't underestimate what a monumental effort it is to come back from 2-0 and 3-2. This is how far the team has come this season. Could we have come back from 2-0 then?

"That is the standard we set. Performances have been good. We needed some reward....we have been demonstrating this for a few weeks.

"The players have responded but we have not got the rewards. It was important not to lose.

"The crowd responded magnificently, and we wanted to show everyone what we are about.

"People said that (Manchester) United were boring and that we lack character, but we kept fighting until the end and we got a goal that feels like a winner.

"People thought it would be a 0-0 but it was a classic at 3-3. It must have been a great game for the neutral - but it was a heart attack for the coaches.

"Manchester United are a quality team and they keep the ball and they control it once they're in front.

About the penalty awarded to the opposition:

"I could not believe it. The first goal against top-four teams is absolutely vital and when no-one appealed and everyone just walked away, we could not believe it was a penalty.

"We had such a good start. We were composed; we were keeping the ball and creating chances and all of a sudden (it came) from nothing.

"Nobody appealed, nobody even tried to. I have looked at it, he (Chancel Mbemba) just goes up and the momentum of where his hand goes, it hits his hand.

"He is about half a yard away Ė how can he get out of the way? It is ridiculous and the team could have gone under after that, but credit to them - they kept fighting."

Penalty converter Aleksandar Mitrovic added:

"I spoke with him (Steve McClaren) before the game. He said that if a penalty comes, I need to take it. It is my responsibility in this team to take the penalty. I take the ball and I score the goal, and Iím very happy.

"Itís important we have a good night because it was a really good result after being 2-0 down.

"Against Manchester United, itís not easy to come back - we showed we can come back. We can win this game as well and we can lose it. I think it is a good result for both teams.

"I was going to take the penalty all season. If I donít feel good, I give it to a team-mate. Scoring it will do a lot for my confidence. I needed that goal, you can see that in my celebration. I was really happy. Itís good for my confidence, and I hope I will keep scoring.Ē

"Iíve been unlucky in the last few games. The goals will come.Ē

Louis Van Gaal said:

"We threw it away. You have to finish the game much earlier.

"The referee gave a penalty and I think it was a duel - I have seen the video and you can see (Aleksandar) Mitrovic was pushing the head of (Chris) Smalling. When you both do that you cannot decide which is worse, I think, but the referee did not lose our game. We lost it by ourselves.
"When you want to avoid the header of (Marouane) Fellaini by putting your hands to the ball... it is not ball to hand, it is the hand to the ball and Fellaini cannot head it that way. I donít think it is a discussion, but okay you never know in this world. You can always have a discussion.Ē
"We were unlucky, when you see the penalty for the second goal and when you see the third goal. When the ball is going where he (Paul Dummett) shot then it is in the hands of (David) De Gea. It clipped off Smalling and that took it past. It was unlucky.

"Before that we were running behind and you have to push forward, you have to push the ball under pressure and we didnít do that. Then you get these kinds of things.
"They have to finish of course but it is always difficult. (Wayne) Rooney also had a very big chance in the first half. We could have scored six goals here, I think, there were big possibilities so when you then lose two points then that is very sad.

"Also, everybody knows it is our own fault. It was not the referee or the opponent. We did it ourselves.Ē
King Louis was clearly vexed and his written media press conference ended with this exchange:
Neil Custis (Sun): "Wayne Rooney has come under a lot of criticism this seasonÖ.."

Louis: "We don't speak any more about Wayne Rooney, you have criticised him, I don't, you."

Neil Custis (Sun): "You too"

Louis: "You too, fat man, there."

It's now no win in five Premier League games (six in all competitions) for Newcastle.


Our
scoring drought ended after 454 demoralising minutes (364 in the Premier League).
A

fter failing to
score
in their last three meetings with the Red Devils at SJP, Gini Wijnaldum's eighth goal in our colours ended that run before Aleksandar Mitrovic bagged his fourth for us.

Paul Dummett struck the third goal of his Newcastle career and the second in the PL. His debut PL strike was also at the Gallowgate End in a 2-2 draw with Liverpool in October 2013.

Newcastle were awarded their first
PL
penalty
since a visit to Manchester United on December 26th 2014 and the first at SJP since the visit of Stoke City on December 26th 2013.

Wayne Rooney continued his scoring vendetta against us - notching his thirteenth and fourteenth Premier League goals (including one for Everton).
This was the fifth time he's hit two goals in a match against his favourite P

L
opponent - but he's never gone on to complete a hat trick.

Red Devils @ SJP - Premier era:

2015/16 drew 3-3 Wijnaldum, Mitrovic(pen), Dummett
2014/15 lost 0-1
2013/14 lost 0-4
2012/13 lost 0-3
2011/12 won 3-0 Ba, Cabaye, OG (Jones)
2010/11 drew 0-0
2008/09 lost 1-2 Lovenkrands
2007/08 lost 1-5 Ab.Faye
2006/07 drew 2-2 Milner, Edgar
2005/06 lost 0-2
2004/05 lost 1-3 Shearer
2003/04 lost 1-2 Shearer
2002/03 lost 2-6 Jenas, Ameobi
2001/02 won 4-3 Robert, Lee, Dabizas, OG (Brown)
2000/01 drew 1-1 Glass
1999/00 won 3-0 Ferguson, Shearer 2
1998/99 lost 1-2 Solano
1997/98 lost 0-1
1996/97 won 5-0 D.Peacock, Ginola, Ferdinand, Shearer, Albert
1995/96 lost 0-1
1994/95 drew 1-1 Kitson
1994/95 won 2-0 Albert, Kitson (LC)
1993/94 drew 1-1 Cole
Full record against Manchester United:

P
W
D
L
F
A
SJP
77
30
18
29
141
121
OT
77
10
21
46
82
170
League
154
40
39
75
223
291
SJP(FA)
1
0
0
1
2
3
OT/W/MS
3
0
0
3
1
7
SJP(LC)
1
1
0
0
2
0
OT
2
0
0
2
3
9
Cup
7
1
0
6
8
19
OT/W(CS)
2
0
0
2
2
8
Tot
161
41
39
81
231
310

Six goal thrillers:
This was the tenth time in our 827 Premier League games that we've played a 3-3 draw:
1994/95 Spurs (h) Gillespie, Peacock, Beardsley
1995/96 Wimbledon (a) Ferdinand 2, Gillespie
1995/96 Manchester City (a) Albert 2, Asprilla
1997/98 Leicester City (h) Barnes, Tomasson, Beresford
1999/00 Wimbledon (h) Speed, Domi, Solano
2003/04 Southampton (a) Ameobi, Bowyer, Ambrose
2010/11 West Bromwich Albion (h) S.Taylor, Lovenkrands, OG
2014/15 Crystal Palace (h) Janmaat, Aarons, Williamson
2014/15 Burnley (h) S.Taylor, Colback, Sissoko
2015/16 Manchester United (h) Wijnaldum, Mitrovic, Dummett


Waffle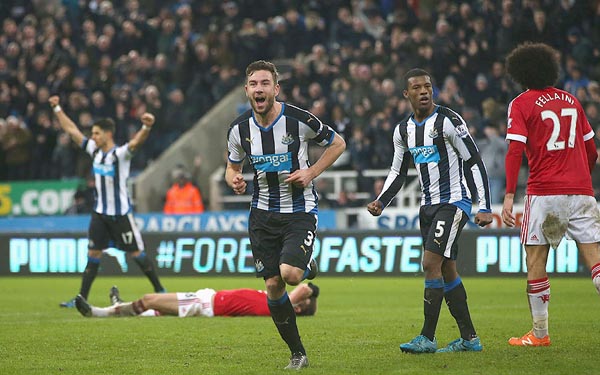 The unlikely figure of Paul Dummett fired a last gasp equaliser to salvage what could be a priceless point from a thoroughly entertaining game at St. James' Park on Tuesday, as Newcastle reserved one of their better performances for one of the "bigger" teams.

Pulling back from a 0-2 deficit to 2-2 and pressing for a winner, a terrific fight back looked to have been in vain when Wayne Rooney's second goal of the night put the visitors 3-2 up on 79 minutes.

Rooney had given his side the lead with a ninth minute penalty after referee Mike Dean harshly penalised Chancel Mbemba for handball from a corner - a header striking him on the arm from point-blank range but prompting no appeals from the visiting players.

An incensed home crowd were then frustrated still further by a valid penalty appeal for a challenge on Daryl Janmaat that was rejected, before Georginio Wiljnaldum got into the area but could only shoot weakly against David De Gea.

And when Jesse Lingard doubled the score in the 38th minute it looked like another blank outing for Steve McClaren's goal-shy side. Wijnaldum however atoned for his miss three minutes before half time to send his side into the break with at least a toehold in the game and visibly lift the gloom around Gallowgate.

Moussa Sissoko almost levelled on 52 minutes when a fabulous ball from Fabricio Coloccini found him free on the left, but despite evading Ashley Young he failed to find a way past De Gea (making his 200th appearance for the Red Devils) at the Gallowgate End.

That began a period of sustained pressure from the home side that sparked the crowd into life, and the pressure paid off midway through the second half. As a Newcastle corner kick came over, Dean pointed to the spot after Mitrovic was wrestled to the ground by Chris Smalling - a cynical view being that the ref was now aware of his two questionable earlier calls and tried to even things up.

The Serbian looked in no mood to surrender the ball and after a delay caused by Dean failing to clear visiting players out of the box, kept his head to send De Gea the wrong way from the spot. His goal celebrations in front of the Strawberry Corner included hoofing the advertising hoardings in a style reminiscent of T.Ketsbaia. Thankfully though he refrained from removing his shirt or boots....

An unforeseen and unlikely comeback inspired the home support to greater noise levels and for a few minutes the crowd seemed to forget our troubles - attacks more fluent and accompanied by roars of encouragement seldom heard in recent times.

Wijnaldum quickly had the ball in the net again but an offside had rightly already been raised and both he and Ayoze Perez saw efforts blocked as McClaren's side sensed that a famous victory was possible. Jack Colback then frustratingly passing up the chance to shoot from close range as he seemed to wait for Fellaini to clatter into him.

Fellaini was lucky not to receive a second yellow after a kick at Coloccini, before the visitors struck on the break again to silence home voices - Rooney perfectly looping the ball home after a half clearance from Paul Dummett fell at his feet.

The extravagantly-haired Belgian looked certain to head a fourth but Elliot made a great save and as the clock ticked towards 90 minutes Sissoko sent over a cross from the right. That was repelled but when Janmaat tried, it ended up in the path of Dummett who gave it the full welly to draw his side level once again.

There was a last surge in the fourth and final minute of added time but Wijnaldum failed to find a colleague and Dean blew for full time to end an excellent contest neither side deserved to lose.

Performances of varying quality were on show, with messrs Sissoko, Tiote and Colback all struggling in a first half during which we continually lost the ball. However they all played their part in the revival and if this is the final bow for Tiote, his 143rd appearance contained at least some hints of former glories - in addition to reminders of why his time here is up.

Ivan Toney's arrival late on as our only forward cover was a timely reminder of the squad issues still to be overcome this month if we're to avoid relegation. And there's the realisation that two points against tonight's mediocre opponents this season could have been six - had we been better equipped last August and not now trying to play catch-up.

Avoiding a fifth straight defeat and ending both a goal drought and spot kick famine though at least means we're not left bemoaning our bad luck yet again.

Persistence, dogged determination and some belated good fortune combined to bring about a heartening result - and hopefully something tangible to take into Saturday's home game against a West Ham side rather more potent than when they visited last May.

Final word to Mystic McClaren, who ended Monday's pre-match press conference by saying:

"The odds are on a 0-0 draw, but it's probably gonna be 3-3, everybody breaks their duck and the floodgates open."

If he's able to see into the future, let's hope that a goalscorer soon comes into view.

Biffa