Date: Saturday 18th January 2016, 3.00pm.

Venue: St. James' Park

Conditions: uplifting




Newcastle United

West Ham United

2 - 1

Teams
6 mins Jonjo Shelvey's pinpoint forward pass to Georginio Wijnaldum saw him lay the ball off to Ayoze Perez, whose curling finish from the edge of the "D" was superb. 1-0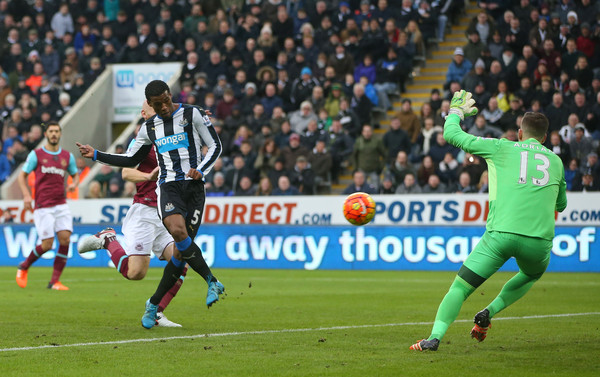 15 mins Jonjo Shelvey's exquisite 65 yard crossfield ball out to Daryl Janmaat on the United right was taken down at pace and the full back's cross picked out Gini Wijnaldum who smashed the ball past Adrian into the Gallowgate net from close range. 2-0

Half time: Magpies 2 Hammers 0

49 mins Newly-arrived substitute Nikica Jelavic was able to intercept Chancel Mbemba's misplaced backpass and take the ball around Elliot before slotting past Paul Dummett on the goal line. 2-1

Full time: Magpies 2 Hammers 1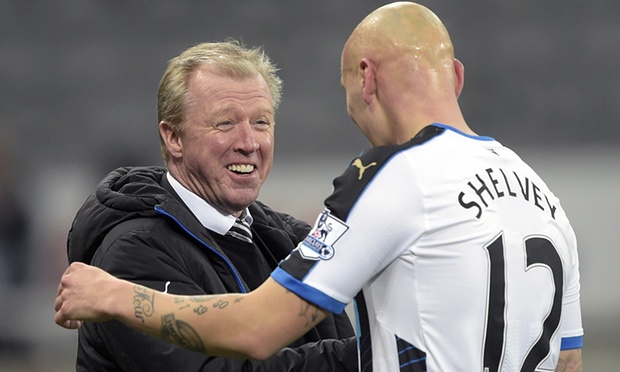 Steve McClaren said after the game:
"They must have gone in at half-time thinking 'wow, get in' because it was only 2-0.

"Then we gifted them a goal, but we didn't get nervous. We kept playing, we had chances that we didn't take but defended well and saw the game through.

"We never got nervous, we kept our composure (speak for yourself, Steve)

"It shouldn't have been close. We had a great first half, 2-0 up after 25 minutes, it could have been more. Even in the second half, we gifted them a goal.

"We said at half-time, we need a third, we definitely need a third just to settle it down and see the game through.

"It didn't come, but we defended well and saw the game through - a good performance. It's been a tough week, but we've ended it well.

"Jonjo (Shelvey) is a very, very good player with real potential and it will suit him playing in this team, a team of footballers.

"You always worry with the first game Ė will he blend in and fit into the team? But I thought it was a perfect balance.
"He gave us that first pass forwards, and I think that created the first goal. Then that cross-field pass (for the second goal), because of the speed of it, it gives you that extra two seconds and the defence canít recover.
"Thatís the difference between top-quality midfield players and average ones. Heís got that potential to be top. Heís got a long way to go, as you saw, but itís a nice start. And (Henri) Saivet coming on was a nice start as well.

On injury victim Paul Dummett:

"Itís a hamstring, but hopefully itís just a little bit of tightness."

Debutant Jonjo Shelvey added:


"It's an easy place to come and play football, to be honest with you. The fans are behind you, there are some tremendous players in that dressing room.
"It normally takes a little bit of time for players to settle, but I felt right at home. The players were reading my passes very well and people were getting into position, so it was just easy. I thought it would be a lot harder than it has been this week, but it has been perfect.
"It was a massive win. It's been a great week for the club - it was a great point against Manchester United and we have followed it up with a massive win against West Ham.
"It was a perfect performance, I think, in the first half. We started really well, pressed the ball and they rarely played out from the back. We showed real intent and got our two early goals.

"It's quite an easy pass to make. Daryl makes those forward runs all the time - he's a very advanced full-back - and if he keeps making those runs, I'll always try to find him.

Turning to the clash with Enner Valencia:

"It was more of a coming-together. He was trying to get in the box and I was trying to get out of the way. I felt contact on my shoulder and have obviously lent in with my shoulder.
"People are saying it's a red card, but it's part of football, you are going to have comings-together. I did apologise and he's apologised to me, it's one of those things that happens in football.
"I can't wait to get back out there against Watford."

Slaven Bilic said:

"We prepared for the game all week and had a good warm-up and everything, so I thought we were going to start better because we were the team that should have started with more confidence than them because we were up in the table, we were unbeaten for a number of games.

"They have improved a lot recently, but still they were down and we were counting on the confidence to be on our side. Unfortunately, that wasn't the case.

"We have to give them credit, Newcastle, who started bright and good and everything, but definitely we helped them in that.

"In the second half, we can talk about positive things. We can talk about good spirit, turning the game a little bit around, scoring a goal and then putting them under pressure and having a few chances at the end of the game.

"We had a great chance to equalise. Also they had chances in the second half on the counter- attack as we took that risk, so we could have nicked a point and it wouldn't be the first time.

"But to be fair, we have to admit, unfortunately, that they were better and they deserved to beat us, they deserved three points especially with their performance in the first half."

Jonjo Shelvey became the 203rd player to play for Newcastle United in the Premier League and Henri Saivet the 204th when he came off the bench.

United have now blooded no less than ten players so far this season - one more than last season - and used 26 players so far in their 22 games.

Steve McClaren's side took maximum points at SJP for only the third time in twelve games this season.

Goal number five this season for Ayoze Perez was the 700th that Newcastle have registered at home in the PL, coming in the 415th game.

The Spaniard's twelfth Newcastle goal
(all in the PL) puts him level in the scoring charts with Ruel Fox, Steven Taylor and Kevin Nolan, one behind Hatem Ben Arfa and two off both Andy Carroll and Loic Remy.

Gini Wijnaldum meanwhile has now hit nine goals for the Magpies - all of them coming at SJP
.


Hammers in Toon - PL era:

2015/16: Won 2-1 Perez, Wijnaldum
2014/15: Won 2-0 Sissoko, Gutierrez
2013/14: Drew 0-0
2012/13: Lost 0-1
2010/11: Won 5-0 Best 3, Nolan, Lovenkrands
2008/09: Drew 2-2 Owen, Carroll
2007/08: Won 3-1 Viduka 2, N'Zogbia
2006/07: Drew 2-2 Milner, Solano
2005/06: Drew 0-0
2002/03: Won 4-0 LuaLua 2, Shearer, Solano
2001/02: Won 3-1 Shearer, LuaLua, Robert
2000/01: Won 2-1 Cort, Solano
1999/00: Drew 2-2 Dabizas, Speed
1998/99: Lost 0-3
1997/98: Lost 0-1
1996/97: Drew 1-1 Beardsley
1995/96: Won 3-0 Albert, Asprilla, Ferdinand
1994/95: Won 2-0 Clark, Kitson
1993/94: Won 2-0 Cole 2
Total record against West Ham:

| | | | | | | |
| --- | --- | --- | --- | --- | --- | --- |
| | P | W | D | L | F | A |
| SJP | 62 | 33 | 20 | 9 | 119 | 64 |
| BG | 62 | 16 | 15 | 31 | 68 | 106 |
| League | 124 | 49 | 35 | 40 | 187 | 170 |
| SJP(FA) | 3 | 3 | 0 | 0 | 7 | 3 |
| BG | 2 | 0 | 2 | 0 | 2 | 2 |
| Cup | 5 | 3 | 2 | 0 | 9 | 5 |
| Tot | 129 | 52 | 37 | 40 | 196 | 175 |
Waffle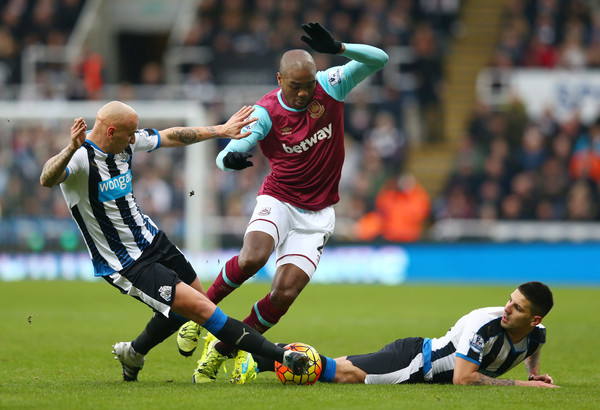 A good week for Newcastle got better when they improved on a deserved point against Manchester United with an excellent 45 minute showing that left an in-form Hammers side chasing shadows.

And although the magic wore off after the interval and a gift of an early goal to the opposition gave home fans an anxious conclusion to the afternoon, the black and whites successfully saw the game out to claim a priceless three points.

Much of the credit for the victory goes to Jonjo Shelvey for an inspirational debut following his £12m switch from fellow strugglers Swansea City and he was the only change to the lineup that shared six goals on Tuesday, a like for like replacement of the China-bound Cheick Tiote in central midfield.

Actually, that last sentence is wrong - comparing the Essex-born player with the Ivorian is both misleading and unfair, as Shelvey displayed a range of accurate passing and timing only seldom glimpsed from Tiote since his first season as a Magpie. We'll sharp get that stopped.

Such was his impact both on the game and his new colleagues that both fans and media watchers were united in declaring afterwards that a successor to Yohan Cabaye had finally been sourced by the club after a two year delay. Just Demba Ba (three years and counting) to replace now then....

The frustration of a midfield anchored by two non-creative players has been a familiar lament and the change to our approach that came from Shelvey's arrival could hardly have been more obvious - Gini Wijnaldum and Daryl Janmaat both finding their forward runs suddenly picked out by accurate and dangerous passes.

Boosted by Paul Dummett's late leveller on Tuesday and the two new faces, the crowd responded immediately and new life was breathed into St.James' Park - a timely reminder of what this place is like when there's something on the field to support.

Early goals of course helped, with a raker from Ayoze Perez after just six minutes setting the tone nicely - the quickest strike we've managed in the league since November 2013. And it was 2-0 less then ten minutes later when Gini Wijnaldum profited from an even better Shelvey pass to slam in.

A stunning first half display should have brought more than those two goals, but the fluency of our attacking play was a joy to watch - and a bugger to defend against -with 22 attempts on goal more than we managed in three games earlier this season.

The lack of quality in front of goal from Aleksandar Mitrovic was apparent, but partly because our resurgence meant that he far more involved and less isolated than of late. Like the spot kick award in the last game, we actually spent more time in the opposition box - something of a novelty.

Rob Elliot once again made some vital saves to preserve the lead and in front of him, there were crucial tackles and blocks from a revitalised Fabricio Coloccini. Shelvey's arrival also seemed to improve the mood of Moussa Sissoko - although frustratingly inconsistent with his first touch.

A hamstring pull for Paul Dummett saw him replaced just before the hour, with fellow new arrival Henri Saivet brought on to occupy Jack Colback's defensive midfield slot as he went to left back.

Fit-again forward Emmanuel Riviere was then stripped for action on the touchline before McClaren responded to increasing pressure in the closing moments by sending on Jamaal Lascelles instead.

Elliot kept his best for last, making a vital save after 84 minutes from Kayoute, whose goalward header was blocked by the goalkeepers legs before Yoan Gouffran survived penalty claims in a frantic finale, Newcastle holding on for a first Premier League victory in six games and a first Saturday 3pm kickoff success anywhere since February 2015.

For McClaren there was the satisfaction in finally getting one over his opposite number Slaven Bilic -
meeting for only the second time since his Croatia side beat McClaren's England 3-2 at Wembley in 2007 to end their Euro qualification hopes - and call time on his reign as national team boss.

More pertinently though, there was the satisfaction in seen his judgment of Shelvey as the player needed to improve the side quickly validated, after having won the casting vote.

The timing of his arrival is also worthy of note; the club acting quickly after a visible failure in front of the watching owner at Watford on Saturday - shades of 2013 and the home loss to Reading that prompted an influx of signings the following week.

Waiting until deadline day might have saved us a few quid but given the tightness of the league with up to ten teams in possible peril, every game and every point needed to be contested.

If there's a concern, it's that five goals and four points from two games lead the powers-that to conclude that they've done enough in the signings department and we can now muddle through.

Hopefully McClaren now enjoys enough kudos and support within the club to influence what happens in the rest of this window and can stave off any attempt at penny-pinching, book balancing or "will this bloke do" sort of recruitment policy that brought us Shefki Kuqi.

If not, the owner still could end up losing his shirt, not just the lorryload of unsold coats that he gave away to punters for winning this game as a cringeworthy - but successful - publicity stunt.

Biffa