Date: Saturday 13th February 2016, 5.30pm.
Live on Sky Sports

Venue: Stamford Bridge

Conditions: Repetitive

Admission:

£

55 upper, £52 lower
(unchanged from 2014/15)

Programme: £3






Chelsea

Newcastle United

5 - 1

Teams
5 mins Willian robbed Cheick Tiote in the middle of the pitch and strode forward before feeding the masked Diego Costa, who beat Steven Taylor and slid the ball home. 0-1

9 mins United fell further behind from thei own free kick deep in opposition territory, when Rolando Aarons - reprising the unwanted left back role thrust on Charles N'Zogbia in our last relegation season - tried in vain to reach Daryl Janmaat infield with a suicidal pass.

That went straight to Pedro and the Spaniard had a clear run on goal before slotting home. 0-2

17 mins Costa outpaced Fabricio Coloccini to reach a forward pass and pulled the ball across for Willian to side-foot in. 0-3

Half time: Blues 3 Magpies 0
59 mins Fabregas played a long pass forward to Pedro that Steve Taylor should have defended but Pedro easily beat Elliot to grab his second of the game. 0-4

83 mins Cesar Azpilicueta crossed for substitute Bertrand Traore to finish at the near post - the first-ever Burkina Faso-born player to net in the Premier League. 0-5

90 mins Approaching added time, those away fans still in the ground finally had something to cheer as Andros Townsend strode towards the box before hitting a fine left-footer past Courtois. 1-5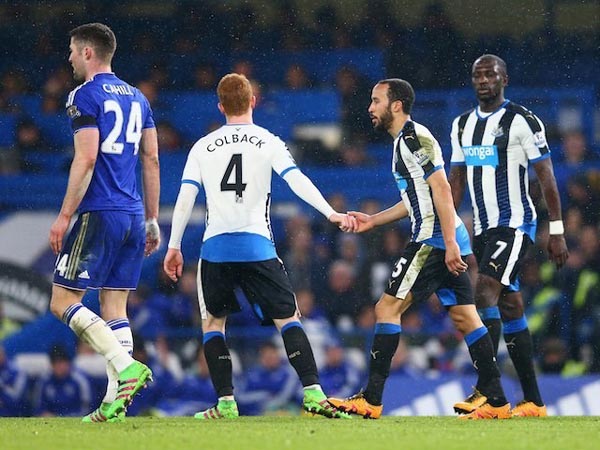 Full time: Blues 5 Magpies 1


Returning to the script he's now memorised after repeat performances at grounds across the country this season, McClaren offered this:

"The majority of the goals and opportunities were self-inflicted.

"During the game and at half-time all the anger and disappointment and frustration has already been expelled.

"There's enough quality in there. We have to show character and fight.

"The break now is a good thing. Three or four players should return from injury and we can work on others, in terms of fitness, to get some defenders back in.

"We've been over-exposed recently by Steven Taylor playing only his second game in six months, and having to use Rolando Aarons, a winger, at left-back.

AND BY ALLOWING THE CLUB TO AVOID SIGNING DEFENDERS OR STRIKERS IN THE WINDOW, STEVE.

"As soon as I saw the team sheet, I thought we are going to have to defend extremely well today and we did not do that. But I think that the majority of the goals and problems were caused by ourselves in giving away the ball cheaply.

"Normally we have players who can play football and deal with the ball. The goals were our own fault where we lost the ball and could not handle the press, could not play through it and we got punished severely.

"We were certainly focused and we knew that with their front five, they would press and we knew that we would have to play forward at a good tempo, play high.

"But as I said before the game, how well we got on today would be down to how well we pass the ball and deal with the ball. And in the first 15 minutes, we did not do that very well.

"You always demand and want more and unfortunately tonight we have just been exposed by a very, very good team and that can happen. But we just have to dust ourselves down.

"We need to get the new signings fitter and get others back, so this is an opportunity to get organised.

We have 12 games to go, 12 cup finals, and it's a time to stay calm, get stable, and get a reaction.

"A lot of what happened today was self-inflicted and I'm not particularly upbeat about this performance, but I have to be upbeat at what we have in the dressing room and what they're capable of doing.

"We've had four or five games this season, including this one, where we've not performed and shot ourselves in the foot, and we've always come back and reacted. We must again.

"We have to dust ourselves down and be realistic, and can't let this derail us as much as people want it to. There's enough fight in that dressing room, but we have to demonstrate it.

"But do not let this derail us. This can happen any time, but we have to stay calm, stable and carry on.

"And like we did after Everton away from home, we need a reaction in 18 days and that reaction has to last for 12 games.



"

We need to start collecting points away from home because winning at home but then losing away is not going to be good enough.

"We have to find a way to win away from home because at the moment that's not happening. If that's a different approach, or different personnel, then we'll have to do that. It might mean a different way of playing.

"We'll have a look at some of the tracking for the goals, but I think the biggest disappointment is the way we gave the ball away quite cheaply. When you do that against a top team, and against five good attackers like Chelsea have, then you'll be in trouble."

About the imminent trip to Spain:

"That's been questioned, and people say 'warm weather' but it could be pouring down where we're going. (it is actually forecast to rain during their friendly match against Lillestrom on Saturday).

"We wanted to refocus the boys and to arrange a game in that 18-day period. We tried like mad to do that in this country, but the only one we can get is abroad, so we go there and play.

"A game is important. It's a training camp. It's work. I'm looking forward to that, two sessions a day, organisation work and fitness work."


Guus Hiddink commented:

"I think we had a kick-start, we tried to press from the first minute to surprise them and I think we did.

"We had an early goal, an early second goal so that made them very unstable. I think (that gave us momentum) because everybody was talking about the Tuesday game (away to PSG in the Champions League) and then normally you start a little bit slow.

"But if you take advantage in the early stage of the game then you have some rests in your team and you don't have to press in the later period of the game.

"They enjoyed playing but what for me is important is good organisation defensively, not dropping back but trying to defend as soon as possible forward. That's what we have to do even more, but that's what I like. Everyone was disciplined in his defensive work and then the quality automatically comes up.

"We are unbeaten since December but we weren't really proud because there were too many draws, we wanted the status of being unbeaten with victories, that's why this is good.

"We tried to surprise them in the early period of the game, in which we succeeded with two beautiful goals, and the first 20 minutes were decisive.

"We have two big games coming up. We'll see what the damage is tomorrow after an intense game but it's good to go there coming off a win.

"The only thing we are not happy with, which is a good sign, was when we conceded the goal. We were sloppy in losing possession and we didn't defend well. I was happy to see the players were not happy.'

"(Diego Costa) wanted to play desperately and when the mask was fitted he said he could play. The way the first goal was scored was typical of a striker in good shape. He's focusing on what he has to do and choosing his moments perfectly.'


United after 26 games:

2015/16: 24 points, 18th, -22
2014/15: 32 points, 11th, -11
2008/09: 28 points, 14th, -8

Seydou Doumbia became the 206th player to appear for United in the Premier League - and the second from the Ivory Coast after Cheick Tiote.

We've now used 30 players this season and handed debuts to 12 (5 English, 2 French, 1 DR Congo, 1 Dutch, 1 Ivorian, 1 Serb, 1 Swiss).

Andros Townsend netted his first goal for the club, making him the 125th Newcastle player to do so in the Premier League.

United scored their first goal here in 360 minutes.

Chelsea's fifth minute opener was the quickest goal we've conceded so far this season and the earliest that we've fallen behind since Leonardo Ulloas' first minute effort at Leicester

last May.

Conceding three goals in the opening 17 minutes of a game was our worst start since the celebrated 4-4 home draw with Arsenal in February 2011:

Caught cold - our worst PL starts:

Feb 1995 QPR (a) 4,7,18 (lost 0-3)
Nov 2007 Portsmouth (h) 8,9,11 (lost 1-4)
Feb 2011 Arsenal (h) 1,3,10 (drew 4-4)
Feb 2012 Spurs (a) 4,6,20 (lost 0-5)
Feb 2015 Manchester City (a) 2,12,21 (lost 0-5)
Feb 2016 Chelsea (a) 5,9,17 (lost 1-5)

Toon @ Stamford Bridge: Premier League era:

2015/16: Lost 1-5 Townsend
2014/15: Lost 0-2
2013/14: Lost 0-3
2012/13: Lost 0-2
2011/12: Won 2-0 Cisse 2
2010/11: Drew 2-2 Gutierrez, S.Taylor
2010/11: Won 4-3 Ranger, R.Taylor, Ameobi 2 (LC)
2008/09: Drew 0-0
2007/08: Lost 1-2 Butt
2006/07: Lost 0-1
2005/06: Lost 0-1 (FAC)
2005/06: Lost 0-3
2004/05: Lost 0-4
2003/04: Lost 0-5
2002/03: Lost 0-3
2001/02: Lost 0-1 (LC)
2001/02: Drew 1-1 Acuna
2000/01: Lost 1-3 Bassedas
1999/00: Lost 0-1
1998/99: Drew 1-1 Andersson
1997/98: Lost 0-1
1996/97: Drew 1-1 Shearer
1995/96: Drew 1-1 Ferdinand (FAC)
1995/96: Lost 0-1
1994/95: Drew 1-1 Hottiger
1993/94: Lost 0-1

Full record v Chelsea:
| | | | | | | |
| --- | --- | --- | --- | --- | --- | --- |
| | P | W | D | L | F | A |
| SJP | 71 | 37 | 18 | 16 | 108 | 76 |
| SB | 71 | 11 | 19 | 41 | 73 | 139 |
| League | 142 | 48 | 37 | 57 | 181 | 215 |
Waffle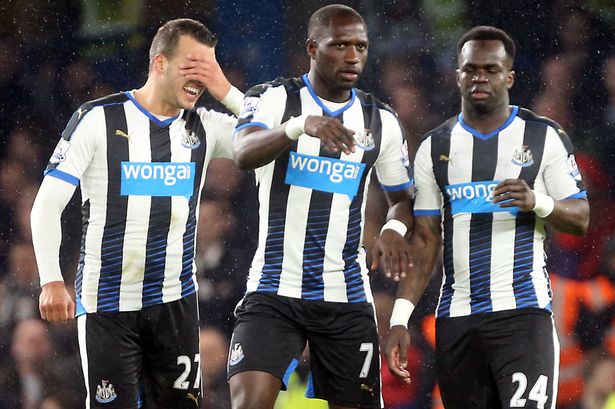 Three of the stooges


Our foes may have worn masks but this was no highway robbery, as Newcastle plunged back into the bottom three of the Premier League after a capitulation at Stamford Bridge on live TV.

Steve McClaren finally got something right when he told the viewing nation before kick off that the opening 20 minutes would dictate how the game panned out. Sadly, the United coach was spot-on, as the League's poorest travellers conceded three times in 17 minutes and another two later on.

Andros Townsend's strike in the final seconds of the second half boosted our miserly total on the road to seven in thirteen attempts this season, but provided anything but a consolation as the Magpies lost our fifth successive away game in the league. We managed six a year ago.

Naming an unchanged side to the one that beat West Bromwich Albion the previous Saturday meant that Rolando Aarons remained at left back and the ailing pair of Steven Taylor and Fabricio Coloccini continued in the middle.

Sadly though, the movement and threat of Chelsea was rather more testing than the inert Baggies and the home side proceeded to slice through United at will - aided by some casual play from the visitors that verged on the criminally negligent.

There were just two minutes on the clock when Nemanja Matic took advantage of a mis-kick but shot wide from the edge of the box. Sadly that let off just delayed the inevitable and Costa, Pedro and Willian all had Rob Elliot retrieving the ball out of his own net by the seventeenth minute.

At the other end, Jonjo Shelvey saw his shot deflected, Aleksandar Mitrovic appealed in vain for a penalty after a mis-control in the area and Gini Wijnaldum shot tamely at the 'keeper (possibly the most noteworthy thing he's done away from Gallowgate this season).

However, they were rare excursions into the opposing half for a Newcastle side for whom Moussa Sissoko and Wijnaldum contributed little and gave our Serb little aid, leaving him to challenge for random forward punts with a posse of covering home defenders. Mitrovic's main contribution was to clash with John Terry, falling on the Chelsea defender and ultimately causing him to be substituted.

Jack Colback replaced Wijnaldum at half-time and on 48 minutes Cesc Fabregas clearly caught Mitrovic on the edge of the area - the striker's shout of pain clearly audible in the stands.

However Roger East and his linesman took no notice of the incident and no there was no appeal from a Newcastle player - symptomatic of yet another away game that had been given up on.

Our best (least worst) spell of the game saw a Townsend cross reach Shelvey, only for Gary Cahill's block tackle to divert the shot behind. Mitrovic then fired a low powerful shot just wide of the far post before Chelsea resumed their dominance and promptly increased their lead through Pedro.

Seydou Doumbia/Doom Bar/Dumbo replaced Mitrovic and was soon gifted the ball but showed a woeful first touch and lost any chance of an instant impact. Needing a striker to hit the ground running for the rest of the season, we appear to have actually brought someone out of retirement.

From a distance he looked rather like Carl Douglas of "Kung Fu Fighting" fame, although his display for the reserves last week was more reminiscent of Jack Douglas...

With 83 minutes gone we leaked again, as Bertrand Traore converted - the third time that we've conceded five goals or more this season. And only Eden Hazard's slipshod shooting from just inches out prevented us from conceding six for the second time in 2015/16.

After a while this sort of repeated abuse just ceases to hurt. On the basis that we never play in Europe any more, can we justifiably claim to be victims of domestic abuse. Other teams have fan clubs, we could do with some sort of support group for coping with this recurring nightmare.

Andros Townsend did then score our first goal here since "that" shot from Papiss Cisse in May 2012, but unsurprisingly he didn't celebrate and the goal failed to prevent us returning to the drop zone.

Results elsewhere included a win for the mackems over Manchester United, Norwich drawing to go above us and both Swansea and Bournemouth losing. None of those outcomes have the slightest relevance to a club seemingly hell bent on demotion though, as those long-suffering away fans still to call time on witnessing this sorry charade were again mugged.

A team so clearly not playing for their manager now have a dozen games in which to save their own miserable hides - and ours. You wouldn't back them to do so with brass washers; our lack of conviction is as criminal as the insincere apologies and empty promises to put it right "next time".

A perceived lack of leadership off the field is mirrored on it away from cozy SJP, where it all just seems too much for our allegedly "big figures" in the dressing room - although it's impossible to escape the notion that this was a game that coaches and players alike had simply written off, as much of a dead rubber as next Saturday's kickabout against Lillestrom in La Manga.

That would account for the lazy team selection that prompted a lazy response from those selected, and the arrival of Colback and Lascelles when the scoreline was in danger reaching large enough proportions to force McClaren's fate on to the agenda. Losing by four goals barely registers a ripple.

The indifference to our plight shown here by the likes of Tiote, Sissoko and Coloccini mirrors that of imposters pursuing their own agenda like Michael Owen in 2009 - although who would be impressed by this twaddle to bid for them is open to question. Playing for a transfer used to mean you tried.

What is difficult to see though is where the conscience of the dressing room now lies in 2016. From those assembled here, who would be bothered enough to lead the sort of "are you with us?" inquest that followed that 1-6 defeat at Leyton Orient after relegation? Elliot? Shelvey? Lascelles?

Enjoy your jolly lads - but if the trip was performance-related, you wouldn't get to Benwell.

Pilgrims may have trekked across Spain for centuries on the route of St. James' but some minor miracle needs to take place over there if we're to return with the necessary heart and appetite for the fight. Believing that our home form will see us through threatens to be the ultimate folly.

Biffa