Date: Wednesday 2nd March 2016, 7.45pm.

Venue: Britannia Stadium

Conditions: desperate

Admission:

£

20 (£20 in 2014/15) thanks to another reciprocal pricing deal.

Programme: £3.50





Stoke City

Newcastle United

1 - 0

Teams
Half time: Potters 0 Magpies 0
80 mins Gini Wijnaldum intercepted a pass and Jack Colback looked set to pick up the loose ball but dallied and allowed substitute Mame Diouf to nip in. Xherdan Shaqiri did the rest, thumping the ball past a static Rob Elliot in front of the away fans as the rest of the side looked on.

There was a hint of a deflection but TV footage doesn't bear that out so why Elliot failed to dive as the ball flew past his right arm, only he knows. He may have been slightly unsighted but the shot was far from finding the top corner. 0-1
Full time: Potters 1 Magpies 0
Steve McClaren:


"We didn't deserve that.

"Jack Butland has become a bit of a curse this season for us. Four magnificent saves at St James' and one at the end there which denied us a point. That's the difference at the present moment.

"But, the last 18 days, we talked a lot about what we need to do and I think we started that process tonight in terms of attitude, work-rate and becoming harder to beat. I thought we were very organised, very disciplined.

"We stifled, frustrated Stoke - so much so that I think they had one shot in the second half and it's a goal. Treacherous conditions and I thought we deserved to fight our way to at least a point.

"If you had seen the performance at Chelsea compared to this evening...(it's) most definitely (an improvement). I thought there were good individual performances, a good team performance - you could see there was a determination, a work-rate for each other and a spirit there.

"This game's cruel and it's been cruel to us again. Dust yourselves down and we go again on Saturday."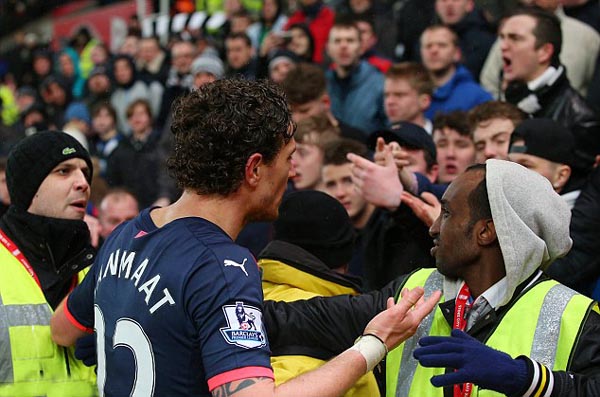 DJ approaches youngsters - and is blocked by Seydou Doumbia in disguise

Daryl Janmaat gave his own view of the post-match incident that saw him approach the away end:

"I could hear some swearing and that was understandable. I was there in front of the advertising boards, and my team mate (Jamaal Lascelles) came to take me away.
"I was very emotional after the game. We had lost. I understand the fans are not happy, but neither are the players. It was not my intention to 'confront' them. I did not want to get in a confrontation.
"It was more like I wanted to show I care, and say, 'Look I care. Look, we need you now. We need you because it is a really important period, the next couple of months.' That was the idea in my head.
"It was an emotional reaction. I do not normally do that. I wanted to say. 'Look, I understand you are angry. I am angry as well.'"
"The fans get behind us in games. This is a compliment. If I was a fan, I don't know if I would be that generous."It is in our own hands... We play against all our rivals down near the bottom. Bournemouth, Sunderland Norwich, Crystal Palace. It is down to us. We have to do it, simple.
"If we don't get the points we need in these games we will deserve to go down."

Mark Hughes said:

"The conditions were difficult and they affected the quality of the game. We were better in the first half, with the wind at our face, but we were grateful to a great strike from Shaq and a great save from Jack (Butland).

"I think it was unfair that their 'keeper was questioned as it was a great strike, and with the wind behind it, it made it more difficult for him.

"We're pleased with the three points - it's three wins on the bounce, we're in seventh and we're doing okay. In terms of wins we're very similar in terms of what we've been able to achieve.

"There's other clubs who have a hell of a lot more resources than us and we're on a similar level at the moment.

"It's important to get momentum at this time of the year and it seems like we are. We've got a difficult game at the weekend against Chelsea which will test us.

"With the games that we've got left, we're confident that we will get a good total by the end of the year. We're hoping that's going to happen again.

"There's no guarantee of it but the way we work, the way we train and the standards that we like to keep right throughout the year, that sustains us. We don't allow their energy to drop or their focus, that's helped us every year I've been here, so we fully expect that to happen again."




This was our sixth successive away defeat (seven including the FA Cup exit) and the third successive away game in which we've conceded a goal or more in the closing 10 minutes.

Seven away goals in 14 games - atrocious.

PL HT / FT away scores - 2015/16:

Swansea City Losing 0-1, Lost 0-2
Manchester United Drawing 0-0, Drew 0-0
West Ham Losing 0-1, Lost 0-2
Manchester City drawing 1-1, Lost 1-6
mackems Losing 0-1, Lost 0-3
Bournemouth Winning 1-0, Won 1-0
Crystal Palace Losing 1-3, Lost 1-5
Spurs Losing 0-1, Won 2-1
West Brom Drawing 0-0, Lost 0-1
Arsenal Drawing 0-0, Lost 0-1
Watford Drawing 0-0, Lost 1-2
Everton Losing 0-1, Lost 0-3
Chelsea Losing 0-3, Lost 1-5
Stoke City Drawing 0-0, Lost 0-1

That little lot has brought just seven points from a possible 42 and with visits to Leicester, Norwich, Southampton, Liverpool and Villa to come, our worst ever PL away points tally of 12 (during the 1997/98 season) is still some way off.

In terms of goals we're even further adrift, with the seven scored so far from 14 outings just half of the previous lowest tally of 14 - set last season.

Potters v Magpies - PL era:

2015/16 lost 0-1
2014/15 lost 0-1
2013/14 lost 0-1
2012/13 lost 1-2 Cisse
2011/12 won 3-1 Ba 3
2010/11 lost 0-4
2008/09 drew 1-1 Carroll
2007/08 drew 0-0 (FAC)
1999/00 won 2-1 FR Dumas, Robinson
1995/96 won 4-0 (LC) Beardsley 2, Ferdinand, D.Peacock*

(*At Victoria Ground, rest at Britannia Stadium).

Total record against Stoke:

| | | | | | | |
| --- | --- | --- | --- | --- | --- | --- |
| | P | W | D | L | F | A |
| SJP | 40 | 27 | 9 | 4 | 96 | 33 |
| VG/BS | 40 | 8 | 10 | 22 | 33 | 62 |
| League | 80 | 35 | 19 | 26 | 129 | 95 |
| SJP(TM) | 1 | 1 | 0 | 0 | 2 | 1 |
| VG(TM) | 1 | 0 | 0 | 1 | 0 | 1 |
| SJP(FA) | 4 | 4 | 0 | 0 | 11 | 4 |
| VG/BS | 3 | 1 | 2 | 0 | 5 | 3 |
| SJP(LC) | 1 | 1 | 0 | 0 | 3 | 0 |
| VG | 1 | 1 | 0 | 0 | 4 | 0 |
| Cup/TM | 11 | 8 | 2 | 1 | 25 | 9 |
| Tot | 91 | 43 | 21 | 27 | 154 | 104 |
Waffle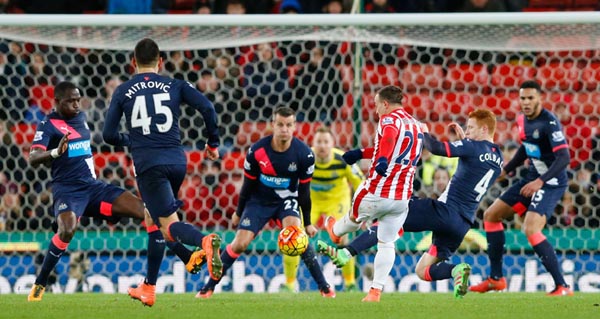 If we didn't already appreciate the plight we're in, Steve McClaren's comment about facing twelve Cup Finals after warm weather training in Spain was enough to strike terror into the hearts of all Newcastle followers.

We have a long tradition of going AWOL on the big occasion and while the chill wind howling through the Britannia Stadium meant that we quite literally froze, a familiar failure to perform echoed Wembley visits - right down to the defeated players sprawled across the turf at full time.

Attempting to stonewall for a 0-0 draw despite being faced with an abysmal home display, our plans were almost inevitably foiled by a fortunate late strike. That provoked a panicky response that only a miraculous late save from Jack Butland prevented from bringing a point, but for the dispirited away following it was a case of far too little, far too late and a genuine chance of three points ignored.

The meek may will inherit the earth, but Middlesbrough's spot in the Championship looks more likely after a sixth successive away defeat that leaves only Aston Villa between us and the basement.

His side may have returned from La Manga by air, but the United boss was all at sea after the game, running the gauntlet of angry supporters as he made for the tunnel and then attempting to keep his head above water by claiming afterwards that we were hard-done by - again.

The game may not have been televised, but 2,000 pairs of eyes in the ground and countless fans viewing overseas broadcasts by fair means and foul would beg to differ. To claim that five seconds of activity after 90 minutes of clueless dross makes you worthy of taking something from the game is even more preposterous than his fading quiff.

18 days of inactivity somehow managed to see us lose the services of messrs Coloccini, Townsend and Tiote, with Paul Dummett and Jack Colback returning and Jonjo Shelvey taking the armband.

Depressingly, Townsend's absence was compensated for by the return of Yoan Gouffran, presumably providing some sort of balance to the side - Moussa Sissoko's presence on the right putting sulky, unthreatening Frenchmen on each wing. The treatment of Rolando Aarons also looks like classic NUFC - get in the team when playing out of position but be overlooked when your role is vacant.

Wijnaldum's headless chicken impression flatters to deceive although his colleagues rarely support his efforts. Colback continues to make his England call-up look like a case of mistaken identity, while the exasperating Mitrovic remains a bewildering mix of misplaced aggression and immobility - exhibit A in the case for the prosecution that our coaches can do nothing to improve the playing staff.

Mitro's most memorable contribution was to roll around on the floor clutching his face which fooled no-one, including the entire away following who jeered his antics as much as the home fans. The subsequent pairing with Emmanuel Riviere evoked memories of the Cunningham/Reilly partnership Jackie Charlton came up with (note to younger fans, this wasn't good).

With the bemusingly inept Emmanuel Riviere already on for equally awful compatriot, Gouffran, our response to going behind was to give Ayoze Perez a few minutes to salvage a point.

Seydou Doumbia was also thrown on and miraculously managed our one serious attempt at goal in added time that Butland saved.

Lack-lustre displays across the pitch echoed those of our last relegation season, when the tryers were outnumbered by the shirkers like Owen, Martins, Bassong and Viduka. Confusing talent with application was our downfall then and failing to match the effort of our relegation rivals threatens to make us the "best" side to be relegated since 2009.

As Janmaat left the field he took exception to some cat-calling and confronted some of the away following before being led away by Jamaal Lascelles and Steve McClaren. The usual social media response made it sound like a real face-off, but much like the game itself it was all a bit tepid - a Paddington hard stare rather than a Cantona kung fu kick.

Two wins in four days could have all but secured our Premier League status, but for all the promised
regrouping and reorganising, an ambition-free rabble showed no willingness to try and score. That's either a specific instruction or ignoring instruction and playing without any discernible ambition.

Whichever is correct it's a recipe for disaster - and one that is rapidly unfolding before our eyes.

Rolling over at Leicester, Liverpool and Southampton leaves the visits to Villa and Norwich as games where we genuinely need to have a go, but as we've seen in previous seasons it's not something that can be turned on and off. The buzz word remains momentum, something we've never had this season - even in small spurts.

Putting aside our game in hand (at home to a Manchester City side unbeaten in their last nine visits to Tyneside), this now looks like three to go from four: Villa, us, Norwich and the mackems.

With Villa's goose cooked (notwithstanding the fact we still have to go there) only one of that trio will survive. At the moment we look the least likely to be that one, needing to draw on a spirit that just doesn't seem to exist in the dressing room to beat an in-form Bournemouth on Saturday.

Anything less than a win would be catastrophic, but hardly a shock.

Niall MacKenzie/Biffa