Date: Saturday 5th March 2016, 3.00pm.

Venue: St. James' Park

Conditions: pathetic




Newcastle United

Bournemouth

1 - 3

Teams
28 mins A Bournemouth move broke down and the ball fell to Jack Colback who inexplicably gifted it back to old boy Dan Gosling. Jonjo Shelvey dived in and almost won it back but Gradel played in King down the left after Daryl Janmaat got drawn to the ball. This left King plenty of time and space but his cross was poor and should have been dealt with easily. Steve Taylor attempted to clear it and turned it past Rob Elliot. Unlucky? Three horrendous errors from Colback, Janmaat and Taylor. 0-1
Half time: Magpies 0 Cherries 1

70 mins Colback's position on the halfway line left Vurnon Anita to try and tuck in at left back. Ritchie had space to pick out Brabban who laid it back to him. King's forward run saw Janmaat play him onside and Taylor inexplicably dancing forward, King took Ritchie's pass in his stride and blasted it past Elliot into the roof of the net. Colback, Janmaat and Taylor all at fault again.... 0-2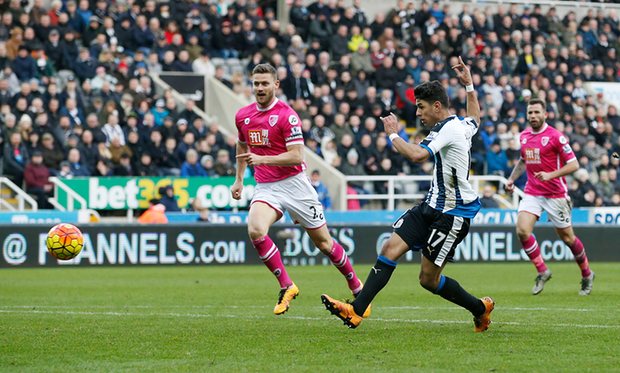 80 mins Elliot played it forward to Aleksandar Mitrovic who took the ball down and laid it back to Shelvey. Ayoze Perez made a great run and Shelvey superbly picked him out, with the Spaniard tucking the ball past the advancing Boruc. Devastatingly simple. Any Newcastle fan who has seen more than three games this season could have coached that one, but it only happened because Perez had come in from the left. 1-2
90+2 mins Newcastle should have been chasing an equaliser at this point but Daniels and Pugh were able to exchange passes with Rolando Aarons and Janmaat both helpless bystanders. Taylor backed off Daniels, who was able to make his way inside the box before tucking a left-footer past Elliot. Colback was pretty blameless on this occasion.... 1-3
Full time: Magpies 1 Cherries 3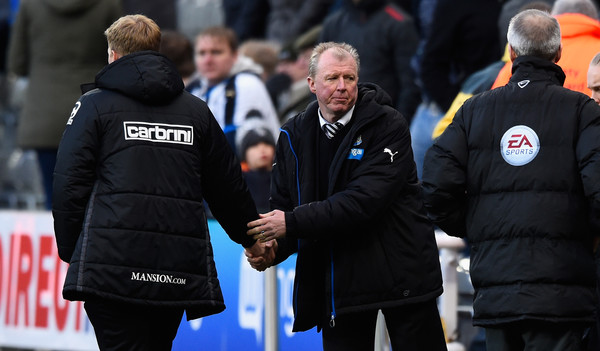 Steve McClaren said after the game:
"I'm very disappointed. That was definitely a poor performance and 'going down' material.
"We have got to find the fighters in the team and the performance today did not epitomise that. We cannot play like that and hope to stay up.
"We have 10 games to go and play everybody around us. It's a four-team league and it's still only one point so we need to fight, but we can't play like that.
"The performance was not good enough. On Wednesday (at Stoke) we showed good organisation and fight and we wanted to produce that again, but it was an edgy start.
"There was a lack of discipline and the team got stretched, Bournemouth took advantage. We were unlucky with the deflection and after that we wanted to press and didn't follow so we became ill-disciplined.
"There was a certain edginess and you could see that in our play. We lost our shape. Normally we are a good attacking team but today we were poor on the ball. You can only say that the pressure got to them.
"I can't see any positives but we have to stick together as a staff and as a team and fight."

Asked if he would quit:
"No, no way. That's for other people to decide. I don't do that.

"I have enough experience. I have been through this, I have had chants like there have been today quite a few times and that's the perils of being a manager, and especially of this team this season.

Asked if the board shared his confidence in avoiding relegation:
"You'll have to ask them. I can't control that, I can only control what we do and as I said to you before, we have got 10 games, it's a four-team league, we play everybody around us in that four-team league.

"It's up to us. But I'll tell you, if we play like that, we are not going to stay up, and they know that, the crowd knows that. Accept the criticism, grow stronger, become a man and get out there and play.

"I came here, I said this is a great club - it still is a great club and I still think it can be a great club. I think it needs things doing to it, but we can't do anything about that now. I think I said last week it's not about before, it's not about the summer, it's about now."

Asked if he had sympathy for McClaren, Eddie Howe said:
"I'm not sure sympathy is the right word because Steve is an outstanding coach, an outstanding manager. He doesn't need my thoughts expressed that way.

"But what I will say is I think he will, if given time, lead the team, lead the club to better times. I think he is a gentleman, I think he knows what he is doing.

"You look at the clubs that he has managed - there's no problem with him and I am sure better times are ahead.

"No, that's not us just about there. We have got a lot more work to do. We play Swansea next week, so the games get bigger from our perspective.

"We don't want to let up until we know we are safe, and even if we are able to hit that mark, then we want even more.

"I was very, very pleased with the players. I thought we gave a very good account of ourselves today. The only disappointment from my perspective is that the game wasn't over earlier.

"That's a big win for us and I thought it was thoroughly deserved. It was a bit nervy at the end but it was great to get a third goal to seal it.
"It was tighter perhaps than it should have been but I was very pleased with a great performance. We had a real threat about us going forward. It was great to see us score three away from home.

"My only disappointment was the game wasn't over earlier. I was aware of it (unrest at Newcastle) but that can work one of two ways. It can galvanise them, so it was down to us, we were the important ones. We wanted to use the crowd to our advantage and we did that.
We wanted to dominate the ball and thankfully we got on top. It's a good position to be in and we want to just finish the job that we have started. But we have some massive games to come and it's not over yet.
"It would mean everything for us (to stay up). There's a lot of pressure on us but so far we are coping quite well."
Our return of 24 points from 28 games is the lowest in our 22 seasons of Premier League participation and the lowest in any season since 1986/87.

United suffered their first home loss of 2016 but have taken just five points from a possible 27 in all league games so far

this year.

Having netted in the first meeting of these two sides this season, Ayoze Perez repeated the feat with his sixth goal of the season and thirteenth in our colours - all in the Premier League.

Steven Taylor's own goal was our second of the season after Fabricio Coloccini's effort against Arsenal at SJP last August. One has to go back to December 2006 for the only other OG Taylor registered, for Spurs at the same end of the ground back in December 2006. We won that 3-1.

Cherries in Toon - all-time:

2015/16 lost 1-3 Perez
1991/92 drew 2-2 Hunt 2 (FAC) (lost 3-4 pens)
1989/90 won 3-0 Anderson, Quinn 2 (Div 2)
1972/73 won 2-0 Macdonald, OG (FAC)
Full record v Bournemouth:

| | | | | | | |
| --- | --- | --- | --- | --- | --- | --- |
| | P | W | D | L | F | A |
| SJP | 2 | 1 | 0 | 1 | 4 | 3 |
| DC/VS | 2 | 1 | 0 | 1 | 2 | 2 |
| League | 4 | 2 | 0 | 2 | 6 | 5 |
| SJP(FA) | 2 | 1 | 1 | 0 | 4 | 2 |
| DC | 1 | 0 | 1 | 0 | 0 | 0 |
| SJP(LC) | 0 | 0 | 0 | 0 | 0 | 0 |
| DC | 1 | 0 | 0 | 1 | 1 | 2 |
| Cup | 4 | 1 | 2 | 1 | 5 | 4 |
| Tot | 8 | 3 | 2 | 3 | 11 | 9 |
Waffle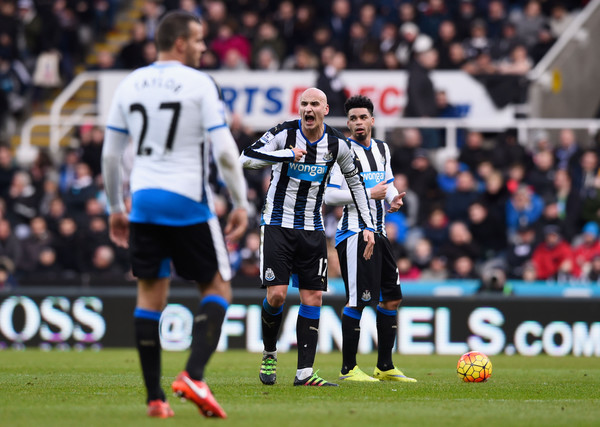 Newcastle's biggest home crowd this season turned out to witness what they hoped would be a belated attempt at extricating themselves from a rapidly worsening situation of their own making.

Long before full time though, optimism had given way to resignation and rage after yet another non-display from the black and whites increased the inevitability of their relegation.

We're struggling to recall any occasion where home fans directed chants of "you're getting sacked in the morning" at their own manager, but that was noisily sung today, along with "Steve McClaren you're taking us down" and that evergreen Tyneside ballad, "we're sh*t and we're sick of it."

Steve McClaren's position at this club looks now to be totally untenable, following the clearest possible demonstration that any support he ever enjoyed from players or fans has vanished.

Quite simply he's run out of road - and his team could hardly have buried him more effectively today if they'd excavated his technical area to a depth of six feet.

There are no excuses left, no mythical number of games to be judged on, no more cursing of his ill-fortune. A dysfunctional structure where not even the positions he asked to strengthen were granted - let alone the actual players he requested - left him as high and dry as his front tuft.

Unlike Kevin Keegan, it's turned out to be exactly like it was the brochure - something that both Alan Pardew and John Carver could have given him chapter and verse on, had he asked.

And like his two predecessors, he's failed in the task he was set: coaxing anything resembling competence and commitment from a squad sprinkled with internationals and a terrible attitude.

A statement attributed to that squad was publicised by Sky Sports before kick-off today in which words like 'responsibility', 'respect', 'faith' and 'fight' were bandied around - although its precise origin was later unclear amid several subsequent player denials.

The grim reality of what followed though rendered those sentiments completely hollow, with helpless, hapless, gutless and clueless more appropriate. Having failed to get to grips with the demands of playing away from home this season, the pressure of performing in front of their own fans is now seemingly too much for this lot. The poor bairns.

Seeing non-scoring striker Emmanuel Riviere leading the line almost brought to mind Ruud Gullit's "team sheet / suicide note of 1999 when Paul Robinson played and Shearer and Ferguson were benched, but then McClaren doesn't actually have any strikers or personalities to drop, thanks to the bloody-minded ineptness of those he serves.

Fears of our striking ineptness were quickly confirmed as Riviere failed to hit the target with either of his chances, while Aleksander Mitrovic's subsequent arrival brought about zero improvement. The Serbian was later revealed to be tired after Stoke - all that rolling around must take it out of you...

Trailing by the half hour to a Steven Taylor own goal, McClaren's response was to substitute Paul Dummett, move the awful Jack Colback to left back and introduce Vurnon Anita - all presumably to spare Colback's blushes by dragging him off.

The United coach had no such fears after 69 minutes though when hooking Moussa Sissoko, who received a level of abuse from home fans totally in keeping with his cowardly and inept displays in recent matches. Champions League, mon derriere.

Within seconds though the game was truly up, as Joshua King rifled home a shot for 0-2, a fair reflection of the game at that point, with the Cherries having spurned several earlier chances.

That goal was the signal for a significant number of home fans to take their leave, while those who remained rubbished both team and manager. Jonjo Shelvey's perfect forward ball did then allow Ayoze Perez to reduce the arrears, but hopes of a barely acceptable point were raised only by one Georginio Wijnaldum effort that was deflected wide.

The final nail in the coffin came in added time when Charlie Daniels had plenty of time and space to slot home the Cherries' third, Sylvain Distin then arriving from the bench to join fellow old boy Dan Gosling in savouring a memorable return to Tyneside at the full time whistle.

Once more, our opponents seemed to be fitter, faster and simply more adept across the field. With club captain Fabricio Coloccini apparently injured and paying scant attention to proceedings from an executive box, the armband passed to Shelvey. He at least attempted to lead by example in only his seventh game for the club, looking visibly more committed than longer-serving idiots around him.

What was glaringly obvious again was the lack of forward options and threat that saw our passing moves continually break down and balls played backwards before the inevitable aimless punt upfield that contributed to the increasing unrest of the crowd.

Our demise will be hastened by the failure to sign a goalscorer in either of the last two windows to emulate previous seasons when messrs Cisse, Remy and Ba hid a multitude of sins behind them.

Instead, the fruitless pursuit of Saido Berahino in January left the club too busy casting around for an alternative to bring in any defenders and resulted in the hasty loan deal for Seydou Doumbia - who is presumably so awful that like the elephant man, he's not allowed to be seen in daylight.

The futile deals of our tainted transfer policy have also seen a host of players including De Jong, Thauvin, Cabella, and Saivet incapable of adding anything to the cause in our hour and a half of need - save for their wages and the money we squandered on them.

This was beyond a must-win game. A draw would have been an unmitigated disaster, and yet we played like a pre-season stroll or a season-ending dead rubber - being inevitably punished by yet another unfashionable team who had grasped that our reputation exists only in history books.

What on earth does that say about the players or those employed to organise and motivate them? Surely the gravity of the situation is evident to them whatever language or accent they speak with?

The nine days before our next game against Leicester and the decisions made by the club during that time promise to be among the most crucial in living memory. Sadly, we don't have even a modicum of confidence in those currently in charge, whose only constant is in continually getting things wrong and seeing their "asset" steadily turn to dust.

In nine years they've learned nothing. Arriving in 2007, f*cking it up in 2009, almost f*cking it up in 2013 and 2015 and now on the verge of f*cking it up in 2016. Pitied in the stands, betrayed in the dressing room, only the man who recruited McClaren after a protracted chase - a rare deal he could close - looks to have any confidence in the coach, but for how long?

While McClaren seems resigned to his fate - and payoff - this catastrophic defeat must surely make Lee Charnley's position equally untenable, not to mention that of transfer overlord Graham Carr.

All in all, a team not fit for purpose on and off the field and rightly slaughtered by supporters and pundits alike - with that chorus of disapproval led by the bloke who was the boss when were last relegated. At least you can tell it's hurting Shearer, someone who the club still matters to.

Those people shouting and bawling and walking out of the ground today though were the ones who still actually bother going. Many more have already given up on this fruitless pursuit of mediocrity, and a second relegation in less than a decade will only accelerate that process further.

The manager has lost the dressing room, the players have lost the crowd, the crowd has lost the will to do anything more than witness this slow death - and sing about footballers going to jail.

And yet, we're within touching distance of dry land and our fate still lies in our own feet and hands. Why can't someone grasp that fact? McClaren certainly does, but his words fall on deaf ears in our dressing room. Our games against the three other sides for whom relegation looms are all eminently winnable aren't they, surely? We could well be playing two of them in the Championship soon....

Sacking McClaren would offer a faint hope of belatedly galvanising these players (although that didn't work in 2009), but it's hard to see who would be desperate enough to accept the working conditions here, certainly nobody with a shred of credibility or alternative employment prospects.

Up next? the league leaders then the mackems, both on live TV.

Newcastle United RIP (relegation is pending).

Biffa