Date: Saturday 9th April 2016, 3.00pm

Venue: St. Mary's Stadium

Conditions: Acquiescent

Admission:

£

37-£39 (£25 in 2014/15)

Programme: £4 for what resembled a
share prospectus / clothing catalogue





Southampton

Newcastle United

3 - 1

Teams
4 mins Shane Long beat Jonjo Shelvey to the ball in central midfield and then exchanged passes with Graziano Pelle before beating Chancel Mbemba, Vurnon Anita and then Steven Taylor - the latter doing a pirouette that only he can explain - and slotted the ball past Darlow with ease.

Given our predicament and all the pre-match talk and posturing, for this to happen with the opening four minutes amply demonstrates everything you need to know about our players. Clueless, spineless and weak-willed. 0-1
38 mins Sadio Mane was given the freedom of the pitch to pick out Dusan Tadic down the left. His pass should have been cut out by Daryl Janmaat just inside his own half, but he slipped over and fell on his face. That left three Saints forwards charging at just Taylor and Mbemba. Long almost made a mess of things but Pelle had time to lash his mis-control beyond Darlow into the corner of the net.

Given our predicament etc. etc....
Janmaat's slip was described by some as unfortunate. Not us. And as to whether his injury required him to leave the field is open to debate. He seemed only too keen to get out of the firing line and a less professional manager may have come out and said just that publicly afterwards.

Like last season though, he's avoided that - the Dutchman's lunacy at Leicester a year ago overshadowed by John Carver's decision to pursue fellow red card recipient Mike Williamson. 0-2
Half time: Saints 2 Magpies 0

55 mins United switched off after clearing a corner and the second flag-kick was taken short, with a posse of visiting players belatedly reacting. Mane swept around Gini Wijnaldum with ease and crossed to Fonte, who saw his shot blocked by Karl Darlow.

Almost inevitably though, the rebound fell nicely for Victor Wanyama who swept the ball home for his first of the season via a deflection off Lascelles that took it over Darlow's dive. 0-3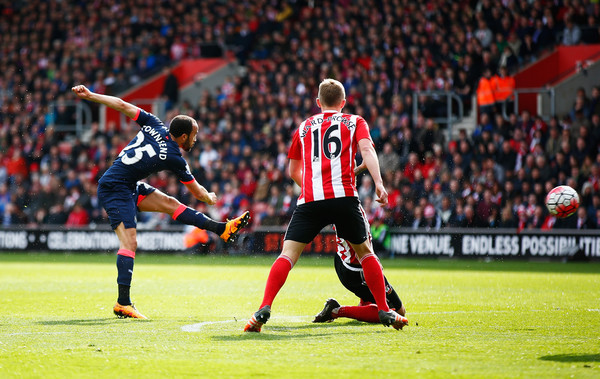 65 mins Far too little, too late, as Andros Townsend reproduced his strike from when we trailed 0-5 at Chelsea, cutting inside from the right flank before unleashing a fierce left foot drive that absolutely flew into the net. An absolute cracker but utterly worthless. 1-3
Full time: Saints 3 Magpies 1
Rafa Benitez commented:

"When you have an idea, a game plan, how to attack, how to defend, and after three minutes you concede, you start questioning what you are doing on the pitch, change this or change that, then you concede another goal.

"It is very difficult when you are in that situation to accept that something is wrong and keep pushing and pushing.

"The players, some of them are young and they need help in terms of making the right decisions. So you have to give them help in training.

"Some of them, they are worried about these mistakes that we normally do during the games. In the game today, we made a mistake and we gave it back to our keeper because we are scared.

"Obviously we go into games a little bit scared and once we make the first mistake everybody loses the belief and it's something that we have to change one way or another.

"Some of them I think they are strong enough mentally, but some of them need help.

"And we will try to help them one way or another. But we need to see which players we can count on and who can give what we are expecting.

"At half-time, that could be the angriest I've been so far, yes. But it's not a question of shouting but saying the right things.

"You have to be upset, and I was really upset. I was telling them that the performance of the first half was not acceptable.

"We had to change players, move some from one side to the other. It was obvious that we couldn't win with this mentality and playing in this way.

"My concern was I couldn't believe how we started the first half after the hard work that the players were doing during the week.

"We have to change a lot of things, the commitment, the passion, the character and the way that we play. At the moment just a single mistake, an individual mistake, is killing the team mentally.
ďAlmost every game we must approach as thinking it is a must-win game, but you canít control what the other teams will do.

"If they lose some games maybe it will be enough with four games. If they continue winning games, then maybe you need to win five. And if you lose it doesnít matter.

"We donít need to be the best team in the Premier League but we have to be the best team in the bottom four. We are not doing that at the moment. We have got to start doing that quickly.
"The games at home are crucial for us. So we have to approach them as one.

"The confidence we must improve a lot, we have to get three points and that can change everything if we are capable of doing that.

"It's not the time to complain and blame each other, it's time to realise we have to stick together.

"We have four games at home and that is the key if we want to stay in the Premier League.

"The anxiety is killing us sometimes. At home we have the fans behind us and we need them. We have six games to play and each one is important.

"Character and passion, and positive play - that's the very least of what is expected every game, for 90 minutes, but it is clear that that was very much lacking in the first half.

"That's not a situation that we can have away from home, so we have to make changes to how we'll play away from home.

"Before that we'll have to prepare for the next home game, and we just hope we can keep the fans behind us.

'It's very clear that we can say nothing to our fans - they come here to see the team fighting and winning and we didn't do that in the first half. So you have to understand their feelings.

"But we'll need support from the fans, we need them behind us to drive us on, to get a result against Swansea."

About Steven Taylor:

"Steven felt a bit of stiffness (in his head presumably) so I think it was a big risk to keep a player with problems on the pitch, especially with the problems we have in defence, so we had to change him, and that's it."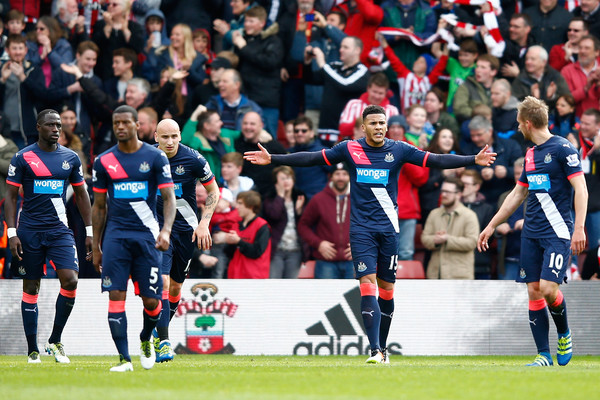 Jamaal Lascelles pulled no punches in directing criticism at his team mates post-game. Coming off the bench for only the 16th game of his Magpies career, the 22 year-old who played in the Championship last season for Nottingham Forest told BBC Radio Newcastle that:
"We had Steve McClaren who is a great manager and now we've got Rafa Benitez, who is a great manager so it's clearly not that. It's the players and we have to take full responsibility. It's ourselves who need to change it and not the manager.
"Personally, as a member of this team, I think we need to play with more heart. You know we've got flair players, tricky players, players with loads of talent, but we need more heart, we need more desire, we need bigger characters on the pitch.
"We need players who care and who are going to get after each other and I think we've lacked it this season and no matter how good you are if you don't have that fight and hunger and desire, it doesn't matter.
"No disrespect to Leicester and even Norwich last week, I played against these players in the Championship for two years and you wouldn't switch one of their players for any of ours.
"And that's the most frustrating thing for me - on paper our team's ridiculous, like I said before we need to show more heart and fight because that's what Leicester have done all season and it's a big shock to football.
"It's not acceptable: as individuals we can't play like that and as a team or we will struggle.
"The gaffer had a go at us at half-time. He said what we needed to do and we got a reaction with a goal back.
"But the only thing we can do now is put it behind us and focus on next week."
It isn't the first time that Lascelles has voiced his displeasure at the attitude of other players, with reports claiming he led the dressing room inquest following the 1-5 loss at Crystal Palace last year.
More recently, he was caught on camera after being sent off in a 0-3 defeat at Everton saying "no-one gives a f*ck" - a clear reference to the team.

Ronald Koeman said:

"I put pressure on the players to play in a system with four strikers.

"To start very offensively and press Newcastle from the start. And it worked fantastically well. That was the key to the victory today."
Enough said....

PS: The Saints confirmed that Charlie Austin had been originally included in the squad but forced to withdraw after sustaining an injury during the warm-up. Had that not happened, then he'd doubtless have come on and added to our misery....

United lost their fourteenth away league game of the season and their ninth in succession from seventeen played. With two games remaining, they may yet emulate their worst-ever return of 16 away losses (1929/30).

This ninth consecutive loss extended our worst-ever away run in the Premier League.

The Magpies crawled into double figures for away goals scored this season but are still three behind matching their lowest PL total of 13 (1997/98) with two games to play.

Only winning their last two away games will see Newcastle avoid their lowest PL away points total. That's 12 (2008/09), they currently have seven ahead of trips to Anfield and Villa Park.

Newcastle last kept a clean sheet in an away league game against Southampton back in February 1969 (a 0-0 draw). Today was their 26th unsuccessful attempt to emulate that.

Andros Townsend scored his second Newcastle goal, both of which came in the Premier League. He's played seven times for United in that competition (six starts), having managed just three PL goals for Spurs in half a century of appearances for them (22 starts).

That goal was our first strike on this ground in 368 minutes since fellow Spurs old boy Stephen Carr netted way back in September 2004.

Toon @ Saints - Premier League era:

2015/16: Lost 1-3 Townsend
2014/15: Lost 0-4
2013/14: Lost 0-4
2012/13: Lost 0-2
2004/05: Won 2-1 OG, Carr
2003/04: Drew 3-3 Ameobi, Bowyer, Ambrose
2003/04: Won 3-0 Dyer 2, Robert (FAC)
2002/03: Drew 1-1 Bellamy
2001/02: Lost 1-3 Shearer
2000/01: Lost 0-2 No scorer*
1999/00: Lost 2-4 Shearer, Speed*
1998/99: Lost 1-2 Hamann*
1997/98: Lost 1-2 Lee*
1996/97: Drew 2-2 Ferdinand, Clark*
1995/96: Lost 0-1 No scorer*
1994/95: Lost 1-3 Kitson*
1993/94: Lost 1-2 Cole*

* At the Dell, all subsequent games at St. Mary's.

Full record v Saints:

| | | | | | | |
| --- | --- | --- | --- | --- | --- | --- |
| | P | W | D | L | F | A |
| SJP | 40 | 28 | 7 | 5 | 92 | 39 |
| SM/TD | 40 | 4 | 11 | 25 | 31 | 74 |
| League | 80 | 32 | 18 | 30 | 123 | 113 |
| SJP(FA) | 3 | 2 | 1 | 0 | 4 | 1 |
| HCG/TD/SM | 6 | 1 | 0 | 5 | 6 | 13 |
| SJP(LC) | 0 | 0 | 0 | 0 | 0 | 0 |
| TD | 1 | 0 | 0 | 1 | 1 | 4 |
| SJP(FC) | 1 | 0 | 1 | 0 | 0 | 0 |
| TD | 1 | 0 | 1 | 0 | 1 | 1 |
| Cup | 12 | 3 | 3 | 6 | 12 | 19 |
| Tot | 92 | 35 | 21 | 36 | 135 | 132 |
Waffle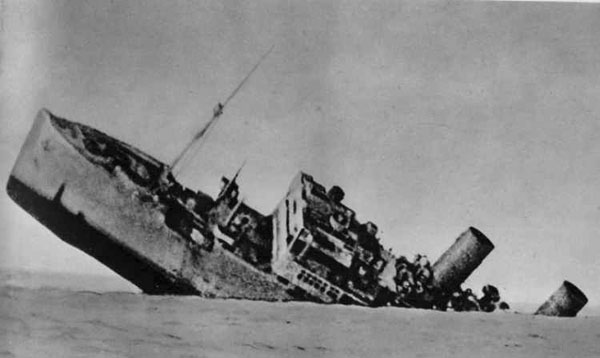 few - if any - survivors are expected
Holed beneath the waterline and with few of those on board making any attempt to bale it out, Saturday afternoon saw the good ship Newcastle again run aground on the treacherous south coast.

And for the umpteenth time in this campaign, enemy action was only partly responsible as it began to sink below the waves, the apparent mutiny among our motley crew continuing despite a change of skipper.

United's ninth straight away loss - the worst run of form on the road since 1961 - plunged them closer to the Championship, with only victory by Alan Pardew's Crystal Palace over Norwich City preventing a dreadful day from becoming absolutely calamitous.

But by the time Andros Townsend fired home a consolation, the game was already lost thanks to some pitiful defending and a typically clueless and gutless first half performance, despite starting with both Ayoze Perez and Aleksandar Mitrovic.

Rafa Benitez had talked about removing his players' mental blocks but providing any sort of a physical obstacle proved to be beyond them on four minutes, as Shane Long waltzed forward and bamboozled Steven Taylor before giving the Saints the lead.

Worse was to follow and the only surprise was that it took over half an hour for Southampton to score their second, Graziano Pelle taking advantage of more shambolic defending to grab his fourth goal against Newcastle in as many appearances.

Daryl Janmaat's crucial slip in the build-up saw him substituted (although there were those present who remain unconvinced about his alleged groin injury) and he left the ground with his arm in a splint after coming off second best in a wall-punching competition. You couldn't write this stuff.

Although Jamaal Lascelles and Paul Dummett were both on the bench, Rafa took the opportunity to reshape his side by withdrawing Moussa Sissoko from his wasteful advanced role to occupy the right back slot (fellow midfielder Vurnon Anita had started at left back).


The dreadful Taylor was replaced by Lascelles after the interval but that alteration failed to prevent Ronald Koemen's side added a third from a corner, Victor Wanyama prospering from a statuesque back line ten minutes into the second period.

A rare passage of attacking play from United then saw Perez trundle a weak effort towards Fraser Forster before Andros Townsend did rather better and forced the ex-Newcastle custodian into action.

Townsend then scored his second goal for the club with a spectacular effort into the top corner but despite there being almost half an hour remaining, that always looked like being a solitary reply and the Saints kept us at arm's length while rotating their squad and occasionally threatening a fourth.

Three points for Southampton keeps their hopes of European qualification alive, but for the visitors the prospect of Championship oblivion looms ever larger - amid speculation over exactly which game will see the trapdoor open (Rafa's Anfield anguish? Revenge for Pards? Last laugh for Villans? take your pick).

Never mind who inflicts the fatal blow though, the real guilty parties are rather closer to home, residing in both the stand and dressing room. For every failure to recruit a player, there's an equal shortcoming in the calibre of those signed and those retained (that Colo contract extension remains utterly bewildering).

Those keen on recruiting Gini Wijnaldum may wish to check the reports of their scouts, this another day on which the Dutch international seemed to have been replaced by a hologram of himself.

From grabbing four goals against Norwich in October to having barely that many notable touches today, the unraveling of our top scorer is another low point - maybe he'll relocate to Nice...via Hull City....

Quite what Rafa was writing on his piece of paper after each goal went in is unclear, but if it had been a reminder to ring his agent and circulate his CV then you really wouldn't blame him.

The identity of our manager becomes immaterial when confronted with this sorry shower, who defy football logic and fail to respond to any motivational or organisational trick in the book. Quite what the coaching staff who have joined Rafa in toon make of it all is also open to question - what's the Spanish for 'not like it was in the brochure'?

By this time last season, John Carver was trying to pick fights with players by accusing them of cheating in a vain attempt to provoke a reaction. May we suggest waterboarding this time round.

Rafa's promise of changes to the team is of course a hollow one, with only the possibility of Fabricio Coloccini, Kevin Mbabu and Paul Dummett returning after injury and Jack Colback from suspension. Chuck them all in - the less we see of those charlatans here today the better.

Otherwise the latest failures can only make way for the previous crop of duds like Yoan Gouffran, Cheick Tiote and Emmanuel Riviere. Friday night's U21 defeat featured Sylvain Marveaux and Henri Saivet, while Rolando Aarons and Sylvain Doumbia were nowhere to be seen.

Monday's season-closing reserve game however saw no first team squad players involved, not even Gabriel Obertan - who returned to the first team bench today having not kicked a ball since last September and has previously requested second string runouts as part of his comeback.


We remain six points from safety which isn't an impossible gap to close but which based on this display, is only a notional survival chance. It seems inconceivable that these players can muster the effort that could result in any victories - let alone the requisite number to avoid relegation.

Our fifteen home games to date have brought four wins, meaning that we now need to beat all - or most - of a quartet of sides who all prosper on Tyneside.

Swansea will come looking for their fourth successive victory at SJP, Palace drew here last time and Spurs will aim for a third victory here in as many seasons. And as for Manchester City, 11 wins in 11 visits, no defeat at Gallowgate in 17 games since 2005.

Two successive Saturdays wasted then - a total of 1,250 miles from doorstep to turnstiles and back again. Frankly, they're not worth going to the top of the street for.


Biffa