Date: Saturday 16th April 2016, 3.00pm.

Venue: St. James' Park

Conditions: Uplifting (at least psychologically, if not in position)




Newcastle United

Swansea City

3 - 0

Teams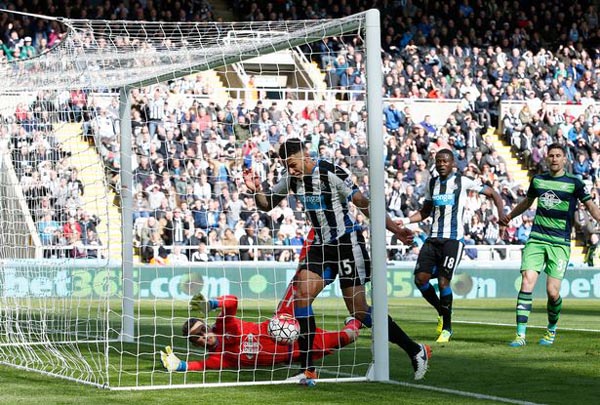 40 mins Papiss Cisse won a corner at the Leazes End that Andros Townsend swung in for Jamaal Lascelles to head home from close range at the neat post 1-0
Half time: Magpies 1 Swans 0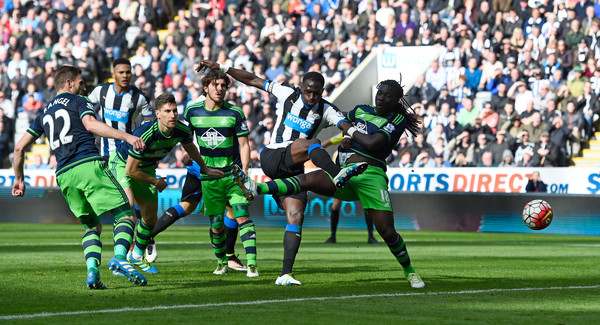 82 mins Another set piece breakthrough as Townsend's flag kick dropped in a central area of the box well away from the goalkeeper (revolutionary stuff) and after a brief bit of pinball fell into the path of captain Moussa Sissoko, who shot home from eight yards out. 2-0

(We're not quite sure exactly when we last scored from two corners in a game, but Tommy Craig claimed an assist. Probably).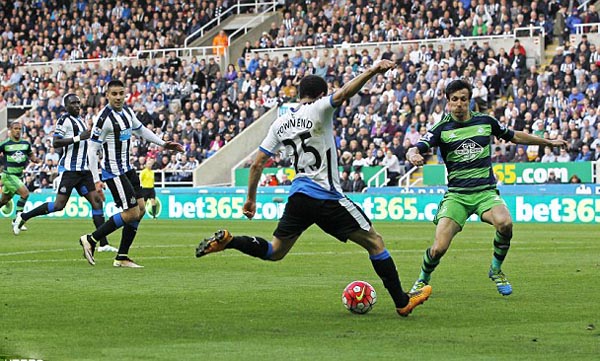 89 mins Having set up United's opening two goals, Andros Townsend rounded off his afternoon by taking a Mitrovic pass and swerving a low shot home that may just have taken a touch off the City player who made a desperate lunge to try and block it. 3-0
Full time: Magpies 3 Swans 0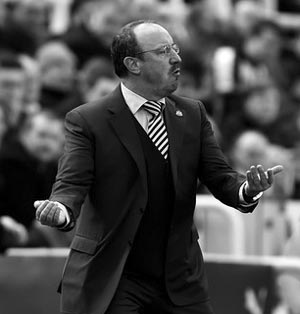 Feliz cumpleaños, Rafa!

Birthday boy Rafa Benitez:

"The three points are massive for us.

"I have to say congratulations to our players and fans for sticking together. With the players working as hard as they did today and the fans getting behind the team we are stronger.
"We have three home games left and if we can play at the same level and with the same intensity then the fans will appreciate that and stay with the team and we will have more chance to win more points.

"You have to give credit to the side that started because they worked so well, but the subs helped a lot.
"(Papiss) Cisse did a fantastic job up front and (Aleksandar) Mitrovic did the same, that is what you are expect when you bring players from the bench. We need everyone and if everyone can help it will be much better for the team and the fans.

"We were disappointed (with the Southampton game) and you expect a reaction. The reaction was amazing, the fans recognised the effort so it is positive for everyone and hopefully it can be the first win of many.
"We knew we had to win. The main thing was to play well, to win and give our fans the belief that we will fight until the end. Everybody was happy and I think they are now thinking that we can do it and they believe.
"They have this feeling, like all the fans watching the team working as hard as today, everybody thinks we can do it. That's the main thing. As I have said a lot of times, we will fight until the end, but now we are closer and it will be easier for me to give this speech."
On Moussa Sissoko:

"I am really pleased with him because since I came here, the only thing I can say is that he's been really good in terms of his work on the pitch, the things he is trying to do in the training sessions and also the relationships he has with a lot of the players.
"He is someone that they can see as a very influential player with a lot of our French players, and I think it is important because he is so good that he has confidence. It is a boost for him and also for the team.
"We have a lot of players who talk French (although few of them were in the side today), so then you need someone like him who is a big name for them and they can see he is a good player, a great player and if he is performing and working as hard as he has been working, the others have to follow him."
On Jonjo Shelvey:

"Always when you leave players out, maybe you can ask these questions (about why). We needed a different approach to the game. They did really well and after Shelvey came on, he was good too.
"The main thing they have to realise is that we are a team and we need everyone, we need everyone for every game until the end, so it was really positive, the reaction of Jonjo, because he came from the bench and he did well."

On Fabricio Coloccini:

"He had a reaction to his injury so we have to go one step back and start again. When we brought him in three days ago, he started running and we asked if he had any problems and he was happy. But he felt his injury a little bit so we have to start again.
"I cannot say when he will return, this kind of thing the recovery is quite complicated because you think that you are fine and then you start and you feel something is not right but then afterwards when you are tired you have a problem.
"The quadriceps or calf are quite complicated and you get injured and you have the problem, so you have to be careful and just go one step at a time.

"I had two or three private conversations with Coloccini and he is trying to help. It's really bad because he knows that he's really important for us.
"He's trying now to talk like Rob Elliot. I was talking with Rob and he said: 'What can I do?'
"So they are trying to give confidence to the rest of the players because they cannot be on the pitch."

More interesting quotes from Jamaal Lascelles:

"The starting point should be your work-rate and your heart and after that it should be your technique and talent - that's the way I work.

"It's just so frustrating because we've got such big players on this team talent-wise and if they play like they did today we'd be much higher up the league. Credit to everyone today. It's like a breath of fresh air.
"Before today people were umming and ahing about whether we could do it, but we showed we're no pushovers. Everybody wanted it and in the changing room before the game there was just something there. That is definitely what we've lacked.

"Tuesday is a massive game, it doesn't matter that it's Man City. We're 11 men, they're 11 men and we'll go again with the same attitude.
"I don't think we have to be realistic (about the next two games against Manchester City and Liverpool). On paper people would put them down to win, but Leicester are top of the league and nobody thought that would happen. They're 11 men and just because they've got a blue shirt on doesn't mean they have to win. If you have a bit of fight and get after them it doesn't matter.

Referring to his post-match comments after Southampton:
"I'll always say what I'm thinking. If something needs saying then I'll say it. I think it's important at this moment in time for harsh words. If not we're going to be in a worse dogfight. I think what I said brought a big reaction - the way we played today, we haven't had that all season.
"I didn't get many people (team mates) talking to me about it but I think a few of them were thinking it but wouldn't say it. Everyone knows what we need, it was just coming out and saying it.
"It is there, that's the most frustrating thing for me. It's there. Tuesday is a massive, massive stage for us, but I'm really pleased it's at home because the crowd were behind us today and we'll take that positive energy and crack on."

Almost two years to the day since he last faced Rafa Benitez (when his Udinese side drew 1-1 at home to Napoli) Francesco Guidolin said:
"I think Newcastle deserved to win but the scoreline is heavy for us.

Newcastle played better than us – with more intensity and focus, but in the second half we had some possibilities to score and draw level. Maybe the match could have changed if we'd done that.

I know football. Maybe after three months of hard work to improve our (position in the) table, it's possible to have a bad day. For us, this isn't a good day.

"I would like to have played with the same intensity as last weekend (against Chelsea). But I know my players and I know football. I know it's not easy every day, every week, every match.

"We knew Newcastle would play in this way because they are playing the match of their lives. We prepared the same as we always do, but this was a bad day.

"We need some more points to be safe mathematically. "It's important not to relax. It's not definite yet and we need some points, I don't know if it's one, two or three.

"Football is peculiar. I have seen some surprises in my career and it's important to be focused. I am sure the players are still focused.

"Normally when we don't have a good day, we concede from a set-piece. What I think about set-pieces is that it's not very difficult to do better – it's much more difficult to score – but it's important to work day by day and week by week to improve."

United no longer an April shower shock!

Today's win was our first during the month of April since 2012 and a 1-0 win success over Fulham (Cisse). Since then we'd gone 14 matches (13 in the Premier League + 1 in the Europa League) without a single victory and lost 11 on the bounce until today.

Swansea lost for the first time in the Premier League at Gallowgate, having drawn their maiden visit 0-0 in 2011 and won the subsequent three games here. This was our first success anywhere against the Jacks in eight games since a 2-0 win at the Liberty in April 2012.

Rafa Benitez celebrated his 56th birthday in the home dugout today, with the present of three points as United boss coming at the fifth time of asking.

He watched as his side kept a first clean sheet, scored in the first 45 minutes and won - all for the first time in eight games. The Magpies have now lost just once in six home games during 2016 (won three, drawn two).

Andros Townsend scored his first Newcastle goal at SJP and his third goal in our colours. It's taken him eight appearances to reach that tally, emulating his Premier League total in 50 appearances for Spurs.

Moussa Sissoko notched his eleventh Premier League goal for United (twelfth in all competitions) and the first of the season. His tenth was at the same end of SJP against West Ham in May 2015.

Jamaal Lascelles added to his headed effort from a corner at Watford in January with a similar goal for his second as a Magpie.

Karl Darlow finished on the winning side and kept his first clean sheet for United at the fifth attempt. It was lucky 13 in career terms - having conceded at least once in his final eight appearances for Nottingham Forest last season.

An entirely different back five were utilised today compared to our last victory against West Bromwich Albion here in February: Elliot, Janmaat, Aarons, Coloccini & Taylor were on duty then.

This result saw United match their lowest number of PL victories in a season, emulating the seven successes of 2008/09. The split is identical to then also: five home, two away.

Scoring three times for only the third time this season (Norwich h 6-2, Manchester United h 3-3) boosted our home goals total to 25 and moved clear of our lowest figure in a PL season (the 22 goals scored in both 1997/98 and 2006/07).

Swans @ SJP - PL era:
2015/16 won 3-0 Lascelles, Sissoko, Townsend
2014/15 lost 2-3 Perez, de Jong
2013/14 lost 1-2 Sh.Ameobi
2012/13 lost 1-2 Ba
2011/12 drew 0-0
2009/10 won 3-0 Harewood 2, Lovenkrands
1994/95 won 3-0 Kitson 3 (FAC)
Full record v Swansea:
| | | | | | | |
| --- | --- | --- | --- | --- | --- | --- |
| | P | W | D | L | F | A |
| SJP | 19 | 10 | 3 | 6 | 44 | 21 |
| VF/LS | 19 | 9 | 2 | 8 | 25 | 31 |
| League | 38 | 19 | 5 | 14 | 69 | 52 |
Waffle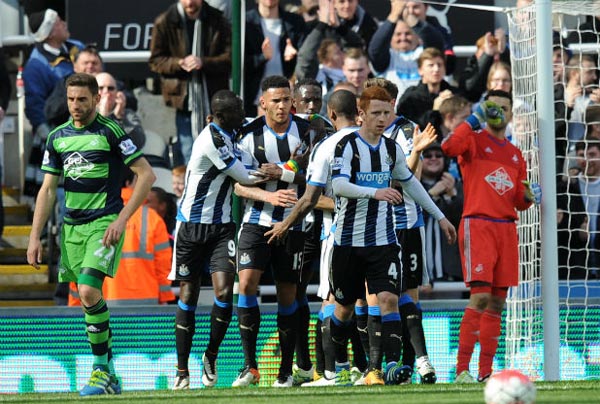 There may not have been a cake, but the presents Rafael Benitez hoped for appeared as he celebrated his 56th birthday at St. James' Park on Saturday.

Boosted by Norwich's lunchtime loss to the mackems, the Newcastle boss then saw his side deliver three goals and a clean sheet to mark his fifth game in charge with a first victory.

Five changes to the starting lineup that surrendered at Southampton ultimately had the desired effect, although the visitors looked like a side with nothing to play for and doubts over their leader - resulting in a tepid display reminiscent of Sam Allardyce's sun bed-bound West Ham last May.

In came Paul Dummett, Jamaal Lascelles, Cheick Tiote, Jack Colback and Papiss Cisse while Daryl Janmaat, Steven Taylor, Jonjo Shelvey, Ayoze Perez and Aleksandar Mitrovic were all stood down.

The most unexpected of those was to deny Shelvey a start against his former side (although he did appear off the bench in the second half), meaning that Moussa Sissoko took the armband today.

Rain and hail gave way to sunshine by kickoff, but the atmosphere remained gloomy and almost eerily quiet, as if those present were there purely because they'd already paid. Optimistic it wasn't.

In the absence of genuine hope, expectation or those daft cardboard clappers the teams arrived to mild applause and a bloke singing the "Blaydon Races". Until five minutes before half time though, the most obvious sign of home support was a large NUFC flag draped across unused sections of away seats, with little on the field to rouse fans from their slumbers.

At that point a corner Andros Townsend reached Lascelles, who shrugged off an illegal challenge to direct a close range header at Lukasz Fabianski. The goalkeeper couldn't prevent it crossing the line, the goalscorer following the ball into the net before getting up for some low-key celebrations with colleagues, some of whom he'd slagged in public off a week earlier.

It's debatable whether either side deserved to be ahead after seeming to be devoid of ambition, ability or application and a casual observer would be forgiven for not appreciating that anything was actually at stake in what seemed like a meaningless end of season affair.

Indeed until the goal, the main talking point of an incident free first half had been a Gylfi Sigurdsson free-kick that he comically kicked against his standing foot - rather less impressive than the Icelander's recent run of goalscoring form.

Fabianski had palmed a Vurnon Anita cross from under his bar but apart from harmless long-range efforts from Townsend, the goal came completely out of the blue and caught many home fans unawares (in particularly the woman in front of us who had gone for chips 10 seconds earlier....)

They all count though and it was precisely the type of goal that has eluded us - a scruffy finish from a set-piece - and for once a player backed up some pre-match comments with tangible effort and return on his next appearance.

After the break United certainly didn't know whether to stick or twist and it looked like the original game plan of stifling City, staying in the game and then trying to win the closing 20 minutes via substitutions remained unaltered.

City belatedly began to threaten an equaliser and chances for Andre Ayew and Ashley Williams gave notice that this was far from being a foregone conclusion. Boosted by the physical presence of substitute Bafetimbi Gomis, the visitors had their best period of the game and Jefferson Montero flashed a shot wide when well placed before Gomis shot narrowly off target.

United's response was to add some muscle to their own forward line in the shape of Mitrovic, whose arrival belatedly brought the crowd to life (although they had started to chant his name before he came on following an extended warm-up).

The Serb was quickly in the thick of it and began to probe an under-employed Swans defence far more convincingly than either Cisse or the circumspect Georginio Wijnaldum had hitherto been able to. His harrying ensured that an attempted centre by fellow substitute Ayoze Perez led to a corner that Townsend took, Mitro's aerial challenge allowing Sissoko to drill in a second United goal.

That dispersed the anxiety and belief seemed to flood back into fans and players alike, both equally overdue having a victory to celebrate. That then became a certainty in the last minute of normal time when Mitrovic barged his way through before unselfishly teeing up Townsend to slip the ball past Fabianski, sparking something approaching euphoria.

As jubilant fans serenaded Rafa with a chorus of "happy birthday", Mitrovic then rolled a shot wide of the post during four added minutes. Keeping a clean sheet though - only a second in 18 games - was equally vital with goal difference still a possible factor, never mind the confidence boost.

Whether today has delayed the inevitable remains in severe doubt, but if nothing else the league table has a slightly less fatal look than at 12.45pm. Time will tell whether it's a false dawn akin to the home win over Boro in May 2009 that broke Alan Shearer's managerial duck, but a home loss to Manchester City would be more understandable than that infamous Fulham loss - and less fatal.

The manager now has something to work with and the opportunity to gain some momentum on Tuesday against a City side who have come to regard maximum points at Gallowgate as a given.

It's not just about instilling confidence and belief into the players though; shell-shocked supporters have also been in desperate need of a boost over what has been another bloody diabolical season. The days of the 12th man are over, support needs to earned by on field deeds, not waving arms.

As Rafa said this week, the recriminations simply have to wait until our fate is known: inspiration from today's result has to be gleaned in order for fans to play a fuller part in what remains. The post-match comments of various players about today's atmosphere betray their brittleness - their praise is as much for not what is omitted from the soundtrack (boos, jeers), not what's in there.

Let's go down fighting at least - with dignity and defiance on and off the field. In the words of Swansea's own Dylan Thomas: "Rage, rage against the dying of the light".

Biffa