Date: Saturday 30th April 2016, 3.00pm.

Venue: St. James' Park

Conditions: morale-boosting




Newcastle United

Crystal Palace

1 - 0

Teams
Half time: Magpies 0 Eagles 0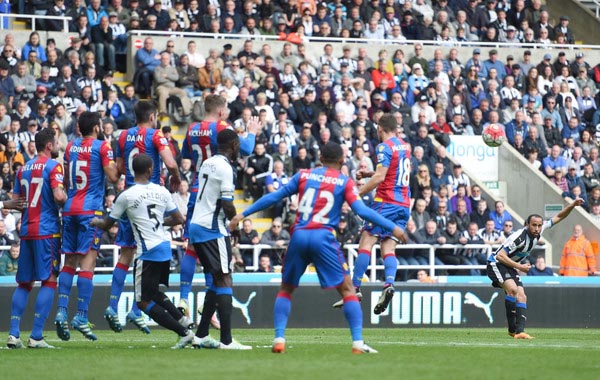 58 mins Andros Townsend's charge down the United right was halted when Scott Dann collided with him. Townsend appealed for a corner but referee Dean gave a free-kick that Dann seemed to accept and the former Spurs man lined up to take it beyond the right hand corner of the Leazes box.

With a curling cross into the crowded box seemingly inevitable, Townsend instead executed a left footed effort precision and power that sailed beyond Wayne Hennessey before making the far side of the net bulge. Already a timeless piece of footage that will never become less joyous to watch.
It remains to be seen just how momentous this strike will prove to be, but the parallels to Laurent Robert's similar strike that was appropriated by Santiago Muñez in the "Goal" movie were apparent. Quite simply the stuff of fiction. Townsend's strikes from open play at Chelsea and Southampton were probably superior but this was immeasurably more significant. 1-0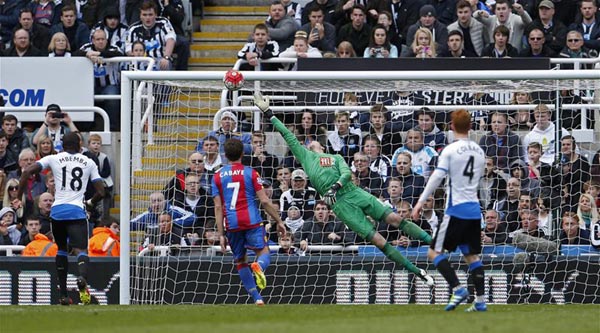 (70 mins Yohan Cabaye missed a penalty - saved)

Full time: Magpies 1 Eagles 0
Rafa Benitez:

"It is important for us and for the fans to be out of the bottom three but we still have to keep going and know we have to approach the game against Aston Villa like a cup final.

"Momentum is really important for us. We have won against Swansea and drew two really tough games against City and Liverpool. Now we have another three points and the players have confidence, that is the key. The fans understand that being behind the team is the key.

"I could not see why the penalty was given. It was not clear from the replay, but you cannot change the decision so it is good that the keeper saved the penalty - we are happy.

"The victory means a lot - it gives us momentum, confidence and a connection with the fans.

"Hopefully it will be the same against Tottenham when we can avoid relegation and everyone will be happy.
"It was not just the penalty (save, by Darlow). It was the balls in the air and punching and catching. It was giving confidence to the team, which we needed, that was important.
"Of course the keeper is a hero when he saves a penalty, but so is Andros.

"He (Darlow) was important for the team and he did really well. I am pleased for him - and hopefully he doesn't need to save any more penalties. That would be fine.
"You can say always when a keeper saves a penalty that he is a hero but then we can say the same thing about Andros (Townsend)."
Goalscorer Andros Townsend:
"I was going to shoot the other side of the wall, they had such tall players, that I decide to wrong foot the keeper and it worked out perfectly.
"It could be a massive three points and I am glad I played my part since I have joined and hopefully I will score a few more.

"The team are buzzing in there, it is a massive three points.
"Palace set up to relegate us, from minute one they were time wasting. Sunderland dropped points which is another bonus for us. We live to fight another day and now we prepare for Villa.
"When I was thrown into the U21s by Spurs, I used to stay, me and one other player. We used to stay for hours just practising free-kicks – left foot and right – until the fitness coaches came out and told us to save our legs.
"All that stuff pays off when you score in front of 52,000 people to help your team get three points.
"I think that's the first free-kick I've scored. It couldn't come at a better time. At half-time I was beating myself up a bit – I missed a few chances and was a bit wasteful on the ball. I took one too many touches.
"I knew I just needed one more chance to make everyone forget about the rest. I'm delighted that I managed to pull it off.

"I was always going to take it. I was weighing up which side of the wall to go. I normally go the other side, but the wall was so tall, so I decided to have a pop at the keeper's side, try and wrong foot him, and it worked out perfectly.
"I'm delighted for the players, the staff, the fans, the city. We deserved that win. Two more games now, two more massive cup finals and hopefully we can get six points and stay up.

"I think you can see how together we are on the pitch. As soon as we went 1-0 up, everyone was just focused, the wingers were helping out the defenders, the strikers were coming back in.
"So everyone was together, everyone was working for each other. We all deserved the three points as a team.

"We can only do our job. If we win the next two games and it is not enough, what can we do? We have just got to do our business and hope the other teams around us drop enough points for us to stay up. That's all we can do. We are just focused on our own games.
"You would rather have points on the board than games in hand. We have got points on the board, we are above the relegation zone, and it is down to the other teams now to pick up points in their game in hand.
"We have done our job, we continue to do our job and hopefully the other teams around us drop points."
Penalty saver Karl Darlow:
"Do I feel like a hero? No I don't! Not at all. There is a long way to go.

Three points was the main objective and Andros's goal was unbelievable, and that keeps us going for the rest of the season. Was it the most valuable save I've made? Possibly.
"In football you have different moments in your career that you remember and that will definitely be one of them if it keeps us in the division.

"I don't have a clue what went on with the penalty. I thought he had blown up for a foul on one of our defenders so I was just getting ready to take a free kick and then he pointed at the spot.
"Thankfully I guessed the right way - there wasn't much going through my mind. It was one of those where I had just picked the way to go and then dived hard and then reacted to the ball.
"Hopefully I went the right way and then the ball was there and I made the save. It was a good moment for me and those three points could be massive come the end of the season."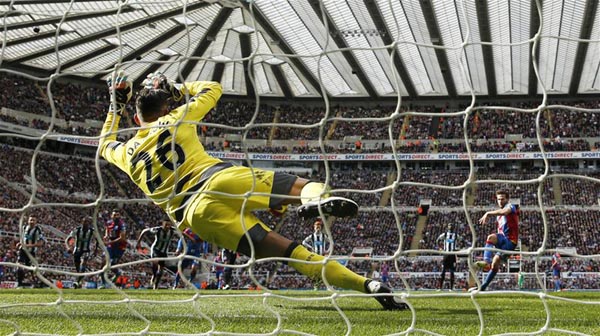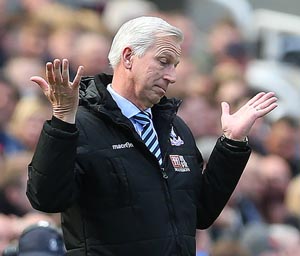 Alan Pardew:

"For long periods we looked in control of the game, especially in the first half. They had a good spell in the second half, The crowd got involved and they scored right at the end of that period - we needed to score and we didn't.

"The game came down to two set-plays and that is the margin we are at. This was a tight game.

"Rafa has improved Newcastle in terms of the defensive structure. It is difficult to get at them and they have edged a win here.
"I thought the reception I got was muted, which was nice. A lot of people understand that I managed here to the best of my ability and we had some good times that I lean on."
Responded to mackem Fat Sam's suggestions Palace would have been "on the pop" all week after reaching the FA Cup final last Sunday:

"He hasn't got a case - just send him the video. They're prehistoric comments. I don't know what era he's in. Three or four of my players don't drink. Perhaps he meant Coca-Cola? It's nonsense."

Pardew fulfilled the requisite post-match TV commitments but sent assistant Keith Millen to face newspaper hacks. Asked about that, Millen's reply was as follows:

"He said to me 'we are in a rush, have a tight schedule and have got to get the plane back, so have got to leave soon', so he said to me could I do the written Press."

Going on to discuss the game, Millen said:
"They didn't affect us. We certainly know what we do. We want to finish the season strongly, there's no way we have come off it at all - you could see that in our energy levels today.

"We made it a really tough game for Newcastle, who are fighting for their lives. Sam can say what he likes about us, but we know we are very professional in what we do.

"We want to finish the season strongly - we have got an FA Cup final to look forward to, so we want to win a couple of games before that to keep this momentum going.

"Yo's (Cabaye's) one of our penalty takers and he's very good at it. It wasn't a concern Yo taking it, definitely not. He was up to take it and that's all you can ask of the player. It was a good save, but I don't think the game swung necessarily on that.
"The second half - they started better than us in. In the first half we had a game plan and I thought we executed it really well. We should have really come in 1-0 up at half time, I think that would have been a fair result. In the second half, we'll give them credit, they stepped up, they upped the tempo and the crowd got behind them.

"We kept the crowd quite quiet in the first half, but then we came away from our game plan.

"I walked out with him and I think we were both bracing ourselves for a hostile one. We had been expecting it but there was nothing. The fans were very respectful and so was Alan because he had a fantastic time here so that was good all round.
"The Newcastle fans realised they had bigger things to worry about than Alan's return and they really got behind them in the second half."

(Having been at the club during the events and aftermath of MH17, it was appropriate that Pardew joined in with the applause on 17 minutes and he duly did so).

The last Newcastle goalkeeper to save a penalty in the Premier League was Tim Krul, who denied David Dunn of Blackburn Rovers at Ewood Park in February 2012. The Dutchman also saved the last one for United at SJP, keeping out Frank Lampard's attempt for Chelsea in December 2011.

With one home game to play, a sixth home win of the season means that United have exceeded their lowest total in the PL - the five they managed in the relegation season of 2008/09.

And ahead of the final day visit of Spurs, our total of 27 PL goals scored at home is the highest we've attained in four seasons - since managing to bag 29 in the 2011/12 campaign.

Andros Townsend struck his fourth goal for Newcastle on his 11th PL appearance - one more than he managed in 50 PL outings for his previous club, Spurs.

Eagles @ Magpies - all time:
2015/16 Won 1-0 Townsend
2014/15 Drew 3-3 Janmaat, Aarons, Williamson
2013/14 Won 1-0 Cisse
2009/10 Won 2-0 og(Derry), Ranger
2004/05 Drew 0-0
2001/02 Won 2-0 Shearer, Acuna (FAC)
1998/99 Won 2-1 Speed, Shearer (FAC)
1997/98 Lost 1-2 Shearer
1994/95 Won 3-2 Fox, Lee, Gillespie
1987/88 Won 1-0 Gascoigne (FAC)
1983/84 Won 3-1 Waddle, Keegan, Ryan
1982/83 Won 1-0 Waddle
1981/82 Drew 0-0
1978/79 Won 1-0 Shoulder
1972/73 Won 2-0 Hibbitt, Nattrass
1971/72 lost 1-2 Dyson
1970/71 Won 2-0 Robson 2
1969/70 Drew 0-0
1964/65 Won 2-0 Suddick, McGarry
1946/47 Won 6-2 Bentley, Pearson, Shackleton 2, Stobbart, Wayman(FAC)
1919/20 Won 2-0 Dixon, Hall (FAC)
1906/07 Lost 0-1 (FAC)
Full record v Palace:

| | | | | | | |
| --- | --- | --- | --- | --- | --- | --- |
| | P | W | D | L | F | A |
| SJP | 16 | 10 | 4 | 2 | 23 | 10 |
| SP | 16 | 8 | 2 | 6 | 22 | 18 |
| League | 32 | 18 | 6 | 8 | 45 | 28 |
| SJP(FA) | 6 | 5 | 0 | 1 | 13 | 4 |
| SP | 0 | 0 | 0 | 0 | 0 | 0 |
| SJP(LC) | 0 | 0 | 0 | 0 | 0 | 0 |
| SP | 1 | 1 | 0 | 0 | 3 | 2 |
| Cup | 7 | 6 | 0 | 1 | 16 | 6 |
| Tot | 39 | 24 | 6 | 9 | 61 | 34 |
Alan Pardew made a second appearance in the away dugout at SJP, having presided over a 0-0 draw here while in charge of West Ham in August 2005.

Waffle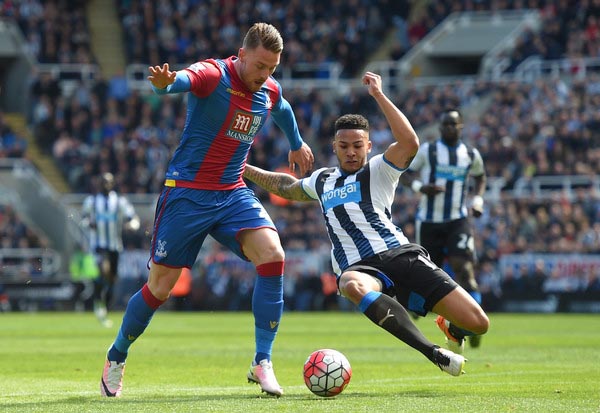 Memories of a similarly sunny afternoon in April 1992 were to the fore at St. James' Park on Saturday, as a Newcastle side battling relegation gained a priceless home victory thanks to another single goal success.

David Kelly was the hero against Portsmouth that day, but Magpies followers celebrating today's win over Crystal Palace were grateful for pivotal contributions made by two of the current squad.

Andros Townsend's perfectly-executed free kick at the Leazes End just before the hour mark put the home side ahead, but that lead was only preserved when Karl Darlow denied old boy Yohan Cabaye from the penalty spot with 20 minutes remaining.

The French midfielder received a hostile reception on his return to SJP but Alan Pardew was virtually ignored by home fans as his Eagles side failed to win for the 18th time in 19 Premier League games - a record that hardly merited a triumphant return and inferior to anything he oversaw on Tyneside.

There were no such problems though for Newcastle, who went four games unbeaten for the first time since November 2014 and moved out of the bottom three for the first time in eleven games.

That came as a consequence of our victory, a single goal defeat for Norwich at Arsenal and a fortunate point for the mackems thanks to late spot kick conversion away at Stoke, where Potter Geoff Cameron seemed hell-bent on gifting them a spot-kick.

A scoreless first half saw a United side with one change (Georginio Wijnaldum in for Ayoze Perez) fail to build up a head of steam and impose themselves on a game that they desperately needed to win.

Palace made the early running and a priceless intervention from Jamaal Lascelles after 11 minutes halted Connor Wickham. Half chances for United followed; Wijnaldum, Townsend and Papiss Cisse all having shots - the latter perhaps too honest in not succumbing to an illegal challenge in the area.

With Moussa Sissoko under-employed on the left and Townsend frustratingly choosing to cut infield and surrender possession a number of times, it was left to the unlikely figure of Chancel Mbemba to warm the hands of Wayne Hennessey in the 37th minute.

At the other end, Darlow had already kept his side in the match with a near post block to deny Cabaye before another vital save from a fierce volley by Yannick Bolasie just before the interval.

Despite failures to hit the target by both Sissoko and Jack Colback from inside the box in the closing stages of the half, Rafa Benitez resisted the temptation to alter his lineup - granting Wijnaldum and Cisse a stay of execution that they arguably didn't deserve.

Delaying the introduction of Aleksandar Mitrovic was especially frustrating after a series of crosses were played into the Palace box after the break but not capitalised upon. In the event, the Serbian played his own part in the win after Townsend had been fouled by Scott Dann outside the box after 58 minutes and got up to memorably arc home his fourth goal in our colours.

Coming close to setting up fellow substitute Perez for a second goal, Mitrovic provided a much- needed physical threat in the opposition half and got under the skin of the Eagles defence, in particular Damien Delaney.

The penalty incident came with 20 minutes left, Cabaye enduring fierce booing as he took a flag kick from the Strawberry corner that was apparently handled by Sissoko amid general bemusement - certainly from our vantage point we had no clue what had happened and subsequent TV replays provided no conclusive proof that the ball actually struck his hand.

Dean's decision handed former Magpie Cabaye a chance to convert a fourth penalty of the season, but his weak effort was at a good height for Darlow to spring to his left and parry, before successfully defending the following corner.

The next corner taken by Cabaye saw the Frenchman loudly cheered by the same corner that had given him so much grief minutes earlier - a brief moment of comedy on a nerve-shredding day.

Full time brought the expected scenes of jubilation, but within that it was noticeable that Jonjo Shelvey made an immediate beeline for the tunnel, while Benitez applauded and congratulated all and sundry on the field only after having a quick word with Perez - presumably for hanging on to the ball when a late break could have brought a killer second goal.

The fight now goes on to Villa Park next weekend against a relegated side who lost their eleventh successive game at Watford while we were beating Palace and have won just nine points from a possible 57 since a 1-1 draw on Tyneside before Christmas.

For anyone thinking of daubing a bedsheet ahead of our visit questioning who our next messiah will be, we'll save them some paint: be it songs from the stands or displays on the field, the unity of purpose demonstrated by fans and players alike confirms that it's Rafa. Believe, it's not over yet.

Biffa