Date: Saturday 30th July 2016, 3.00pm

Venue: St. James' Park

Conditions: pleasant

Admission: £15

Programme: £3


Newcastle United

Vitesse Arnhem

3 - 2

.

Teams




22 mins Isaac Hayden's attempted pass to Jack Colback across the edge of the area was taken up by Daryl Janmaat and he swapped passes with Vurnon Anita before looping a centre towards the far post. The cross was too strong for Dwight Gayle but fell to Matt Ritchie, whose low shot across the six yard box was unwittingly deflected in off Kelvin Leerdam at the Leazes End. 1-0
36 mins Gayle's run down the right flank ended with him finding Janmaat as the Dutchman headed infield. The right back threaded a neat pass into the box for Perez to swivel and create a shooting chance and although a defender took the ball off his toes, it dropped for Gayle to take a touch and drive home. 2-0
41 mins a corner that was cleared to Anita and played down the left flank to Perez. With time to size up his options, the Spaniard clipped over a centre to the back post that Colback headed in from the edge of the six yard box. 3-0
Half time: Magpies 3 Vitesse 0

51 mins The Dutch side gained a foothold in the game when their on-loan Chelsea player Nathan had a simple finish after a corner was flicked on at the front post. 3-1
61 mins A free kick played into the United box from the Arnhem right wasn't cleared and eventually fell for Gurham Kashia to hammer in. 3-2
Full time: Magpies 3 Vitesse 2
Rafa Benitez commented:

"I was really pleased with the first half and pleased with some of the chances that we created.
"I was a little disappointed with the two goals we conceded but in pre-season you have to adjust things.
"You have to change players, systems and teams around and the mistakes we did make, I hope we won't concede when the real season starts.
"I was really pleased with the goals we scored and the way we played.
"I think the team was doing well and Gayle and Ritchie have quality too. We have seen a lot of good things - even in the second half.
"I don't want to say negative things about the second half. I just think that knew that they were 3-0 down and they would keep pushing and pushing. That's the reason why it was harder.
"We still had other good chances and I think both teams did well. There were mistakes but we can change them in time.
"You always think as a manager that you can improve. I think we are close but we have room for improvement and I think we will do that."

On transfers:

"I can't complain about anything.
"You always have clubs asking about your players' futures. They need to train and do well but I am feeling very positive.
"We are still working behind the scenes to do some deals. I am happy but I still think we have to balance the team a bit more.
"We have 46 games in the Championship but we have to make sure we approach every game the right way until the end.
"We know some players will leave and we have to replace them.
"We don't talk about names. The players that are here now, some know we are already working.
"Everything is clear. There are players who aren't here, like Moussa, so we will have to wait. He will start with us until we have any other news."

Henk Fraser said:
"The first half was mediocre. The work-rate wasn't ideal and we showed little commitment.

"I'm actually glad that this game had two halves and you'll know that we'll not play against Willem II (next week in the league) as we did in the first half here."

On the return of old boy Ricky Van Wolfswinkel:

"His arrival was decisive for me. He was a very compelling presence and let others play better. Of the ten balls he received did it nine times something good with it. We wanted to see him today at work on this position. We knew in advance and I must say he showed his quality. "


Aside from seasons when Intertoto Cup ties were played instead of friendlies, United last completed a pre-season
programme without defeat in 1995/96
(

K
evin Keegan

's side beat Hartlepool, Rushden, Gateshead, Hearts and Spurs, playing a draw with Celtic
).
NUFC home pre-season friendlies - last decade:
2016/17 Vitesse Arnhem won 3-2 19,200
2015/16 Monchengladbach lost 0-1 21,088
2014/15 Real Sociedad won 1-0 19,199
2013/14 SC Braga drew 1-1 16,187
2011/12 Fiorentina drew 0-0 12,656*
2010/11 PSV Eindhoven drew 2-2 16,118
2009/10 Leeds United drew 0-0 16,945
2008/09 Valencia won 2-1 31,494
2008/09 PSV Eindhoven drew 2-2 13,477
2007/08 Sampdoria won 1-0 23,078
2007/08 Juventus won 2-0 34,016
2007/08 Celtic won 4-1 30,225
2006/07 Villarreal drew 2-2 20,144
2006/07 PSV Eindhoven lost 2-3 20,175
*abandoned after 63 mins
Pre-season pitch time in minutes (and goals):
Aarons 63+45+62+63+28=261 (1 goal)
Anita 69+45+45+79+73=311 (1 goal)
Armstrong 0+62+28+27+28=145
Colback 45+45+72+27+62=251 (1 goal)
Darlow 45+0+18+90+0=153
Dummett 27+45+28+90+90=280
Gámez 16+45+43+0+28=132
Gayle 45+45+62+63+73=288 (2 goals)
Gouffran 48+46+28+27+17=166 (1 goal)
Hanley 0+0+0+27+62=89
Hayden 45+45+45+63+73=271 (1 goal)
Janmaat 45+45+90+63+73+90=406 (1 goal)
Lascelles 74+45+62+90=271
Mbemba 45+67+72+63=247
Mitrovic 45+45+45+17+17=169 (1 goal [pen])
Perez 42+45+45+73+62=267 (3 goals)
Ritchie 45+45+0+0+62=152 (1 goal)
Saivet 74+23+18+17+17=149
Sels 45+90+72+0+90=297
Shelvey 45+79+45+73+28=270 (1 goal)
Sterry 45+45+62+27+17=196
Thauvin 45+28+28+11+0=112 (1 goal)
Tiote 16+0+18+0+0=34
Wijnaldum 21+11=32 (1 goal)
Waffle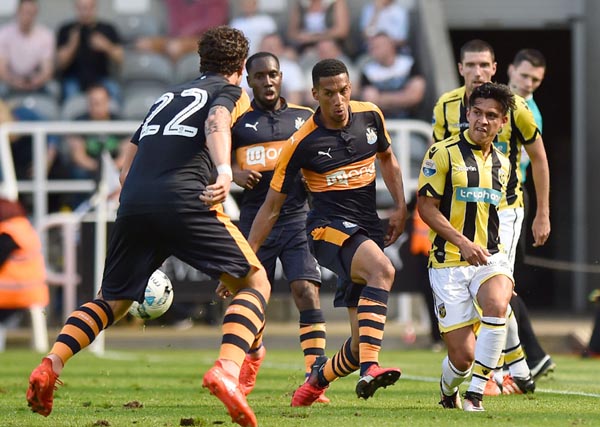 Newcastle successfully completed their five game pre-season schedule on Saturday, overcoming Dutch opposition at St. James' Park to make it eleven games unbeaten for Rafa Benitez
's
side.

However, it wasn't all plain sailing for United despite scoring three goals in twenty first half minutes, as Vitesse exposed some defensive jitters and scored twice from set-pieces following the interval.

Debuting their new second choice blue and orange strip at a sparsely-occupied SJP, United attacked the Leazes End and went ahead midway through the first half through
Matt Ritchie

- although his effort was going
across the six yard box

before being
deflected in

to the net
off Kelvin Leerdam.

That goal was a reward for a bright opening during which Ritchie saw a free kick saved and Ayoze Perez direct a header straight at 'keeper Eloy Room.
A second arrived on 36 minutes, when

Dwight
Gayle

started and ended a move to notch his second goal of pre-season.


It all looked too easy when Jack Colback nodded in a third, but Arnhem threatened to make it into a contest when halving the arrears within
six minutes

of
the second period

. They then netted again just ten minutes later, after which United began to make the first of eight substitutions.


T
hat
inevitably disrupted their flow and saw Arnhem enjoy a brief period of dominance when they could even have

added
an unlikely equaliser.
The closing stages did produce a few half-chances for Newcastle to cement their victory, but Room's best save was to prevent another own goal and a couple of efforts from Aleksander Mitrovic were easily dealt with.

United held on for the victory and Rafa will have been boosted by positive contributions from new arrivals Ritchie and Hayden, plus some astute contributions from Anita.

A slight injury meant that Chancel Mbemba wasn't involved as a precaution, while pre-season has now concluded without Siem De Jong kicking a ball.

Cheick Tiote and Florian Thauvin were on the bench but not used - the expectation being that they'll follow Moussa Sissoko down Barrack Road in the coming days. The chances of the latter reprising Damien Duff's Hawthorns cameo in the 2009 opener at Craven Cottage don't look great.

Those likely departures maintain an air of uncertainty as to quite what strength we'll possess once the window shuts, Janmaat's apparent return to the fold looking like a boost - assuming he's here by choice, having looked set for a hasty exit at the end of last season.


Benitez still has work to do on his final formation and get his new-look defence to act in unison, but as he said recently, the XI for Fulham is already in his mind and likely to be close to the one that started here. That's not to say though that further arrivals are anticipated as the squad is boosted to a level deemed acceptable by the gaffer, rather than some suit.


More pre-seasons than we care to recall have made us oblivious to the ups and downs of friendlies and attempts to correlate their results with the real stuff are doomed to failure - even more so since the artificial obstacle of the transfer window appeared.

Regardless of the opposition though, the records show we won four games and drew one, scoring 17 goals with 13 different players on target. The four goals conceded came from or after set pieces.

Looking back over the last Championship season in 2009, our verdict after six pre-season games was summed up as "unconvincing" and "uninspiring".

At this point back then, optimism was in short supply and what anticipation there was for the Championship season was largely as a distraction from the ongoing off-field pantomime.
Indeed, it took a Shola Ameobi hat trick against
Reading in the second game to put an end to our self-pity and move forward to the task in hand.

Seven years on, the mood is utterly different; the relegation issue instantly processed and filed. We also possess a manager who commands respect from his employers and opponents...and doesn't have a job title including the word "interim".

Expressing some concerns about the playing strength is understandable, but has to be put in the context of what we'll come up against.

There was enough pace, poise and talent on show today to suggest we'll be a threat to every team in the division. It's now a question of adding more quality, options and goal threat to get this right first time.
Biffa