Date: Saturday 12th September 2020, 8.00pm
Live on Sky Sports

Venue: London Stadium

Conditions: Competent

Programme: The home side produced a hard copy match programme available only by post for £3.50 plus a £1.49 delivery charge.

West Ham United

Newcastle

0 - 2

Teams
Half time: Hammers 0 Magpies 0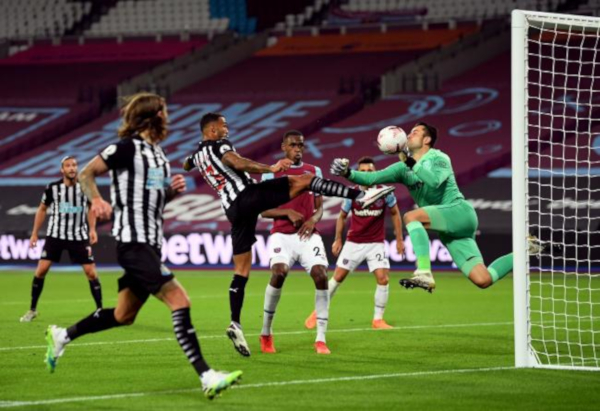 56 mins Javier Manquillo evaded Fornals down the right and Jeff Hendrick headed his deflected cross on at the near post as Ogbonna idled, allowing Callum Wilson to stab home from close range in front of the Sir Trevor Brooking Stand (away end). 1-0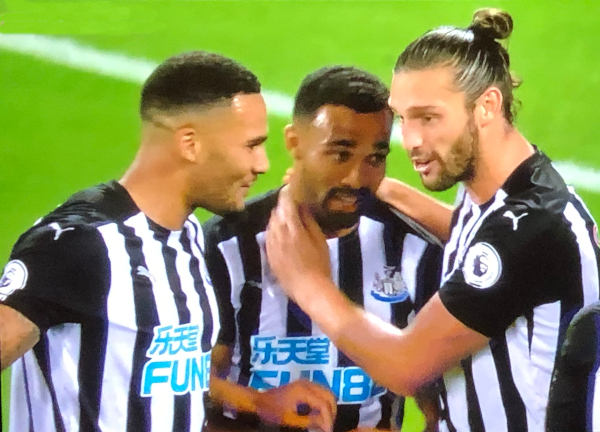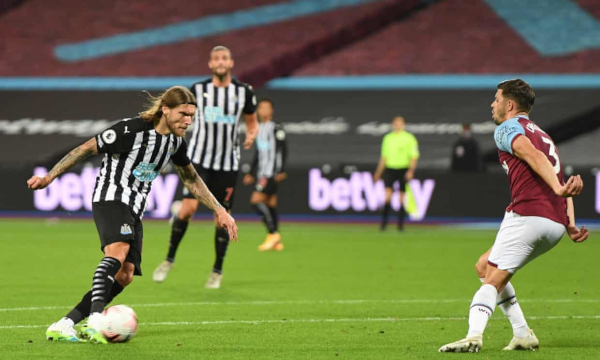 87 mins Standing almost on the halfway line, Federico Fernandez played a short pass to Jamal Lewis on the left hand touchline. The left back then threaded a fine ball forward to substitute Miguel Almiron, who played a wall pass off Andy Carroll and regained possession on the edge of the area.

Miggy pinged the ball infield for Jeff Hendrick to slam a rising right-footed effort into the roof of the net. 2-0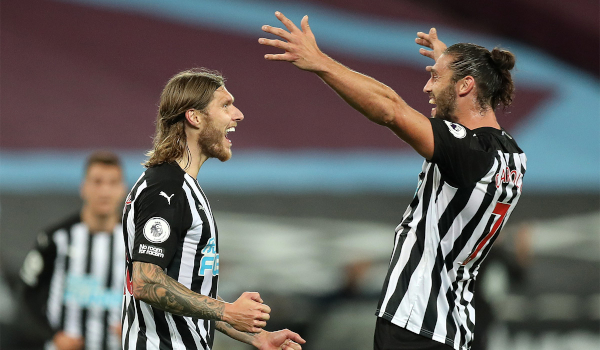 Full time: Hammers 0 Magpies 2
Steve Bruce:

"I wouldn't say (this was my) best week (as Newcastle manager) but when you come away from the Premier League and win 2-0 with two new signings scoring, it helps the cause.

"We needed people who can play (in the) Premier League and everybody at the club agreed. They are proven quality from the Premier League, it takes away the risk.
"There was not much in it and we have a striker who scored typical striker's goal. Callum Wilson enjoys playing against West Ham and it was good to see them two get off the mark. We were worthy winners.
"We have been missing the goals, Callum will give us something different and makes the squad better. He can only help the situation.
"We have made progress, it is a long season and cannot get carried away but the last week has been a positive week for everybody, the impact the signings have made, the supporters in particular will like the look of them,
"That is certainly the best I have seen of Andy Carroll since the year he has been back. He has scored a couple goals in pre-season and when he plays like that and he stays well, we know what sort of competitor he is."

Ex-mackem David Moyes moaned:

"Didn't enjoy the performance didn't enjoy the game. So that's my thoughts. We didn't show enough quality.

"It was a disappointing game and I didn't particularly think it was officiated well today but that's not the reason we lost.

"Miles off (last season). I'll try and find out why and I'll try and do better with it. I thought we'd have started off the same way and with the same form that we were in at the end of last season but we didn't.

"Partly Newcastle made it difficult for us but I'd have liked us to do a lot better today."

About Callum Wilson's goal:

"I thought it was dangerous play. The game didn't feel like it was officiated particularly well, but that's not why we lost.

"I hadn't see that coming at all, even from when I took over in December. I expected much better.

'When you go over the line it's down to your own concentration. The dressing room has been very good with a good spirit among the players."

Magpies @ Hammers - PL era:

2020/21 Won 2-0 Wilson, Hendrick
2019/20 Won 3-2 Clark, Fernandez, Shelvey
2018/19 Lost 0-2
2017/18 Won 3-2 Saivet, Diame, Atsu
2015/16 Lost 0-2
2014/15 Lost 0-1
2013/14 Won 3-1 Cabaye 2, Remy
2012/13 Drew 0-0
2010/11 Won 2-1 Nolan, Carroll
2008/09 Lost 1-3 Owen
2007/08 Drew 2-2 Martins, Geremi
2006/07 Won 2-0 Duff, Martins
2005/06 Won 4-2 Owen 3, Shearer
2002/03 Drew 2-2 Bellamy, Jenas
2001/02 Lost 0-3
2000/01 Lost 0-1
1999/00 Lost 1-2 Speed
1998/99 Lost 0-2
1997/98 Won 1-0 Barnes
1996/97 Drew 0-0
1995/96 Lost 0-2
1994/95 Won 3-1 Sellars, Lee, Mathie
1993/94 Won 4-2 Cole, Lee 2, Mathie



The London Stadium remains a happy hunting ground for the Magpies, who have now won three of their four visits to the 2012 Olympic venue.

This victory was our 10th in the Premier League in the 23 games we've played away from home against West Ham. That draws them level with our trips to Spurs, where we've won 10 times in 25 PL visits.

There were debuts for Jeff Hendrick, Jamal Lewis and Callum Wilson, taking the number of players to have appeared in the Premier League to 243. Fellow new boys Ryan Fraser and Mark Gillespie were on the bench.

Wilson became the 152nd Magpie to score at the right end in the PL, with Hendrick the 153rd. The pair are the ninth and tenth Magpies to mark their PL debut with a goal, but the first to have done so away from home.

1. Alex Mathie v Sheffield Wednesday (h) September 1993 won 4-2 (19 mins as sub)
2. Les Ferdinand v Coventry City (h) August 1995 won 3-0 (83 mins)
3. Stephane Guivarc'h v Liverpool (h) August 1998 lost 1-4 (28 mins)
4. Duncan Ferguson v Wimbledon (h) November 1998 won 3-1 (59 mins)
5. Xisco v Hull City (h) September 2008 lost 1-2 (82 mins)
6. Papiss Cisse v Aston Villa (h) February 2012 won 2-1 (57 mins as sub)
7. Georginio Wijnaldum v Southampton (h) August 2015 drew 2-2 (48 mins)
8. Matty Longstaff v Manchester United (h) October 2019 won 1-0 (72 mins)
9. Callum Wilson v West Ham (a) September 20 (56 minutes)
10. Jeff Hendrick v West Ham (a) September 20 (87 minutes)

Wilson and Hendrick are the first two Newcastle players to score debut goals in the same game since Mick Quinn and John Gallacher v Leeds United (h) in August 1989.

This was only our eighth opening day victory in 26 seasons of PL football - and the first in seven attempts since 2012. On the 13 occasions that our first game has been away from SJP we've now won three times.

Opening PL results:

1993/94 Spurs (h) lost 0-1
1994/95 Leicester City (a) won 3-1
1995/96 Coventry City (h) won 3-0
1996/97 Everton (a) lost 0-2
1997/98 Sheffield Wednesday (h) won 2-1
1998/99 Charlton Athletic (h) drew 0-0
1999/00 Aston Villa (h) lost 0-1
2000/01 Manchester United (a) lost 0-2
2001/02 Chelsea (a) drew 1-1
2002/03 West Ham (h) won 4-0
2003/04 Leeds United (a) drew 2-2
2004/05 smoggies (a) drew 2-2
2005/06 Arsenal (a) lost 0-2
2006/07 Wigan Athletic (h) won 2-1
2007/08 Bolton Wanderers (a) won 3-1
2008/09 Manchester United (a) drew 1-1
2010/11 Manchester United (a) lost 0-3
2011/12 Arsenal (h) drew 0-0
2012/13 Spurs (h) won 2-1
2013/14 Manchester City (a) lost 0-4
2014/15 Manchester City (a) lost 0-2
2015/16 Southampton (h) drew 2-2
2017/18 Spurs (h) lost 0-2
2018/19 Spurs (h) lost 1-2
2019/20 Arsenal (h) lost 0-1
2020/21 West Ham (a) won 2-0

This was the sixth occasion that we've collected maximum points from the first away fixture of a Premier League season and the first time since 2011 - and Ryan Taylor's famous "over the wall" free kick at the mackems.

Present at both games was Steve Harper - unused substitute for Newcastle in 2011 and there in a coaching capacity today. Steve Bruce was also in attendance at both, managing the red and whites nine years ago.

First PL away results:

1993/94 Coventry City lost 1-2 (3rd)
1994/95 Leicester City won 3-1 (6th)
1995/96 Bolton Wanderers won 3-1 (2nd)
1996/97 Everton lost 0-2 (2nd)
1997/98 West Ham won 1-0 (13th)
1998/99 Chelsea drew 1-1 (13th)
1999/00 Spurs lost 1-3 (11th)
2000/01 Manchester United lost 0-2 (11th)
2001/02 Chelsea drew 1-1 (4th)
2002/03 Manchester City lost 0-1 (3rd)
2003/04 Leeds United drew 2-2 (5th)
2004/05 smoggies drew 2-2 (14th)
2005/06 Arsenal lost 0-2 (7th)
2006/07 Aston Villa lost 0-2 (13th)
2007/08 Bolton Wanderers won 3-1 (12th)
2008/09 Manchester United drew 1-1 (18th)
2010/11 Manchester United lost 0-3 (12th)
2011/12 mackems won 1-0 (5th)
2012/13 Chelsea lost 0-2 (16th)
2013/14 Manchester City lost 0-4 (10th)
2014/15 Aston Villa drew 0-0 (15th)
2015/16 Swansea City lost 0-2 (18th)
2017/18 Huddersfield Town lost 0-2 (10th)
2018/19 Cardiff City drew 0-0 (13th)
2019/20 Norwich City lost 1-3 (13th)
2020/21 West Ham (h) won 2-0 (??)

(Our opening Championship away games were no better: 1-1 at West Bromwich Albion in 2009 and 0-1 at Fulham in 2016).
Waffle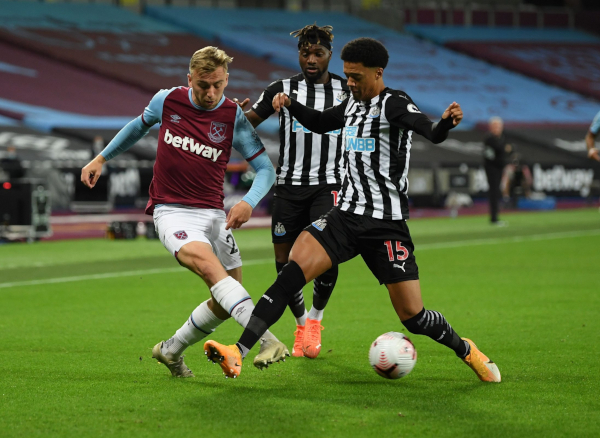 Second half strikes from debut duo Callum Wilson and Jeff Hendrick earned Newcastle a deserved victory at the London Stadium on Saturday night.

Steve Bruce's side failed to win any of their final six games last season, but couldn't have wished for better opening day opponents this time round.

The Hammers struck Karl Darlow's goal frame twice in the opening period but looked listless and unconvincing for long periods: a hollow side in a hollow venue.

Just four of the side defeated by Liverpool on Tyneside almost seven weeks ago survived to line up as a 4-4-2 formation here in East London: messrs Manquillo, Fernandez, Saint-Maximin and Shelvey.

Returning were Darlow, Lascelles and Hayden; augmented by incomers Jamal Lewis at left back, Jeff Hendrick in right midfield and Callum Wilson up top.

The £20m man was partnered with Andy Carroll - making a first league start of 2020 and an obstacle to his former employers at both ends of the field.

Carroll's combative approach almost had fateful consequences in the first minute, VAR clearing him from leading with an arm in an aerial tussle.

Wilson's prolific goal record against West Ham when with Bournemouth had been highlighted pre-match and the England international looked in the mood to inflict further punishment on the hosts.

A crisp centre from Lewis in the fourth minute saw United's new number 13 head just past the near post and the same supply line led to Wilson shooting wide midway through the opening period.

Between those two chances, Angelo Ogbonna struck the Newcastle crossbar with a header and Pablo Fornals then did the same with a 34th minute strike that deflected up off Lascelles.

The visitors continued to look far more comfortable, dominating midfield and able to push both full backs on unchallenged.

By half time, Jonjo Shelvey had fired into the side netting and Wilson seen his dipping curler flash just off-target, but Lukasz Fabianski hadn't been seriously tested in the home goal.

Despite the game being scoreless though, the sheer novelty of seeing a Newcastle strike take three touches in the opposition box during one half play was worthy of comment, let alone actually having three goal efforts.

An artless beginning to the second half by both sides prompted thoughts of possible changes, but the breakthrough soon came, as Manquillo evaded Fornals wide on the right flank outside the box.
Hendrick headed his deflected cross on at the near post as Ogbonna idled and Wilson stabbed home from close range: scruffy, but the sort of predatory instinct we've lacked, save for occasional periods when Dwight Gayle is fit.
After 75 minutes of being continually upended, Saint-Maximin was withdrawn and the Magpies struggled for a time with their out ball - although West Ham's service into the box mercifully remained poor.
Wilson made way for Miguel Almiron and within two minutes the Paraguayan had worked his way to the left edge of the area, pinging the ball infield for Hendrick to slam a rising right-footed effort into the roof of the net.
That sealed Newcastle's first opening day victory in eight seasons and brought a satisfactory conclusion to what has been a confusing week for black and white followers.

For the manager however it's been nothing less than transformative: from enduring successive friendly defeats at the hands of Championship also-rans to three significant transfer breakthroughs and an outbreak of competence.

And the owner even paid for a meal out in a proper steak restaurant, with napkins and everything: none of your happy hour pizzas in Ponteland....

Despite - or maybe because - of a lengthening injury list, that trio of signings instantly gave some much-needed impetus to the squad and fans alike. With Ryan Fraser still to feature after not having played since March, there were pleasing signs on both flanks here, as new arrivals Lewis and Hendrick dove-tailed with Saint-Maximin and Manquillo respectively.

Options from the bench now exist also, as the squad gains some much-needed balance; the sort of thing that followers of other clubs take for granted, but which is worthy of mention when we actually bother ourselves.

Bruce spoke of acquisitions with Premier League experience not being a risk but that's only partly true; Danny Rose and Nabil Bentaleb both brought that with them, but seemingly lacked sufficient motivation to apply it. From an entirely personal perspective, seeing serial failures DeAndre Yedlin and Christian Atsu nowhere near this first squad was also reassuring.

We may be no further forward off the field - and no nearer to returning to watch what's on it - but for once there was solace to be had from a display and result.

For that, if nowt else, we're grateful.

Biffa