Date: Sunday 20th September 2020, 2.00pm
Live on Sky Sports

Venue: St. James' Park

Conditions: Witless



Newcastle

Brighton & HA

0 - 3

Teams
4 mins Neal Maupay beat Karl Darlow from the spot at the Gallowgate End after Allan Saint-Maximin had caught Tariq Lamptey in the area. 0-1

7 mins Another foray down the right bore fruit for Brighton, as Leandro Trossard's centre was clipped home by Maupay - surviving a VAR check for offside after a linesman's flag had initially been raised. 0-2
Half time: Magpies 0 Seagulls 2
83 mins Maupay's run misled the home defence and Aaron Connolly took advantage of hesitation by Jamaal Lascelles to flight home a fine effort. 0-3

Full time: Magpies 0 Seagulls 3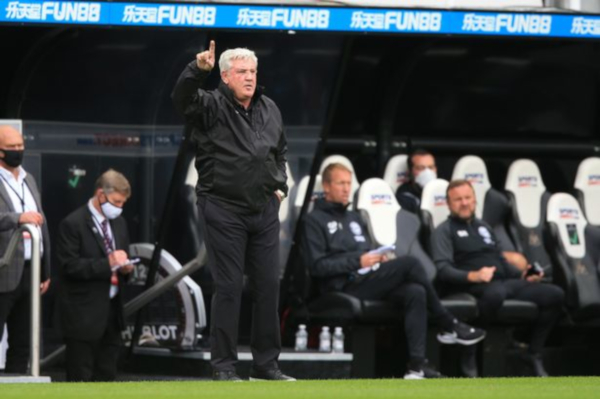 Steve Bruce commented:

"Weíve been beaten badly at home: we have to accept we werenít good enough. Thatís what it is.

"When you're 2-0 down after seven minutes then it becomes difficult against a team who base their style on possession (answers on a postcard what we base ours on...)
"We were better when we made from the change but I think it would have been unfair (not to start with Andy Carroll) after the performance he had last week.
"It's over before we have kicked a ball basically. It was a really difficult afternoon for us. We gave ourselves a mountain to climb. We've gifted them the first two goals - when you start like that it'll be a difficult afternoon.
"We changed formation at half-time and it helped us slightly, but we couldn't recover from an awful 10 minutes. The penalty was dubious. It looked soft.
"We never gave ourselves a chance. We've gone from having a decent week where everyone is positive to throwing in a hand grenade.

"They were better than us and ran it from start to finish. Since I've been here it's like this.... we've got to be better than we were today."
Graham Potter said:

"I'm delighted with the start. It reflects the attitude the players have had all week. To keep a clean sheet and score three goals, creating a few more opportunities and limiting our opponents to not much was positive.

"I'm delighted for the players. It's good to get up and running in the Premier League.

"Everybody has been telling me that weíre light up front, but weíve got some young talent coming through that can get better and improve and weíre obviously pleased for Neal scoring the goals and Aaron alongside him.
ď"It was a really good team performance, itís not really fair or right to single anyone out, it was just a good performance with spirit, character and quality.Ē
On Lamptey:

"He's so refreshing to work with. He threatens the back line with such pace but he also the desire to do it. He's a fantastic boy who wants to improve and help the team.

"He's a breath of fresh air since he has come in and I am delighted for him."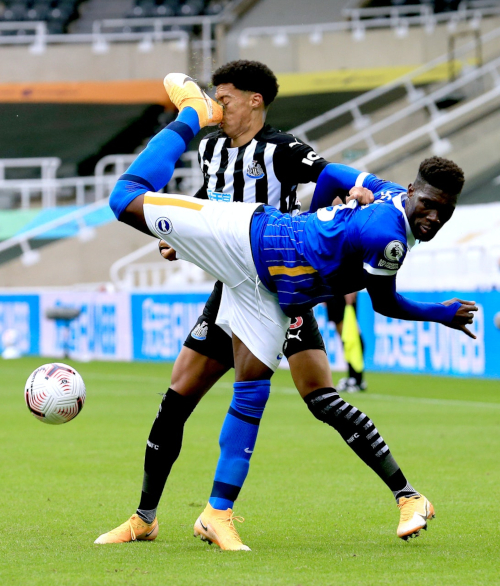 On Yves Bissouma's dismissal for his high boot (pictured above):

"We were pretty much perfect apart from the red card at the end Ė thatís the only thing we can be unhappy about, but three points away from home is fantastic.
"I couldnít see the challenge from where I was and I havenít seen it back. I donít think there will be any intent from Yves, so if itís violent, itís violent.

"It's the one disappointing bit of the game. We're 3-0 up, there's no need for Yves to hurt the player - he's not that type of player anyway."




Following 1-3 defeats by Spurs and Liverpool last season, Newcastle conceded three goals at home for a third successive game - the first time that they have done so in the Premier League and lost*.

(*That has happened previously in the PL, but Newcastle didn't lose all three: beating Manchester City 4-3 before losing 1-4 to Fulham and 1-3 to Manchester United during the 2004/05 season).

Newcastle haven't conceded two goals within the first seven minutes of any game since an ill-fated trip to White Hart Lane during February 2012.

Benoit Assou-Ekotto fired home on four minutes and after six minutes Tim Krul beaten again by Louis Saha. It ended 0-5 to Spurs.

In terms of home games only, one has to go back to February 2011, when Arsenal raced into a two goal lead thanks to efforts by Theo Walcott (1 min) and Johan Djourou (3 mins). That rather improbably ended in a 4-4 draw.

Steve Bruce took charge of his 20th PL home game and endured his sixth defeat. Of the other 14, Newcastle won six and drew the remaining eight.

Scoring 20 goals in those 20 games, United conceded 24. Managing seven clean sheets, they failed to find the net six times.

First PL home game results:

2020/21 Brighton lost 0-3
2019/20 Arsenal lost 0-1
2018/19 Spurs lost 1-2
2017/18 Spurs lost 0-2
2015/16 Southampton drew 2-2
2014/15 Manchester City lost 0-2
2013/14 West Ham drew 0-0
2012/13 Spurs won 2-1
2011/12 Arsenal drew 0-0
2010/11 Aston Villa won 6-0
2008/09 Bolton Wanderers won 1-0
2007/08 Aston Villa drew 0-0
2006/07 Wigan Athletic won 2-1
2005/06 West Ham drew 0-0
2004/05 Spurs lost 0-1
2003/04 Manchester United lost 1-2
2002/03 West Ham won 4-0
2001/02 mackems drew 1-1
2000/01 Derby County won 3-2
1999/00 Aston Villa lost 0-1
1998/99 Charlton Athletic drew 0-0
1997/98 Sheffield Wednesday won 2-1
1996/97 Wimbledon won 2-0
1995/96 Coventry City won 3-0
1994/95 Coventry City won 4-0
1993/94 Spurs lost 0-1

Ryan Fraser became the 244th player to represent the club in the Premier League and the ninth Scottish-born one, after Alex Mathie, Stephen Glass, Paul Dalglish, Garry Brady, Duncan Ferguson, Kevin Gallacher, Brian Kerr, and Steve Caldwell - the last debuting back in September 2000.

(Grant Hanley and Stuart Findlay subsequently played for the club outside the top flight, while English-born Scottish international Matt Ritchie is a current PL squad member).

Seagulls @ SJP - all-time:

2020/21 lost 0-3
2019/20 drew 0-0
2018/19 lost 0-1
2017/18 drew 0-0
2016/17 won 2-0 Lascelles, Shelvey
1991/92 lost 0-1
1990/91 drew 0-0
1989/90 won 2-0 Gallacher, Quinn
1985/86 lost 0-2 (FAC)
1983/84 won 3-1 Keegan, Waddle, Beardsley
1982/83 lost 0-1 (FAC)
1978/79 lost 1-3 Shoulder
1961/62 won 5-0 Leek 3, Tuohy, Hale
1929/30 won 3-0 Gallacher 3 (FAC)




Waffle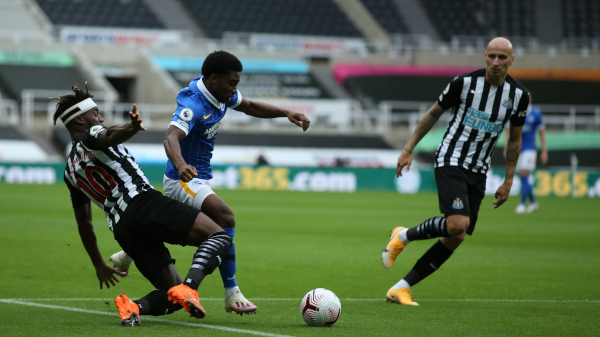 It was a case of new faces but familiar failings for Newcastle on Sunday, comprehensively beaten in their opening home league fixture of the season.

Just three minutes were on the clock when Neal Maupay beat Karl Darlow from the penalty spot after Allan Saint-Maximin had caught the rapid Tariq Lamptey in the area.

All four of United's outfield signings made home debuts, but were unable to retrieve an awful start in which they conceded again after seven minutes.

Visiting striker Maupay - once a team mate of Saint-Maximin at St.Etienne - doubled his tally from close range to stun home players and coaches alike. Had fans been admitted, the rush to the bar or exits would have begun.

Albion's all-blue shirts and white shorts were reminiscent of south coast rivals Portsmouth and their rapid-fire start summoned up memories of Pompey's rampage here back in November 2007.

The visitors were three goals ahead within 11 minutes that day and Brighton could easily have emulated that feat here, cutting through United at will.

Steve Bruce named an unchanged side from the opening day win at West Ham, but his 4-4-2 formation proved completely ineffective against a Brighton side light years ahead of the cumbersome Hammers.

Saint-Maximin was pinpointed in the media pre-game as pivotal, but was heavily involved in a negative sense: conceding the penalty, failing to track back thereafter and then going off with what looked like an ankle injury. The latter came some time after swapping wings with Jeff Hendrick in an attempt to block Brighton's frequent raids down their right.

The front pairing of Andy Carroll and Callum Wilson simply had nothing to work with; none of the midfielders capable of getting forward in possession and set pieces laughably bad - Jonjo Shelvey the prime offender, predictably and perpetually pumping wayward passes into the goalkeeper's arms.

Lucky to be trailing by just two at half time, Miguel Almiron appeared for the restart but things scarcely improved: the only moment of danger his 63rd minute cross for Wilson. Despite having clear sight of goal however - and a record of scoring against Brighton - he couldn't get his header on target

Having destroyed United with their precise passing and movement, Albion began to give the hosts a lesson in direct play; Aaron Connolly striking one post before the linesman's flag was raised and Trossard then rattling the goal frame from far further out 90 seconds later.

A late third goal did follow, when Maupay's run misled the home defence and Connolly took advantage of hesitation by Jamaal Lascelles to flight home a fine effort. That margin of victory though - Brighton's joint biggest on the road in the PL - was the least they deserved; it should have been more.

Both sides ended the game with 10 men after Yves Bissouma accidentally but recklessly caught Jamal Lewis full in the face with his boot. VAR saw an initial yellow card upgraded to a red, the bleeding Lewis going off for treatment and all three of Newcastle's substitutes already used.

After the hype and needless rush to judgement that accompanied last week's victory, the reality is that normal service resumed here for Newcastle.

The enforced emptying of grounds due to the pandemic has saved Bruce from receiving what would be increasing levels of personal abuse from supporters, rightly dismayed by the woeful home form. Being rubbished on social media isn't quite as telling to a traditionalist.

The stark facts are that this outcome extended our winless home league run to six games and it's now seven games since we began a top-flight campaign with three points on home soil.

Newcastle have failed to win any of their seven top-flight meetings with Brighton and managed just a single goal during that run. We didn't have a shot on target today.

The differences between the sides were startlingly clear: Brighton equally effective in different formations, while we struggled with the basics, like running, tackling and passing. Comfortable in possession? you jest surely.

And while we were as muddled as in the corresponding 0-0 draw here last year, Brighton had worked on their weaknesses and generally improved : this result extending their unbeaten away record to eight games since January.

The worry is that there are more and more "progressive" sides in the league this season like Albion and less opportunity of us going toe to toe with other "traditionalists" aka hoofers. And you know what happens to dinosaurs...

Integrating Ryan Fraser and getting him to rekindle that understanding with Wilson is of paramount importance, if we're not to repeat last season's goal drought. It was actually a blessing not getting in to witness this tripe.

Biffa