Date: Wednesday 23rd September 2020, 7.45pm
Live streamed by the EFL

Venue: Mazuma Stadium

Conditions: Plentiful

Programme: £3.00

Morecambe

Newcastle

0 - 7

Teams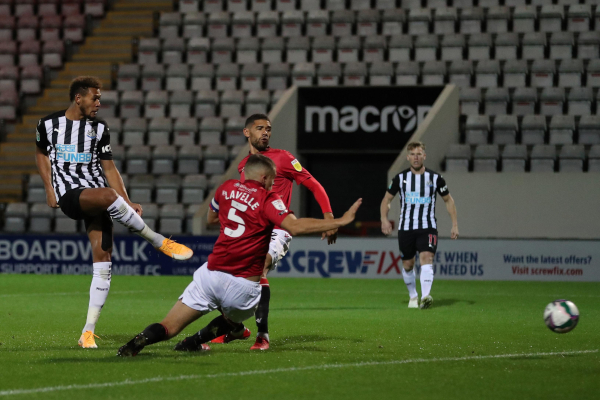 5 mins A nice interchange between Jacob Murphy and Emil Krafth on the right hand side of the area saw the Swede cross to Miguel Almiron, who teed up Joelinton to sweep home in front of the unoccupied away end. 1-0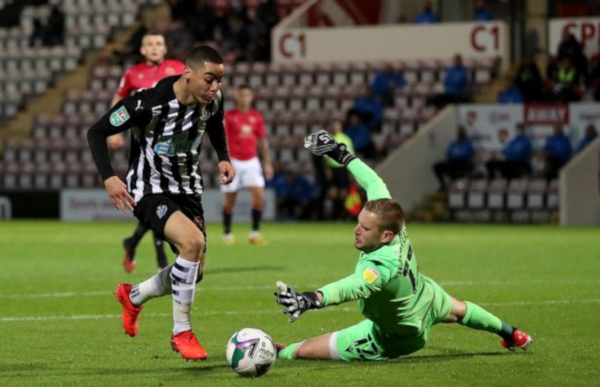 20 mins Murphy's measured pass to Miguel Almiron saw the Paraguayan's pace take him clear of the defence and round the 'keeper. Fleetingly delaying his shot in an echo of Peter Beardsley at Portsmouth in 1984, Miggy then lashing the ball past the defender on the line and high into the net. 2-0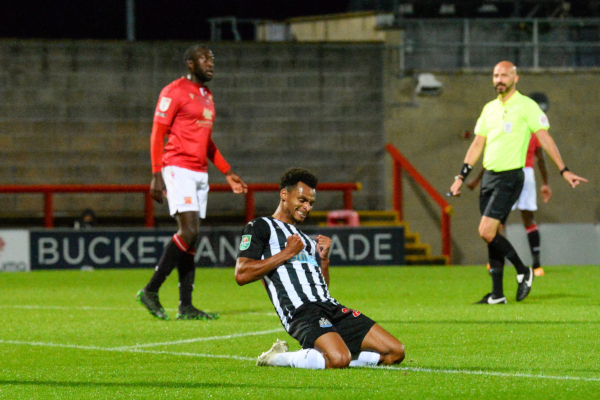 27 mins Jacob Murphy attacked down the middle of the field with the ball from inside his own half, riding the challenge of Stephen Hendrie before pushing on and curling the ball home stylishly from the edge of the box. 3-0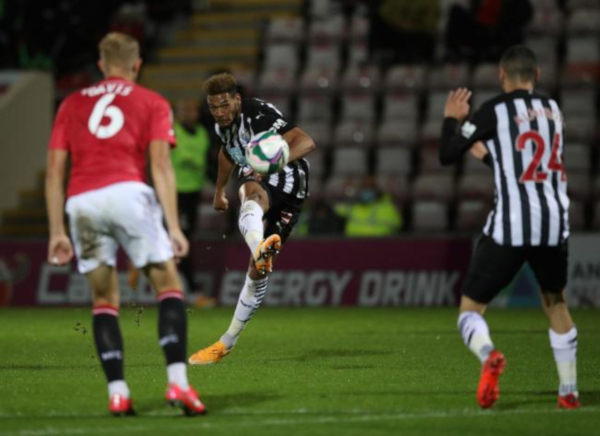 31 mins Joelinton cut in from the left flank to unleash an excellent dipping effort that found the corner of the net. 4-0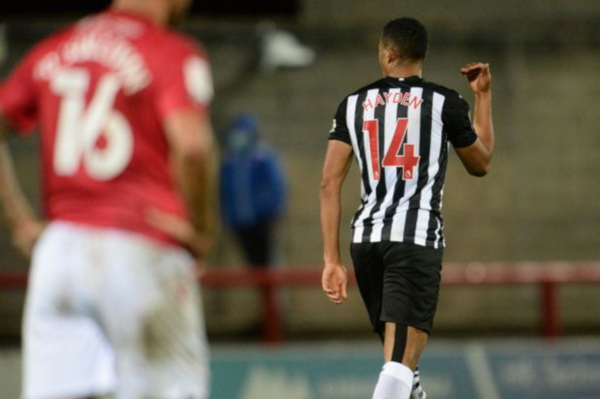 45+2 mins Midway in the Morecambe half, DeAndre Yedlin played the ball infield to Isaac Hayden who struck his shot firmly from outside of the box, easily beating 'keeper Mark Halstead. The writer covering the tie for the local paper claimed that there was a slight deflection off a home player. 5-0
Half time: Shrimps 0 Magpies 5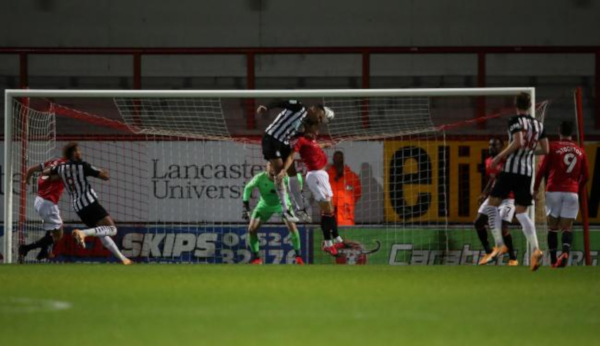 51 mins Matt Ritchie's corner from the right flank was nodded home at the near post by Jamaal Lascelles, who easily out-jumped Harry Davis. 6-0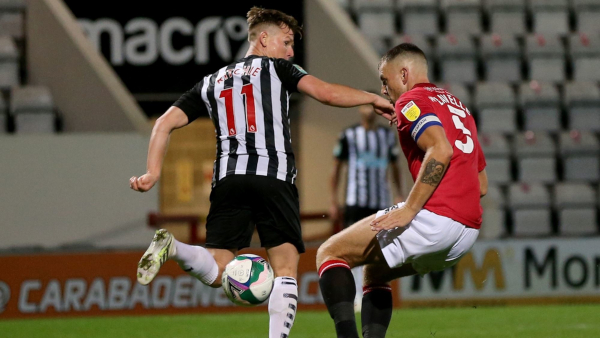 90+1 mins Substitute Dan Barlaser played a low forward pass to the right hand side of the box, where Matt Ritchie's first time flick sent the ball goalwards via an unwitting deflection off home Captain Sam Lavelle. The bamboozled home 'keeper couldn't stop it from crossing the goal line. 7-0
Full time: Shrimps 0 Magpies 7
Steve Bruce:
"It was an awful night (weather-wise), with nobody here, and if we hadnít done things properly, we could easily have had a difficult night.
"Weíve all experienced those nights, especially at a club like ours, so it was nice to get the job done in the way they went about it. Some of the football, particularly in the first half hour, was terrific.
"The attitude really pleased me.

"We set about them and moved the ball quickly. I wished they had stayed with 11 because with 10 men they really did sit behind the ball.
"It was a good night because too often we have come unstuck on nights like this. This is why you need a squad of players.

"I hope I can pick the right team because two or three of these have given me a headache.
"There is always a hysteria around Newcastle and we need to respond with a good result. We are certainly stronger than we were 10 months ago.

"My job is to keep moving the club forward."

On Jacob Murphy's future:

"I wonít be letting him out (on loan).

"After that kind of performance, I definitely wonít be letting him go. He deserves to stay with us. Heís improved enormously, and Iíve been very pleased with him, even though he hasnít made the squad for the weekend.

"Weíve got a lot of players to choose from, but at this particular moment, I wonít be letting Jacob go.
"Heís had a really good pre-season, and showed a great attitude towards it. Heís benefited from being out on loan, and had a really good loan last year at Sheffield Wednesday, who think really highly of him.
"Heís a good young player, whoís direct and quick, and heís grasped his chance and really given us food for thought.

"Arguably, he was our best player tonight, so fair play to him for that.Ē
On the possibility of cup success:

"Itís a chance, of course it is. Iíve had the same attitude ever since I walked through the door Ė letís have a real go at this. Letís have a real crack.
ďWeíve got a squad now which is certainly capable. Of course, we got to the quarter-finals of the FA Cup last season and came unstuck against Man City, but letís get ourselves a crack at this. Why not?

"We are capable of winning five or six games. If the draw is kind to you, who knows? Letís have a go.Ē

Shrimps boss Derek Adams said:

"It was an extremely difficult night for us. Newcastle were absolutely outstanding tonight - the way they passed the ball, the way they moved, the way they pressed and the goals they scored. Undoubtedly they deserved to go through to the next round of the cup.

"To win 7-0 away from home, they respected the competition very well. You just have to see the team they put out and the goals they scored.
"The sending off at 4-0 didnít help us but they were excellent. The gulf in class between League Two and the Premier League is massive.

"Nights like this tell you what a real football player is - how to control the ball, how to pass it, how to create and take chances.
ďThey are real football players, thatís why they are paid the money they are and thatís why people go out there and spend the money they do on them.
ďThey are a testament to Newcastle United and their manager. They put on a show tonight.Ē



In all competitions, this was the second largest win away from SJP in the history of the club, bettered only by a 9-0 FA Cup replay victory over Southport in 1932 (played at Hillsborough).

As that was a neutral venue, this scoreline eclipses that to officially become Newcastle's largest-ever competitive away win. It's the first time that their margin of victory was seven goals (the previous record had been six, achieved with 6-0 and 7-1 triumphs). For completeness, United did record a 7-0 win at Middlesbrough in a War League game in December 1941.

NUFC goal bonanzas - all competitions
(more than 6 goals scored):

13-0 1946/47 Newport County (h)

9-0 1931/32 Southport (n)
9-2 1933/34 Liverpool (h)

8-0 1895/96 West Hartlepool NER (h)
8-0 1901/02 Notts County (h)
8-0 1905/06 Wolves (h)
8-0 1907/08 Birmingham (h)
8-1 1926/27 Notts County (h)
8-2 1959/60 Everton (h)
8-0 1999/00 Sheffield Wednesday (h)

7-0 1891/92 Bishop Auckland Town (h)
7-2 1893/94 Middlesbrough Ironopolis (h)
7-2 1894/95 Walsall Town Swifts (h)
7-2 1895/96 Darwen (h)
7-0 1925/26 Arsenal (h)
7-3 1926/27 Everton (h)
7-1 1927/28 Manchester United (a)
7-5 1927/28 Aston Villa (h)
7-4 1930/31 Manchester United (a)
7-3 1933/34 Everton (a)
7-0 1936/37 Doncaster Rovers (h)
7-2 1946/47 Luton Town (h)
7-2 1949/50 Oldham Athletic (a)
7-2 1951/52 Spurs (h)
7-1 1951/52 Burnley (h)
7-3 1959/60 Manchester United (h)
7-2 1960/61 Fulham (h)
7-2 1961/62 Bury (a)
7-1 1992/93 Notts County (a)
7-1 1992/93 Leicester City (h)
7-1 1993/94 Swindon Town (h)
7-1 1996/97 Spurs (h)
7-0 2020/21 Morecambe (a)

United scored seven goals in the League Cup for only the second time, the first being in October 1993, beating Notts County 7-1 at Meadow Lane.

Newcastle's five goal salvo in the first half gave them their largest interval lead since May 1993, when they led Leicester City 6-0 at SJP in a league fixture.

Tonight was the first time that United have scored more than six goals in a league or cup fixture since the 8-0 home win over Sheffield Wednesday during September 1999.

Five different Magpies found the net in the same competitive game for the first time since the 6-0 Championship success at QPR in September 2016.

The only previous meeting of these two clubs came in a League Cup Second Round tie in 2013 at what was then known as the Globe Arena. That finished in a 2-0 win for United, with brothers Shola and Sammy Ameobi on target.

Joelinton netted the fifth and sixth goals of his Magpies career and now has two in the League Cup to go with a pair each in the PL and the FA Cup.

Miguel Almiron now has nine goals to his name for the club, one in the League and four each in the Premier League and FA Cup.

Jacob Murphy doubled his goal tally, having found the net previously away at Manchester City back in January 2018.

Isaac Hayden added a first cup goal to his five for United in the league - two in the Championship and three in the Premier League.

Jamaal Lascelles reached double figures in a black and white shirt with his first cup goal, adding to three in the Championship and six in the PL.

NUFC last 10 LC3 fixtures:

2020/21 Morecambe (a) won 7-0
2016/17 Wolves (h) won 2-0
2015/16 Sheffield Wednesday (h) lost 0-1
2014/15 Crystal Palace (a) won 3-2
2013/14 Leeds United (h) won 2-0
2012/13 Manchester United (a) lost 1-2
2011/12 Nottingham Forest (a) won 4-3
2010/11 Chelsea (a) won 4-3
2009/10 Peterborough (a) lost 0-2
2008/09 Spurs (h) lost 1-2

PS: On-loan Newcastle goalkeeper Jake Turner was ineligible to face his parent club, while ex-Magpie defender Liam Gibson signed too late to feature. Former NUFC season ticket holder Ben Pringle was an unused substitute, four years after he was in the Preston North End side that were defeated 6-0 at SJP in a League Cup Fourth Round tie.

Waffle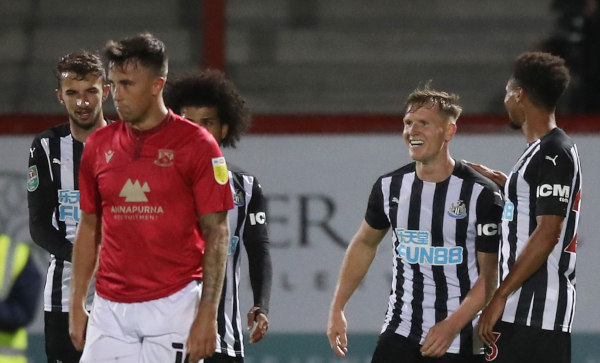 Wednesday night saw Newcastle record their biggest victory in 60 years of League Cup participation, sweeping League Two Morecambe aside on their own ground.

And their goalscoring feat wrote this side into the record books, as being responsible for the club's biggest-ever margin of victory in any away fixture.

United never looked back after Joelinton shot them ahead on five minutes, Miguel Almiron, Jacob Murphy and Joelinton again extending that lead before the hosts had a player red-carded just after the half hour.

Isaac Hayden's added time shot saw Steve Bruce's side five goals ahead at the break and Jamaal Lascelles nodded in after the restart for the half dozen.

Further chances were then made and missed before Matt Ritchie's flick in the first minute of injury time ended up in the net via home Captain Sam Lavelle.

That made it a club record seven goal away victory, but clad in their home kit with white socks, Newcastle could have easily reached double figures after racking up a handful of glaring misses.

Soon after Almiron had teed up Joelinton to sweep home, the number 9 idled as Jacob Murphy's cross struck the far post in front of him - watching to see if it went in rather than instinctively getting a touch to make sure.

Almiron's pace then took him clear of the home defence and he rounded the 'keeper before firing into the roof of the net. The lively Murphy then attacked with the ball from inside his own half, riding one challenge before belting the ball home stylishly from the edge of the area.

Within minutes Joelinton had cut in from the left flank to unleash an excellent finish for his second and United's fourth.

And by the time Hayden struck from similar range Morecambe were a man short after Toumani Diagouraga's lunge left Sean Longstaff spinning around on the wet turf. He was OK after treatment but Diagouraga was dismissed.

Five became six when Matt Ritchie's corner was nodded home by Lascelles, with Andy Carroll soon joining the party as a first goal in his second spell at SJP apparently loomed. However he wasn't able to oblige, heading his best chance wide from close range.

Emil Krafth also had a shot cleared off the line and Ryan Fraser rattled the crossbar with a header before that late seventh did arrive, set up by substitute Dan Barlaser.

There may have been a more one-sided success for Newcastle since the 8-0 humbling of Sheffield Wednesday in 1999 - but we're unable to recall it.

Tonight the black and whites were able to indulge in elongated periods of possession and passing, as goalkeeper Mark Gillespie had just once meaningful save to make. And aside from the red card tackle on Longstaff, the League Two side never showed any hint of nastiness.

It's easy to sneer at the level of opposition and say that a team of our stature and cost should routinely rout lower league sides, but earlier this year we took two goes to see off fellow League Two side Rochdale and League One Oxford with line-ups equivalent to that fielded here.

Praise then for a job well done and some relief that there didn't appear to be any injuries to complicate matters - whether for onward selection or sale.

Bruce rightly praised Murphy for his energetic contribution, the midfielder seizing an opportunity to restart his SJP career on a night when Christian Atsu was nowhere to be seen.

As for Joelinton, the flat track bully tag is valid after he struck here on the back of goals against Oxford and Rochdale last season - and they hardly ushered in an upsurge in Premier League potency.

Having witnessed countless cup debacles from Luton to Stevenage and beyond, it's completely in keeping with this club that they hit the goal trail and rewrite the record books when there's nobody allowed in to see it.

To Newport then (for the first time since 1947) and although there may only be a single point separating them and Morecambe in League Two currently, that tie won't quite be the walkover that this one ended up as.

Rodney Parade may be less muddy as a consequence of reduced rugby games, but Swansea City and Watford have already perished there this season, while Spurs and Leicester endured tricky FA nights in recent years.

If nothing else though, the scent of an upset may see Sky show it live, rather than a third successive week of the EFL's rather more homespun offering.

Biffa