Date: Wednesday 30th September 2020, 5.30pm
Live on Sky Sports

Venue: Rodney Parade

Conditions: Ineffectual

Programme: £2.00

Newport County

Newcastle

1 - 1
(4-5 pens)

Teams
5 mins Jonjo Shelvey surrendered possession in midfield and County's Scott Twine pinged a fabulous effort from 30 yards off the Newcastle crossbar. The rebound fell to Tristan Abrahams, who managed a scuffed side-footed shot on goal that Emil Krafth inexplicably turned his back on.

For reasons only Mark Gillespie can explain, the goalkeeper managed to push that into the roof of his net when it appeared he had time to shuffle across, bend down and catch the ball. Any sympathetic analysis of the replays for an unkind bobble were in vain: There smply wasn't one. 1-0
Half time: Exiles 1 Magpies 0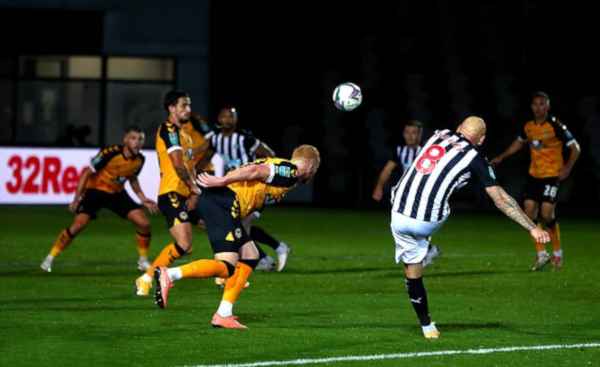 87 mins Substitute Joelinton played the ball into Jonjo Shelvey on the left edge of the Newport box and he took a touch before unleashing a wonderful shot that curled over the 'keeper and into the far corner. 1-1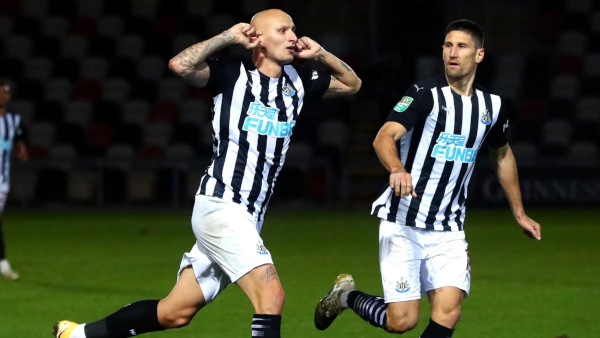 Full time: Exiles 1 Magpies 1

Shootout:

Wilson scores 1-0
Demetriou scores 1-1
Joelinton saved 1-1
Abrahams scores 1-2
Schar scores 2-2
Sheehan scores 2-3
Shelvey scores 3-3
Taylor saved 3-3
Murphy scores 4-3
Dolan scores 4-4
S.Longstaff scores 5-4
Cooper misses 5-4

Newcastle win 5-4
Steve Bruce:
"I have to credit Newport, you can understand now how they've beaten Watford and Swansea this year and in the past Middlesbrough and Leeds and they took (Manchester) City all the way.

"They beat Leicester as well, you can understand why: they're a decent football side, congratulations to the manager and players; they threw everything at it, particularly in the last 10 to 15 minutes.
"It looked like we wouldn't get the breakthrough for a long time and we understand that's our Achilles heel.
"We had 27 attempts on goal, 10 on target but until you get a goal it's always in the balance and they got one after five minutes which disturbs you and it gives them even more belief than they already had.
"They play a certain way for a lower-division team - they get the goal early and, as if they didn't have enough belief, that gave them a bit more.

"They certainly had belief and we found it difficult against them - hats off to them.
"They defended with their lives at the end and it took a real bit of quality because, the way it was going, I didn't think we would get the breakthrough.
"But we're through. I thought we played well in the last half an hour.
"I don't know if the lads enjoyed their cold showers at the end because there was no hot water. It's not something they're used to and it was quite amusing."

On the absent Dan Barlaser:

"There is something imminent towards Rotherham. I wish him the best of luck, I hope it goes well.

"He needs to go and play football. It would be wrong for me to put him back with the academy now.
"I didn't want to stand in his way. There is a (permanent) deal to be done."

Exiles boss Michael Flynn said:

"It's a tough way to lose but I'm proud of my team, I thought the boys were absolutely superb.

"But one bit of magic levelled the tie and that happens when you give Premier League players that amount of space.

"I am very proud. I couldn't be prouder if I tried. We were excellent.
"I know they had chances, but I thought we were brilliant and defended superbly. I'm a realist and I won't get carried away. I know if we had won it would have been a massive, massive upset.
"The players Newcastle brought on was a big compliment to us and they did have a fair bit of possession, but we kept our shape and composure.
"It's easy to say now, but we should have gone in further ahead.

"It's been a bugbear of mine we're not killing teams off, but they are a great group and we will stick together."



United debuted at Rodney Parade and won in Newport for the first time, having lost 2-4 in their only previous visit, at Somerton Park in 1947.

NUFC Competitive shoot-out record:

1970/71 Pecsi Dozsa (a) FC Lost
1979/80 mackems (h) LC Lost
1991/92 Tranmere Rovers (a) ZDS Lost
1991/92 Bournemouth (h) FA Lost
1995/96 Chelsea (h) FA Lost
1998/99 Blackburn Rovers (h) LC Lost
2002/03 Everton (h) LC Lost
2003/04 Partizan Belgrade (h) CL Lost
2006/07 Watford (a) LC Won
2016/17 Hull City (a) LC Lost
2019/20 Leicester City (h) LC Lost
2020/21 Newport County (a) LC Won

Steve Harper was in goal for the Watford success back in 2006 and among the Newcastle coaches for the Newport one almost 14 years later.

This was United's nineteenth appearance in the last 16 of this competition and they racked up their ninth win:

1974/75 Fulham (h) won 3-0
1975/76 QPR (a) won 3-1
1976/77 Manchester United (a) lost 2-7
1994/95 Manchester City (a) drew 1-1
1994/95 Manchester City (h) lost 0-2
1995/96 Liverpool (a) won 1-0
1996/97 smoggies (a) lost 1-3
1997/98 Derby County (a) won 1-0
1998/99 Blackburn Rovers (h) drew 1-1 (lost 2-4pens)
2000/01 Birmingham City (a) lost 1-2
2001/02 Ipswich Town (h) won 4-1
2004/05 Chelsea (h) lost 0-2aet
2005/06 Wigan Athletic (a) lost 0-1
2006/07 Watford (a) drew 2-2 (won 5-4pens)
2010/11 Arsenal (a) lost 0-4
2011/12 Blackburn Rovers (a) lost 3-4
2013/14 Manchester City (h) lost 0-2
2014/15 Manchester City (a) won 2-0
2016/17 Preston North End (h) won 6-0
2020/21 Newport County (a) drew 1-1 (won 5-4pens)

Jonjo Shelvey scored his 15th Toon goal in all competitions (eight in the PL, five in the Championship, one in the FA Cup, one in the League Cup).

There was a first senior call-up for Elliot Anderson, a month before the attacking midfielder turns 18. He wasn't called upon from the bench.

Waffle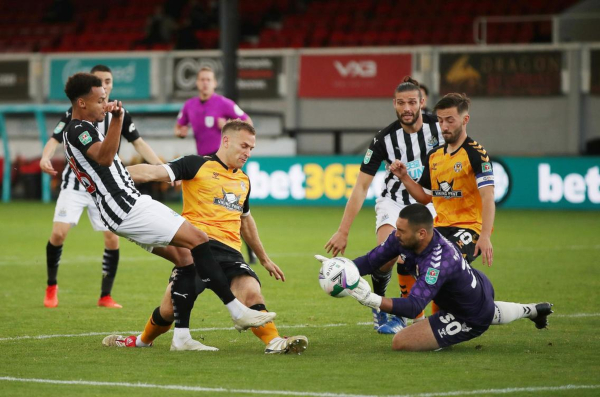 Newcastle advanced to the Quarter Final stage of the League Cup on Wednesday for only the ninth time in six decades of trying - but Steve Bruce's side did it the hard way against their League Two hosts.

United seldom looked like cancelling out a fifth minute effort from Tristan Abrahams until a fine solo strike from Jonjo Shelvey drew them level with just three minutes of normal time remaining at Rodney Parade.

The Magpies then almost won it in the final seconds of six added minutes when a shot from Federico Fernandez was blocked on the line and the follow-up hit a defender.

That meant the tie needed to be settled on penalties, but for once Newcastle avoided their usual spot kick humiliation and squeezed through 5-4.

United goalkeeper Mark Gillespie saved one of Newport's initial five spot kicks, while Callum Wilson, Fabian Schar, Shelvey, Jacob Murphy and Sean Longstaff all netted for the visitors.

Our 100% record from 12 yards was spoiled by a an overly-casual Joelinton effort that was easily stopped by Nick Townsend in the Exiles goal.

Meanwhile, the sight of Shelvey stepping up to take one caused alarm across the Geordie nation - having failed in each of our last two shootouts (Hull in 2016 and Leicester in 2019). Thankfully though he squeezed his effort just inside a post this time round.

The twelfth penalty of the tie was then blasted high over the empty away end by Swansea City loanee Brandon Cooper, handing Newcastle a place in the Quarter Final draw.

Having beaten a trio of Football League sides to reach this point though, United will have to markedly improve if a first Semi-Final spot since 1976 is to come their way in late December.

The match statistics show that the top flight side had the lion's share of possession and chances, but that fails to highlight another laboured display when basic proficiency was lacking.

And for all Bruce's bluster about the alleged quality of cup fighters Newport, United's problems were mostly of their own making - the home side only once seriously threatening a second goal (in first half added time) and for the most part defending in depth.

Given every opportunity to take the initiative, we looked clueless and bemused for the most part against a side who may have been less timid than Newport but lacked the partisan crowd and the clarty pitch that characterised previous headline-making cup exploits.

The total failure of Andy Carroll to lead the line effectively for an hour raises more questions about the value of having him in the squad; fit but lacking any legal threat.

(He did leave two home players laid out on the pitch at one point during the second half in a manner reminiscent of Billy Whitehurst against Everton half a lifetime ago....)

Jacob Murphy again looked lively and the majority of our shooting chances fell to him, some wide, some blocked. At least he didn't seem to think that the opposition box was part of the local lockdown area though.

When all seemed lost and our crosses had been as woeful as our set pieces, Shelvey jockeyed inside the Newport box for an angle to shoot then unfurled a wonderful curler into the far corner. Until that point though, he had done little to justify leaving him on the field.

And so another Newcastle United cup run continues in similar fashion to last season's stuttering FA Cup one, with significant dollops of good fortune.

That came to a juddering halt when we were paired with a proper team and there's no reason to suspect that a strong dose of reality doesn't loom large this time round when the balls are juggled on Thursday.

Biffa