Date: Saturday 17th October 2020, 8.00pm
Live on Sky Sports Box Office

Venue: St. James' Park

Conditions: Insolvent



Newcastle

Manchester United

1 - 4

Teams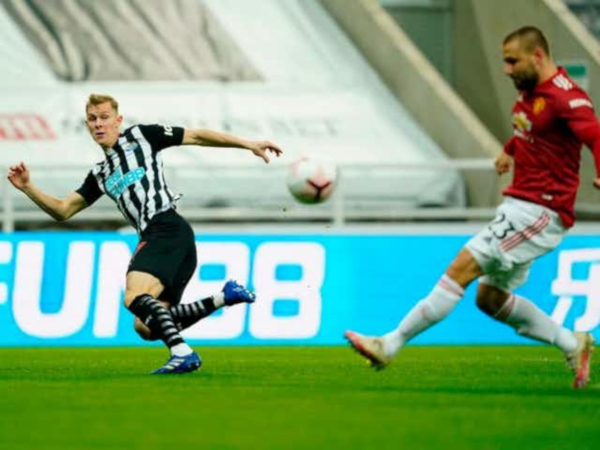 No Shaw shank redemption
2 mins Left back Jamal Lewis hooked the ball forward from deep inside his own half and Callum Wilson expertly span and turned to feed the lurking Allan Saint-Maximin.

He jinked inside and fed Jonjo Shelvey, who strode forward and played in the overlapping Emile Frafth. The Swede's cross wasn't great but Luke Shaw deflected the right wing centre past David de Gea at the Leazes End. 1-0
23 mins Harry Maguire was unopposed as he headed Juan Mata's flag kick from the Strawberry Corner beyond Karl Darlow and into the far side of the Gallowgate net. 1-1
Half time: Magpies 1 Red Devils 1
(58 mins Bruno Fernandes missed a penalty - saved by Karl Darlow)

86 mins Mata fed the ball to Rashford who was able to take the ball inside our box before back-heeling it to Fernandes. He took a touch before lifting it over the goalkeeper and into the far top corner of the Leazes goal. 1-2
90 mins Aaron Wan-Bissaka exchanged passes with Rashford before firing an unstoppable drive into the roof of the net from the right side of the box. 1-3
90+6 mins A long ball forward from Fernandes to Rashford on the visitor's left allowed the striker to outpace Krafth and slide a shot under Darlow. 1-4

Full time: Magpies 1 Red Devils 4
Steve Bruce commented:
"We were beaten by the better team. The disappointment was we were naÔve in the end. Callum Wilson had a big chance, but De Gea pulls off a wonder save. It might have been a bit different.
"The disappointment was that we conceded four in the end, we left wide open spaces in behind us as we know that is you do that against top players it becomes very difficult.
"They were a handful all night, some of their forward players and their movement we found it difficult. But you stay in it, they scored from a free kick we had and broke away and then towards the end we were a bit naive.

"Karl Darlow has been fantastic. He was brave when we needed him to be. You know your goalkeeper will have to play well against the big teams, I hope he will be OK next week.

"I thought we were a little bit too easy at times to play against. We will go away really, really disappointed because we were 10 minutes away and it could have gone either way when it gets that late.

"It is (a) work in progress for us. We have tried to change and with that it will take time. The defeat looks worse than it really was.

"They (Manchester United) will not have enjoyed what happened last week. We found it very difficult, there's no disputing that. They will do that to teams: if you leave them space they have lightning pace at the top of the pitch.

"We will have bumps in the road but we will keep on working at it."
Ole Gunnar Solskjaer said:

"The boys came together really well. They are looking forward to every game. Today I rested a few and they have come on and done the business for us.

"I think the boys showed great resilience, great reaction after the last game but also after conceding the first goal after a minute or so which made it even more difficult for them.

"I thought they pulled it together, played some nice football, patient and I thought we controlled and dominated the game and, in the end, it counted.

"You have to respond and bounce back after a defeat. Great result and great character to come back, led by a very inspirational captain. Harry (Maguire) scored and led by example. He showed good character, I am happy for him - he had a couple of difficult weeks since he last played for us.
"The season started for us today. We have come up to the speed of the game and that showed today."
On Paul Pogba:

"Every single player here that needs to perform but Paul has had some hip and back problems when he was away with France, so he wasnít right to start him today.

"We have many big games coming up and everyone has to perform when they come on because now we have competition for places. (I'm) delighted with everyone today and Paul put on a good performance when he came on."

On Donny Van de Beek:

"Heíll get his game-time. Heís been fantastic in the group. I think you see today and in training, heís so neat and tidy, I donít think he lost the ball once. ĎItís about finding the balance in the team.

"Weíve won 4-1 today and youíre asking why I didnít start one of the players. Heíll have a very good impact on the team."


Bruno Fernandes said about Karl Darlow:

"Congratulations to him to be first to save a penalty in the Premier League from me. That's 11 taken and one missed. Now people can say I can miss a penalty.

"It's always important to win. To have criticism is normal in football.

"This is a big club, we have big pressure, but we are big players. We are OK for that - the team is together. Today is the right way to reply to the 6-1 against Tottenham."




Newcastle suffered their worst home defeat since a 0-4 loss to Manchester United in April 2014. On the scoresheet that day was Juan Mata, and he also appeared in tonight's game.

(NB: we have lost 0-3 at home on four occasions since then - to Watford in November 2017, West Ham in December 2018, Leicester in January 2020 and Brighton last month - but not conceded four goals since April 2014).

The Magpies failed to register back to back PL home victories, having not managed that feat since December 2019. And once again, the black and whites proved unable to record successive home wins over the Red Devils, something that has now eluded them since 1973.

For the sixth time in the last seven meetings with Manchester United, Newcastle scored the opening goal of the game:

2020/21 H OG (Shaw) 2 mins lost 1-4
2019/20 A M.Longstaff 17 mins lost 1-4
2019/20 H M.Longstaff 72 mins won 1-0
(2018/19 H lost 0-2)
2018/19 A Kenedy 7 mins lost 2-3
2017/18 H Ritchie 65 mins won 1-0
2017/18 A Gayle 14 mins lost 1-4

Luke Shaw's 101 second OG was the 39th officially recorded in our favour during our 963 Premier League fixtures to date - and the fastest, beating a four minute effort from Burnley's Ben Mee at Turf Moor in November 2018.

The fastest-ever OG in our favour that we can recall was George Burley's effort while playing for Ipswich Town at SJP in October 1984, taking barely 20 seconds to beat Paul Cooper in the Leazes End goal from just about the same spot Shaw was standing on tonight. We won that game 3-0.

Red Devils @ SJP - Premier era:

2020/21 lost 1-4 og(Shaw)
2019/20 won 1-0 M.Longstaff
2018/19 lost 0-2
2017/18 won 1-0 Ritchie
2015/16 drew 3-3 Wijnaldum, Mitrovic(pen), Dummett
2014/15 lost 0-1
2013/14 lost 0-4
2012/13 lost 0-3
2011/12 won 3-0 Ba, Cabaye, og(Jones)
2010/11 drew 0-0
2008/09 lost 1-2 Lovenkrands
2007/08 lost 1-5 Ab.Faye
2006/07 drew 2-2 Milner, Edgar
2005/06 lost 0-2
2004/05 lost 1-3 Shearer
2003/04 lost 1-2 Shearer
2002/03 lost 2-6 Jenas, Ameobi
2001/02 won 4-3 Robert, Lee, Dabizas, og(Brown)
2000/01 drew 1-1 Glass
1999/00 won 3-0 Ferguson, Shearer 2
1998/99 lost 1-2 Solano
1997/98 lost 0-1
1996/97 won 5-0 D.Peacock, Ginola, Ferdinand, Shearer, Albert
1995/96 lost 0-1
1994/95 drew 1-1 Kitson
1994/95 won 2-0 Albert, Kitson (LC)
1993/94 drew 1-1 Cole



Waffle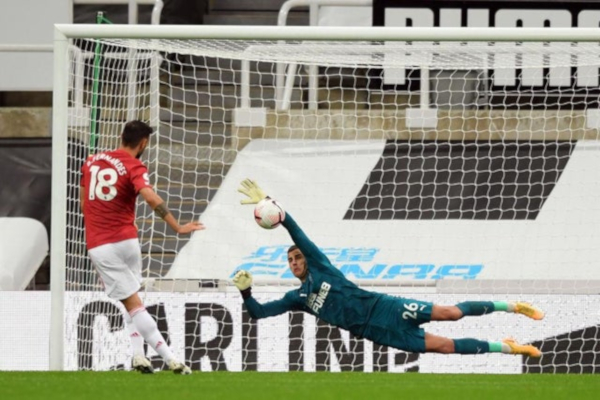 A bizarre Saturday evening at St. James' Park ended with Newcastle on the wrong end of their heaviest home defeat in over six years - although the scores were still level with just four minutes of normal time left.

Steve Bruce's side got off to the most perfect of starts when Luke Shaw deflected Emile Krafth's right wing centre past David de Gea and into his own net with less than two minutes on the clock.

The hosts failed to profit from that early advantage however and after a VAR offside call denied Bruno Fernandes a 19th minute leveller, Harry Maguire was allowed to head home a corner unopposed just four minutes later.

Manchester United continued to dominate the game, but missed a golden chance to go ahead when Jamal Lewis was harshly penalised in the 58th minute for making contact with Marcus Rashford on the edge of the box - only the VAR official initially spotted any foul.

Bruno Fernandes went through a surprisingly normal run up and placed his kick at a nice height for Karl Darlow to dive and palm away right-handed, with Krafth hoofing the rebound clear.

However any hopes the Magpies had of taking three points or even one disappeared in the closing stages of the, following a triumvirate of emphatic finishes from as many powerful counter-attacks by the Red Devils.

Darlow was beaten by Fernandes, Aaron Wan-Bissaka and Rashford - the final scorer setting up for the previous two before blasting in to round off the win.

Given the lateness of the clinching goals it's tempted to suggest that the final scoreline flattered the visitors - and had Callum Wilson not been denied by de Gea's fine 50th minute block, then an alternative outcome was possible.

However, the evidence to the contrary was increasingly overwhelming well before we were sunk by that late triple salvo.

Aside from the marginal offside call and the penalty save, Ole Gunnar Solksjaer's side enjoyed the majority of possession throughout the game and had further two efforts kicked off the line; their progressions upfield light years ahead of our ponderous and infrequent attempts.

Having put together a sweeping move to take the lead, Newcastle rarely looked as cohesive again and a stodgy midfield were unable to shut down the opposition or fashion any concerted threat to them.

The policy of containment that ultimately served them well here against the same opposition last season failed - as did an over-reliance on Allan Saint-Maximin to provide attacking flair. Number of home corners? none.

Despite the heavy loss that the visitors had suffered in their last outing, we approached this as respectfully as expected - and were predictably exposed.

The problem with giving other sides the opportunity to play is that they often do; our waving through of Spurs last month emulated here and a clearly ailing Darlow called upon time and time again. It's not his fault we lost.

Once again the lack of a crowd means that the manager gets off lightly; there may not have been any boos ringing around at full time, but many home fans were entitled to feel short-changed by this meek and ineffectual showing.

We were playing at home, apparently.
Biffa