Date: Sunday 25th October 2020, 4.30pm
Live on Sky Sports

Venue: Molineux

Conditions: Improbable

Programme: £3.50

Wolverhampton Wanderers

Newcastle

1 - 1

Teams
Half time: Wolves 0 Magpies 0
80 mins A free-kick from the Wolves left was played into the box and headed clear by Callum Wilson, but only to the edge of the box where a waiting Raul controlled the ball and volleyed it goalwards.

The Mexican striker's powerful shot wasn't quite in the top right hand corner of Karl Darlow's goal, but he attempted unsuccessfully to stop the effort with his left hand as he dived right. 0-1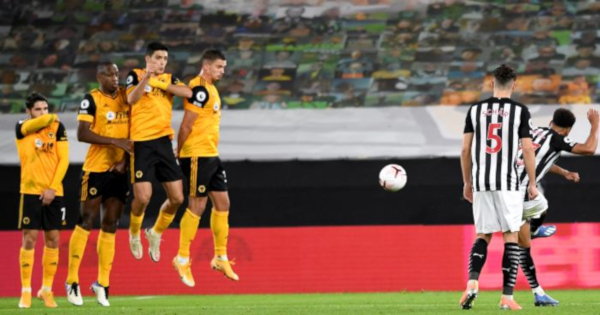 89 mins Jeff Hendrick's ball forward to Wilson saw Conor Coady nudge him in the back and Lee Mason award a free-kick on the right edge of the box, at the South End of the ground.

Jacob Murphy, Fabian Schar and Miguel Almiron all clustered over the kick, the latter shaping to swing it over left-footed but making a decoy run and leaving it for Murphy.

He proceeded to curl a perfect effort around the right edge of the badly-placed wall and low inside the post, Rui Patricio scrambling to his left in a futile attempt to keep it out. 1-1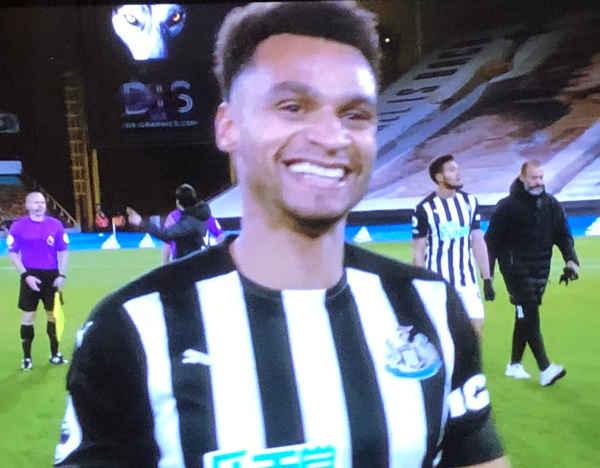 Full time: Wolves 1 Magpies 1
Steve Bruce:
"It would have been a bit unfair if we had lost it and there wasn't much in it.

"When you come to play against Wolves, they do have really good possession of the ball but certainly the way the midfield players tried to adapt to make sure it was difficult for them and that's what it had to be.

"We're delighted to come here and take a point in difficult circumstances.
"I'm pleased for Jacob (Murphy) in particular, who has been knocking on the door since pre-season really and I'm delighted for him.

"I saw him taking free kicks on Thursday and when it comes off the training ground and goes in, fair play to him.

"He's hit it and got around the wall - whether he's blaming the goalkeeper, I'll let Nuno go to work with that - but it was a good strike.

"Jacob is last on the training pitch and practises these sorts of things so when he has the confidence to step up and push a few out of the road and take it, I'm delighted. To go and play this year like he has done and in that wing-back role too, I'm absolutely delighted for him.
"We're a bit disappointed (with the goal) because we gave away a cheap foul and we didn't have anybody on the edge of the box quick enough. I'll have a look at it again and see what we can do.
"Overall, and the response to losing last week, there was a resilience about them which had to be admired.

"We didn't have any natural midfield players who want to win the ball back today. We have to defend better than we have done of late, we have to be hard to beat.
"It was hard work but that's the Premier League. Almiron does the hard work, it's very hard for me to leave him out, he's a manager's delight. He ran himself to a standstill.
"We are trying to find a balance to the team, it won't happen overnight but we are trying to change the way we play."

Goalscorer Jacob Murphy:

"I was a bit nervous going into the game. My brother gave me reassuring words before kick off. I have worked hard in training and took my chance.
"Last night, in the hotel, I did a bit of research on the goalie. I knew anything hard and low would catch him out. I looked around at the side of the wall and saw the little gap there and I thought, 'Yeah, hit it there'.

He (Callum Wilson) held everything up for us and got us up there when we need it. He gave us a chance to get back in the game.

"It was frustrating and we played a lot of attacking players. We wanted to get up the field more. Wolves are a good team but we came away with a point."
NES said:

"We were patient, we were a threat, we didn't concede many chances and it is a game that we should finish with a victory
"The mistake is that we need to be more clinical. We had many chances but we did not test the goalkeeper too many times. We were the better team.
"In the first half, we started very well. We had mobility and had enormous situations as a result of having good possession.

"As the half went by, we slowed down a little bit, but Newcastle didn't create too many problems.
"We were well organised, and in the second half we started better. We were in the game without problems until we scored the goal, which I thought was well-deserved.

"In the end, we should've managed the game better.
"I have to see. but the ball cannot go around that side of the wall. Clearly not. If it goes over the wall, then we have to deal with it. But on the side of the wall, the shot cannot go in.
"Our aim is always to try to play well for 90 minutes. There's a lot of things we can improve. We need to be sharper in our combinations and improve with our final delivery but defensively we were OK.

"There are positives and negatives like all games. We need greater mobility but we'll get there. The boys are working hard."
This was the fourth successive 1-1 draw between these two sides, all of which have come in the Premier League. Unlike the previous three though, this time Newcastle didn't take the lead.


Newcastle are now unbeaten on their last seven visits to Molineux and have never lost there in the Premier League. Their last top-flight reverse there was in November 1977.

No team has yet managed to keep a clean sheet in the 11 PL games played between these sides.

The 99th competitive meeting of these two sides in league and cup fixtures brought about the 27th draw, with Wolves recording 40 wins to our 32.

Having already got off the mark for the season in the League Cup, Jacob Murphy doubled his PL goal tally for Newcastle. His previous strike in that competition had come away to Manchester City in January 2018.

This was his first PL start since Newcastle played out a 1-1 draw at Everton back in December 2018.

The Magpies have avoided defeat in their opening three away league games for the first time since the 2011/12 season and only the second time in their PL history (1995/96 the other one).

Unlike last season here, when both sides wore their usual home kits, United were obliged to wear white shorts with their black and white shirts.


The Ashley era - NUFC after six PL games:
2007/08: 11 points, 5th
2008/09: 4 points, 19th
2010/11: 7 points, 10th
2011/12: 12 points, 4th
2012/13: 9 points, 9th
2013/14: 7 points, 16th
2014/15: 3 points, 19th
2015/16: 2 points, 19th
2017/18: 9 points, 9th
2018/19: 2 points, 18th
2019/20: 5 points, 17th
2020/21: 8 points, 14th
Mags @ Molineux - last 10:

2020/21 Drew 1-1 Murphy (PL)
2019/20 Drew 1-1 Almiron (PL)
2018/19 Drew 1-1 Hayden (PL)
2016/17 Won 1-0 Mitrovic (Ch)
2011/12 Won 2-1 Ba, Gutierrez (PL)
2010/11 Drew 1-1 Carroll (PL)
2003/04 Drew 1-1 Shearer (PL)
2002/03 Lost 2-3 Jenas, Shearer(pen) (FAC)
2002/03 Won 2-0 LuaLua 2 (FR)
1992/93 Lost 0-1 (Ch)

Waffle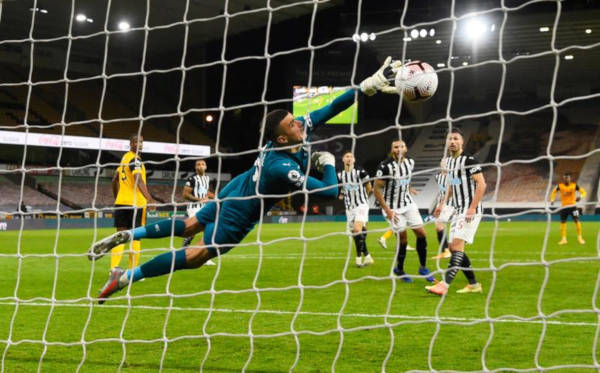 Jacob Murphy's 89th minute free kick ensured that Newcastle left Molineux with a point on Sunday night - and remain unbeaten there in all six of their Premier League visits.

The black and whites had fought a mostly rearguard action against a Wolves side who looked to have claimed victory when Raul Jimenez fired an 80th minute shot beyond Karl Darlow from outside the box.

However a rare upfield excursion saw Callum Wilson draw a foul from Conor Coady and win a free kick on the right side of the area.

Miguel Almiron, Fabian Schar and Murphy all stood over it and it was the latter who whipped a right-footed effort around the wall, between Rui Patricio and his post.

That was enough to retain our unbeaten PL away record this season - after the 2-0 win at West Ham and an even later equaliser in a 1-1 draw at Spurs.

Murphy was one of four changes to the starting lineup in last weekend's 1-4 home loss to Manchester United, replacing Emil Krafth at right wing back.

Fabian Schar returned in a central back three, while the absence of both Jonjo Shelvey and Isaac Hayden saw Jeff Hendrick move to a central midfield role - with Almiron and Ryan Fraser to his left and right respectively.

Coming into the game after successive 1-0 victories, a confident Wolves side bossed the opening stages and Darlow made his first save with just five minutes gone.

United survived that shaky start though despite a series of unforced errors gifting possession to the hosts and Wilson won a corner after his 17th minute shot was deflected.

Aside from one trundling effort by Saint-Maximin, that was the sum total of our goal attempts in the first half - Wilson almost continually isolated amongst a sea of old gold shirts.

A lack of intensity by Wolves in the final third though meant that Darlow was less occupied than in his last two outings, Nuno Espirito Santo's side again living up to their billing of slow starters by failed to net in the first half.

With no significant increase in pressure on the visiting defence, Wolves made a double change on 68 minutes. That brought Adama Traore on to threaten down the right, but Jamal Lewis mostly kept him at bay - Fraser and Almiron both making timely clearances from within their own penalty area.

United's own twin switch brought Joelinton and Sean Longstaff to the field, but almost immediately Wolves scored what appeared to be the winner.

The home side were initially angered when Referee Lee Mason blew to halt an attack and brought play back for a free kick on the left side of the field.

Neto delivered the free kick although it was headed out by Wilson, the lurking Jimenez took a touch before firing beyond Darlow - a decent enough strike but hardly unstoppable. Only the goalkeeper will know whether he had 100% movement following his clattering by Marcus Rashford last week.

Going behind did finally coax United forward as Wolves began to ease off, apparently secure in the knowledge that the three points were theirs.

Wilson then tumbled after challenging for a speculative ball upfield and after Andy Carroll had come on, Murphy capped an energetic display by levelling.

"Jacob's cracker" was the Sky verdict, but had his effort not gone in, then there would have been few crumbs of comfort for the Magpies.

For all the personnel change and tactical reshuffle, this was another exercise in containment; we simply never looked like scoring a goal from open play.

Murphy aside, Fraser and Almiron both got pitch time that can only be beneficial - but we lacked both pace and power, our fate apparently dictated once again by Saint-Maximin's effectiveness, or lack of it.

Wolves will rue Rui Patricio's crucial lapse of judgement (in not positioning his wall correctly) or concentration (from not tracking the shot), but they should have been out of sight long before that.

Although not defying logic to quite the same extent as last month's 1-1 draw at Spurs, the most pro-Bruce disciple couldn't claim that we deserved this.

44 PL games in we remain "a work in progress" but there simply has to be more achievable from this squad than currently being realised by this coach.

Talk of this being a hard place to visit and a great point is disingenuous, as we observe a similar protocol regardless of venue or opponent. Look past the industry and it's a football-free wasteland for the most part.

It is what it is, as Bruce is fond of saying. Bleak.

Biffa