Date: Sunday 1st November 2020, 2.00pm.
Live on Sky Sports

Venue: St. James' Park

Conditions: Righteous






Newcastle

Everton

2 - 1

Teams
Half time: Magpies 0 Toffees 0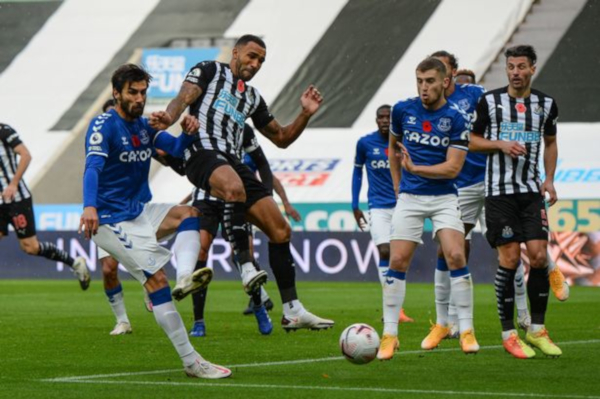 56 mins Sean Longstaff's flag kick from the South West Corner was aimed at Callum Wilson at the near post and he snuck in front of marker, Andre Gomes, who unwittingly made contact with Wilson in trying to clear the ball.

The Newcastle man went down in a heap and referee Stuart Attwell almost instantly indicated a penalty kick. A lengthy pause followed, before VAR referee Craig Pawson saw no reason to overturn that decision.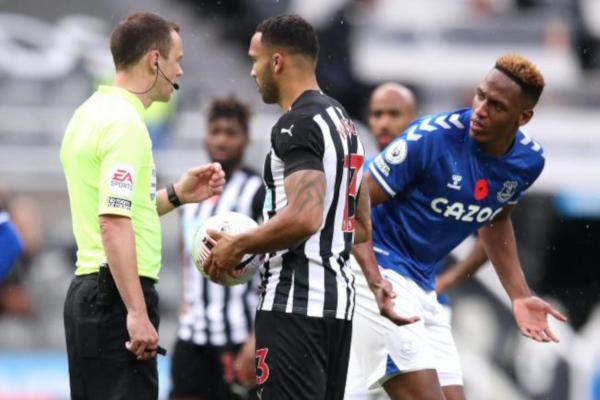 That delay gave Everton's Yerry Mina the chance to try and intimidate the penalty taker Wilson, although what at first glance seemed to be a spitting incident looked to be sledging on further viewing.

Mina's position adjacent to Wilson allowed the Newcastle man to firmly shove the ball into the defender's stomach; referee Attwell intervening at that point to warn Mina and book Wilson.

Undeterred, United's number 13 tucked his kick down the middle as Olsen dived right, Wilson celebrating by giving Mina a 'shush' gesture. 1-0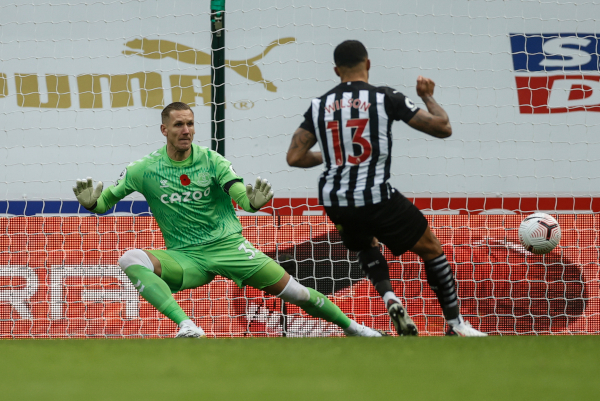 84 mins An intelligent ball from Jamal Lewis down the left wing reached Ryan Fraser, who raced ahead of Mina and surged into the Everton box in front of the Gallowgate End.

Mina had made ground up but could only deflect Fraser's cross, sending it looping over Olsen to the back post. Callum Wilson made a timely arrival to touch the ball over the line - a vital intervention, in that the cross may have gone wide or hit the post (see Joelinton @ Morecambe....) 2-0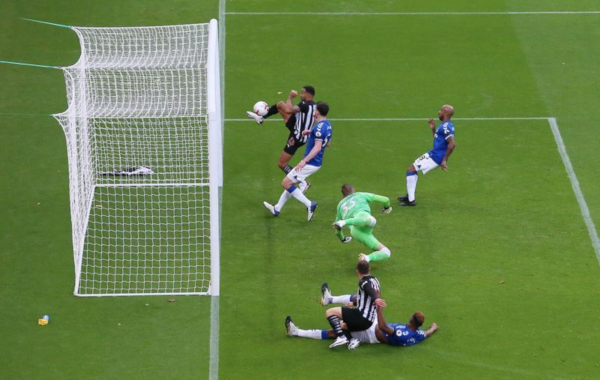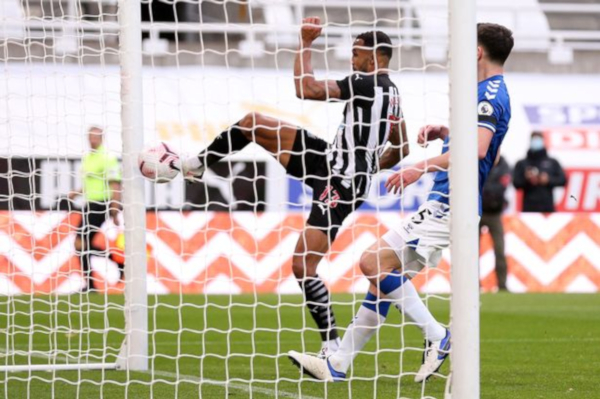 90+1 mins Toffees substitute Alex Iwobi crossed from the right and the ball deflected off Lewis' heel, falling nicely to Dominic Calvert-Lewin at the near post who steered it inside the near post. 2-1

Full time: Magpies 2 Toffees 1
Steve Bruce commented:
"We knew it would be a battle against one of the great managers. He has had a few problems with injuries but I couldn't be more pleased. We deserved it.

"I don't know where we got six minutes from at the end.

"They threw everything at us and the goal makes it edgy. We're trying to do things a different way and be more expansive but it is a work in progress. We have to do what is best for the team. They are comfortable at the moment.

"When you play a good team tactically you have to be right. It wasn't much of a spectacle in the first half but once we got the goal... all in all it is a good day's work for us.

On the circumstances of Callum Wilson's booking:

"I don't think much distracts him - he's a goalscorer. That nonsense goes on but as a penalty taker you just get on with the job and the best way to say 'up yours' is by scoring, which he did.

"It's very rare that you see a team come back to win, so the first goal was critical. I think only he gets the second one. He has got that instinct that you don't coach. He has proved to be a great signing for us."
Carlo Ancelotti said:

"It was not a good performance, we knew this. It was important to avoid mistakes, not give them the opportunity to go 1-0 up, and the game is changed when we give them the penalty. After that the game was difficult and complicated.

"The performance of Olsen was good, like usual, He's a good goalkeeper with experience, he was in good control of the game.

"They are important players missing. When you don't have these players you have to play differently, maybe with less quality but with more focus. The goals we conceded, we lacked focus.

"We have to try to recover players for the next games."


Newcastle made it 10 PL goals scored from seven games this season, the first time that they've reached double figures so quickly since 2010/11, when they also had 10 after seven (2004/05's tally of 14 from the opening seven PL games is the last time they beat the figure of 10 scored).

2010/11 10 goals
2011/12 9 goals
2012/13 8 goals
2013/14 9 goals
2014/15 7 goals
2015/16 5 goals
2017/18 7 goals
2018/19 4 goals
2019/20 4 goals
2020/21 10 goals

In terms of points collected, 11 points from seven games this season is United's best total since 2011/12 brought them 15 points at that stage:

2010/11 7 points, 15th (GD+0)
2011/12 15 points, 3rd (GD+5)
2012/13 9 points, 10th (GD-3)
2013/14 10 points, 11th (GD-3)
2014/15 4 points, 18th (GD-7)
2015/16 3 points, 19th (GD-6)
2017/18 10 points, 9th (GD+1)
2018/19 2 points, 18th (GD-6)
2019/20 5 points, 19th (GD-9)
2020/21 11 points, 11th (GD-1)

Newcastle have won two of their three PL home games this season, having managed just two victories in their closing ten at SJP last season.

The Magpies have now been awarded three penalties in five PL games, matching the number given to them in the previous 76 PL games.

Toffees @ SJP - Premier years:

2020/21 Won 2-1 Wilson 2
2019/20 Lost 1-2 Schar
2018/19 Won 3-2 Rondon, Perez 2
2017/18 Lost 0-1
2015/16 Lost 0-1
2014/15 Won 3-2 Cisse, Perez, Colback
2013/14 Lost 0-3
2012/13 Lost 1-2 Cisse
2011/12 Won 2-1 OG, R.Taylor
2010/11 Lost 1-2 Best
2008/09 Drew 0-0
2007/08 Won 3-2 Butt, Emre, Owen
2006/07 Drew 1-1 Ameobi
2005/06 Won 2-0 Solano 2
2004/05 Drew 1-1 Bellamy
2003/04 Won 4-2 Bellamy, Dyer, Shearer 2
2002/03 Drew 3-3 Dyer 2, OG (LC: 2-3 on pens)
2002/03 Won 2-1 Shearer, Bellamy
2001/02 Won 6-2 Shearer, Cort, O'Brien, Solano 2, Bernard
2000/01 Lost 0-1
1999/00 Drew 1-1 Shearer
1998/99 Lost 1-3 Shearer
1998/99 Won 4-1 Ketsbaia 2, Shearer, Georgiadis (FAC)
1997/98 Won 1-0 Lee
1996/97 Won 4-1 Ferdinand, Lee, Shearer, Elliott
1995/96 Won 1-0 Ferdinand
1994/95 Won 2-0 Fox, Beardsley
1993/94 Won 1-0 Allen



Callum Wilson now has six goals from eight games in all competitions - all of those came in the Premier League and were scored after half-time.

That total makes him Newcastle's PL top scorer this season and matches the half dozen that was enough for Jonjo Shelvey to top the table in 2019/20.

Six was also the magic number in two other PL seasons (John Barnes in 1997/98 and Carl Cort / Nobby Solano in 2000/01) and that quantity remains our lowest "top scorer" mark in the PL.

Joelinton's run of 44 consecutive Premier League appearances since arriving came to an end, as he remained unused on the bench for game 45. He's scored twice in those PL game, with two League Cup and two FA Cup goals making it six from 53 games in all competitions.

Back to Callum Wilson and six goals from his first seven PL games in a Newcastle shirt puts him among - and above - some illustrious company:

8 Les Ferdinand
7 Papiss Cisse
6 Callum Wilson
5 Andy Cole, Demba Ba, Loic Remy
4 Alan Shearer, Michael Owen
1 Craig Bellamy, Obafemi Martins
0 Salomon Rondon


Waffle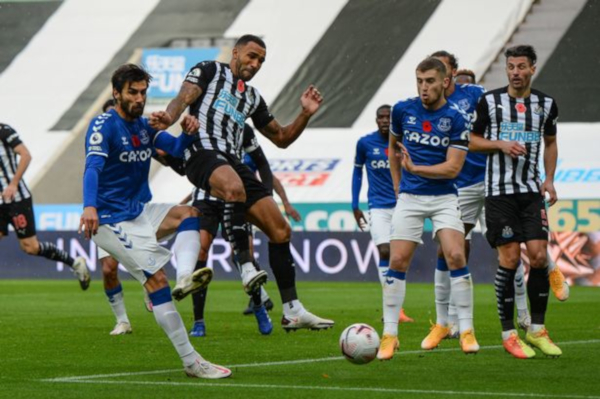 Dominic Calvert-Lewin may have found the net for the third successive season at St. James' Park, but that feat was overshadowed by Callum Wilson's match-winning second half brace for the Magpies on Sunday.

The Newcastle striker's fifth and sixth goals of the season were enough to prevent Everton from regaining pole position in the Premier League and provide Steve Bruce with further evidence of his side's capabilities.

Already without suspended pair Richarlison and Lucas Digne, Toffees boss Carlo Ancelotti was unable to call on the hamstrung James Rodriguez and chose to give a debut to his on-loan goalkeeper, Robin Olsen.

That meant that renowned wearside comedy turn Jordan Pickford was demoted to the bench after his recent clangers - and as a consequence was denied the chance to repeat his penalty save here two seasons ago.

Wilson kept his nerve from the spot in the 56th minute after winning the penalty himself, drawing a foul from Andre Gomes and then beating debutant goalkeeper Robin Olsen after a lengthy VAR check and some abuse.

It looked to be game over six minutes from time when Wilson was on the line to touch in a deflected cross from substitute Ryan Fraser but a goal at the start of six added minutes by Dominic Calvert-Lewin made it a nervy finish.

Wilson had signalled his intentions early on, galloping into the area before firing narrowly wide of the target with seven minutes on the clock.

That was a rare bright spot in a quiet first half where the main threat on United's goal came from some poor distribution from Karl Darlow and one underhit backpass from Jamal Lewis.

Playing in a central role, Allan Saint-Maximin should have given the hosts a 32nd minute lead when given clear sight of goal by Miguel Almiron's quick surge down the left and Wilson's well-timed through ball. However the Frenchman, chose to let the ball run across him and fire straight at Olsen.

The turning point in the game came ten minutes after the break with the penalty incident, Everton changing personnel but seldom threatening Newcastle down the flanks and failing to pierce a solid central rearguard.

Ryan Fraser then resumed his partnership with ex Bournemouth colleague Wilson, the striker instinctively getting on the end of the substitute's cross.

The visitors did continue to press and after Calvert-Lewin shot wide, he did reduce the arrears in added time from close range as the defence hesitated.

That left five minutes of added time for United to see out and thanks to some stout defending, a Darlow tip-over and a confident claim from a corner they did just that, as Everton's attempt at emulating our comeback at Goodison last season thankfully fell short.

Eleven points from seven games left United in eleventh position, two behind the second-placed Toffees and ten points clear of the bottom three. And while Ancelloti rightly bemoaned the absentees from his squad, to justify the outcome purely on that basis is to damn Newcastle with faint praise.

The home side were keener and more industrious, managing not only to frustrate the visitors but actually give hints of their own forward prowess.

The enforced absence of Jonjo Shelvey did us no harm, with Sean Longstaff rightly earning praise for his efforts and unlucky not to round off his display with a goal. And while Almiron was seldom seen in the final third, Everton never looked happy when he was in possession and trying to break.

For once we were effective without ASM - a collective plus - and we enjoyed moments of good fortune both before the game and during it. We'll be dusting off that old line about playing teams at the right time before long, if we continue to collect points at our current rate.

For all the hard work and defensive focus though, the game and potentially the season changer is Wilson; winning the penalty, converting it and then getting to Fraser's cross. He's scored more goals so far this season than the entire team had at this point last season or the one before that.

At the risk of being obvious, at any level goals win games and you have to take your chances when they come along - especially if like us they are at a premium. Having a player getting in the opposition box on a semi-regular basis also helps. An injury to Wilson doesn't bear thinking about, but he's already justified his fee and given his side a solid start to the season.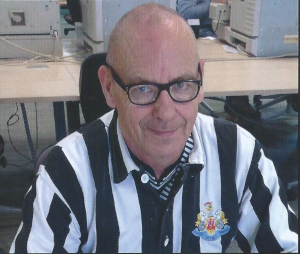 John Allan RIP