Date: Saturday 21st November 2020, 12.30pm.
Live on BT Sport

Venue: St. James' Park

Conditions: Unwatchable







Newcastle

Chelsea

0 - 2

Teams
10 mins Karl Darlow turned away a Tammy Abraham header at the cost of a corner kick at the South West section of the ground. A short flag kick routine ended with Mason Mount running towards the byline and crossing into the six yard area where Fernandez diverted it into his own goal at the far post.

The defending was desperately poor but Ben Chilwell kicked the back of Federico Fernandez's leg which would have been given as a foul anywhere else on the pitch - notwithstanding the fact that the Newcastle player had made contact with the ball a fraction of a second before that impact.

For some reason the irrelevance of whether or not Fernandez touched the ball first seemed to be enough for the officials and pundits to declare the goal was fine and after a brief VAR check it was allowed to stand. 0-1

Half time: Magpies 0 Blues 1
65 mins Not for the first time, United managed to turn attack into defence almost instantly but when Timo Werner picked up the ball inside his own half he had two defenders directly in front of him.

The ease with which the German international skipped between Fernandez and Sean Longstaff was alarming and by the time he reached our box, a simple pass to Tammy Abraham left the striker a straightforward low finish past Darlow and in off the Leazes End post. 0-2

Full time: Magpies 0 Blues 2
Steve Bruce commented:
"We had one or two opportunities but didn't take them. Maybe in the first half we were a little too deep at times. They're a very, very good side and like I said, when you go high up the pitch, they can really hurt you.

"There will always be grumbles. We had some important players missing. But Chelsea are a very good team. We had three good opportunities, and against the big teams, you've got to take them.

"That's the fifth time we've been one down with five or 10 minutes played and we have to address that.

"I'm frustrated because we can't get a result. I make no excuses but we've played three of the top six in the last few weeks.

"Second-half, there was a lot of pleasing points. But, make no mistake, it was a very difficult afternoon."

On Jamaal Lascelles:

'Itís a strange one. He hurt his knee before half-time When he ran out to test his knee (ahead of the second half), he felt his thigh.

On Callum Wilson:

"I couldnít risk him because of the risk of a hamstring and missing for the next six weeks. Weíve erred on the side of caution and we hope heíll be available for us next week.
"One of the reasons why we bought him was to add some goals for us, which heís obviously done.
ďWeíve now got two or three getting back to help that situation - obviously Callum being one of them (along with messrs Gayle, Shelvey and Ritchie)."
Frank Lampard said:

"The result is key in these games. The Premier League is tough, relentless, and we dealt with the challenge of the game very well.

I won't get excited about being top of the table for five minutes. It's important to be humble and know it's a long race.

"Itís always smoother on the bench for me and the staff when you do wrap it up early, but it can happen. We played well, itís not an easy game for us coming here against a very organised team.
"It was great to get the early goal, that changes the aspect of it, but the second one was then so important and we obviously had chances to get that earlier. Even after that we could maybe score again, but we canít have it all our own way.

"There are days where you arenít quite at it in front of goal, then we put the game away very well I thought in our professional performance.

"It's important for us as a group if we want to get where we want to be that you have to work on those moments when you do go ahead that you donít get complacent.

"Penetration was the big thing for me. We were having control but people were still happy to run in. Itís very easy to think, 'Iíll come short to the ball' or 'Iíll play the safe pass.'

"We had to keep making those more dangerous passes and the runs and the effort to get in there, and I think to a degree we did.

"Itís not an easy game, I can understand the players can sometimes become comfortable. Itís little lessons where we can get better.

"They came out more positive in the second half and I always felt the real danger moments for us could be on transition and counter-attack, because Timo showed that two or three times in the first half and then obviously he shows that for Tammyís goal.
ĎWe played well in patches and the result is key in these games because the Premier League is tough. Itís relentless and after the break where we were playing well and everyone goes in their own directions and comes back.

"I thought the lads dealt with the challenge of the game very well today, so Iím very pleased."


Newcastle have failed to keep a clean sheet in nine successive PL home games. We make that our worst run since 2007/08, when an identical nine game sequence was followed by the departure of boss Sam Allardyce.

Ciaran Clark played his first PL game since the 0-4 defeat at Arsenal back in February of this year.

Blues @ SJP - Premier League era:

2020/21 Lost 0-2
2019/20 Won 1-0 Hayden
2018/19 Lost 1-2 Joselu
2017/18 Won 3-0 Gayle, Perez 2
2015/16 Drew 2-2 Perez, Wijnaldum
2014/15 Won 2-1 Cisse 2
2013/14 Won 2-0 Gouffran, Remy
2012/13 Won 3-2 Gutierrez, Sissoko 2
2011/12 Lost 0-3
2010/11 Drew 1-1 Carroll
2008/09 Lost 0-2
2007/08 Lost 0-2
2006/07 Drew 0-0
2006/07 Lost 0-1 (LC)
2005/06 Won 1-0 Bramble
2004/05 Drew 1-1 og(Geremi)
2004/05 Won 1-0 Kluivert (FAC)
2004/05 Lost 0-2 (LC)
2003/04 Won 2-1 Ameobi, Shearer
2002/03 Won 2-1 og(Hasselbaink) Bernard
2001/02 Lost 1-2 Shearer
2000/01 Drew 0-0
1999/00 Lost 0-1
1998/99 Lost 0-1
1997/98 Won 3-1 Dabizas, Lee, Speed
1996/97 Won 3-1 Shearer 2, Asprilla
1995/96 Won 2-0 Ferdinand 2
1995/96 Drew 2-2 Albert, Beardsley (FAC) (2-4pens)
1994/95 Won 4-2 Cole 2, Fox, Lee
1993/94 Drew 0-0



Federico Fernandez registered his second own goal as a Newcastle player and the fifth of his Premier League career:

Aug 2015 Swansea v Chelsea
Jan 2016 Swansea v mackems
Oct 2017 Swansea v Leicester City
Jul 2020 Manchester City v Newcastle
Nov 2020 Newcastle v Chelsea

The defender has scored four times at the right end in the PL (two for Newcastle, two for Swansea).


Waffle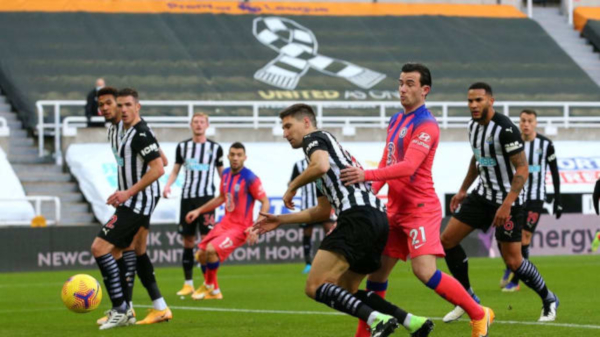 After a fortnight off for some mostly meaningless internationals, Newcastle carried on where they'd left off against Southampton; conceding early and losing to a side who were far superior than a two goal margin may suggest.

Such was the dominance of a pink-clad Chelsea side in the first half that the casual viewer could have been forgiven for thinking that BT Sport were so desperate for content that they were broadcasting a training session.

Steve Bruce made four changes to the side that started at Southampton: Fabian Schar,Jeff Hendrick, Miguel Almiron and Wilson dropping out while Ciaran Clark, Javier Manquillo, Isaac Hayden and Joelinton came in. New names, but the same issues with motivation, concentration and ambition.

The ninth round of Premier League games coincided with the introduction of the Nike Hi-Vis ball - our occupation of the Saturday lunchtime slot meaning that we were the first side to watch an opponent pass it around us.

Given that this was a clash between the league's top scorers and most shot shy side, the absence of Callum Wilson dampened any mediocre aspirations home fans may have held and that seemed to be the attitude of the home players, who manned the barricades almost from the first whistle.

And it was almost; a forward foray by Joelinton ending with a foul and free kick award. Quite how we frittered away that particular set piece is unclear, as the ball was further away from the Chelsea goal by the time the replay ended and live pictures returned. Given the unremitting awfulness of our other dead ball moves though, perhaps the TV director had the right idea.

Darlow made two vital saves inside the first eight minutes as Timo Werner's shot was pushed wide and Abraham's close range header was blocked but a short corner seconds later provided the already inevitable looking opener

That came when Federico Fernandez bundled the ball into his own net from close range under the challenge of Ben Chilwell. As had been the case here against Brighton, our plan A was in tatters and there didn't look to be a B...

Aside from a mis-hit long range effort from Joelinton attempting to catch Edouard Mendy off his line, the Chelsea goal was never threatened. Two weeks off didn't seem to have benefited Allan Saint-Maximin much, with a neat backheel and one run across the box and deflected shot his contributions.

A white bandage sported on one wrist made it look like he was continually waving a flag of surrender from a distance away, while BBC pundit Alan Shearer accused him of throwing in the towel since signing his new deal.

That strong criticism that also included a mild rebuke for Bruce, but it would be no shock to discover that the former boss had spoken to the current one before calling out the inconsistent Frenchman on Match of The Day.

Werner should have made it 0-2 on the half hour but after finding space in the box, side-footed wide of the post.

Jamaal Lascelles was unable to continue despite lining up for the start of the second half and Schar hastily replaced him as the visitors continued to push on in search of another goal; Werner and Kurt Zouma both coming close.

Having netted the winner in the corresponding game last season, Hayden had a great chance to find the Gallowgate net on 58 minutes after a fortunate deflection left him through on goal. However, he blazed wildly over from ten yards before being adjudged to have handled the ball before shooting.

Within seven minutes the game was over after Chelsea finally found their second goal of the afternoon, just as United were pushing forward.
That meant the impending substitution of Miguel Almiron for Javier Manquillo was immaterial, as was the arrival of Andy Carroll replacing Saint-Maximin.

Longstaff was unlucky to see a fabulous effort from a short corner strike the Gallowgate crossbar in the 72nd minute and Almiron had a deflected shot saved, either side of Werner's rightly-disallowed goal for straying offside.

Carroll went clear in added time and his deflected shot hit the side-netting but that would have been little more than a consolation with the destination of the points never really in any doubt.

Victory for the Blues put them top of the table for a few hours until Spurs replaced them, while Newcastle would end the weekend in fifteenth - their lowest position since last November.

Bruce's post-match lament about playing a run of games against top sides doesn't bear close inspection when considering where a substantial slab of our points have come from under his command - against those very sides, including Frank Lampard's lot.

Despite the lack of entertainment or excitement they routinely generate, a margin of patience and tolerance can be afforded to his team though, if they can indeed now take the fight to supposedly lesser opposition.

A quintet of games when we might reasonably be expected not to line up in two banks of five players now appear on the schedule before the League Cup tie at Brentford.

By Christmas therefore, we should have a better idea of how much of a struggle this season is going to be. Should we have failed to take points off our supposed counterparts then we're in the clarts, with the cupboard apparently bare in January for anything other than loan arrivals.

The manager's continual sniping at supporter unrest online meanwhile betrays a lack of intelligence and awareness. He may reach for his book of Geordie cliches to wax lyrical about getting the crowds back, but he'd now be getting dogs' abuse from a rapidly emptying SJP had the pandemic never happened. Exactly 12 months ago, meetings at that stadium were mapping out a strategy to give away 10,000 season tickets that were unsellable.

If Bruce did one thing right today, it was in leaving Callum Wilson out - holding him back for more training and the start of a run of games when his presence could be absolutely pivotal. Better that than seeing him vastly outnumbered and run himself into the ground as happened at St. Mary's.

57 games and 16 months in, this is a work in progress as we're constantly reminded, but on days like this the only question seems to be whether we're building a folly or a ruin. Neither are pretty to look at.

Whether it's the enforced absence of crowds or repeated 90 minute doses of this unpalatable dross, Bruce's side are providing the most persuasive possible argument for the club takeover by the Saudis going through.

Unpalatable to some, that increasingly looks like being the only antidote to cure this malaise.

Niall/Biffa