Date: Friday 27th November 2020, 8.00pm
Live on Amazon Prime

Venue: Selhurst Park

Conditions: Uncomplicated

Programme: £3.50

Crystal Palace

Newcastle

0 - 2

Teams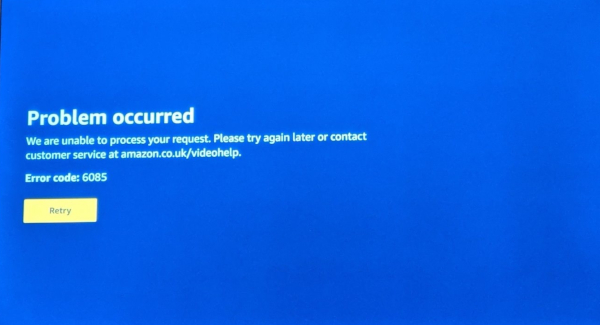 First half highlights for some
Half time: Eagles 0 Magpies 0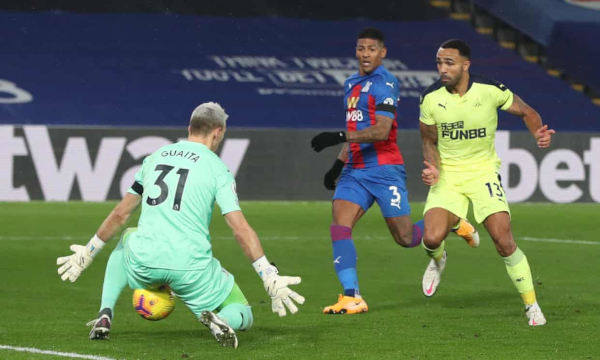 88 mins Joelinton gained possession on the Newcastle right level with the halfway line and his cushioned header took the ball clear of substitute Jairo Riedewald - a flick of his boot then clearing two approaching opponents.

That reached Callum Wilson and he allowed the ball to bounce before clipping it over the head of Scott Dann. Joelinton had moved forward and superbly took that pass on his chest, sprinting forward before laying off a perfect pass to Wilson on his right.

Inside the box, United's top scorer took a touch with his right foot as Patrick van Aanholt vainly attempted to recover, slipping a left footed shot from seven yards through the legs of Guaita at the Whitehorse Lane end. 1-0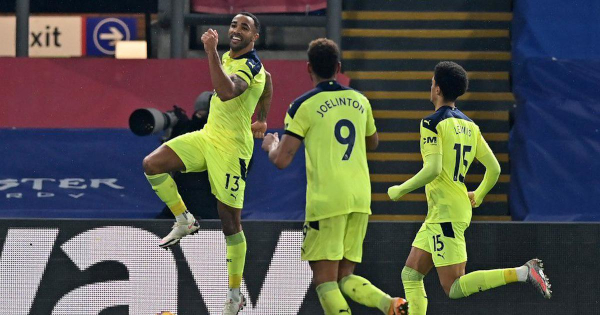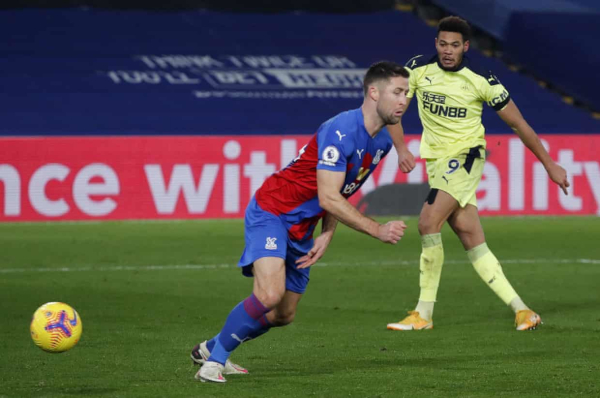 89 mins The roles were reversed just 99 seconds later, as Wilson set up Joelinton for United's second goal.

The move began with Jonjo Shelvey striding out his own penalty area to cut out a hopeful ball in from Ezee. The Newcastle Captain played a short pass to Wilson, who turned and supplied a superb ball between two defenders to the unmarked Joelinton on the United right.

He continued his forward run into the Palace box and after feinting right, cut back inside to open up a glorious shooting chance from about 12 yards out.

Unfortunately/fortunately the Brazilian scuffed his left-footed effort - but rather than rolling harmlessly through to Guaita it clipped the heel of Gary Cahill and ended up in the back of the net.

The cliché about him needing one to just go in off someone's backside sprang to mind, but whether that opens the floodgates is another matter.

Regardless of that, the scorer's relief was evident as he indulged in a celebratory knee slide and shirt over the head routine adjacent to what would have been a seething mass of humanity in the away end (except from those who had made an early dart for the train of course) 2-0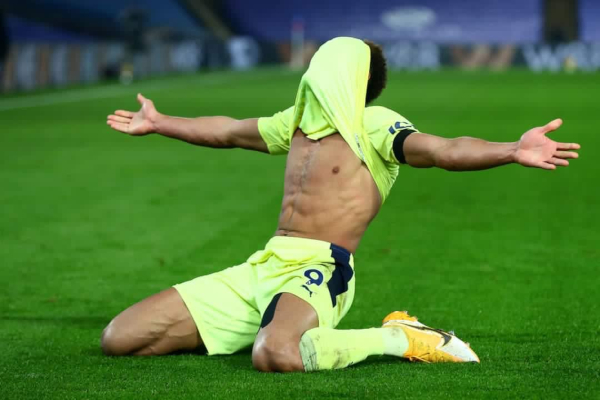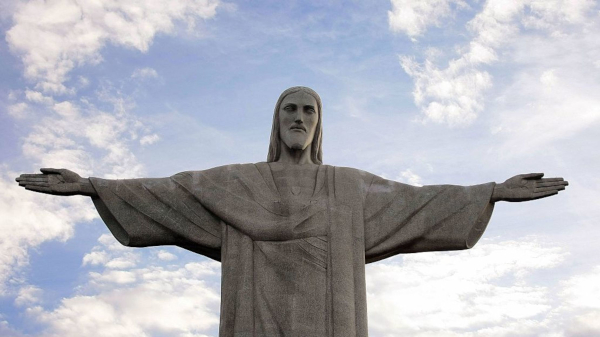 I knew that celebration looked familiar

Full time: Eagles 0 Magpies 2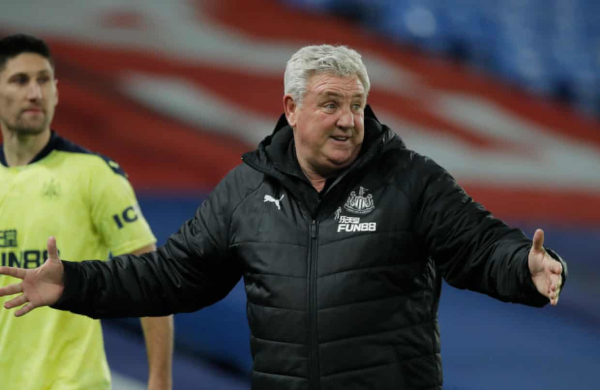 Steve specifies his celebratory Selhurst Subway selection. Probably.
Steve Bruce:
"Both teams find it difficult to score a goal and we were looking for that little bit of quality. We weren't clinical enough and I thought it was going to cost us but then we got it for the goals.

"Callum (Wilson) is a goalscorer and he has that instinct, That's his seventh goal now and that's a tremendous return.
"There is no disputing that Joelinton has found it difficult but I've said many times that some take a little more time than others. But we're delighted he's scored a goal.
"I'm delighted with the attitude. It's been a difficult week but we've responded in the right way.

"We created a few opportunities and missed the right pass and that little bit of quality. That bit of quality the two strikers did show they have both scored from.

"Winning late on is not a bad trait to have. The players have responded at the end of a tough week.
"It doesn't matter about price tag and where you come from, sometimes you need time. In Joe's case, the price tag and number nine shirt meant he struggled at times. But the kid wants to do well.

"He has had a lot of opportunities tonight but we are starting to see him now with his strength.

"The one thing that he is, he has a big heart, the kid. He has had a tough time, we won't deny that, but he is only young and is starting to adapt to the physicality of the Premier League and getting used to a new country.
"Some people take longer than others and we know he wants to do well, he never shies away from anything and he has got his rewards, so I am delighted for him.
"Of course all the headlines will go to his strike partner next to him (Callum Wilson), but in particular I was really pleased with Joe and his all-round performance."
On the COVID situation:

"We have three confirmed players and unfortunately a member of my staff*.
"It is a concern and difficult to manage. We are trying our utmost to make sure we try and stay as safe as we can.
"Of course my concern is not just the welfare of the players, which is vitally important, but my members of staff too. We will do our best but it is difficult at the moment."

Jamaal Lascelles, Isaac Hayden, Jacob Murphy and Allan Saint-Maximin all dropped out of the side beaten by Chelsea last time out.

Injuries were said to be responsible for the absence of Lascelles and Saint-Maximin, along with Andy Carroll. Meanwhile, fitness concerns saw Martin Dubravka, Paul Dummett, Ryan Fraser and Dwight Gayle omitted.

By default that leaves Isaac Hayden and Emile Krafth as potential COVID absentees, plus a couple of names from that injured list.

No indication was given when positive tests or advice to self-isolate was received, meaning that it's unclear whether those currently affecting will be allowed to train this week or be clear to face Aston Villa on Friday.

* Coach Steve Agnew was on the bench at Selhurst Park, having missed the home loss to Chelsea. It's unclear whether he was self-isolating then, but it appears that the member of staff now referred to by Bruce isn't a coach.

Woy Hodgson said:

"All defeats hurt and this one did as we didn't play well. I didn't think we were going to lose; I didn't think we would win it either. So to lose it is a bitter blow. Congratulations to Newcastle on winning it.

"I would credit the whole Newcastle team. The keeper played his part but I think it is too simplistic to say we didn't win because of their goalkeeper. We didn't create enough.

"I thought we played better against Burnley probably than we did tonight in actual fact but I still think it's a bit harsh the defeat because of the two goals.
"The second goal, in particular, was an addendum really. It was the first goal in the 88th minute that killed us because that was the goal that took any possibility of a point from the game from us.
"As a result, we'll have to come over that, analyse that, deal with it and try and make certain that we get back on track and play the sort of football we know we're capable of playing when we play West Brom next Sunday.

"We believe very strongly in the players, we see them every day in training and we believe that there is a lot of quality in our team. In the last two games, over the 180 minutes, we haven't produced that quality often enough. We haven't asked enough questions about our two opponents, both of whom who are in the same ballpark in the league as we are.
"It would be hard enough if the two defeats had come against the top two teams, but to lose six points in that way against these two teams – two teams that we know are going to be fighting with us to make certain that their league status is secured at the end of the season, makes it a little bit harder to take.
"Am I frustrated with the players? Not really, in the sense that I don't doubt for one minute that they're all doing their very best. I don't think there was any lack of effort on our part.
"If anything, you could argue, putting so many attacking players on the field could have been a part of us conceding the 88th minute goal which actually cost us the game.

"I think we were right to go for it; we were right to put the extra attackers on and try to win the game because in the second half we were looking like the side most likely to score the goal."
Joelinton scored his third goal of the current season in all competitions - and his first in the Premier League this campaign. The Brazilian now has three PL goals to his name - and seven in all competitions.

Callum Wilson netted his seventh goal of the season - all of which have come in the Premier League, from nine appearances. That total of seven is one more than last season's PL top scorer Jonjo Shelvey managed.

NUFC PL goalscorers 2020/21 (goal times in brackets):

Wilson 7 (56, 65, 77, 84, 87, 89, 90+7)
Hendrick 1 (56)
Saint-Maximin 1 (14)
Murphy 1 (89)
Joelinton 1 (89)
own goal 1 (2)

In other words 10 of our 12 PL goals this season so far have come after half time - with all seven efforts from Callum Wilson scored in the second half.

That figure for the 38 PL games under Bruce last season was 16 goals scored in the first half and 22 in the second.

Newcastle registered their 120th Premier League away success League with their fifth win on the road against Palace.

Elliot Anderson was on the bench for the first time in the PL, following his unused substitute selection in the League Cup at Newport County.

NUFC last ten PL seasons after ten games:

2010/11 14 pts, 7th (scored 19, conceded 14)
2011/12 22 pts, 3rd (scored 15, conceded 7)
2012/13 14 pts, 10th (scored 12, conceded 14)
2013/14 14 pts, 9th (scored 14, conceded 16)
2014/15 13 pts, 12th (scored 11, conceded 15)
2015/16 6 pts, 18th (scored 12, conceded 22)
2017/18 14 pts, 9th (scored 10, conceded 9)
2018/19 3 pts, 19th (scored 6, conceded 14)
2019/20 9 pts, 17th (scored 6, conceded 15)
2020/21 14 pts, 10th (scored 12, conceded 15)

Magpies v Eagles @ Selhurst - all time:

2020/21 won 2-0 Wilson, Joelinton
2019/20 lost 0-1
2018/19 drew 0-0
2017/18 drew 1-1 Diame
2015/16 lost 1-5 Cisse
2014/15 drew 1-1 Cisse
2014/15 won 3-2 (aet) Riviere 2, Dummett (LC)
2013/14 won 3-0 Cabaye, og(Gabbidon), Ben Arfa
2009/10 won 2-0 Nolan, Ryan Taylor
2004/05 won 2-0 Kluivert, Bellamy
1997/98 won 2-1 Tomasson, Ketsbaia
1994/95 won 1-0 Beardsley
1983/84 lost 1-3 Beardsley
1982/83 won 2-0 Waddle, Varadi
1981/82 won 2-1 Waddle, Mills
1978/79 lost 0-1
1972/73 lost 1-2 Tudor
1971/72 lost 0-2
1970/71 lost 0-1
1969/70 won 3-0 Davies, Dyson, Robson
1964/65 drew 1-1 Cummings

Waffle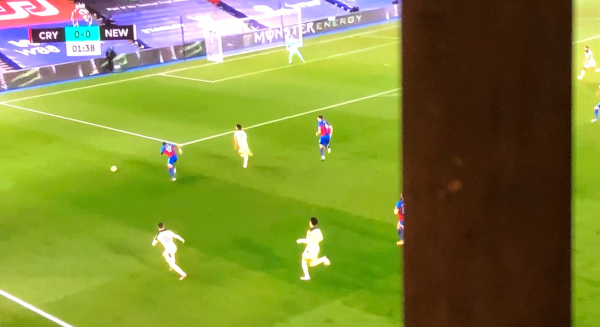 Replicating that away fan experience at Selhurst Park...
Having taken four points from their first two visits to London this season, Newcastle enjoyed further capital gains at Selhurst Park on Friday night.

For the majority of the game, it looked as if Steve Bruce's side would have to be content with ending a losing run and registering their first PL clean sheet since the opening weekend of the season.

Strike pair Callum Wilson and Joelinton had other ideas though; United's top scorer taking a pass from his colleague on 88 minutes and planting the ball through the legs of Eagles 'keeper Vincente Guaita.

Barely 60 seconds later and Wilson had returned the favour, combining with the Brazilian who shot weakly on goal - only for his effort to brush off defender Gary Cahill and end up in the Palace net.

Our initial thoughts were that it would go down as an own goal, partly due to doubts as to whether the original shot would actually reach the goal line.

Further viewings though brought to mind a similarly sedate strike from Mick Harford at Luton more years ago than we care to recall (actually 1981).

While the front duo in what was a 4-4-2 formation ultimately brought home the bacon for their boss, the foundations of the win came at the other end.

Both sides had scoring chances in the first half, but while Joelinton's trio of shots were no threat to Guaita, Karl Darlow was rather more seriously tested by efforts from Eberechi Eze and Jeffrey Schlupp.

And a week after gifting Chelsea their opening goal, Federico Fernandez was at his resolute best - making a couple of well-timed blocks to deny Palace.

United failed to score on either of their last two appearances here and there was little sign of run ending until Wilson's 67th minute header from a Javier Manquillo cross was narrowly off target.

Palace worked the ball into the final third via open play and corner kicks (the latter placed accurately by ex-Toon pair Andros Townsend and Patrick van Aanholt), but struggled with an end product.

The introduction of substitutes by both sides belatedly threatened a possible outbreak of football; Christian Benteke offering a wayward forward threat and Matt Ritchie some semblance of service into the box.

Those two late goals put an unexpected gloss on what was a dreary game - those fans (and Isaac Hayden) complaining that their Amazon Prime signal was dropping out during the first half didn't miss an awful lot.

Had there been more forward options on the bench then either or both of the scorers may not have been on the pitch at the crucial time - but like the absence of Wilfried Zaha for the hosts, fortune does occasionally favour us.

Victory lifted United into tenth spot ahead of fixtures across the next three days and with ten games played this season, our tally of 14 points has only been bettered once in the last decade of top-flight involvement.

That statistic that may be seen as some sort of vindication by the pro-Bruce lobby. Alternatively though, it's a reflection of the consistent downturn in our performance under the current owner. Serial underachievers.

The value of having one goalscorer on the pitch is self-evident; for a Magpies team to contain two would be revelatory and in the Premier League this season, potentially explosive.

That could be giddiness at having seen Joelinton actually put the ball in the net, but fans desperately want to see him succeed and will seize on any positives, even after 16 months and 47 top-flight appearances.

His shooting may have verged on the laughable, but at least tonight he got near enough to the goal to actually attempt to find the net on multiple occasions.

For once a weekend hasn't been spoiled by our favourites and it's nice to be reminded that we can beat average top flight sides, reaping the benefits of playing in the opposition half rather than cowering in our own box.

This attacking lark might just catch on.


Biffa