Date: Tuesday 22nd December 2020, 5.30pm
Live on Sky Sports

Venue: Brentford Community Stadium

Conditions: Unacceptable

Programme: Ł4.00





Brentford

Newcastle

1 - 0

Teams
Half time: Bees 0 Magpies 0
66 mins DeAndre Yedlin failed to clear his lines, leaving Dergi Canos with the chance to cross from the left. The ball fell invitingly for Josh Dasilva to hit it on the volley under Karl Darlow at the West End of the Stadium.

Fatally failing to track Dasilva's run into the box properly was Joelinton, who had been on the pitch for less than a minute. 0-1
Full time: Bees 1 Magpies 0
Steve Bruce - whose only saving grace was that he didn't seek to blame COVID for the collective lethargy of his squad:
"I am hugely disappointed because we have missed a wonderful opportunity to take the club into a semi-final where it hasn't been for 40 odd years.
"I am bitterly disappointed but simply haven't played well enough tonight. We should have had enough to win the cup tie. Unfortunately we haven't played well enough.
"I picked a team I thought would be good enough to win the match but Brentford played very well on the night.
"We have to accept what's coming our way and dust ourselves down and get ready for what is a huge challenge ahead of us in the Premier League.

"But I can't hide my disappointment and frustration, because we had a great opportunity to get into the semi-final.

"The supporters are entitled to their opinion so I have to accept what is coming my way. That is part and parcel of being the manager of Newcastle.
"You have to accept the criticism which is fully justified.

"We shouldn't be getting beaten in the quarter-finals of the cup with the opportunity that we had to get to a semi-final for the first time in 45 years.
"We were too slow in possession. We didn't run forward enough or cause them enough problems in possession, especially with the attacking players we had on the pitch.

"At the end of the day, we didn't play well enough. I am not one to make excuses. We had enough people on the pitch to put in a better performance than what we did.
"I think they are playing for us – maybe not playing well enough. I don't think there is a lack of effort or determination.

"Progress was there for everyone to see. We got to a quarter-final.

"We all want to see better results than today and I understand their disappointment because there is no-one more disappointed than I am.

"I am a resilient so-and-so so I have to accept what is coming my way. I understand social media. All I can do is dust myself down and go back to work tomorrow."

Bees boss Thomas Frank said:

"First and foremost, creating new a chapter in Brentford's history going into a semi-final is a big step. It shows how far we have progressed as a club.
"It was a fully deserved win and it should have been more. This was an unbelievable performance against a Premier League side and we truly deserved to win it.
"One of their strikers up front cost more than our front three, so we knew they could put one in the back of the net at the end of the game - but we saw it through and we won.
"We want to be a part of creating a totally new history for Brentford, so that makes me proud. But I'm even more proud of the way we played today.
"That makes it more satisfying. We fully deserved it against a good team. That's a good feeling.
"There are very few times players have the chance to create history and when you have that, you need to grab it with both hands and really try and do it. They did that.
"I hope the fans all enjoyed it at home - you deserve a big glass of beer and some glasses of red. We have 24 hours to celebrate, then we must move on and focus on the next game."

Magpies @ Bees - all-time:
2020/21 lost 0-1
2016/17 won 2-1 Gayle, Murphy
1992/93 won 2-1 Kelly, G.Peacock
1947/48 lost 0-1
1938/39 won 2-0 (FA) Clifton, Mooney
1934/35 lost 0-3

None of tonight's Brentford squad were with the club on the occasion of our last visit to this part of London in January 2017. By contrast, five of those involved for Newcastle here played in that game at Griffin Park.
Newcastle reached the milestone of their 150th game in the League Cup and celebrated it in the same manner as the 50th and 100th - with a defeat.

Their overall record is 70 victories, 60 defeats and 20 draws (based on the ultimate outcome of the contest ie a draw followed by a penalty shootout exit is counted as a defeat).

League Cup Quarter Final Record:

2020/21 Brentford (a) lost 0-1
2016/17 Hull City (a) lost 1-3 pens (drew 1-1)
2014/15 Spurs (a) lost 0-4
2006/07 Chelsea (h) lost 0-1
2001/02 Chelsea (a) lost 0-1
1997/98 Liverpool (h) lost 0-2
1995/96 Arsenal (a) lost 0-2
1975/76 Notts County (h) won 1-0
1974/75 Chester City (a) lost 0-1 (replay)
1974/75 Chester City (h) drew 0-0


United made their first visit to Brentford's new stadium, which is within walking distance of Griffin Park, to the east (the old ground is to the far left of the flats above, the new one to the far right).

We calculate that this is the 30th ground we've debuted at competitively for a domestic game in the PL era. 13 were won, 9 lost and 8 drawn:


Accrington Stanley won 3-2
Arsenal drew 1-1
Bolton Wanderers lost 0-1
Boro won 2-1
Brentford lost 0-1
Brighton lost 0-1
Burton Albion won 2-1
Cardiff City won 1-0
Coventry City won 3-2
Derby County won 1-0
Doncaster Rovers won 1-0
Huddersfield Town won 3-1
Hull City drew 0-0
Leicester City drew 1-1
Manchester City lost 0-1
Morecambe won 2-0
Newport County drew 1-1 (won on pens)
mackems drew 2-2
Oxford United lost 0-3
Reading lost 0-1
Rochdale drew 1-1
Rotherham won 1-0
Scunthorpe United lost 1-2
Southampton lost 1-3
Stevenage drew 1-1
Stoke City drew 0-0
Swansea City drew 1-1
Tottenham won 1-0
West Ham won 3-2
Wigan Athletic lost 0-1

This was the 87th current home ground of the 92 Premier League and Football League clubs to be visited by some level of NUFC side. The five missing from that list are: Bristol Rovers, Fleetwood Town, MK Dons, Northampton Town and AFC Wimbledon.


Waffle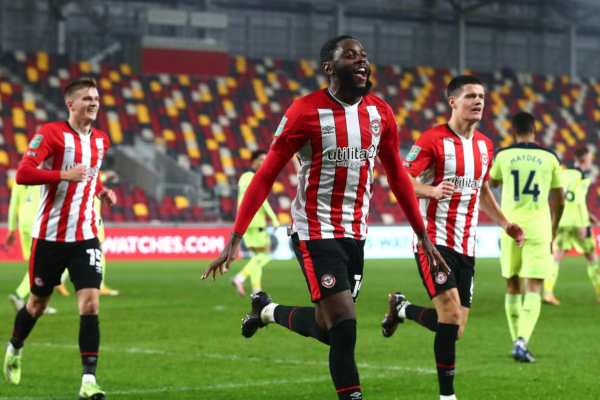 It proved to be a Kew Bridge too far for Newcastle in West London on Tuesday teatime; a 66th minute strike from Josh Dasilva ending dreams of their first League Cup Semi-Final place in 44 years.

Second tier Brentford claimed their fourth Premier League scalp in this season's competition, but unlike Southampton, West Bromwich Albion and Fulham, this was the strongest side available to Steve Bruce.

The hosts by contrast named just five of the side that had beaten Reading 3-1 a home in the Championship last Saturday, top scorer Ivan Toney beginning the tie on the bench against his former side.

Despite the Brentford Community Stadium having only recently opened, the damage done to the playing surface by co-tenants London Irish was evident - hardly improved by a West London downpour.

Half time was reached scoreless; Luke Daniels saving from Callum Wilson and Ryan Fraser, while opposite number Karl Darlow denied Dasilva.

Saman Ghoddos however also struck the crossbar for the Bees, while Sergi Canos somehow contrived to put a free header wide of the target after Newcastle were caught napping by a 26th minute corner routine.

Once again, Newcastle failed to seize the initiative after the break and would be punished immediately after Fraser and Miggy Almiron made way for Joelinton and Dwight Gayle to try and assist Wilson.

Sadly though the service into the box was as lamentable at 0-1 as it had been at 0-0; United we lacked the guile to put their opponents under concerted pressure or force dead ball situations. Route none you could call it.

A crucial block from Darlow stopped Christian Norgaard from sealing victory on 77 minutes, before preventing Toney from claiming his dream goal in added time.

By then we'd added a fourth forward in the shape of third replacement Andy Carroll, who couldn't even provide nuisance value. Had coach Steve Harper reminding Bruce that he'd once played up front against Celtic, he'd have probably been on as well by then....

That ingenious ploy of putting the big lad on may have worked once when an eagle-eyed VAR operator spotted a minute Tottenham transgression, but even Callum Wilson struggles to win penalties from outside the box....

Unlike the night we forced penalties at Newport though, no equaliser came - not least because we failed to get a shot on target after falling behind. One late and lazy howk from Carroll may have bent the top of the new stand - it certainly didn't threaten the 'keeper, unless he cricked his neck.


Lowlights of an all-round shitshow included; Yedlin reminding us all why he dropped out of a misfiring side and Lewis having yet another uncomfortable night - seemingly targeted again as a weak point by the opponents.

Almiron was utterly anonymous again, Shelvey provided one decent ball, plenty of loafing and looking, but nothing to justify the armband. Sean Longstaff meanwhile looks totally devoid of confidence, as his absent brother is doubtless redoubling his efforts to secure an exit in January.

Despite appearing on the teamsheet, Jacob Murphy seemed only to have arrived at half time, presumably having initially gone to Griffin Park. And a word for Joelinton, or two: piss-taker. Grinning at the end and fist bumping people he didn't know, at least have the presence of mind to look gutted.

This outcome was anything but a shock and our history is of course littered with alleged giant-killings. While a good number of the more recent ones have been as a partial consequence of team selections, Bruce doesn't even have that line to trot out here. This was just gutless.

The scoreline and the negative reaction to it put us in mind of a defeat at Wigan in the same competition 15 years ago - although the Latics were a fellow top-flight side that night, they still beat us with a weakened team.

We'll even lift a line from our match report of that November 2005 game; substitute "London" for "Lancashire" and replace "Souness" with "Bruce":

At the end of a miserable night in Lancashire we couldn't summon up anything but contempt for Souness and his side. And that contempt seems to be echoed by his players - whose display (or lack of it) spoke volumes about what they think of the manager.

A third successive non-performance leaves Bruce under fire from supporters and increasing areas of the media. And if he's not in fear of his job due to the owner's support (or disinterest), he now faces a murderous run of games - during which his media pals won't be able to chirp "but he's got you a cup semi final" as the fourth or fifth goal opposition goal goes in.

Despite the most favourable run of cup draws in living memory, Bruce has passed up a golden chance to statistically exceed every one of those who occupied the "hot seat" before him since Joe Harvey.

The opportunity of a place in the history books, if not the hearts of those who back his "beloved black and whites" was there, until his players got involved. It's not enough to say they were indifferent - by the finish those on the field looked to be wilfully trying to heap pressure on their gaffer.

The ongoing lack of fans is having an effect on the owner, the team and the manager in a positive and negative sense. The current stated position of Ashley as willing seller coincides with the lack of opportunity to criticise him - there's even less reason to shout at shops when they're shut. Or empty.

The manager meanwhile - or whoever is winding him up about it - may lament the negative comments on social media, but reality really isn't intruding on his world as Magpies boss at this moment in time.

By that we mean the sort of bad feeling that Alan Pardew ended up being exposed to on matchdays - we're a long way from John Carver ranting at banners in the away end at Southampton or a chorus of boos every time "Pards" threatened to leave the home dugout at SJP.

And based on tonight, the players also seem to be in a vacuum; being denied the litmus test of instant public opinion over their shortcomings also leaves them unable to be lifted positively by the crowd. It's a moot point though what those who have accused the SJP "boo boys" of scapegoating players make of their current form - or lack of it. One less factor to blame.

Equally alienated but in a different way are those supporters: denied the opportunity of venting their feelings in more traditional ways like cheering, booing or even going to the pub to mull it over, those who aren't ranting on social media lack any outlet to articulate their collective disgust over this unrelenting tide of mediocrity.

There is nothing positive about this club in the final days of 2020 - and no realistic prospect of that situation changing.

Sacking Bruce is just a rinse and repeat cycle; nobody credible would want to replace him, and the club wouldn't want anybody of that ilk - with their dangerous progressive ideas about employing competent staff rather than cronies and relatives, improved facilities and an Academy worth having.
Biffa