Date: Saturday 26th December 2020, 8.00pm
Live on BT Sport

Venue: Etihad Stadium

Conditions: Stagnant

Programme: Free downloadable digital version

Manchester City

Newcastle

2 - 0

Teams
14 mins Raheem Sterling deceived left back Matt Ritchie before squaring the ball for Ilkay Gundogan to drive in from close range in front of the South Stand, where away supporters were formerly housed. 0-1
Half time: Citizens 1 Magpies 0

55 mins Miggy Almiron misjudged the bounce of the ball and Matt Ritchie misread the play, allowing Joao Cancelo to take the ball into the box and cross into the six yard area. Federico Fernandez cleared the ball but only as far as Ferran Torres who had the whole goal to aim at from 12 yards and he side-footed inside the post. 0-2
Full time: Citizens 2 Magpies 0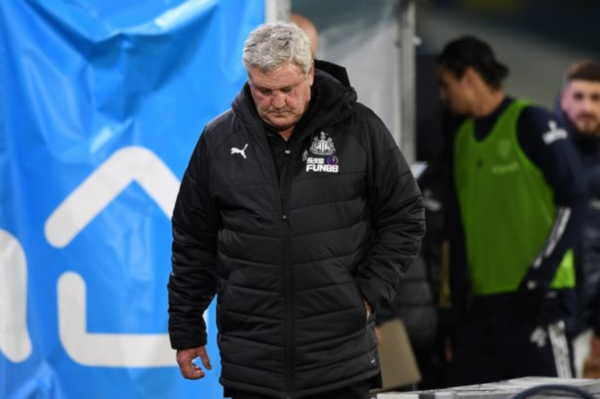 Steve Bruce:
"The attitude was pleasing after a difficult week or so, you always know you will come here against a world-class team and we were beaten by the better side.
"It was a decent performance. The game in midweek has gone, we needed to respond to the criticism and they have done as much as they could. They rolled their sleeves up and had a go.
"You accept mistakes, the one thing I wanted to see was a response from a poor display in midweek and they did that.

"We had a bad week, and some of the mass hysteria in my opinion was unjust, unfair, and a lot of it was not right in my opinion. I'm going to say that, and that's my opinion on it.

"All the fans are like we are, we have to accept where we are. It's pretty straightforward as that. My remit is to make sure Newcastle remain a Premier League outfit, and that's what I'll try to achieve. That's where we've been for the last two or three years.
"Of course for Newcastle, in many people's eyes that isn't enough, but that's where we are, but we have to accept it, we have to try and move it a little bit forward.
"We lacked a bit of quality in the final third, we gave the ball away for the second goal, but I couldn't fault their effort, application and attitude towards the game.
"(There are) Plenty of positives to take out from the attitude and application of the team, which has been questioned in recent weeks. We were beaten by the better team, but the effort, endeavour, work rate and attitude was there for all to see.

"I'll keep edging us forward, we've had huge problems with sickness, illness. I'm no scientist, but I've seen Man City have two today*, and I hope for their sake they don't go into double figures.
"We're witnessing the after-effects too, and we've still got problems, it doesn't just come and go over you, it's been a factor. We've had no option but to rotate, so we hope we're going to get a bit more healthy, because it helps, but I couldn't fault their endeavour and application.

"Yes we weren't good enough, and gave away a poor goal at a bad time, but we made a fist of it, and that's all you can ask."

*Gabriel Jesus and Kyle Walker were both absent - along with two staff members - following positive COVID tests.

Pep Guardiola said:

"We did really well, it was a tough game with the weather conditions.
"We struggled to score goals but we played like we needed to play. It was important the way we played.
"It was the best performance of the season in terms of our football has to be played in one rhythm Ė it canít be up and down all the time.
"We have to make a tempo. To do this, everyone has to be in the right position and do his job.
"Itís not easy with ten players behind the ball but the guys did really well and Iím glad for the way we played.

"That is the tempo we need to play. Today our positional game was perfect, unfortunately we could not score more goals but it is a good result and three more points.

"We cannot think much, the schedule is a game every three days. The players are committed and focused.

"Last week we were 10th in the table, all the season is up and down. There are weird results for everyone, this season you have to be calm in the good and the bad moments.
"Results are a consequence of the way we play. We are getting better Ė the players realise why it is important to do what we do.

"Our success in the past has been: everyone in his position, doing what he has to do. The players were incredible Ė everyone was so focused and we made a good performance.
"It was unfortunate we didnít score more but it was good. We have to improve on our clinical situation Ė we missed two chances two metres from the goal. When we improve here, we will score many goals.
"We climbed some positions but now, we donít stop. In less than 48 hours, we have another game at Goodison Park and we will try to play well.
On Joao Cancelo:

"In the beginning when he arrived, it wasnít easy for us Ė him or me. Now, we understand a lot of things. He's a player with incredible quality, and his regeneration and physicality is incredible. He could play tomorrow!
"But he always has to be focused. He can be distracted, which is dangerous for a defender. In the final third, he has a special quality. He has courage.

"Sometimes I ask him to play in different positions than what he is comfortable with. In the second half, especially next to his friend Bernardo, he was very good."

This was Manchester City's 900th match in the Premier League, while Newcastle completed their 972nd.

Magpies @ Etihad:

2020/21 Lost 0-2
2019/20 Lost 0-5
2018/19 Lost 1-2 Yedlin
2017/18 Lost 1-3 Murphy
2015/16 Lost 1-6 Mitrovic
2014/15 Lost 0-5
2014/15 Won 2-0 Aarons, Sissoko (LC)
2013/14 Lost 0-4
2012/13 Lost 0-4
2011/12 Lost 1-3 Gosling
2010/11 Lost 1-2 Gutierrez
2008/09 Lost 1-2 Carroll
2007/08 Lost 1-3 Martins
2006/07 Drew 0-0
2005/06 Lost 0-3
2004/05 Drew 1-1 Shearer
2003/04 Lost 0-1

NUFC Boxing Day Record - last 20:

2020/21 Manchester City (a) lost 0-2
2019/20 Manchester United (a) lost 1-4
2018/19 Liverpool (a) lost 0-4
2016/17 Sheffield Wednesday (h) lost 0-1
2015/16 Everton (h) lost 0-1
2014/15 Manchester United (a) lost 1-3
2013/14 Stoke City (h) won 5-1
2012/13 Manchester United (a) lost 3-4
2011/12 Bolton Wanderers (a) won 2-0
2010/11 Manchester City (h) lost 1-3
2009/10 Sheffield Wednesday (a) drew 2-2
2008/09 Wigan Athletic (a) lost 1-2
2007/08 Wigan Athletic (a) lost 0-1
2006/07 Bolton Wanderers (a) lost 1-2
2005/06 Liverpool (a) lost 0-2
2004/05 Blackburn Rovers (a) drew 2-2
2003/04 Leicester City (a) drew 1-1
2002/03 Bolton Wanderers (a) lost 3-4
2001/02 smoggies (h) won 3-0
2000/01 Leeds United (h) won 2-1

(In 2017/18 they didn't play - losing 0-1 at home to Man City on 27.12.2017)

Waffle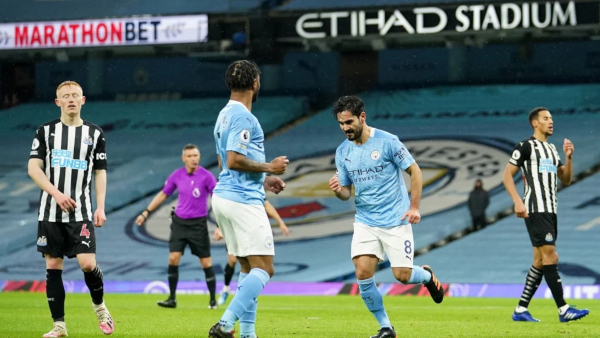 Newcastle endured their usual difficult visit to a rain-soaked Etihad Stadium on Saturday, losing there for a twelfth successive time in the Premier League.

City led after 14 minutes, Raheem Sterling deceiving left back Matt Ritchie before squaring the ball for Ilkay Gundogan to finish from close range.

And United's sixth successive Boxing Day loss was confirmed on 55 minutes, Joao Cancelo shrugging Miguel Almiron off the ball and seeing his centre divert off Federico Fernandez to give Ferran Torres a routine finish.

The Magpies took to the field in a 5-4-1 formation, making five changes from the side beaten in the League Cup on Tuesday; Callum Wilson, Jamal Lewis and Sean Longstaff dropping to the bench, while Ryan Fraser and Jonjo Shelvey were omitted from the squad entirely.

In their place came Joelinton, Ritchie, Federico Fernandez, Fabian Schar and Matty Longstaff - the latter making only his second PL appearance of the season and a first start since January.

Although just one goal behind at the break, the only offensive thing about United at that point had been the needless comments of Head Coach Steve Bruce to camera on the "histrionics" from fans this week.

His pledge to make a game of it tonight though was as meaningless as the recent hot air about wanting to take his side to Wembley for a cup final.

That's hardly surprising, given that better Magpie sides have lost here by greater margins and City are currently the tightest team in the PL - although their fifth clean sheet in six outings was gift-wrapped for them.

However, when you treat a ten-man Fulham side and a Brentford XI like world beaters, it leaves little room for manoeuvre against opposition of this level. If the previous two were "difficult tasks", then this one was logically an impossibility, so we fulfilled the fixture.

Despite the flood warnings pre-game though, we weren't actually swamped. A combination of Karl Darlow's agility and City's tendency to over-play kept the scoreline at modest proportions; our 'keeper denying Sergio Aguero his usual goal against us during a late cameo.

We asked no questions of the hosts though, aside from Joelinton's 40th minute flick across the box that eluded Almiron and one of three shots that Jacob Murphy had in the second half. Nobody else got within range of the opposition goal, or particularly wanted to.

Content to escape with a cuffing rather than a leathering, we head to the end of 2020 grateful for a defeat rather less emphatic than many had feared - or wagered on.

Hopefully Liverpool will be in similarly benevolent mood on Wednesday, but if they aren't, then there's precious little we can do about it - as Bruce will no doubt say.


Biffa