Date: Sunday 3rd January 2021, 2.15pm.
Live on Sky Sports

Venue: St. James' Park

Conditions: Deluded






Newcastle

Leicester City

1 - 2

Teams
Half time: Magpies 0 Foxes 0
55 mins Harvey Barnes strode upfield and parted United's midfield with worrying ease; Jamie Vardy's pull back inside the box allowing James Maddison to gleefully belt the ball home. Maddison blues, again. 0-1

72 mins Youri Tielemans took Marc Albrighton's infield pass from the right and effortlessly passed the ball into the Leazes End net from distance, recent arrival Jonjo Shelvey looking on helplessly. 0-2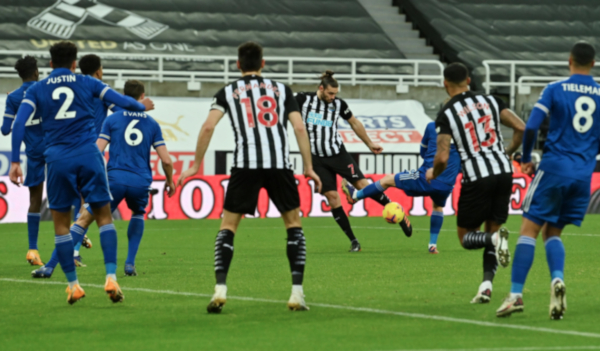 82 mins James Justin brought down Sean Longstaff towards the left side of the box. Matt Ritchie's free kick was headed away initially by Wesley Fofana but fell to Andy Carroll inside the box and he returned it left-footed, first time past Schmeichel. 1-2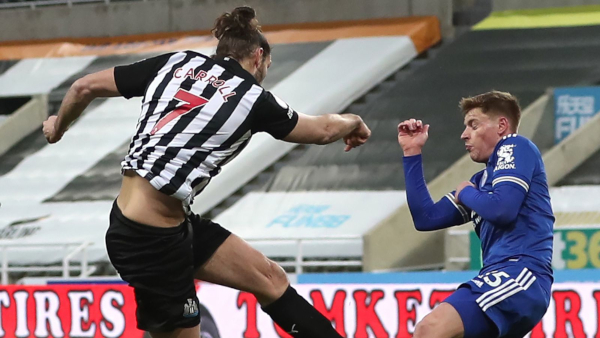 Full time: Magpies 1 Foxes 2
Steve Bruce said:
"We gave the ball away cheaply on both occasions and Leicester punished us.
"The one thing you don't want to do when you are having arguably your best spell after half-time is give the ball away. It's something we have to improve on.
"I didn't think we deserved to lose the game but we have been punished and caught on the counter-attack. It's what we want to do but we keep getting caught the other way."

On Andy Carroll:
"Great finish, yeah. Andy certainly brought us to life. We went a bit more direct to him. He has given me food for thought. It's nice to see him fit and well. We just lacked that bit of quality in the final third.
"I have to think even though we only took one point, it was always going to be tough and thankfully we are getting a few back from the illnesses.

"I can't fault the players' efforts. I didn't think we deserved to lose the game but we have been punished and caught on the counter-attack. It's what we want to do but we keep getting caught the other way.
"You have to stay with it, there's a long, long way to go but if they [the players] keep showing the attitude they have been doing, they will be fine."
On transfers:

"If there are one or two out there in the loan system then we will try. I can't see there being much transfer activity in January if I'm being brutally honest and that will be the same for us probably.
"We need to recover and it gives them another two or three days for those struggling with illness and look forward to the next batch of games that are coming up."
Brendan Rogers commented:

"We're delighted. It was always going to be a tight game, you saw in the week (against Liverpool) how Newcastle defend in their shape and they make it really difficult.

"I thought we had some good moments in the first half, we just failed with that final ball - we over-hit the pass or couldn't quite find the man. In the second half, we had to stay strong defensively and we had two moments in transition where we broke out from nearly three quarters up the pitch.

"Once we get the first goal, that then opens things up a bit. We get another good goal for the second and it's a great finish by Youri (Tielemans).

"Andy (Carroll) comes into the game and he's a threat, they get the goal and then it becomes a war in the last 10 minutes. That really pleased me because it shows we can win different types of games, to just coming from behind but also if we need to see the game through.

"The squad has been tremendous with how everyone has coped with our European and league efforts so far. But to have players back, they're players of quality that we've been missing so to have them back, it gives us the pace, the running ability, the movement back into the team and that's what we're about.

"They showed good capability today in the game and it's good to have them all back and ready.

"All in all, it's always going to be a difficult place to come to and get a result and we end up getting three points which is really important."



Andy Carroll became the fourth Newcastle player to have scored a Premier League goal in two separate spells at the club:

Andy Carroll (3,662 days):
26.12.2010 Manchester City (a)
03.01.2021 Leicester City (h)
Lee Clark (3,272 days):
18.01.1997 Southampton (a)
02.01.2006 Middlesbrough (h)
Rob Elliott (1,687 days):
11.05.1997 Nottingham Forest (h)
22.12.2001 Leeds United (a)
Nolberto Solano (960 days):
26.04.2003 mackems (a)
10.12.2005 Arsenal (h)

Four other players have accomplished that feat in the modern era, including one with an even larger "gap" than Carroll:

Mark McGhee (3,963 days):
25.11.1978 Oldham Athletic (h)
30.09.1989 Hull City (a)
Terry McDermott (3,172 days):
23.03.1974 Leicester City (h)
27.11.1982 Cambridge United (h)
Peter Beardsley (2,458 days):
07.03.1987 Aston Villa (h)
27.11.1993 Arsenal (a)
Terry Hibbitt (1,492 days):
09.08.1975 Middlesbrough (h)
08.09.1979 Orient (a)
Carrroll now has 54 PL goals to his name, 15 for Newcastle, 6 for Liverpool and 33 for West Ham. His most recent before today was for West Ham away at Stoke City in April 2018.

In all competitions he has 34 goals in a Newcastle shirt, since first finding the net at the same end of SJP against West Ham back in January 2009.

Since making his second debut in September 2019, it has taken him 819 minutes in the PL to score his first goal (1011 minutes in all competitions).

Carroll scored within three minutes of arriving from the bench, becoming the second Magpie to do so this season after Dwight Gayle at home to West Bromwich Albion. That was longer at 13 minutes, but still way off the eight seconds Sammy Ameobi took to net away at Spurs in October 2014.

Ciaran Clark completed a century of Newcastle appearances in all competitions (96 starts +4 off the bench).

Foxes in Toon - PL era:
2020/21 lost 1-2 Carroll
2019/20 lost 0-3
2019/20 drew 1-1 (lost on pens) LC
2018/19 lost 0-2
2017/18 lost 2-3 Joselu, Gayle
2015/16 lost 0-3
2014/15 Won 1-0 Obertan
2009/10 Won 1-0 Guthrie CH
2003/04 Won 3-1 Ameobi, OG, Jenas
2001/02 Won 1-0 Solano
2000/01 Won 1-0 Cort
1999/00 Lost 0-2
1998/99 Won 1-0 Glass
1997/98 Drew 3-3 Barnes, Tomasson, Beresford
1996/97 Won 4-3 Shearer 3, Elliott
1994/95 Won 3-1 Albert 2, Howey

First footing - last 20 year-opening results:
2021 Leicester City (h) lost 1-2
2020 Leicester City (h) lost 0-3
2019 Manchester United (h) lost 0-2
2018 Stoke City (a) won 1-0
2017 Blackburn Rovers (a) lost 0-1 (Ch)
2016 Arsenal (a) lost 0-1
2015 Burnley (h) drew 3-3
2014 West Bromwich Albion (a) lost 0-1
2013 Everton (h) lost 1-2
2012 Manchester United (h) won 3-0
2011 Wigan Athletic (a) won 1-0
2010 Plymouth (a) drew 0-0 (FAC)
2009 Hull City (a) drew 0-0 (FAC)
2008 Manchester City (h) lost 0-2
2007 Manchester United (h) drew 2-2
2006 smoggies (h) drew 2-2
2005 Birmingham City (h) won 2-1
2004 Southampton (a) won 3-0 (FAC)
2003 Liverpool (h) won 1-0
2002 Manchester United (a) lost 1-3

NUFC - last eleven PL seasons after sixteen games:
2020/21: 19 points, 15th (scored 18, conceded 26)
2019/20: 22 points, 11th (scored 17, conceded 23)
2018/19: 13 points, 15th (scored 13, conceded 22)
2017/18: 15 points, 16th (scored 16, conceded 25)
2015/16: 16 points, 15th (scored 18, conceded 31)
2014/15: 23 points, 7th (scored 18, conceded 22)
2013/14: 27 points, 6th (scored 23, conceded 22)
2012/13: 17 points, 14th (scored 18, conceded 23)
2011/12: 27 points, 6th (scored 21, conceded 19)
2010/11: 19 points, 11th (scored 24, conceded 25)
2008/09: 16 points, 16th (scored 19, conceded 24)
Waffle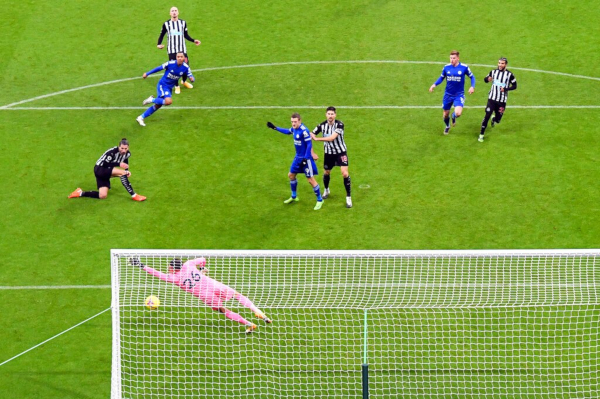 Despite seeing Andy Carroll break his scoring duck, Newcastle suffered their usual home defeat by Leicester City on Sunday afternoon, remaining winless in each of their last six league and cup outings.

Reaching the interval goalless, United conceded ten minutes after the restart when James Maddison blasted in an unstoppable effort at the Leazes End.

The Foxes then appeared to have sealed their sixth successive victory at SJP and seventh away win this season in the Premier League when Youri Tielemans beat Karl Darlow from distance in the 72nd minute.

However Carroll shot home following a free kick just three minutes after coming off the bench to register his side's first goal in 378 minutes.

That was the prelude to some ham-fisted attempts by United to fashion an unlikely equaliser, but City came closer to netting again before full time.

Forced into one change from the side that held Liverpool due to Isaac Hayden's suspension, Steve Bruce paired Sean Longstaff in midfield with younger brother Matthew - the first time they've started together since the FA Cup victory at Oxford United last February.

Back too came Miguel Almiron at the expense of Jacob Murphy, as the hosts retained a five man back line in their quest for back to back clean sheets - something they've not achieved since last June.

Leicester meanwhile recalled Jamie Vardy and he twice got through the home defence in the opening stages, only to be caught offside on both occasions - the latter after shooting into the unguarded net from a narrow angle.

That heralded a passage of possession from United and a Joelinton header at least on target, even if presenting no challenge to Kasper Schmeichel.

Newcastle's display was a continuation of that seen against Jurgen Klopp's side: some reasonable pressing and attempts to play out of defence, but no more of an attacking threat, Almiron unable to complete a forward pass.

Half time arrived with neither goalkeeper really involved in the game and referee Robert Jones having had no less than three touches of the ball - about on a par with Callum Wilson.

Hopes of a Toon breakthrough rose after the break; Almiron twice taking possession in central positions but failing to thread balls through to Wilson.

Matt Ritchie's centre from the left then zipped across the City area with nobody attacking it before City went ahead through James Maddison.

That prompted a double change and a reshuffled home formation; Almiron and the equally skittish Joelinton replaced by Murphy and Jonjo Shelvey.

Murphy quickly engineered a chance, but hung back in the box for the return ball as it was slung across the six yard box by Matty Longstaff.

City then roused themselves again and doubled their lead thanks to another precise strike; Tielemans taking Marc Albrighton's infield pass from the right and effortlessly passing the ball into the net from distance.

After Vardy pinged a shot off the United goalframe only to see the offside flag raised again, the Magpies finally managed to make a set piece count, after James Justin brought down Sean Longstaff towards the left side of the box.

Ritchie free kick was headed away initially by Wesley Fofana but fell to Carroll inside the box and he returned it left-footed, first time past Schmeichel.

Chances appeared at either end as things began to get a little ragged; Wilson hitting the 'keeper with his shot only to be called offside and Darlow bravely coming out of his goal to block a Barnes effort.

However that was it for United, five minutes of added time running away with nothing more to show for it.

The final result looks better than the actual Newcastle performance; asking no questions for the bulk of the game and content pursuing a policy of containment before ending up empty-handed.

The bleak reality is that taking one point from our festive fixtures against Manchester City, Liverpool and Leicester City - and ending up with an aggregate goal tally of 1-4 - is above the meagre expectations of many fans.

It doesn't mean it's good or even acceptable, just not as awful as feared.

For all his bluster, Bruce can have absolutely no complaints at losing this game after the side he selected made no attempt to win it. While the wild card that was Allan Saint-Maximin remains unavailable, we have nothing else but the big lamp to the big lad. And even that is poorly executed.

While Leicester are improving on the field and off it (recently moving into a substantial new training facility), the only question about Newcastle seems to be whether they are stagnating or actually declining.

Putting aside the FA Cup diversion, our trip to Bramall Lane on Tuesday week now looks pivotal as to what sort of 2021 we will enjoy - or endure.

The Blades are winless in all 17 Premier League games this season (and the last three of the 2019/20 campaign). How's the banana skin did you say?


Biffa