Date: Tuesday 12th January 2021, 6.00pm
Live on Sky Sports

Venue: Bramall Lane

Conditions: Unpalatable

Programme: £3.50

Sheffield United

Newcastle

1 - 0

Teams
Half time: Blades 0 Magpies 0

73 mins Billy Sharp and Federico Fernandez tussled in the Newcastle box - and the latter was judged by VAR and match referee Andy Madley to have cleared the ball with his hand.

Substitute Sharp sent Darlow the wrong way in front of the empty Kop to reach a century of strikes for the red and whites. 0-1
Full time: Blades 1 Magpies 0
Steve Bruce:
"I've got no issues with the red card - we can't argue with that and you can't argue with how poor we are in the first half.
"If you are in the bottom half of the league it is always going to be difficult. We have to be difficult to play against.

"I offer no excuse, but we must be more of a threat going forward. Whoever you are in the Premier League the pressure comes upon you. That is what we have to deal with.

"I'll never ever walk away from a challenge. I've been in it long enough to have that respect, but I understand especially watching the first half - we weren't good enough and I take the responsibility for that, because I picked the team.
"We've been trying something different because over the last few weeks we've struggled going forward, so my thoughts were to get Ryan (Fraser), someone fresh, and Sean (Longstaff) higher up the pitch where he could be a goal threat. Unfortunately that didn't happen.

"Of course, because of the games we've had I tried to pick a team with a certain freshness. I wanted to see if something different would work.
"In hindsight what I needed was to get in at half-time to change things around but unfortunately the red card put paid to that.
"I think we've had, apart from the last month which we knew would be difficult with the run of fixtures we've had, we've given ourselves a decent start to the season."
On the goal:
"The referee got it spot on in real time. It hit (Federico Fernandez's) hand but it's not intentional. It could have been a foul on him as well.
"VAR is supposed to be for clear and obvious decisions. How someone 300 miles away on a TV screen can overturn it is beyond me.
"You know when the referee goes to the screen it will be a penalty - it's pathetic. It's beyond me.

"There's a horror challenge by Billy Sharp that should be a straight red card. It's blatant. They didn't check it. It's laughable the whole VAR situation and I don't think anyone enjoys it.
"I'm struggling to cope with it. Week in week out, it's ruining the game."

In fairness to Bruce, the 97th minute penalty that brought him a point at Spurs back in September prompted him to say:

"I should be delighted but I know it will bite me eventually."

Chris Wilder said:

"It feels good. We should have got more results, we know that, but the performance was good. We played with the identity that has been the way we have played for the last few years.

"I imagine I've been boring, but results haven't matched performances and I felt that was coming. I'm a down to earth manager and we're back in tomorrow looking for Sunday.

"We've been competitive but the obvious fact is that we've not won for a long, long time and that's always the thing that everyone looks at. And most importantly, so do I.

"I'm not being doom and gloom but it's not been an enjoyable time for players supporters or staff. So it's back to work tomorrow and move on because we can't waste this opportunity.
"We've still got an incredible challenge ahead of us but no-one's throwing the towel in. It wasn't a white flag performance, we had desire to go and win a game and had no little quality, either."
"We've had a load of tight games and we'll take it. I was looking for my car keys and to take up another sport if we'd thrown it away in added time."

Asked about his side's apparent defiance of latest PL advice:

"We've talked before about the country looking at us but it is an emotional game on the pitch and on the touchline. How can they not celebrate? They are team-mates and I don't see any way they can just walk back to the halfway line and show no emotion."

Scorer and thug Billy Sharp said:

"Everyone has written us off - the pressure is off.

"We've not had a great time in the last few months but we've got to keep our heads high now. We're good enough to do it."

Newcastle have failed to score in five of their last six games and managed just a single goal from open play in the last 685 minutes (all competitions).

A third successive defeat matches the club's worst run under the guidance of Steve Bruce and they are now winless in eight league and cup games, their longest barren run since the start of the 2018/19 season, when they went 11 games without victory under Rafa Benitez.

Discounting cup matches, United have failed to win any of their last six PL fixtures, which exactly mirrors the closing six games of last season, each run bringing two points from a possible 18.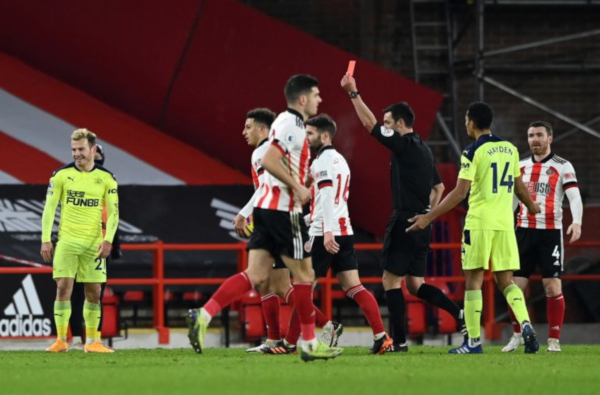 Ryan Fraser is the first Newcastle player to be dismissed in a competitive game this season (Jamaal Lascelles saw red in a kickabout against Boro).

This was our 50th league and cup defeat to the Blades and the goal was the 100th we've conceded to them in the league away from St. James' Park.

Toon @ The Lane - last 10:
2020/01 lost 0-1 (PL)
2019/20 won 2-0 Saint-Maximin, Shelvey (PL)
2015/16 drew 2-2 Wijnaldum, S.de Jong (FR)
2009/10 won 1-0 og(Morgan) (Ch)
2006/07 won 2-1 Martins, S.Taylor (PL)
1993/94 lost 0-2 (PL)
1989/90 drew 1-1 og(Morris) (D2)
1988/89 lost 0-3 (LC)
1978/79 lost 0-1 (D2)
1976/77 drew 0-0 (FAC)

Full record v Sheff Utd:

| | | | | | | |
| --- | --- | --- | --- | --- | --- | --- |
| | P | W | D | L | F | A |
| SJP | 55 | 32 | 13 | 10 | 112 | 55 |
| BL | 56 | 9 | 13 | 34 | 53 | 100 |
| League | 111 | 41 | 26 | 44 | 165 | 155 |
| SJP(FA) | 6 | 3 | 1 | 2 | 11 | 11 |
| BL | 4 | 2 | 1 | 1 | 4 | 2 |
| SJP(LC) | 2 | 1 | 0 | 1 | 2 | 2 |
| BL | 3 | 0 | 1 | 2 | 2 | 7 |
| Cup | 15 | 6 | 3 | 6 | 19 | 22 |
| Tot | 126 | 47 | 29 | 50 | 184 | 177 |
If you thought the events of tonight were strangely familiar, they were:

28.04.1984 Cambridge United 1 NUFC 0

A record-breaking ninth away league win and favourable results elsewhere could have left Newcastle celebrating promotion at the Abbey Stadium.

The U's were bottom of Division Two and winless in almost six months - a run of 35 games in all competitions. Enter Wallsend-born Toon fan Kevin Smith, who was fouled in the box and scored his 38th minute penalty.

04.11.2006 NUFC 0 Sheffield United 1

The Blades had played five away games in the Premier League in what was their first top-flight season since 1993/94, failing to score a single goal in any of them. Danny Webber's 68th minute effort changed all that.

17.09.2007 Derby County 1 NUFC 0

The Rams were winless after their opening five Premier League games of the season, while Newcastle were unbeaten under their latest Manager, Sam Allardyce. Kenny Miller's 39th minute shot divided the sides at Pride Park, but Paul Jewell's side failed to claim maximum points from any of their remaining 32 league games that season,

Derby were relegated in last place with just 11 points, also managing a 2-2 draw at SJP that December, meaning they gained 36.4% of their points against one team. Surely some sort of record?!

Waffle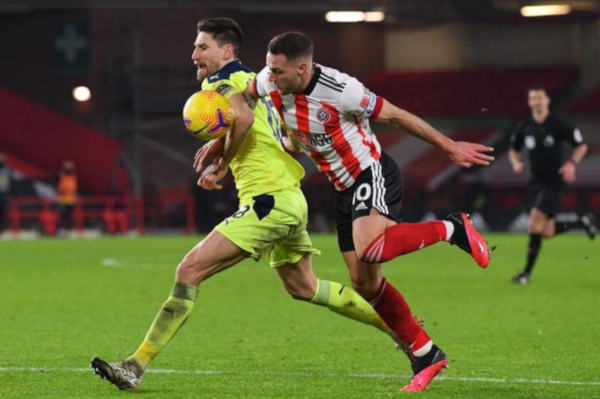 Newcastle's season continued to unravel on Tuesday, as they made it eight games without a victory by losing to the Premier League's basement side - who had failed to win any of their last 20 PL fixtures.

Short of putting the ball in their own net though, Steve Bruce's team couldn't have been much more obliging as he returned to another of his former clubs.

The Magpies boss sent out a side that gave the hosts every encouragement of breaking their seasonal league duck - and when the dominant Blades missed a series of chances, Ryan Fraser helpfully removed himself after two avoidable bookings in four minutes just before half time.

Having shown virtually no attacking intent with a full complement of players, the second half saw ten-man Newcastle try to stonewall their way to a draw against a home side who were actually showing less of a threat to Karl Darlow's goal by that point.

That all changed in the 73rd minute when Billy Sharp and Federico Fernandez tussled in the Newcastle box - and the latter was judged by VAR and match referee Andy Madley to have handled.

Substitute Sharp - who was lucky to end the game on the field after a cynical foul on Fabian Schar - sent Darlow the wrong way in front of the empty Kop to reach a century of strikes for the Blades.

Newcastle at that point were actually down to nine men; Paul Dummett having limped off and his replacement Matt Ritchie yet to enter the fray.

The Blades came close to wrapping up the victory when Rhian Brewster's shot was deflected onto the goal frame, but Newcastle's attempts to belatedly trouble the home defence were futile. The home goalkeeper spent most the second half tinkering with his contact lenses.

And while Wilder's side have renewed, if faint, hopes of rising up the table, Bruce's are in reverse. Tonight was the worst we've played this season yet, and by Christ that's some feat given the grim tripe we've endured for the most part.

It's as well that this game was played behind closed doors, as this wretched display would surely have brought incensed away supporters on to the field in protest. And who could blame them.

We are a work in progress alright; we're well on our way to the Championship under this buffoon. Keep the SJP turnstiles locked as long as you can; if Newcastle had to give away 10,000 season tickets in the top flight, how many buckshee ones will be available down there?

Bruce will doubtless lament the timing of this game, the evil VAR (that got him out of gaol at Spurs) or the fact the M1 wasn't gritted properly, but COVID has undeniably sent his season into freefall.

Ever since the first positive test at the club appeared though, Bruce has given his players every excuse not to perform - and they've done that admirably. They are the architects of their own collective downfall, unable to be pro-active and suffering the consequences. Coming here not to lose was utterly disgraceful.

The staggering lack of managerial ambition and motivation is clearly evident: the ineffectual efforts of some players betraying the contempt they clearly hold him in. Bad apples, dead wood, call them what you like but there are some in the squad taking money under false pretences - not all of whom featured tonight.

At 0-0 here with eleven men, we casually gave the ball away time after time - and didn't look in the least bit bothered. On this evidence, Jeff Hendrick has another decade of strolling around in him - I'd rather pay David McCreery to play there.

It all amounts to a mutual vote of no confidence, mirrored in the rising tide of ill-feeling in the fanbase towards both the players and the Manager.

If he's not careful, then the owner might be back in the bronze medal spot at the unpopularity contest - but of course Mike and his minion ultimately bear responsibility for all of this; dumping Bruce just giving them another chance to saddle us with an utter plum in the dugout.

This is becoming all too familiar; echoes of the last relegation season at this point under charlatan McClaren grow ever louder, and our fixture list does nothing to inspire confidence.

Back to the game and it's perhaps worth mentioning the ballboy behind Darlow's goal, who made a handball signal as Fernandez and Sharp came towards him - a gesture clearly visible due to his luminous gloves.

Did it influence Madley? maybe, maybe not - but any grumbles over the legitimacy of the award have to be balanced out by the fact the home side deserved to win and we deserved absolutely nothing.

We don't know whether the team bus stopped off at the chip shop in Wetherby en route back to Tyneside, but if they did then hopefully it was the last supper for the bloke at the front.

And we don't mean the driver.


Biffa