Date: Monday 18th January 2021, 8.00pm
Live on Sky Sports

Venue: Emirates Stadium

Conditions: Brittle

Programme: £3.50

Arsenal

Newcastle

3 - 0

Teams
Half time: Gunners 0 Magpies 0

50 mins Taking a short pass from Alexandre Lacazette deep inside his own half, Thomas Party swept a pass out to Pierre-Emerick Aubameyang in space on left. With Emil Krafth in attendance but offering no obstacle, the forward made his way into the box unchallenged and beat Karl Darlow with a rising shot inside his near post at the South end of the ground. 0-1
60 mins The home side chugged forward into the Newcastle half down the left with Krafth sauntering back after pushing up to reinforce the attack.

Emile Smith Rowe collected the ball towards the touchline and went one way and then the other round the faltering Jamaal Lascelles before pulling the ball back to the unmarked Bukayo Saka, who side-footed home with ease from the penalty spot as Ciaran Clark made a failed attempt to block. 0-2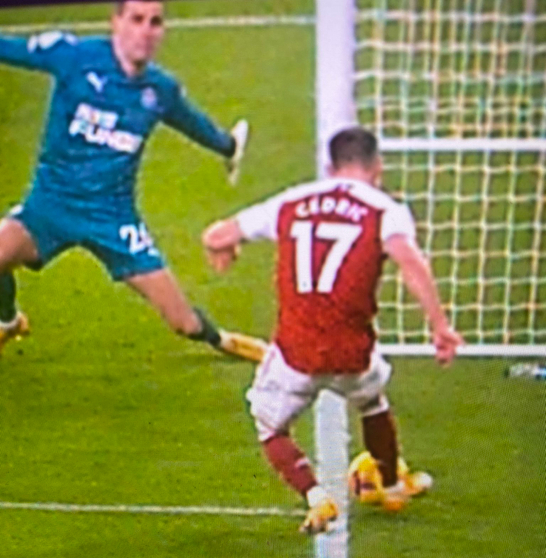 77 mins Clark cut out a pass meant for Saka towards the corner flag on the United left, but his clearance went to Cedric Soares. Exchanging passes with Saka, he made for the byline and took the ball towards goal before pulling it back from the six yard box for Aubameyang to rattle home first time.

Cedric appeared to have allowed the ball to have gone out, but VAR only took a few seconds to decide it was at least a millimetre in play.... 0-3
Full time: Gunners 3 Magpies 0
Steve Bruce:
"In the first half, we got ourselves in decent positions and didn't take advantage of it. I didn't see us being 2-0 down within an hour, we'd been caught high up the pitch just after half-time and punished.

"We repeated it five minutes later, and that's the situation we found ourselves in.

"When you're one a run like what we're on at the moment, you've got to dust yourself down and get ready for the challenge of what's ahead and try and get that confidence back - and winning a couple of games is the only way you're gonna get it.

"We always knew we entering a really difficult run of games. To play Arsenal, Leicester, Liverpool and Manchester City we always knew it was going to be difficult against these top teams.
"You have seen their approach. We are disappointed because we have been caught trying to get forward. Two passes and they are in on our goal.
"That is something we have to learn from and understand. The reason we have been defending deep was to avoid situations like that. We have to get the balance right and we will keep working on it."

On the absent Dwight Gayle:

"Dwight's been struggling with illness. Thankfully, we don't think it's Covid-related."

On the return of Allan Saint-Maximin:

"We're in this run and the one person who gave us a little creativity, that spark in your team, is Allan, of course, and how crucial he has been to us.

"Then again, if I you take out the best players from, if you take a (Wilfried) Zaha out of Crystal Palace … he's huge to us.

"He's back in light training. We hope that he can get himself (fit), but it's been two months now. We've still got to box a bit careful with him."

On his future:
"I am trying to do the best I possibly can as always but you will have to ask others about that .

"I've been in it a long, long time; I've done it before. It's a difficult spell but I'm never going to shy away from it. So yes, 100% (I am the man to avoid relegation)."

Bruce's pre-match comments:

"I've let them (the players) be comfortable but the gloves are off now. I want to do it my way. We were absolutely frigging hopeless the other night. Absolute shite.

"The one thing we can't deny is our performance in the first half at Sheffield United was woeful. I picked the team and ultimately, carry the can. I accept that...unfortunately in the 18 months I've been here, that's happened too often.

"The performance the other night was not acceptable to any of us. If I was a supporter, I would be asking 'what the hell is going on?'

"I can understand the frustration and anger of supporters. I picked the team - it's my responsibility, totally.

"Have I lost the dressing room? I'm the wrong person to ask that but I see nothing wrong with them against Arsenal, Liverpool and Leicester. But the hand grenade has been thrown in when we're expected to win too many times on my watch.

"I picked the wrong team on Tuesday (at Sheffield United), I accept that. I understand and accept the criticism - if I was a fan I would feel the same.

"I've made a career of never giving in so I won't (quit). NB: this is Bruce's eleventh managerial role - he resigned from eight of his previous ten.
"I've had the support of the club since I walked through the door. A continuous, daily conversation with the managing director - and that hasn't changed. I will keep trying to do my utmost to make this better.
"(Criticism) has been personal from day one - certain people out there think I shouldn't have been in the job to start with. All I can do is accept it and try not to be too down with it.
"I understand the supporters' frustration and anger - I would be the same way - but I keep stressing if you're in the bottom half of the Premier League, you have to be a bit pragmatic. Now, getting that balance right, I fully, fully understand.
"Have Newcastle been a good watch for years? We've been in the bottom half of the Premier League. Now we're not saying it's acceptable, but it's the way it is.

"So we have to have a certain way of defending well, but I agree we have to offer more going forward.
"I expect the players to mirror myself a little bit. I was never blessed with wonderful ability, same as management, but the one thing I expect is a reaction, show some pride in yourself, and never be afraid of hard work.

"At the minute, it's hard work, but you try not to get too down. We are not alone, if you're in bottom half there will be times when you come under pressure, and this is one of those times."

Asked about players breaking COVID guidance when celebrating goals:

"Well, I'd like to score a goal first and then have to worry about it."

Mikel Arteta said:

"I am really pleased with the performance overall because collectively and individually it was really strong from the beginning.

"It took us longer than we wanted to score the first goal because in the first half we had some big chances as well, but overall the team looked confident, looked solid, looked compact and very clear about what we had to do, defending and attacking, so I am really pleased with the clean sheet, the goals, and overall the run and the momentum we have.

"The first half, it takes a while to break down a structure like this - we had a few big chances which we needed to score and we didn't, but we were in total control of the game, I don't think they had any shots on target.

"It was about keeping the structure right, keep it simple, keep attacking the box as much as we could, we corrected a few things which we could do a little bit better - and then we produced the moments of the goals.

"It's part of understanding these types of games, when the team is able to come out of these games with this type of result and confidence, it helps a lot for the next one because they know that the moment is going to come, that we cannot lose our structure and organisation.
"There were certain things we had to improve at half-time and do better: to be more consistent, quicker and more efficient in certain moments to attack.
"This is great information and, for them, it's great to believe that against this structure, we can play them, we can outplay them, we can nullify them to do very little in our own box and we can come out and score three, four, five goals.

"We always say that winning is the best thing for any collective team or any individual as well. But for us to get in the momentum that we are with the clean sheets - that was our fifth one in a row - we have managed to do that, the fact that we are scoring goals and everything is more fluent.

"The energy, the cohesion around the team and the spirit is better. So I'm glad, but we have to maintain that run and keep going. There are still a lot of things that we have to do better and improve but overall, I'm really pleased with how we're playing at the moment."

The Magpies have now lost four successive games in all competitions (three in the Premier League) and are winless in their last seven PL outings (nine including cup ties). That nine game barren run is the longest since the opening 11 games of 2018/19 (ten of which were in the PL).

It's now 308 minutes since Newcastle last scored a goal in league or cup games and they have now managed just one goal from open play in 686 minutes (all competitions).

United have failed to score on this ground in six league and cup visits, since Ayoze Perez netted in December 2014. That scoreless run now stretches to 597 minutes.

For the fifth successive league and cup game involving Newcastle, the half time score was 0-0.


Substitute Elliot Anderson became the 245th Newcastle player to represent the club in the Premier League, nine days after making his senior bow at the same venue from the bench in the FA Cup.


This was Newcastle's sixteenth successive Monday evening game in the Premier League away from SJP. A pathetic five points from a possible 48 were collected during that sequence; winning at Burnley in November 2018, drawing at Wolves in February 2019 and drawing at Brighton last July:

Dec 2012 Wigan Athletic (h) won 3-0
Dec 2012 Fulham (a) lost 1-2
Aug 2013 Manchester City (a) lost 0-4
Sep 2013 Everton (a) lost 2-3
Apr 2014 Arsenal (a) lost 0-3
Sep 2014 Stoke City (a) lost 0-1
Apr 2015 Liverpool (a) lost 0-2
Sep 2015 West Ham (a) lost 0-2
Mar 2016 Leicester City (a) lost 0-1
Oct 2017 Burnley (a) lost 0-1
Apr 2018 Everton (a) lost 0-1
Nov 2018 Burnley (a) won 2-1
Feb 2019 Wolves (a) drew 1-1
Apr 2019 Arsenal (a) lost 0-2
Nov 2019 Aston Villa (a) lost 0-2
Jul 2020 Brighton (a) drew 0-0
Jan 2021 Arsenal (a) lost 0-3

The Premier League website reported that Newcastle had never made as many as eight changes to their starting XI previously in that competition.

Magpies @ Gunners - PL years:

2020/21: Lost 0-3
2020/21: Lost 0-2 (FAC)
2019/20: Lost 0-4
2018/19: Lost 0-2
2017/18: Lost 0-1
2015/16: Lost 0-1
2014/15: Lost 1-4 Perez
2013/14: Lost 0-3
2012/13: Lost 3-7 Ba 2, Marveaux
2011/12: Lost 1-2 Ben Arfa
2010/11: Won 1-0 Carroll
2008/09: Lost 0-3
2007/08: Lost 0-3
2007/08: Lost 0-3 (FAC)
2007/08: Lost 0-2 (LC)
2006/07: Drew 1-1 Dyer
2005/06: Lost 0-2
2004/05: Lost 0-1
2003/04: Lost 2-3 Robert, Bernard
2002/03: Lost 0-1
2001/02: Lost 0-3 (FAC)
2001/02: Won 3-1 O'Brien, Shearer, Robert
2000/01: Lost 0-5
1999/00: Drew 0-0
1998/99: Lost 0-3
1997/98: Lost 1-3 Barton
1996/97: Won 1-0 Elliott
1995/96: Lost 0-2 (LC)
1995/96: Lost 0-2
1994/95: Won 3-2 og(Keown), Beardsley, Fox
1993/94: Lost 1-2 Beardsley

(At Highbury until 2005/06, Emirates thereafter)
Full record against Arsenal:

| | | | | | | |
| --- | --- | --- | --- | --- | --- | --- |
| | P | W | D | L | F | A |
| SJP | 85 | 41 | 19 | 25 | 146 | 98 |
| H/Em | 86 | 22 | 17 | 47 | 86 | 152 |
| League | 171 | 63 | 36 | 72 | 232 | 250 |
| SJP(FA) | 2 | 0 | 2 | 0 | 4 | 4 |
| H/Em/W/VG | 9 | 4 | 0 | 5 | 7 | 14 |
| SJP(LC) | 1 | 0 | 0 | 1 | 0 | 4 |
| H/Em | 3 | 0 | 0 | 3 | 0 | 8 |
| Cup | 15 | 4 | 2 | 9 | 11 | 30 |
| Tot | 186 | 67 | 38 | 81 | 243 | 280 |
Waffle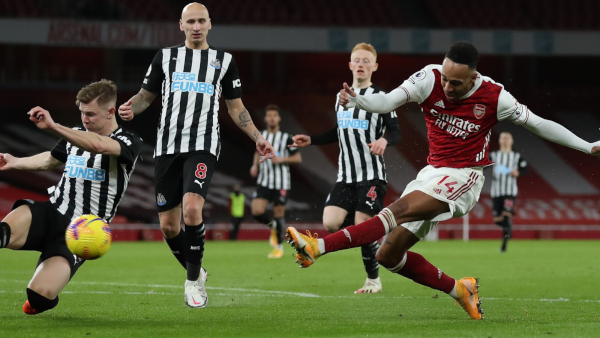 Steve Bruce may have vowed that the gloves would now be off for Newcastle, but his side failed to lay a finger on their opponents as they suffered their usual Emirates collapse on Monday night.

Just three starters from the Bramall Lane reverse kept their places as United opted for a 4-4-2 formation, but although less negative, there was no more proficiency on show from the black and whites.

To the casual observer, it appeared that the Magpies boss had got his teamsheets mixed up; selecting the more offensive side tonight that was sadly missing against basement-dwellers Sheffield United last week.

United spent more time in the opposition half than in recent games, but aside from the occasional scamper forward from Miguel Almiron, what passed for service to the visiting strikers came from Karl Darlow's punts.

Our perpetual bugbear and what has now become a hallmark of this team's sloppy approach was to the fore yet again - wasted set pieces.

This time the offender was the recalled Jonjo Shelvey, whose dead ball deliveries were awful - neither of his corner kicks managing to clear the first defender. When you create as little as we do, that's absolutely criminal and if he cannot achieve that, there really is no value whatsoever in picking him.

Only Pierre-Emerick Aubameyang's glaring miss after quarter of an hour ensured that the sides went in scoreless at half time, but the same player took just five minutes to make amends after the restart, netting against us for the fourth consecutive game.

And as was the case (twice) in last month's defeat at Leeds, the origins of that goal were at the other end of the field as Arsenal broke away after dealing all too easily with our inept corner kick.

Bukayo Saka then fired home on the hour to confirm that United's winless run would extend to nine league and cup games, before Aubameyang had another simple finish to make it 0-3 on 77 minutes.

That's now just one goal in the last 686 minutes of play for a Newcastle side currently showing all of the hallmarks of conscientious objectors - unwilling or unable to strike a blow.

Their manager may have hinted that a bare knuckle fight was in prospect, but this was absolutely no contest; a sluggish Gunners side thankfully only half-interested in boosting their tally once two ahead.

Despite playing with more forwards, we somehow managed to be less effective in front of goal than in the recent Cup meeting. The home side could safely have lined up with Bob Wilson between the posts.

We even wondered if this team was deliberately selected to prove that they couldn't play in the way they were set up - exposing their limitations and justifying their usual cautious approach.

Derided for parking the bus this season, it's fair to say that throwing his players under the wheels didn't have the desired effect for Bruce. And whatever "my way" meant (it's debatable whether he meant the wishes of his players or the approach of his predecessor), there wasn't much difference from the previous guff that passes for football round here.

United remain at their seasonal lowest point of fifteenth place; the gap to third bottom Fulham seven points, Scott Parker's side with a game in hand and now possessing a better goal difference.

The games now come thick and fast, with another five in the next 18 days beginning at Aston Villa this Saturday, but we remain bang out of form, without a notion of knowing our most effective line-up or formation and almost wholly reliant on Allan Saint-Maximin returning to haul us out of the merde.

Bruce may have talked about doing things his way, but the direction of travel remains firmly downwards.


Biffa