Date: Saturday 23rd January 2021, 8.00pm
Live on Sky Sports

Venue: Villa Park

Conditions: Broken

Programme: £3.00

Aston Villa

Newcastle

2 - 0

Teams
13 mins Jonjo Shelvey was slow to cover as Matt Targett crossed from the left, Fabian Schar's attempted clearance dropping nicely for Ollie Watkins to head home at the North end of the ground.

Karl Darlow made a fruitless attempt to stop him with his head rather than hands. Quite what Darlow was thinking is anyone's guess, Schar's deflection was never going to be seen as a backpass. 0-1
42 mins Jack Grealish pulled the ball back to Bertrand Traore to fire home after a corner was half-cleared. The Burkina Faso international now has six Premier League goals to his name, the first of which came for Chelsea in a 5-1 win over Newcastle at Stamford Bridge in February 2016. 0-2
Half time: Villans 2 Magpies 0

Full time: Villans 2 Magpies 0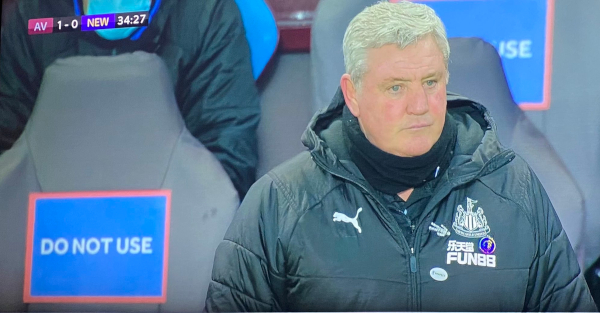 Steve Bruce:
"I have seen enough to be encouraged.

"Yes, we have to accept defeat but there was enough there to work on.

"Unfortunately we've gifted them a goal and after that it was difficult. There were large parts of it I was pleased about. Certainly, the addition of Allan Saint-Maximin and Ryan Fraser.

"That is always the difficult part of the Premier League and we understand that, we have found it difficult to score a goal, but I was encouraged, especially when those two got on the pitch.

"I have seen enough in the squad, having them two back and then a couple more. we are not as injury ravaged. The big players in the team who can score and create a goal for us are getting back.
"We are not alone, there are other teams in difficult runs, it is how we handle it. Keep working hard and that is the only way you will change it. I've been criticised for everything. We won't be entertaining, we don't have enough."

On the rumoured arrival of coach Graeme Jones:

"I canít comment on that. Iíve just finished a game and thereís no comment.Ē

On the absent DeAndre Yedlin:

"Thereís an issue with his visa. Iím not sure quite how quickly it will be resolved, but thereís certainly an issue there. Weíll let you know when heís available.Ē

On the banner outside SJP:

"I am disappointed to hear that."

Bruce's pre-match comments:

Friday brought another Steve Bruce press call with another "shite" comment, and a barely-concealed snipe at his predecessor.
Perhaps the biggest "take" from his words of wisdom though was his line about every manager here in the last 15 years being in the same situation as he finds himself.
Bruce was speaking about negative media coverage and fan reaction, but hit the nail on the head in terms of what makes his achievements or failures immaterial - namely the people he works for....
Asked about an ultimatum from the club hierarchy regarding his future:
"It is absolutely the biggest pile of ***** I have ever heard."
"Yes of course I make mistakes along the way. We are only human, I've been in it and managed nearly 500 games in the Premier League and would like to think that deserves a little bit of respect.

"When you are on a bad run, of course, accept it, but some of the stuff has bordered on being outrageous.

"However, I am big enough to accept it and try to understand and work so we can get out of the bad run we're in.

"Am I alone with the managers at Newcastle over the last 15 years? Hasn't every manager been in exactly the same situation?
"Why (change manager)? What is it going to get you and what is it going to gain? Some of it is unbelievable (media coverage) and maybe people need to change and give the club a little bit of respect rather than always being negative.

"Everything is negative, some has been vile - unless that changes it doesn't matter who will sit here, anybody could. That is why it is so difficult.
"I would ask the question: what do you gauge as success? I gauge success last year as matching Rafa's tally of points, of where we finished, because that's where we are at this particular moment.

"We are in the bottom half of the Premier League and we've been there for the best part of 15 years. What's realistic for where we are? In between eleventh and sixteenth? Is that realistic?

"Can we aim towards the top 10? We're three or four points adrift of that. Would that be an achievement? In my eyes, probably yes.
"We are where we are and we try to keep edging towards where I want to take us, which is probably towards the top 10. I've said that since I've walked through the door.

"At this particular moment, we're four or five points off it and we're on a bad run so it's time to keep working hard and hope things change.

"Rafa, who I have obviously heard a lot of and have the hugest respect for, like all you have, where did he finish? He's a world-class manager.
"Where did he finish? Is that a success? Probably.
"We matched the mighty Rafa last year so we'll try and do as best we can again this year."

Confined to a seat in the stand while serving a one match touchline ban, Dean Smith said:

"I'm really pleased because we've just lost a couple of games away from home against the two Manchester teams and this was one of our games in hand that had been cancelled with the outbreak that Newcastle had.
"So we knew how important it was to continue our consistency in the league this season.
"It was a good, solid performance, certainly first half, second half I thought we overplayed a little bit too much at times.
"But for a final ball, I thought we could have scored a couple more as well.
"But, again, team spirit, work-rate, effort, everything there is there for all to see. Our quality on the ball, I thought we controlled the ball really well.
"Marvelous (Nakamba) has come in for John McGinn and I thought he had an excellent game on the ball.
"I'm really pleased for Ollie Watkins; it always weighs on a forward's mind and it was nice to get an early goal for himself."


Newcastle's winless run stretches to ten games in all competitions, eight in the Premier League. They've taken two points from the last 24 on offer.

This was their fourth consecutive loss in all competitions without scoring and their fourth successive PL defeat.

It's now 398 minutes since Newcastle last scored a goal in league or cup games. They have managed just one goal from open play in 776 minutes; their scoreless run in the PL extends to 278 minutes.

(That latter barren run isn't the longest in the PL since Bruce took charge - his side went 439 minutes last year between Florian Lejeune's second at Everton in January and Allan Saint Maximin's at Southampton in May).


Halfway - 19 games in, last 10 PL seasons:
2020/21 19 points, 16th (scored 18, conceded 32)
2019/20 25 points, 10th (scored 18, conceded 28)
2018/19 17 points, 15th (scored 14, conceded 26)
2017/18 18 points, 15th (scored 19, conceded 29)
2015/16 17 points, 18th (scored 19, conceded 34) (relegated)
2014/15 26 points, 9th (scored 22, conceded 28)
2013/14 33 points, 8th (scored 29, conceded 24)
2012/13 20 points, 15th (scored 23, conceded 30)
2011/12 30 points, 7th (scored 26, conceded 25)
2010/11 22 points, 13th (scored 28, conceded 29)
2008/09 22 points, 12th (scored 25, conceded 27) (relegated)
Toon @ Villa Park - PL era:
2020/21 lost 0-2
2019/20 lost 0-2
2016/17 drew 1-1 og(Elphick) (Ch)
2015/16 drew 0-0
2014/15 drew 0-0
2013/14 won 2-1 Ben Arfa, Gouffran
2012/13 won 2-1 Cisse, Cabaye
2011/12 drew 1-1 Best
2010/11 lost 0-1
2008/09 lost 0-1
2007/08 lost 1-4 Owen
2006/07 lost 0-2
2005/06 won 2-1 Ameobi, N'Zogbia
2004/05 lost 2-4 Kluivert, O'Brien
2003/04 drew 0-0
2002/03 won 1-0 Shearer
2001/02 drew 1-1 Shearer
2000/01 drew 1-1 Solano
2000/01 lost 1-0 (FAC)
1999/00 won 1-0 Ferguson
1998/99 lost 0-1
1997/98 won 1-0 Batty
1996/97 drew 2-2 Shearer, Clark
1995/96 drew 1-1 Ferdinand
1994/95 won 2-0 Lee, Cole
1993/94 won 2-0 Allen (pen), Cole

This was the third senior competitive outing for the purple third kit, after the 1-1 draw at Spurs and 2-5 defeat at Leeds.


Waffle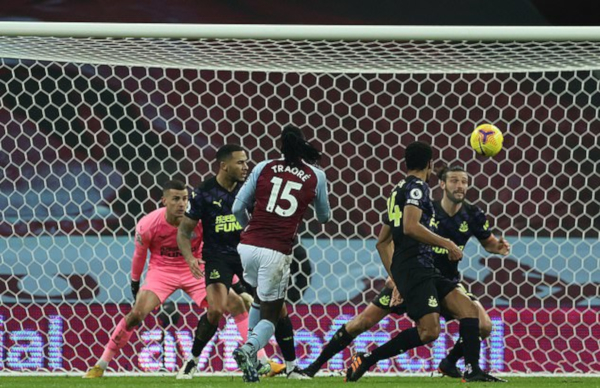 This won't take long - the latest humiliation was only too familiar.....

Newcastle's winless run stretches to ten games in all competitions, eight in the Premier League. They've taken two points from the last 24 on offer.

The Magpes suffered their fourth consecutive loss in all competitions without finding the net and their fourth successive PL defeat.

It's now 398 minutes since Newcastle last scored a goal in league or cup games. They have managed just one goal from open play in 776 minutes; their scoreless run in the PL extends to 278 minutes.

This defeat saw United drop one place to sixteenth, Burnley overtaking them on goal difference. Fulham sit eighteenth, seven points behind with a game in hand. Steve Bruce's side have nineteen points from nineteen games.

Villa were ahead in 13 minutes: Jonjo Shelvey slow to cover as Matt Targett crossed from the left, Fabian Schar's attempted clearance dropping nicely for Ollie Watkins to head home and Karl Darlow making a fruitless attempt to stop him with his head rather than hands.

Watkins then thought he'd shot his side further ahead on 33 minutes but was denied a goal by an offside flag. Villa's second wasn't long in coming though, Jack Grealish pulling the ball back to Bertrand Traore to fire home three minutes before half time, after a corner was only half-cleared.

Accused of being too defensive and urged play further up the field, United thumped hopeful balls towards the Villa box whenever possible - which were then cleared with minimum fuss. There wasn't a plan B.

And that really was that; the Magpies emerged with the same line-up for the second half and their slobbish approach was similarly unchanged; they simply had nothing to offer. Slightly more passes, but just as passive.

The hosts ended what a winless four game run during which their training ground was closed due to COVID, their U23s played in the FA Cup and they had two PL games called off resulting in a 19 day break until the previous Wednesday. Oh aye, and their manager was banned from the touchline. Despite that little lot though, we were the perfect guests.

The belated introduction of wide pair Ryan Fraser and the returning Allan Saint-Maximin upped our energy levels slightly (despite being far from fit following an 11 game absence), but we continued to studiously avoid bringing the home goalkeeper into the game.

It should also be noted that:

Andy Carroll went off at that point having struggled for service from wide areas all night, with the two wing backs chosen unable to provide any acceptable level of crosses.

The unavailability of DeAndre Yedlin due to a work permit issue meant that Javier Manquillo played for the first time since November - it was never established whether he was affected by COVID or not.

Jamaal Lascelles was visibly trying to catch his breath at the finish meanwhile, presumably a legacy of his previous COVID infection.

This shitshow moves back to Tyneside for the visit of Leeds on Tuesday then to Everton next Saturday.

Newcastle United, sauntering to the Championship. Again.


Biffa