Date: Saturday 31st January 2021, 12.30pm
Live on BT Sport

Venue: Goodison Park

Conditions: Enlightened

Programme: £3.50

Everton

Newcastle

0 - 2

Teams
Half time: Toffees 0 Magpies 0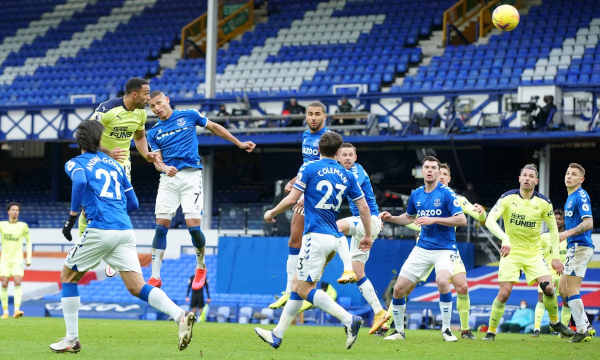 73 mins Jonjo Shelvey's flag kick from the South West corner of the ground found the unmarked Callum Wilson and his perfect header nestled inside the far corner beyond the despairing dive of Jordan Pickford at the Park End. 1-0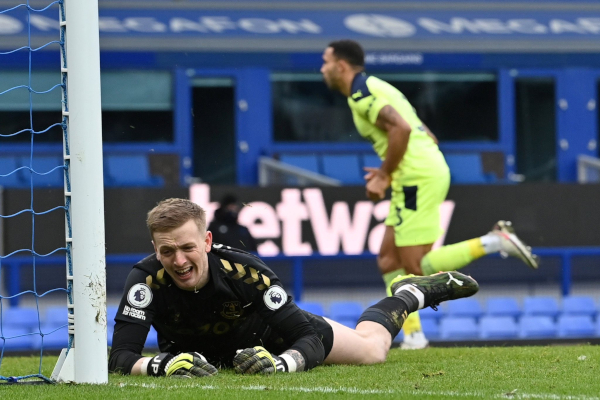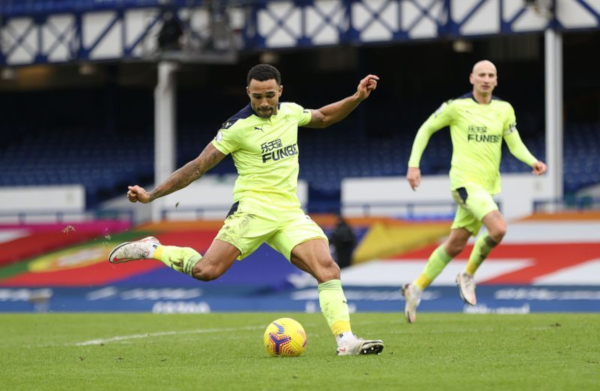 90+3 mins After conceding goals following their own corner kicks recently, the boot was on the other foot this time after Everton won one on their left.

That passed harmlessly across the Newcastle area to the right flank, where Abdoulaye Doucoure tried to return it into the six yard box. That was met with a firm boot out from Isaac Hayden back towards the touchline and in the vicinity of both Jamal Lewis and substitute Allan Saint-Maximin.

The latter reached it as Lewis dashed forward in anticipation of the pass, out-pacing Gylfi Sigurdsson before launching a pass infield with his first touch to Callum Wilson, deep in his own box seconds earlier for the Everton corner.

Unmarked and onside, the striker's initial touch was poor, but he had time to steady himself before lashing right-footed into the far corner of the net and kissing a TV camera in celebration.

Maybe it was the rakish angle of the camera covering the action in the Bullens Road Stand, but there were strong elements of the Terry Hibbitt/Supermac FA Cup Semi-Final goal against Burnley in 1974. 2-0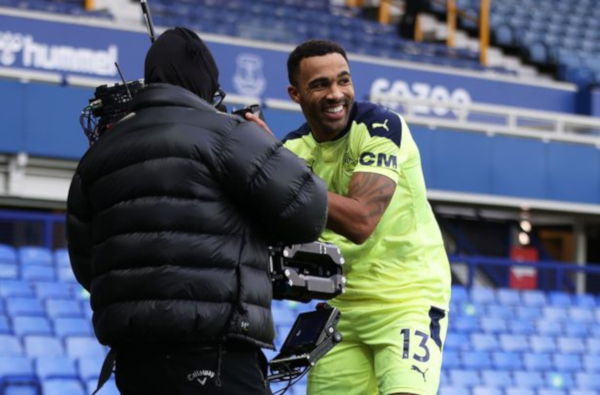 Full time: Toffees 0 Magpies 2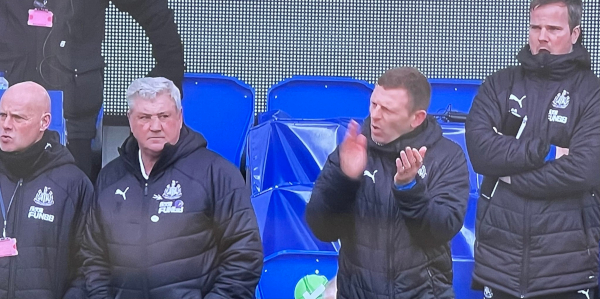 Steve, Steve, Graeme and Steve
Steve Bruce:
"That was more like it today. We've been working on getting on the front foot, getting after the ball better and getting it back higher up.
"I think the players have enjoyed it but you need a result to go with it so today everybody is happy.

"We look far better in terms of personnel available, we've been struggling big style. We've had an awful eight weeks with injury and illness.

"(The tactical change) is something we've been working on for weeks. If you looked at Newcastle in the past year it was sitting deep and hitting on the counter attack.
"I think the players have enjoyed the change, but you need a result to go with it.

"I havenít turned it around now just because of one performance: there were little signs against Villa in the second half and against Leeds the other night.
"I hope if, in time, we stay fit and healthy we will be OK. I was (always) convinced of that.
"We have seen two centre-halves come out of Liverpool and seen the difference. It just shows you need your big players on the pitch and thankfully at the moment we have a far healthier look about us on the pitch.
"What we have found is the lads who have been struggling with Covid is not just fatigue, it is muscle-wise. Of course there is no answer to it because this virus is that complicated but it has left a lot of people fatigued and with muscle problems.
"Hopefully we are over it and certainly a result and performance like that can only help.
"We have nearly got everyone fit but the ones we havenít got are centre-backs. Ciaran Clark has come back in but it looks like Jamaal (Lascelles) will miss a few weeks and we look a bit threadbare in that position."

On transfers:
"I think it will be a busy 48 hours for a couple of clubs and we hope we can do one or two things.Ē

Callum Wilson:

"Itís been a long time coming. "To be honest, weíve needed to pull our fingers out. Weíve shown glimpses but today it all came together, with the result as well.

"Games were going by, we were slipping down the league, we had four or five defeats which is not nice, but today everyone to a man stood up to the challenge.

"I got a brace but Iím disappointed I didnít get a hat-trick. Iíll take the two, but should have had three! It was nice to get a performance for Steve Bruce and for the fans at home."

Former Magpie turned pundit Jermaine Jenas:

(Newcastle were like a) "brand new team today."

Carlo Ancelotti said:

"I think Newcastle won the game because they showed more fighting spirit on the pitch. They showed more concentration, more motivation. They were the weapons we had when we won games Ė spirit, motivation, concentration and ambition.
"I think we forgot all this today at home. I donít know why. But that was the reason, it was not a tactical or physical reason, it was a mental reason. The psychological aspect affected our performance.
"I am surprised. We had a good run until now. We are happy for what we have done.
"We were lazy, we were slow and we were not focused. We gave away 12 corners to them, a lot of throw-ins. We didn't win duels, second balls... this is the game.

"You can only show quality if you are there in this game because the game is about winning duels, second balls, avoiding corners, avoiding throw-ins. We were not on the pitch today.

"The spirit was missing. I was surprised. We have good quality but you can only show that if you show the spirit. Without spirit there is no quality.""

Newcastle ended a winless streak since beating West Bromwich Albion at SJP in mid December that had extended to 11 games in all competitions and nine in the Premier League only.

A first win in 12 meant that Bruce matched the barren run of Rafa Benitez at the start of 2018/19, comprising of ten PL games and one in the cup. Had United not won today, Bruce would have become the first Magpies boss since Richard Dinnis in 1977/78 to go 12 games without victory in a single season (Ruud Gullit's run of 13 spread across the 1998/99 and 1999/00 seasons).

The black and whites had lost the last six in all
competitions and last five in the Premier League only - their longest losing run since a run of eight in the PL between March and May 2015 under John Carver.

The Magpies claimed their first win double of the season, following a 2-1 victory over the Toffees at Gallowgate last November.

They last took six points off the Toffees back in the 2001/02 season. The Blues have three doubles since (2013/14, 2015/16, 2017/18).

This was the first time we've visited Everton on a Saturday since 2010, our most recent success there until today. Since then we've made eight fruitless visits to the blue side of Stanley Park, losing five and drawing three.

Toon at Goodison - PL era:

2020/21 Won 2-0 Wilson 2
2019/20 Drew 2-2 Lejeune 2
2018/19 Drew 1-1 Rondon
2017/18 Lost 0-1
2015/16 Lost 0-3
2014/15 Lost 0-3
2013/14 Lost 2-3 Cabaye, Remy
2012/13 Drew 2-2 Ba 2
2011/12 Lost 1-3 og(Hibbert)
2010/11 Won 1-0 Ben Arfa
2008/09 Drew 2-2 Taylor, Duff
2007/08 Lost 1-3 Owen (pen)
2006/07 Lost 0-3
2005/06 Lost 0-1
2004/05 Lost 0-2
2003/04 Drew 2-2 Shearer (2 pens)
2002/03 Lost 1-2 Robert
2001/02 Won 3-1 Bellamy, Solano, Acuna
2000/01 Drew 1-1 og(Unsworth)
1999/00 Won 2-0 Hughes, Dyer
1998/99 Lost 0-1
1997/98 Drew 0-0
1997/98 Won 1-0 Rush (FAC)
1996/97 Lost 0-2
1995/96 Won 3-1 Ferdinand, Lee, Kitson
1994/95 Lost 0-1 (FAC)
1994/95 Lost 0-2
1993/94 Won 2-0 Cole, Beardsley
This was Newcastle's 121st Premier League away victory, coming in their 490th fixture away from SJP. Six of those 121 came against Everton, with only Aston Villa (8) West Ham (10) and Spurs (10) hosting more Magpie victories. We've also collected half a dozen wins at Boro and Leeds.

Following victories at West Ham and Crystal Palace, Newcastle registered their third away success of the season. All three ended 2-0 after being 0-0 at half time; Callum Wilson opening the scoring on all three occasions.

That third away success of the campaign means that we've exceeded our smallest PL tally of just two wins on the road, recorded in the 2003/04, 2008/09, 2012/13 and 2015/16 seasons.

The Magpies got their first away PL goal after 458 minutes (578 minutes in all competitions) - still some way off the 522 minute PL barren scoring run on the road between February and May 2015.

It's now 11 games in all competitions since Newcastle scored a goal in the first half, something they've managed in just four of their 21 PL outings.

Callum Wilson made it to double figures for the season, after failed to find the net in his previous 639 minutes of PL action. And having ended that barren run with his ninth, the tenth arrived just 20 minutes later.

Moving on to 10 PL goals for NUFC saw him draw level with Leon Best, Paul Kitson and Aleksandar Mitrovic and leapfrog a quartet of players on nine: Faustino Asprilla, Jermaine Jenas, Peter Lovenkrands & Charles N'Zogbia.

All ten of Wilson's goals have come in the second half and we're yet to lose when he has found the net:

West Ham (a) 56 minutes, shot. Won 2-0.
Spurs (a) 90+7 minutes, penalty. Drew 1-1.
Burnley (h) 65 minutes, shot. Won 3-1.
Burnley (h 77 minutes, penalty. Won 3-1.
Everton (h) 56 minutes, penalty. Won 2-1.
Everton (h) 84 minutes, shot. Won 2-1.
Palace (a) 88 minutes, shot. Won 2-0.
Fulham (h) 64 minutes, penalty. Drew 1-1.
Everton (a) 73 minutes, header, Won 2-0.
Everton (a) 90+3 minutes, shot. won 2-0.

Waffle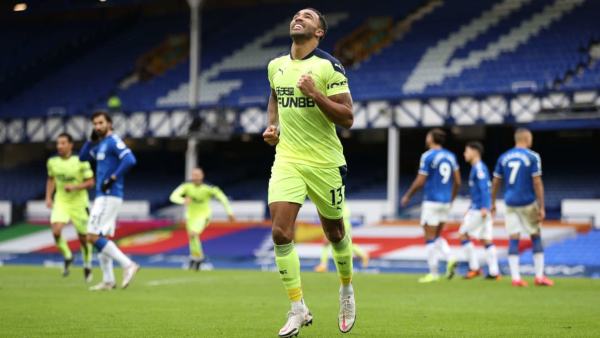 After 49 days in the wilderness and at the twelfth time of asking, Newcastle finally dusted themselves down, rolled up their sleeves and summoned up a long-awaited reaction to their recent run of deserved defeats.

What was 90 minutes away from becoming a dry January ended up as something approaching storm Callum; United's Wilson luxuriating in the service provided to bag a brace and strike the goal frame twice more.

His delightful double brought Steve Bruce's side a first victory at Goodison Park in a decade; an unexpected outcome but one that was thoroughly deserved on the balance of play; the visitors tackling with tenacity, attacking with conviction; passing, rather than passive.

Wilson netted a second half brace to beat the Toffees at Gallowgate last November and repeated the feat here to move into double figures for the season, capping United's most cohesive performance since that game.

There were hints of a more industrious approach against Leeds in midweek and that positivity was immediately evident here, against a uniformly poor Everton side beaten just once in their last eight league games.

Key to that improvement was greater care in possession and a better work ethic when the opposition had the ball - we were far more disciplined and focused than the raggy band at Bramall Lane and Villa Park.

The Toffees went close in the fifth minute when Yerry Mina headed over, but that and a Richarlison shot midway through the first half were rare threats to Karl Darlow's goal and his opposite number Jordan Pickford was to become the busier of the two.

Jonjo Shelvey hit a drive from the edge of the area that deflected narrowly wide, before the England stopper tipped Wilson's header onto the bar from Ryan Fraser's corner on the half hour.

United continued to threaten after the break and Wilson should have buried a chance in the 53rd minute but contrived to place the ball wide.

But with Fraser substituted, Shelvey took a 73rd minute corner that found the unmarked Wilson, who flexed his neck muscles to great advantage to power home a header at the Park End.

It was no more than United deserved and with Everton struggling to reply, Wilson almost doubled the lead two minutes from the end when he rounded Pickford, only to hit the upright from a tight angle.

There was still time for a picture book second before the final whistle though, the revitalised Jamal Lewis scampering to reach a pass from substitute Allan Saint-Maximin and picking out the run of Wilson who sealed the victory.

The only slight blemish was the loss of captain Jamaal Lascelles who was injured and replaced by Ciaran Clark early in the second half. He and Schar maintained their discipline with valuable assistance from the returning Javier Manquillo - who has started each of our last five PL away victories.

New coach Graeme Jones was very visible (and audible) in the dugout and looked as thrilled as anyone at full time. From the outside, it's difficult to measure the impact he has had after a handful of training sessions but something put a spring in our step that just wasn't evident previously.

Though not quite on the level of the season-defining player meeting that followed the 1-6 pre-season loss at Leyton Orient in 2009, it's reported that senior players spoke after the Leeds loss - presumably to reach agreement on something other than how not to drop their barbers in the clarts on social media (Joelinton obviously didn't get the Zoom invitation...)

Elsewhere, West Bromwich Albion and Fulham drew 2-2, extending the gap between ourselves and Scott Parker's side to eight points, although we've played a game more.

A 2-0 victory for Chelsea over Burnley on Sunday saw United advance one place ahead of the Clarets into fifteenth. However, Brighton's 1-0 win over Spurs later the same day saw them move to within a point of the Magpies.

Returning to Tyneside with a victory that few anticipated, United now have the opportunity to earn their second league double of the season by beating Crystal Palace at SJP on Tuesday night.

The Eagles improved their own fortunes with a 1-0 home win over Wolves on Saturday, but present an eminently winnable fixture for Bruce's side.

This is Newcastle United of course, where anything can happen - and frequently does. For once though, the manager and his players answered their critics in the right way today - by deeds not words.

The proof of the pudding....
Biffa