Date: Monday 15th February 2021, 8.00pm
Live on Sky Sports

Venue: Stamford Bridge

Conditions: Inoffensive

Programme: £3.50

Chelsea

Newcastle

2 - 0

Teams
31 mins Timo Werner returned on the Chelsea left after treatment at pitchside for a bloodied lip and took possession. Evading Emil Krafth and getting to the byline, he pinged it into the six yard box at the Shed End.

Karl Darlow pushed it away as Mason Mount closed in. Sadly though, the ball went straight towards home substitute Olivier Giroud and he simply passed it back into the goal. 0-1
39 mins Mason Mount's corner reached the unmarked Timo Werner at the back post and he hooked the ball home to end his own personal 1,000 minute PL drought - Lewis seemingly unaware of his presence. 0-2
Half time: Blues 2 Magpies 0

Full time: Blues 2 Magpies 0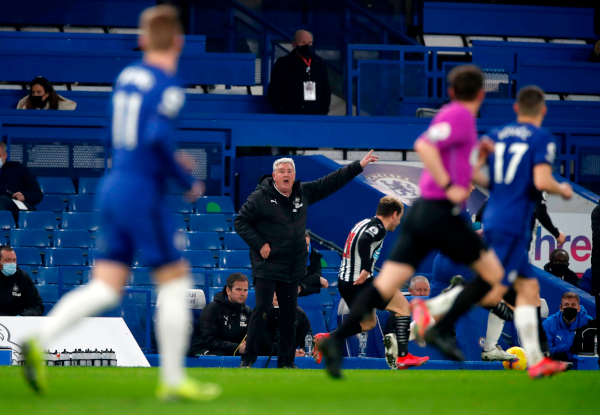 Steve Bruce:
"Whether we were passive or just didn't come to terms with them well enough. We knew how they would set up, but they caused us problems and we found it a struggle in the first half.

"We changed it at half-time and we did better. We got after them better and right from the off in the second half there was more intent.

"Set-pieces was a problem for us in the first half in particular. They had too many first contacts so it's something we'll have to look at.

"There were a few positives in the second half and there will be times where we'll get unstuck. I was far happier with the way we went about the second half.
"There's that many teams involved at the bottom so I don't know how many points it will take. There are six or seven teams looking over their shoulder but if we show the resilience of the last month or two, we'll be OK.

"With 10-15 minutes to go we can ask a question?

"We're disappointed with the first half if I'm being brutally honest, (but) we got back in the game in the second half.
"Defending you leave yourself a bit exposed, with the pace of Timo Werner and Callum Hudson-Odoi and Tammy Abraham up the top - they're top class players.
"You have to get that balance right and we're still working on that.

"We've been hit with COVID, illnesses and injuries but it's all part and parcel of this season.
"All teams are struggling with all the games we're playing (NUFC had a nine day fixture break before Chelsea) and we've just got to keep going.

"I expect fight from us, there's six, seven or eight teams in the bottom half with a long way to go and lot of games to play.
"If we show that spirit like we did in that second half we'll be alright."

Thomas Tuchel said:

"I liked the first half. We played with courage and a lot of purpose in the box. We had a lot of shots and managed to keep them away from our box. I liked that a lot.

"Our decision-making in the box can be more deadly, more precise, more decisive. The second half, we gave away shots, lost duels, suddenly there were corners against us. We played too many balls back.

"We did not keep the advantage to put the game into the opponent's half. Our counter attacks were also not clinical enough to score a third goal and finish the game.

"We knew if we got results this could be on the step for us. If we won today, we knew we'd be in the top four. But I can only tell everybody there's still a long way to go.

"Many teams are very, very close. There's a lot of big games to play and many points to win.

"Now for me it's important we take two days off and recover mentally and physically and then prepare 100% for Southampton, it's the next challenge.

"We play in the most difficult league in Europe. But right now it's the next fixture. We will never stop pushing, there's no other way."

About Jamaal Lascelle's tackle on Tammy Abraham:

"There's no update yet on Tammy, but we needed to take him off after a hard tackle. So, we are worried, but there's no news of him.

"My assistant tried to show him (referee Peter Bankes) the tackle on the iPad and he told us he was not allowed to talk to us. It was the tackle, but we didn't know he wasn't allowed to watch. So okay, we didn't realise that.

"We had the feeling it was a reckless tackle.

"He (Lascelles) played the ball, yes, but for me, it's too much of a risk to an injury to the opponent. And because of that for me, it's a foul.

"It's reckless, but okay it was not like us to criticise, just to discuss with the officials."

NUFC after 24 games - selected PL seasons:
2008/09: 24 points, 15th, GD -10
2015/16: 21 points, 18th GD -19
2017/18: 23 points, 15th, GD -12
2018/19: 24 points, 14th, GD -11
2019/20: 30 points, 13th, GD -12
2020/21: 25 points, 17th, GD -15
This was United's seventeenth successive Monday evening game in the Premier League away from SJP. A pathetic five points from a possible 51 have come from that sequence; a victory at Burnley during November 2018 plus draws at Wolves in February 2019 and at Brighton last July.

We've failed to score in 13 of those 17 games, including all of the last five:
Dec 2012 Wigan Athletic (h) won 3-0
Dec 2012 Fulham (a) lost 1-2
Aug 2013 Manchester City (a) lost 0-4
Sep 2013 Everton (a) lost 2-3
Apr 2014 Arsenal (a) lost 0-3
Sep 2014 Stoke City (a) lost 0-1
Apr 2015 Liverpool (a) lost 0-2
Sep 2015 West Ham (a) lost 0-2
Mar 2016 Leicester City (a) lost 0-1
Oct 2017 Burnley (a) lost 0-1
Apr 2018 Everton (a) lost 0-1
Nov 2018 Burnley (a) won 2-1
Feb 2019 Wolves (a) drew 1-1
Apr 2019 Arsenal (a) lost 0-2
Nov 2019 Aston Villa (a) lost 0-2
Jul 2020 Brighton (a) drew 0-0
Jan 2021 Arsenal (a) lost 0-3
Feb 2021 Chelsea (a) lost 0-2
Toon @ Stamford Bridge: PL era:
2020/21: Lost 0-2
2019/20: Lost 0-1
2018/19: Lost 1-2 Clark
2017/18: Lost 0-3 (FAC)
2017/18: Lost 1-3 Gayle
2015/16: Lost 1-5 Townsend
2014/15: Lost 0-2
2013/14: Lost 0-3
2012/13: Lost 0-2
2011/12: Won 2-0 Cisse 2
2010/11: Drew 2-2 Gutierrez, S.Taylor
2010/11: Won 4-3 Ranger, R.Taylor, Sh.Ameobi 2 (LC)
2008/09: Drew 0-0
2007/08: Lost 1-2 Butt
2006/07: Lost 0-1
2005/06: Lost 0-1 (FAC)
2005/06: Lost 0-3
2004/05: Lost 0-4
2003/04: Lost 0-5
2002/03: Lost 0-3
2001/02: Lost 0-1 (LC)
2001/02: Drew 1-1 Acuna
2000/01: Lost 1-3 Bassedas
1999/00: Lost 0-1
1998/99: Drew 1-1 Andersson
1997/98: Lost 0-1
1996/97: Drew 1-1 Shearer
1995/96: Drew 1-1 Ferdinand (FAC)
1995/96: Lost 0-1
1994/95: Drew 1-1 Hottiger
1993/94: Lost 0-1

Olivier Giroud netted his ninth goal against Newcastle, the previous eight having come when playing for Arsenal. At one point that stat read played six, scored eight but tonight's goal ended a barren run of seven games.

Giroud has won now 13 of 14 games against United - the sole blemish being a 0-3 loss at SJP with Chelsea in May 2018 (he wasn't in the matchday squad for last season's 1-0 victory by Newcastle on Tyneside).

Waffle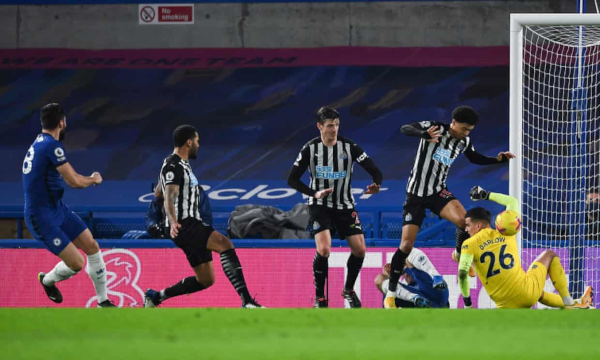 To nobody's great surprise, Monday saw Newcastle leave Stamford Bridge empty-handed for the ninth successive time in league and cup competitions.

Two first half goals put the hosts firmly in the driving seat, but before that Thomas Tuchel was never in remote danger of losing his unbeaten record as Chelsea boss against a side who offered absolutely nothing in front of goal until the game was well beyond them.

The opening goal arrived just after the half hour mark, Timo Werner returning on the Chelsea left after receiving treatment at pitchside for a bloodied lip received in an accidental clash with Jamal Lewis.

Picking up possession, the striker evaded Emil Krafth and took the ball to the byline before pinging it into the six yard box at the Shed End, where Karl Darlow pushed it away as Mason Mount closed in.

Sadly though, the ball went straight towards home substitute Olivier Giroud - on for the ailing Tammy Abraham - and he simply passed it back into the goal.

0-1 became 0-2 eight minutes later, when Mount's corner reached the unmarked Werner at the back post and he hooked the ball home to end his own personal drought - Lewis seemingly unaware of his presence.

On a night of few positives for a Magpies side beginning an extended period without top scorer Callum Wilson, they at least managed not to add to their injury tally and avoided cards of either colour. In that regard, Jamaal Lascelles was fortunate to avoid censure for a push on Werner in the area.

Apart than that though there was little solace, save for Chelsea's apparent contentment with their goal tally in a second half that began with a brief flurry of away goal efforts but drifted off to an inevitable conclusion.

Ahead of Sunday's equally daunting trip to Old Trafford, attention now switches to Burnley on Wednesday, when Fulham play their game in hand knowing that victory will leave them just four points behind Newcastle.

The Cottagers then host basement dwellers Sheffield United on Saturday night, before we return to action at Manchester United a day later. At the time of writing it's arguable that the Manager with most influence over whether we stay up or go down is Scott Parker, not Steve Bruce.

Our destiny will be decided in the games after that though, when picking up points becomes potentially more achievable - although giving them to the other team becomes potentially more destructive.

Fashioning an effective formation without Wilson remains vital, but such was our meagre output tonight that the top scorer would have looked as forlorn and frustrated as Dwight Gayle did here in his first start since July.

After the recent upturn in results, this was an uncomfortable reminder of too many games this season when we've neither contained nor threatened the opposition - and ended up empty-handed.
Biffa