Date: Sunday 21st February 2021, 7.00pm
Live on BT Sport

Venue: Old Trafford

Conditions: Familiar

Programme: £3.50

Manchester United

Newcastle

3 - 1

Teams
30 mins Harry Maguire sprayed a pass out to Marcus Rashford on the left flank and he nut-megged Emil Krafth before advancing and pinging a shot between Karl Darlow and his near post at the Stretford End. 0-1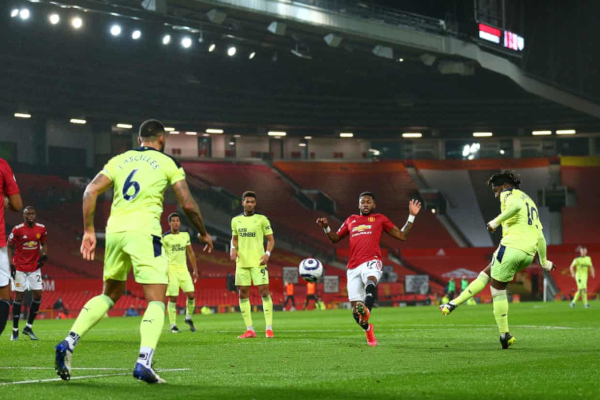 36 mins Miguel Almiron's short corner down the Newcastle right was played to Jonjo Shelvey, who swept over a cross that Aaron Wan-Bissaka headed away and Allan Saint-Maximin collected.

Heading back goalwards, the Frenchman tested De Gea with a shot from the edge of the box that was fisted over for another flag kick.

This time the roles were reversed and Shelvey laid it for Almiron, who then played a short pass to Joe Willock on the right hand edge of the box. His looping cross was headed out by Harry Maguire but Allan Saint-Maximin was on hand to drive a first-time shot into the ground from 10 yards that flew into the roof of the net. 1-1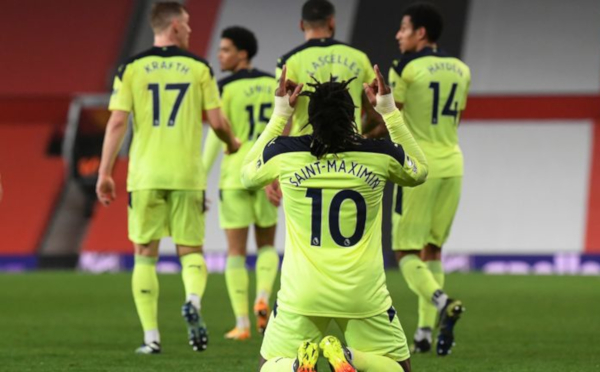 Half time: United 1 United 1

57 mins Nemanja Matic took possession on the left hand corner of the Toon area and looked set to push the ball out to an overlapping team mate before pivoting and heading infield.

His casual flicked ball across the area brushed off Bruno Fernandes on the penalty spot and that was enough to take it past the covering Jamal Lewis. Ending up at the feet of the unmarked Daniel James. He took a touch before promptly firing between the advancing Darlow and his near post. 1-2
75 mins Marcus Rashford tumbled dramatically in the box upon contact with Willock; Karl Darlow unable to deny Bruno Fernandes from the spot as he had at SJP the previous October. 1-3
Full time: United 3 United 1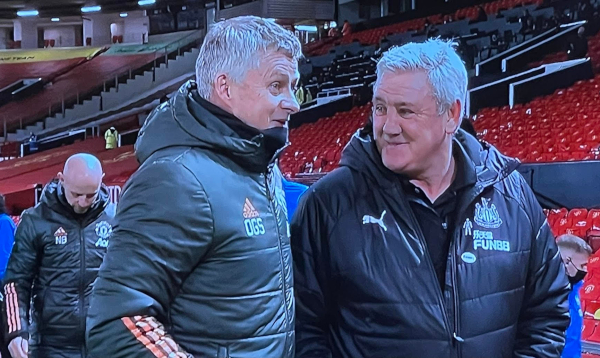 Steve Bruce:
"Fulham have had a good week and won a couple of games, which at the bottom end of the table is big.

"My message to the supporters is that I'm convinced we'll be OK. Of course fans don't want to see their team at the wrong end of the table, I understand that totally.

"We have a unique fan base which makes us the club we have got, and of course they are anxious.

"It has been a difficult week, but we have games coming up where we think we can take points. We are a threat now, we are trying to be higher up the pitch. It will take some getting used to because we have played a certain way for a while.

"I am convinced we will be safe, there are six or seven teams looking over their shoulders. We need to win a few games - we have to get to that magical point mark whatever it is.

"He (Karl Darlow) will be disappointed because he's been beaten at his near post. I haven't seen that one back but we'll analyse it and have a look at it with him.
"The response has been good, we've been very, very decent performances of late but the thing is you need some results.
"We've had a difficult week in terms of Chelsea and Man United away, we've got some games coming up that we think we can pick up points.
"It's the second goal, isn't it? It got a wicked deflection and they got that little bit of luck you need.

"The third one I've just looked at the penalty and we've got VAR and it looked soft.
"For 60 minutes we gave as good as we got but that second goal was the one. We were a bit disrupted when we lost Joelinton. He was struggling after half an hour and it was difficult to replace him.

"I was pleased for an hour but when you're coming here you've got to be good for 90 minutes. There were some pleasing signs but you've got to turn them into a few results."

Ole Gunnar Solskjaer said about his side's title chances:

"I am never going to say it's done until it's done. We have seen so many examples of teams that have hung in there, have kept working and have kept doing their own jobs. Something might happen. It's not something we think about - we just think about our own performances.

"That's the only thing we can control. We have got loads to play for, and as a team we've got loads to improve on.

"To build momentum by going on the pitch and playing well is important. We have had a couple of setbacks in West Brom and Sheffield United where I can sit here and explain why we did not get the points we deserved but that's not what I want to do. For me, the boys are really focused.

"We have been good at recovering mentally and physically. It's not easy playing Thursday night and coming back here. Maybe that's why we needed 45 minutes to get going."

About Shola Shoretire:

"He is a boy we believe in. We wanted to give him a little taste of it. Of course the game was not done, still another six or seven minutes but he is a boy we believe in.

"Shola has been training with us now for a while and he's done really well. It was the next step up for him.
"We felt, of course in the transfer window last time, we let a few players go out on loan, which made the path for him shorter and I'm sure he'll remember his five or six minutes on the pitch tonight.
"It's in our DNA, it's what we do at Man United and it's important that our kids know that when they're good enough, they're old enough."
Solskjaer was in unfamiliar company on his bench, COVID isolation meaning that coaches Mike Phelan, Michael Carrick, Kieran McKenna, Richard Hartis and Craig Pawson were all absent.

Stepping in from the Red Devils' Academy were Mark Dempsey and former Magpie Nicky Butt. Third choice goalkeeper Lee Grant meanwhile warmed up the two custodians in the squad.

As for Shoretire, some clarification as to his slightly confusing origins was provided by the Mail newspaper. who assert that he was born at North Tyneside General Hospital of Nigerian parents (some sources had claimed that he was born in Nigeria).

Shoretire briefly trained at the Newcastle United Academy around the age of seven* but left when the family relocated to the North West in order for him to link up with the Manchester City Academy.

* he also reportedly played at Wallsend Boys Club, Hebburn Town, Cramlington Juniors and Red House Farm.

However he left City after they found out about a trial with Barcelona, Shoretire instead joining Manchester United, where he signed his first professional contract this month after turning 17.

He's the second-youngest Manchester United player in PL history after Angel Gomes and the seventh-youngest in competitive games - David Gaskell the youngest in a list also includes Duncan Edwards and Norman Whiteside.

Allan Saint-Maximin scored his second goal of the season and sixth in all competitions as a Magpie (five in PL).

That was Newcastle's eleventh goal away from SJP in 13 PL games this season and only the second in the opening 45 minutes (along with Jeff Hendrick's 26th minute effort at Leeds in December).

Magpies v MUFC @ Old Trafford - PL era:

2020/21 lost 1-3 Saint-Maximin
2019/20 lost 1-4 M.Longstaff
2018/19 lost 2-3 Kenedy, Muto
2017/18 lost 1-4 Gayle
2015/16 drew 0-0
2014/15 lost 1-3 Cisse(pen)
2013/14 won 1-0 Cabaye
2012/13 lost 3-4 Perch, og(Evans), Cisse
2012/13 lost 1-2 Cisse (LC)
2011/12 drew 1-1 Ba(pen)
2010/11 lost 0-3
2008/09 drew 1-1 Martins
2007/08 lost 0-6
2006/07 lost 0-2
2005/06 lost 0-2
2004/05 lost 1-2 Ambrose
2003/04 drew 0-0
2002/03 lost 3-5 Bernard, Shearer, Bellamy
2001/02 lost 1-3 Shearer
2000/01 lost 0-2
1999/00 lost 1-5 og(Berg)
1998/99 drew 0-0
1997/98 drew 1-1 Andersson
1996/97 drew 0-0
1995/96 lost 0-2
1994/95 lost 0-2
1993/94 drew 1-1 Cole

Waffle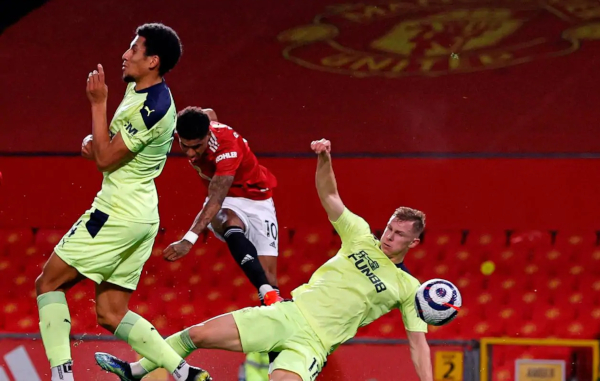 There may not have been any fans inside Old Trafford, but Newcastle's latest visit there on Sunday evening unfolded in a manner only too familiar to those routinely inhabiting the visiting section.

Making a far more positive start than Chelsea a week earlier, the visitors fashioned a couple of early half-chances as the hosts looked out of sorts.

Reality intervened on the half hour mark though when Marcus Rashford came to life; nut-megging right back Emil Krafth before advancing to ping a shot between Karl Darlow and his near post.

Undaunted by that setback though, Steve Bruce's side continued to try and threaten the hosts through set pieces - and were level just six minutes later.

Allan Saint-Maximin's shot was tipped over by David De Gea at the cost of another corner and when Harry Maguire headed Joe Willock's cross away, Saint-Maximin was on hand to finish well from 10 yards.

Level at the break, there seemed little doubt that the home side would rouse themselves after the restart while the approach of Newcastle was less certain.

"All to play for" posted NUFC's official twitter feed as the second half began. Sadly that message wasn't echoed by the visiting team as an all-too predictable grim away display unfolded.

The Magpies were forced to regroup following the loss of Joelinton, but were ineffective and unthreatening before the unmarked Daniel James fired his side ahead just before the hour - the ball that reached him taking a fortunate deflection as it crossed our area.

Showing no indication that a second equaliser was remotely within their power, a decisive two goal advantage was then opened on 75 minutes; Rashford tumbling dramatically in the box upon contact with Willock; Darlow unable to deny Bruno Fernandes from the spot as he had at SJP.

And that really was that. Maybe not the battering that some had feared - and with the fleeting illusion of competence that an equaliser brought.

However, that was soon tempered by the realisation that the victors had successfully emulated Chelsea a week earlier by defeating us with one hand behind their backs.

We now move on to the supposedly "winnable" games against Wolves, West Brom, Villa and Brighton - although we failed to collect maximum points from any of the corresponding trio last season.

In the real world not populated by media sycophants, there's little confidence that we'll survive through our own efforts - and that the path to temporary salvation lies only in the shortcomings of other sides.

We have the opposite of a spine - with doubts over the effectiveness of each department; be it the fading Darlow, the problematic right back slot, the ailing but seemingly undroppable Shelvey or a hint of any tangible replacement for the goals and assists of Callum Wilson.

The logic-defying pronouncements of the manager hardly breed confidence either - more and more reminiscent of Steve McClaren by the game.

Suspicions remain that Bruce's roadmap to recovery is upside down if "six or seven teams" really are looking back over their shoulders as he claims. They're seeing points there for the taking.

That old pantomime line "it's behind you" - with "it" being eighteenth-placed Fulham - feels rather more accurate. Aware of their plight as a club and active in the January market, the Cottagers are also fighting to turn things around on the field, grinding out points and reeling us in.

Contrast that with the tedious farce that is this football club; the perpetual absence of leadership or appreciation of the woeful situation we're in, characterised by the smug fraud content to be the public face of it.

Nowhere else would this be tolerated.


Biffa