Date: Saturday 28th February 2021, 8.00pm.
Live on Sky Sports

Venue: St. James' Park

Conditions: Afflicted







Newcastle

Wolverhampton Wanderers

1 - 1

Teams
Half time: Magpies 0 Wolves 0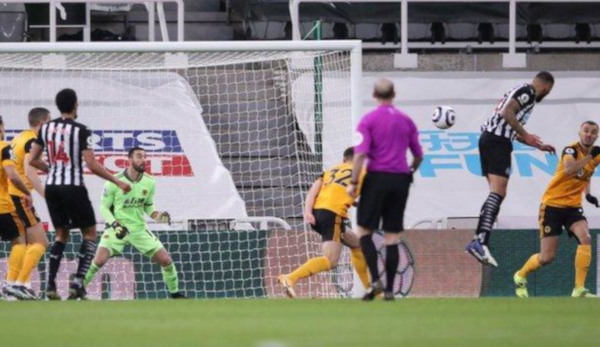 52 mins Allan Saint-Maximin's refusal to give up despite overwhelming odds on the left hand side of the Wolves box saw him twist and turn and cross a ball which reached Ryan Fraser. The substitute sent over a fine cross that Jamaal Lascelles rose to head down and in at the Gallowgate End. 1-0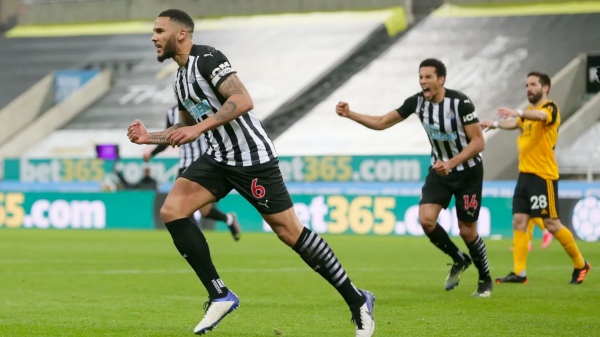 73 mins Wolves broke down the right and Pedro Neto lost Jamal Lewis before crossing for Ruben Neves to head beyond Martin Dubravka - although he got a hand to it and should have kept it out. The personnel change just seconds earlier was also crucial; Hayden not getting the instructions via the arriving Ritchie to occupy a defensive position and crucially standing off Neves. 1-1
Full time: Magpies 1 Wolves 1
Steve Bruce said:
"We're disappointed because we had the big chances.

"They had a couple at the death but in the first half we've had three wonderful chances and then one with Joelinton with 10 minutes to go.
"It's the same story, if you create chances but don't take them, in the Premier League you'll get punished.
"We should stop the cross and I think the goalkeeper will think he could have kept it out. He's made a great save at the end, but I know he'll be disappointed with the goal.

"The instructions Matty (Ritchie) didn't get on to the team quick enough on how we were doing it. When you look at the (Wolves) goal, we should have stopped the cross. That was a frustration for all of us, but we'll have to concede that one and make sure our instructions (get on). We'll do it from the sideline (in future).

"I've been quite pleased with how we've gone about our work. I've enjoyed watching us play today but disruptions and injuries to our big players is the biggest concern. For Miggy (Almiron) to be upset like he is, we fear the worst.
"We're going to have to find a way (to win without Callum Wilson, Almiron and Allan Saint-Maximin). Our top goalscorer last year (Jonjo Shelvey) only scored six goals and we managed to find a way and get some results.

"There's still a long way to go: everybody in the bottom half will be looking over their shoulder. It's an accumulation of points that matters so let's take the positives."

Nuno Espirito Santo commented:

"I'm disappointed with the way we conceded in the second phase after a set-piece. It's something we have to look at because honestly, I felt that we were in the game, we started well in the second half.

"In the first half, Newcastle started really strongly, created some problems but I think after the team settled down, we controlled the game. We played well and had chances in the last push [at the end of the second half], but the way we conceded was disappointing from our point of view.

"But I think we did well and the reaction of the boys was amazing after the goal. They kept playing, kept searching for the spaces and achieved a very good goal from Ruben.

"We had many situations in the box that required better finishing, but we will keep on working.

"The expectations are always very high because I honestly think we have very talented players that can do very beautiful things so our expectation is to reach that high standard.

"But we have to be aware that the attitude to do so is here so I believe it will come with a bit more time and try to achieve this consistency in the game and the competition."

Conceding a goal meant that Newcastle were again unable to record back to back home wins in the Premier League, something that they last managed in

Jamaal Lascelles scored his seventh Premier League goal for the club and like the sixth, it came against Rui Patricio and Wolves at SJP. That takes him level with Matt Ritchie and ex-Magpies Jonas Gutierrez, Carl Cort, Mark Viduka and Stephen Glass.

Although he appeared in the FA Cup against Arsenal in January, Martin Dubravka played his first Premier League game since the season-closer at home to Liverpool in July 2020.

Home comforts? NUFC home games still to play:
(last season score in brackets):

Aston Villa (drew 1-1)
Spurs (lost 1-3)
West Ham (drew 2-2)
Arsenal (lost 0-1)
Manchester City (drew 2-2)
Sheffield United (won 3-0)

Wolves in Toon - last 10:

2020/21 drew 1-1 Lascelles
2019/20 drew 1-1 Lascelles
2018/19 lost 1-2 Perez
2016/17 won 2-0 Ritchie, Gouffran (LC)
2016/17 lost 0-2
2011/12 drew 2-2 Cisse, Gutierrez
2010/11 won 4-1 Nolan, Shola Ameobi, Lovenkrands, Gutierrez
2003/04 drew 1-1 Bowyer
1992/93 won 2-1 Kelly 2
1991/92 lost 1-2 og(Madden)

Since a 2-1 success for Wolves at Gallowgate in 2018 we've drawn five successive games against them:

2020/21 drew 1-1 Lascelles (h)
2020/21 drew 1-1 Murphy (a)
2019/20 drew 1-1 Lascelles (h)
2019/20 drew 1-1 Almiron (a)
2018/19 drew 1-1 Hayden (a)

(we managed a run of three 1-1 draws with Wolves from 2003-2010)



NUFC after 26 games - selected PL seasons:

2008/09 28 points, 14th, goal difference -9
2015/16 24 points, 18th, goal difference -22
2017/18 25 points, 16th, goal difference -12
2018/19 25 points, 16th, goal difference -12
2019/20 31 points, 13th, goal difference -16
2020/21 26 points, 17th, goal difference -17

Waffle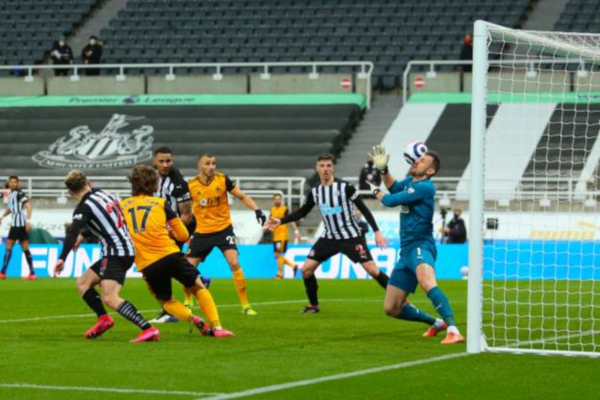 Amongst the flowery pre-game comments from Steve Bruce was a reference to reaching the crux of the season, but on the evidence of tonight the Newcastle Manager may have actually meant crutch.

Having lost Javier Manquillo, Callum Wilson and Fabian Schar to injury during the last home game, another trio of players limped out of the action here - including both of our main creative threats.

Miguel Almiron failed to appear for the second half due to a knee injury and groin strain victim Allan Saint-Maximin joined him in the dressing room just after the hour; Emil Krafth then unable to continue with a shin complaint.

Those absences required various on-field alterations and although one was successful as replacement Ryan Fraser crossed for Jamal Lascelles to head his side ahead, momentary confusion during a further reshuffle costing the hosts a clean sheet.

As a consequence, the points were shared between these two sides who scored a goal each against each other for the fifth time in succession - an outcome that does little to alleviate the current state of fear on Tyneside.

Leading through that Lascelles effort seven minutes after the break, United's first stalemate in 11 games came when the recalled Martin Dubravka faied to block a Ruben Neves header 17 minutes before the end.

Going into this game following back to back away defeats at Chelsea and Manchester United, the black and whites began brightly and did everything but score in the opening half hour.

Isaac Hayden headed at Rui Patricio and the visiting 'keeper then blocked to deny Joelinton, but the clearest chance saw Almiron drive into the box from the right before striking the base of the far post with his 12th minute shot.

Saint-Maximin then knocked the ball into the unguarded net after Joe Willock had seen his shot bounce back off Rui Patricio in the 24th minute, but an offside flag correctly penalised the scorer.

At the other end, Dubravka was called into action, pushing Adama Traore's 32nd minute header onto a post and Wolves came more into the contest from then - the ex-Boro winger starting to tease and torment right back Krafth.

Scoreless at the break, Ryan Fraser replaced the ailing Almiron and took just seven minutes to send over a fine cross that Lascelles rose to head down and in at the Gallowgate End.

Sadly though that was as good as it got, ASM's night ending ten minutes later and his side momentarily a man short after replacement Jacob Murphy sauntered on.

Newcastle struggled to retain possession from that point and thus encouraged, Wolves broke down the right and Neto lost Jamal Lewis before crossing for Neves to head beyond Dubravka.

The arrival of Ritchie seconds earlier and some confusion over reshuffling the side looked costly - a situation not unlike that which befell Jetro Willems at home to Arsenal in Bruce's first game. Comments from Lascelles post-match backed up tonight's apparent lack of clarity.

Without fashioning clear-cut chances, the visitors looked more likely to find a winner but a golden opportunity was squandered by United in the 81st minute.

Murphy jinked his way into the Wolves box from the right before pulling the ball back to Joelinton on the penalty spot. His first-time effort was towards the middle of the goal but had eluded Rui Patricio - only to then glance off Romain Saiss as he ran behind his own 'keeper.

Five minutes of additional time then saw Dubravka earn his side a point, although replays showed that a block to deny substitute Fabio Silva from close range was off his collar bone rather than a fist.

Had birthday boy Callum Wilson been fit enough to play tonight, his side would surely have collected three points not one. In his absence - and even before the latest crop of knocks - goalscoring remains a worry.

Amidst the frustration of being unable to retain a lead and the concerns over that mounting sick list, there were positives to be taken from this overall display. Chances were at least made, if not taken (although Willock will curse the fact he couldn't connect properly with that first half chance before ASM's offside rebound).

The stark reality though is that there's now one less game in which to collect one of the victories that we desperately require to survive - and the pressure on Bruce & Co. has gone up another notch, or several if the Almiron injury is as bad as first feared.

(On that particular subject, were the injury not too serious, but sufficient to prevent Miggy from linking up with Paraguay in March, then that would at least solve the looming quarantine issue).

Bruce's man management skills were also under scrutiny again here; blaming Ritchie for the second half miscommunication and undermining Dubravka on his return - having already acted poorly over Darlow's dropping by tipping off press pals at the start of the week before the player was informed.

Add that to the continual rumours swirling around about disputes with squad members currently out of favour and it's a pretty unedifying picture all round.

Sympathy won't keep us up and every relegated side has a hard luck story. This remains a looming catastrophe; the stench of decay lingers on - and our fate increasingly looks to be in the hands of those around us, notably our former boss at the Hawthorns next Sunday.


Biffa