Date: Sunday 7th March 2021, Noon
Live on Amazon Prime

Venue: The Hawthorns

Conditions: Anxious

Programme: £3.50

West Bromwich Albion

Newcastle

0 - 0

Teams
Half time: Baggies 0 Magpies 0

Full time: Baggies 0 Magpies 0
Steve Bruce:
"I was delighted with their attitude and spirit. We showed a real desire to get something out of the game. In terms of the problems we have had, in terms of injuries not rows, it was important.

"That little bit of quality at times we lacked a bit, but that is what you pay money for. Where we have invested over the last few months, unfortunately they are all injured.

"We have been hamstrung a bit with (missing) big players at the top end of the pitch. For their effort and attitude I could not ask for anything more. With Newcastle, things seem to get blown out of proportion. Rows happen every other day at every other club up and down the country.

"We hope we can pick up enough points but we have shown signs we are doing OK after a dismal run of games. We are disappointed we didnít win but the one thing which was vitally important was we didnít get beaten, with the problems we have had over the past five or six days and more importantly the injuries.
"The reason why we got a point was the togetherness and attitude. We lacked a bit of quality but without the big players the team had to roll up their sleeves and take a point if thatís what it was going to be.

"I think it was important not to disturb the shape that weíve been playing in the last six weeks or so. The players are getting used to the way we want to play, so I thought it was imperative we stuck with that.
"Joe (Willock) has played as a No.10 on many occasions through his career at Arsenal, so with the problems we have, it was simply a case of trying to find a way of winning the match and not disrupting the way we have been playing too much.

"If we had played Andy (Carroll) and Dwight (Gayle), then weíd have to change the whole set-up, and I donít think we had time to do that.
"Weíre getting used to playing in a certain way, itís the way I want to play, but unfortunately, having come up with the system, weíve been struck down by the loss of Almiron, Callum (Wilson) and Allan (Saint-Maximin).
"Itís been very difficult to try to replace them.Ē

Sam Allardyce said:

"If you look at what the lads put in here on Thursday night...Newcastle didn't have a game at all. I don't think we got fairly treated by the Premier League, throwing this game in and us having to play at 12 o'clock. We need fresh legs. Maybe that might have been the difference between us scoring and not scoring but, obviously, we can't change that.

"Even though the lads gave a brilliant performance, in terms of how they showed their fitness, they would have been an awful lot fitter than they were had they not played on Thursday.
"If we could have had this fixture on Monday or even if we had this fixture at 8 o'clock tonight (Sunday), we would be that bit fresher. (The result is) not enough obviously but we have to carry on trying to win games of football when they come round.

"We have to win the next game to stay alive. If we donít win the next game, everybody will be saying itís not mathematically impossible, but weíll eventually get to a stage where we have to win every game thatís left. We all know what would be nothing short of a miracle if that happened.
ďIt is possible, it could be done, but it would need a humungous effort to achieve it. We have slipped up so many times when it comes to not converting our overall performance into three points.
"We should have four more wins, that would have been 12 points and thatís not including the Everton game. We could easily be sat on 27 points based on our performances. Itís not pie in the sky, we have been in the better positions than the opposition to win games but we failed to do so.
ďI sound like a record where the needle is stuck: I look back at the chances we missed in the last four or five games. We had plenty of opportunities to see Newcastle off which we didnít take.
"It was another big one like Brighton because we had the chance to catch three points up on Steveís Newcastle. Weíre very close to turning it the other way, rather than going backwards for me. The lads have to stay confident and keep believing.
ďA lot of our final ball wasnít as good as we wouldíve liked.We didnít really hit the target enough against Newcastle, despite being better against them.
"Youíre hearing me talk about the same things the Albion fans have heard me talking about for the last four or five games.
"Itís massively disappointing. We should have won the game and taken an extra two points.Ē
"The players need to keep their chins up and play like they are playing. The only thing missing is converting the chances we create - we have got the defensive side of it spot on now.

"We certainly had enough chances to accumulate 12 points in the last few games and not just four. We have been so close yet so far. That is the story of everything.

"All I can say about my team is I couldn't ask for more. The only thing I really needed was someone to put their mark on the quality of their finishing, whether it be a header or a shot.
"We had plenty of opportunities, plenty of chances in the final third, but, unfortunately, no conversion."



Newcastle kept their first clean sheet in six attempts and only their second in 13 PL and FA Cup games in 2021. Despite that though, the Magpies are

NUFC after 27 games - selected PL seasons:

2008/09 28 points, 15th, goal difference -10 (relegated, 34 points)
2015/16 24 points, 19th, goal difference -23 (relegated, 37 points)

2017/18 28 points, 13th, goal difference -11 (finished 10th, 44 points)
2018/19 28 points, 15th, goal difference -10 (finished 13th, 45 points)
2019/20 31 points, 14th, goal difference -17 (finished 13th, 44 points)
2020/21 27 points, 17th, goal difference -17 (???)

In addition to being the first anniversary since fans were last allowed into PL grounds, it's five years this week since Steve McClaren exited from SJP.

His dismissal came after collecting seven points from 10 games - this point took Bruce on to eight points from 10 games. Chris Hughton was dispensed with having taken 12 points from his final 10 games.

Since exiting from Tyneside in January 2008, hippo head has lost just two of the 13 games he's faced with various sides against Newcastle:

Allardyce teams v NUFC since he left SJP:
(our result is in brackets)

2008/09 Blackburn (a) lost 0-3
2010/11 Blackburn (h) lost 1-2
2012/13 West Ham (h) lost 0-1
2012/13 West Ham (a) drew 0-0
2013/14 West Ham (h) drew 0-0
2013/14 West Ham (a) won 3-1
2014/15 West Ham (a) lost 0-1
2014/15 West Ham (h) won 2-0
2015/16 mackems (a) lost 0-3
2015/16 mackems (h) drew 1-1
2017/18 Everton (h) lost 0-1
2017/18 Everton (a) lost 0-1
2020/21 West Brom (a) drew 0-0

Magpies @ Throstles - last 10:

2020/21 Drew 0-0
2019/20 Won 3-2 Almiron 2, Lazaro (FAC)
2017/18 Drew 2-2 Clark, og(Evans)
2015/16 Lost 0-1
2014/15 Won 2-0 Perez, Coloccini
2013/14 Lost 0-1
2012/13 Drew 1-1 Gouffran
2011/12 Won 3-1 Cisse 2, Ben Arfa
2010/11 Lost 1-3 Lovenkrands
2009/10 Lost 2-4 Carroll 2 (FAC)

It's little over 12 months since we were here for an FA Cup tie, with just two of our starting XI that night keeping their place today - Jamaal Lascelles and Joelinton

, Four Albion players started both games.



Waffle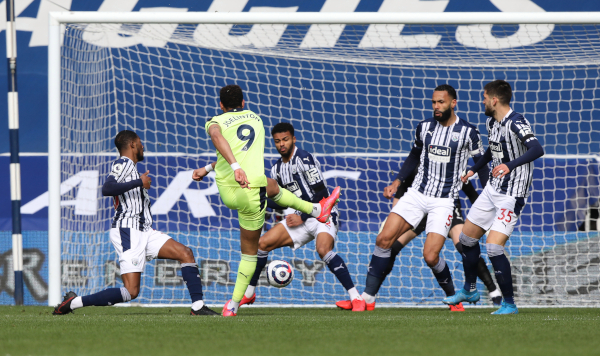 Both sides fired blanks in Sunday's High Noon shootout at The Hawthorns - an outcome that surely seals relegation for Sam Allardyce's Albion, while Steve Bruce's Magpies inched up one place to seventeenth.

In truth though this was a Championship game in all but name; a succession of talentless trundlers aimlessly hoofing the ball around with little obvious intent. Much more of this and they'll have to rename the channel that showed it to Amazon sub-prime.....

Clad in their yellow change kit, Newcastle dominated the stages in the Black Country sunshine, creating several half-chances. An early break from Ryan Fraser saw him agonisingly lay the ball behind Joe Willock inside the Albion box, before Joelinton's follow-up was hit at a defender.

Emil Krafth's innocuous shot then took a slight deflection but was easily held by Sam Johnstone, before Joelinton had clear sight of goal but made a failed attempt to play in Fraser rather than shoot.

What proved to be United's best effort of the game stemmed from a corner routine on the half hour, Jonjo Shelvey's shot pinging off the knee of a home player but reached by Johnstone as he repositioned.

The home side began to exert more influence on the game from that point, on-loan striker Mbaye Diagne testing Martin Dubravka a header as the visitors began to look increasingly vulnerable.

Any mild optimism that United would regroup after the interval proved to be misplaced however, and it wasn't long before ex-Baggie loanee Dwight Gayle appeared in place of the invisible Jeff Hendrick.

He almost made an instant impact, driving forward in possession before releasing Willock to test Johnstone on the hour. Aside from one weak Joelinton effort straight at the 'keeper soon after though, the visitors made no further attacking contribution and it was Albion who artlessly attempted to find a winner.

Thankfully though their set pieces and crosses were mostly harmless; United doing their best to invite pressure due to the ludicrously late replacement of Fraser by Andy Carroll.

He inevitably came on to concede a free kick with his first touch and give Albion an opportunity they wouldn't have had to launch the ball into our box.

That the hosts completely wasted it is of little solace but it does beg the question of whether the substitution had any purpose other than keeping Carroll's pay-as-you-play contract ticking over....

No bookings for either side betrays the fact that this was a bloodless encounter, with heftier challenges supposedly seen in training at Darsley Park last week.

The accepted wisdom seems to be that this was a good point for Newcastle - but that interpretation ignores the fact that this was one of our likeliest remaining opportunities to win a game.

That we never really looked like doing so speaks volumes for the performance and the spirit - or lack of it. Anyone seeking evidence of a siege mentality after a stormy week will have been disappointed.

Equally, the narrative that we battled to a draw here is a false one - at times, our display was akin to that at Sheffield United in sloppiness, lack of care in possession and the suspicion that they were always content with a draw. Contrast that with Fulham at Liverpool today.

Bruce claimed afterwards that "attitude and spirit" got our point, basically conceding that there was a glaring lack or talent or proficiency from a team with a sprinkling of supposed international footballers.

Only the shortcomings of Albion allowed us to scrape a point despite our poor second half showing: it's hard to imagine that there will be many further opportunities in our remaining games to repeat that scenario though.

Shorn of our first choice front trio we looked forlorn for the most part; unwilling or unable to step up and waiting for Wilson, Almiron and Saint-Maximin to return and tick the movement, shooting and dribbling boxes.

In that regard, the post-match comments of Bruce betray that he thinks the same - damning those who played today with faint praise, which will hardly boost their spirit levels ahead of future games when they'll be called upon.

On that basis, it's no shock that they failed to go the extra mile for their gaffer - and continued to give the sort of fitful display that pre-dates the high-profile absentees sustaining their injuries. Our performances were just as lame then as they were here.

Both sides wore black armbands to commemorate the late Glenn Roeder - but they could equally have been in memoriam of association football itself.

A year to the day since crowds were last admitted to Newcastle games, the prospect of returning for this witless dross has seldom been less appealing.

The cold comfort of a point rapidly gave way to anguish and concern, as Fulham became the latest side to burgle Fortress Anfield, and move within a point of Newcastle as a consequence.

In that context, our draw soon felt like a loss and Bruce's words about keeping the run going were even more hollow: we've won two of the last sixteen league games.

The form of Scott Parker's side - and the continued inability of Brighton to win matches - make our visit to the Amex in a fortnight's time another pivotal game. No doubt we'll try to avoid losing.

Coupled with their defeat by Leicester, Fulham's victory at Liverpool may now require a retuning of how this could all unfold on the final day; Newcastle's visit to Fulham sharing equal billing with Brighton's trip to Arsenal.

Far from causing concern on Barrack Road though, our situation will no doubt be dealt with in time-honoured fashion; by doing absolutely sod all.
After all, why worry about relegation when you've already got the perfect man to gain promotion in post. The only thing wrong with that "far-sighted" thinking may be that Bruce's contract isn't long enough....

PS: NUFC.com July 2019 on the appointment of Bruce - for 13 months read 25?:

So all the talk of progressive football has been sacrificed on the altar of expedience and we're now saddled with a Carver/McClaren reboot.
We don't really care about his club hopping, the plight he left Sheffield Wednesday in; Bruce's mackem connection or his perception as an Old Trafford apologist is of little consequence. And even the claim that a man who allegedly bleeds black and white once preferred Norwich City to us doesn't matter.

Regardless of your viewpoint of Rafa though, this cannot be seen as anything other than a retrograde step - a man who previously boasted of his dislike of tactics. This is the very opposite of ambition; an appointment that nicely mirrors our grubby, unloved, derided shell of a football club.
One of the gameís greatest mercenary managers is now in residence at his "spiritual home", for now. Acutely aware of the frosty reception awaiting, Bruce has accepted the job with open arms knowing that the worst case scenario is a multi-million payout.
Whether the club have shown some foresight in appointing Bruce remains to be seen; perhaps they've merely acquired a manager with promotion to the top flight on his CV, 13 months before he's needed.
Biffa