Date: Saturday 20th March 2021, 8.00pm
Live on Sky Sports

Venue: Amex Stadium

Conditions: Pitiful

Programme: £3.50

Brighton & Hove Albion

Newcastle

3 - 0

Teams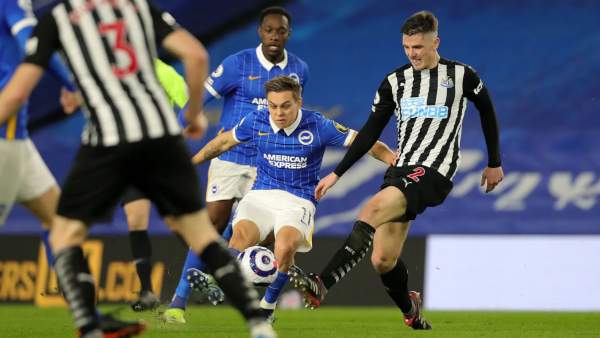 45+3 mins: A long ball forward found Leandro Trossard down the left. With Ciaran Clark in attendance - but nowhere near enough - Trossard headed infield and across the edge of the box before firing a low curling effort into the far corner of the goal in front of the deserted away end.

Dubravka not even diving full length, having already given up any attempt to reach it. 0-1

Half time: Seagulls 1 Magpies 0

51 mins: Danny Welbeck repeated Trossard's strike after picking up the ball down the left and cutting inside. Javier Manquillo fulfilled his manager's prophecy in having a big say in our relegation fight by staying a socially-distanced two metres from Welbeck, while Martin Dubravka once again seemed easily beaten. 0-2

68 mins: Neil Maupay effortessly volleyed home a Pascal Gross centre from the Brighton right from near the penalty spot. 0-3

Full time: Seagulls 3 Magpies 0
Steve Bruce:
"Itís difficult to digest at the moment.

"We simply werenít anywhere near good enough on the night. Fair play to Brighton, they were better in every department.
"We knew weíd have to be good with the ball. It was a very difficult evening for us and a painful one at that.
"We didnít get after it well enough. Their tactics were very decent, they caught us out in that respect. We probably needed to get to half-time to clear a few things up, but overall we werenít anywhere near the levels we need to be at. I take full responsibility for that. Unfortunately it unravelled very, very quickly.
"Our concentration levels to get to half-time were crucial, so to give a poor goal away sums it up. That was the concern for me, it was a little bit too easy for Brighton. That was typified by the first goal.
"We have to accept that we were nowhere near good enough tonight. We have two weeks now to see if we can get one or two players back.
"Thereís a lot of disappointment. Over the last few weeks Iíve seen a degree of togetherness and fight, but weíve got to be better than we were tonight to give ourselves a chance.

"I will never walk away from it because itís too tough. Iíve never thought of myself when Iím managing. I think Iím not one to walk away because itís tough, itís not in my nature. The easy thing would be to say, yes, Iím feeling desperately low, but I will accept that the responsibility rightly rests at my door.
"As Iíve always said, my position is for other people to answer for. The one thing I wonít ever do is give up because weíve had a bad defeat. Weíve been OK, I believe, we havenít been sensational over the last few weeks.

"We have to accept the criticism of what is going to come our way and the fallout from it. I probably will feel the lowest tomorrow or the day after and have to deal with the consequences.

"I was absolutely shocked at Brighton being that far in front of us in every department.Ē

Ryan Fraser:

"It's horrible: no one's going to be happy about it. Everyone is down, no one is speaking in there. We've obviously spoken to each other as well and got stuff off our chests.
"We can't be too down. We're still not in the bottom three. We don't want to be in there. We've still got games to save it and I know we keep saying our next game is massive but it really is.

"Every game between now and the end of the season - it doesn't matter who it's against - is a cup final. This club can't go down and we'll make sure that it doesn't."

Alan Shearer:

"Abysmal."

Graham Potter said:

"Iím really pleased, I thought the performance was fantastic. From the start we were brave, smart, worked hard and then reacted when we lost the ball.
"Newcastle hit the post early in the second half and like every Premier League game you have to survive those moments but I thought we were the dominant team. We thoroughly deserved to win.
"I am really pleased for the guys. They have been working hard and when you score it makes the game a lot easier!Ē
ďLeo (Trossard) has been a bit unlucky this season, but he's in a good moment and it was a fantastic finish and a great pass by Joel Veltman. He keeps going and in the end you get your reward.

"Danny (Welbeck) is a really important player for us. He's got quality in his movement and his intelligent off the ball is excellent. It was a great finish which gave us a cushion and then Neal scored a really good third goal to round off a really hardworking performance.
"Before Southampton we had four games and were scratching our head as to why we only got one point. But the way we got them last week and tonight will give the players a lot of belief and it's a reward for their resilience, but we need to keep going.

"They've had to suffer, so it's nice to get three points off that performance.

"Can Newcastle catch us? Of course they can. There are nine games to go and enough points to play for.

"With the greatest respect, we canít worry about Newcastle. We have to worry about ourselves. We havenít done anything here. We havenít got enough points ourselves.

"We had a spell when we were the better team and not winning and I was thinking Iíve walked under a few ladders and killed a few black cats. You have to keep calm, try to analyse it and try to improve.

"It sounds really, really boring but that is the process of being a coach.Ē



Newcastle have now failed to win any of their last six PL games.

NUFC after 29 games - selected seasons:

2008/09: 29 points, 16th, goal difference -11 R
2015/16: 24 points, 19th, goal difference -26 R
2017/18: 29 points, 16th, goal difference -13
2018/19: 31 points, 14th, goal difference -10
2019/20: 35 points, 13th, goal difference -16
2020/21: 28 points, 17th, goal difference -20

This was the eighth time that these two clubs have met in the Premier League and United are yet to win - managing just one goal:

2020/21 lost 0-3 (a)
2020/21 lost 0-3 (h)
2019/20 drew 0-0 (a)
2019/20 drew 0-0 (h)
2018/19 drew 1-1 (a)
2018/19 lost 0-1 (h)
2017/18 drew 0-0 (h)
2017/18 lost 0-1 (a)

Seagulls v NUFC - all time:

2020/21 lost 0-3 (PL)
2019/20 drew 0-0 (PL)
2018/19 drew 1-1 Perez (PL)
2017/18 lost 0-1 (PL)
2016/17 won 2-1 Diame, Perez (Ch)
2012/13 lost 0-2 (FAC)
2011/12 lost 0-1 (FAC)
1991/92 drew 2-2 G.Peacock, Kelly (D2)
1990/91 lost 2-4 Quinn, Brock (D2)
1989/90 won 3-0 Quinn 3 (D2)
1983/84 won 1-0 Waddle (D2)
1982/83 drew 1-1 McDermott (FAC)
1978/79 lost 0-2 (D2)
1961/62 won 4-0 Allchurch, Thomas, Kerray, Suddick (D2)

The 49th league goal of Danny Welbeck's senior career was his first against Newcastle, having failed to score against us previously in the colours of Preston North End, the mackems (he played in the 5-1 game at SJP), Manchester United, Arsenal and Watford. This was his 12th game v NUFC.



Waffle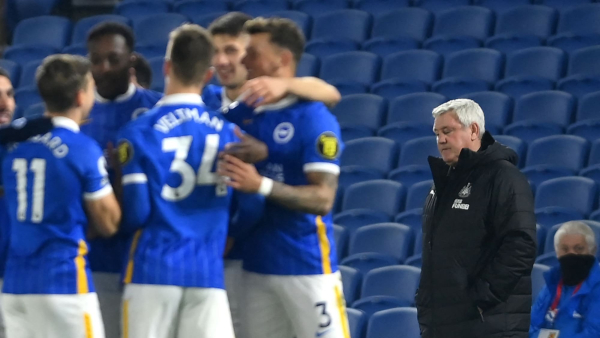 "I only want what is best for the club, and over the last few months, I've not been good enough to get the results the club demands."

The words of Steve Bruce on Friday, a day before his seventeenth-placed side were comprehensively routed by the one occupying sixteenth spot.

One place; but a yawning chasm of difference in care, thought, preparation, planning, intent and adventure between these two teams - and by extension, clubs.

And in the opposite corner, the inert, inept, brow-beaten and fearful representatives of a facsimile of a Premier League football club heading only in one direction. Down.

Two wins in eighteen PL games: beaten 0-3 by Brighton last September without a single shot on target. Beaten 0-3 by Brighton this March without a single shot on target. Turning a corner? Showing desire??

The wisdom and experience of Bruce's 23 years in management produced this absolute joke of a non-performance; entirely reliant on the proficiency of the opposition and without any vague notion of positivity.

Post-match he confessed to having been caught out by the tactics of his opposite number, just as he was six months ago; so having abandoned any pro-active thoughts going into a game he labelled as "must-win", he failed to come up with any reactive game plan. Again.

The only unrealistic expectation that fans of this club can be accused of is thinking that their Manager would be competent - and when he showed his true colours, that those in charge would be able to act promptly and decisively. There's always a first time.

If the alleged Newcastle fan at the helm had a shred of self-respect he'd go now, but financial and contractual realities mean that he'll have to be paid off.

For Christ's sake, do it, jettison him and his cronies, regardless of the fact there's no plan B and the recently-appointed coach is hardly covering himself in glory. This is already a rudderless ship, there's nobody at the wheel.

The returning Callum Wilson and Allan Saint-Maximin may be heralded as our saviours, but at our current rate of decline the rest of the side cannot be relied upon to play their part if this clown is still picking it.

Make no mistake, we deserve to be relegated for the utter stupidity in appointing Bruce and allowing his complacency to pollute this club from the top down.

Nobody does give a f**k anymore - certainly not the players, who seem meekly resigned to their fate if tonight's feeble showing was any indication.

Saturday night's alright for fighting - unless you're clad in a black and white shirt. Aside from one ill-timed Paul Dummett lunge that was borne of frustration, we gave an exhibition of football as a non-contact sport.

While it's tempting to blame Bruce for everything though, the lack of desire and energy on display from the visitors is a matter of individual responsibility, regardless of whatever bird-brained formation they're in.

To the game, and after missing the draws with West Bromwich Albion and Aston Villa there was an earlier-than-anticipated return to the starting line-up for Miggy Almiron. However he looked less than 100%.

United lost Isaac Hayden almost on half time at 0-0 after a freakish and unintentional collision with Albion's Yves Bissouma. Jeff Hendrick replaced him after he left on a stretcher, but within a minute of the restart Leandro Trossard fired Brighton ahead from outside the box.

What was to be Newcastle's sole attack of note in the entire game saw Joelinton and Almiron combine for Ryan Fraser to curl a first-time effort off the Albion goal frame on 50 minutes.

Within a minute though, Danny Welbeck had repeated Trossard's strike to put the hosts 2-0 up - taking advantage of lax defending to run at the opposition goal and successfully hit the target. We used to do that.

Neil Maupay then volleyed home a Pascal Gross centre to make it 3-0 in the 68th minute and only a goal line clearance from Jamaal Lascelles prevented Maupay from adding a fourth with 10 minutes left.

The quote that we started this piece with may be too long for an epitaph, but here's a far more succinct one: Here lies Steve Bruce.

That's not a death threat - just a reflection of the fact that every sentence he spouts is untrue and nobody believes a word of it. The road to ruin is clearly signposted Mike: every day that Bruce stays, this club dies a little bit more.
Biffa