Date: Sunday 4th April 2021, 2.05pm.
Live on Sky Sports

Venue: St. James' Park

Conditions: Resurrected?






Newcastle

Tottenham Hotspur

2 - 2


(3rd kit to follow)

Teams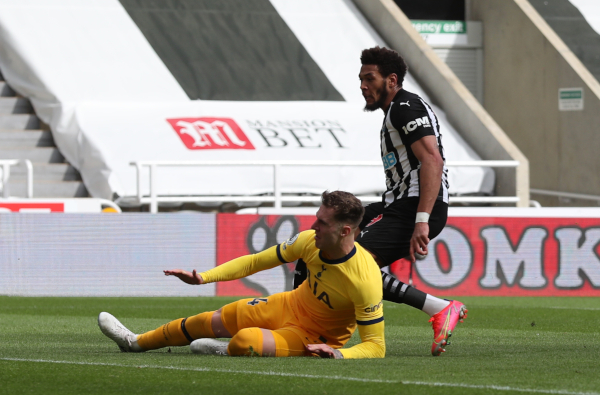 28 mins Matt Ritchie twice got in the way of slack clearances by visiting players just outside the own penalty area; slipping a pass to Sean Longstaff on the second occasion. He fed it across the box for Joelinton to pick his spot inside the far post at the Leazes End. 1-0
30 mins Giovani Lo Celso's ball infield to Harry Kane was too strong but Emil Krafth's inept attempt at making a clearance in front of his own goal led to a ricochet that presented Kane with an unmissable opportunity from a yard out. 1-1
34 mins Tanguay Ndombele played in Kane on the right side of the box and after a touch to steady himself he hit a confident strike from the right hand of the box that beat Dubravka with power and accuracy.

When Kane received the ball he looked close to being offside and replays suggested he was at best level. For some unknown reason though, the VAR and TV powers-that-be didn't feel it necessary to draw lines on the pitch and see if Kane's armpit had leaned an inch too far forward. 1-2
Half time: Magpies 1 Cockerels 2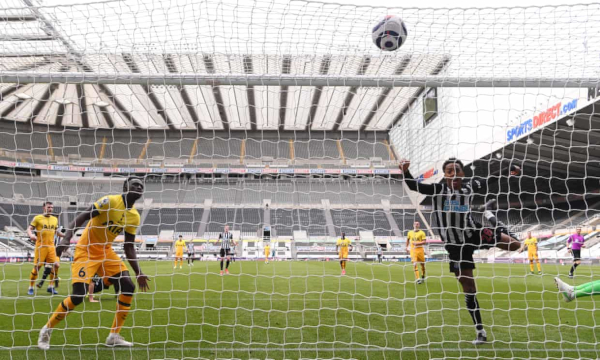 85 mins Allan Saint-Maximin found Ritchie on the left and his cross to the far post was headed back across the six yard box by Joelinton. Miguel Almiron attempted an aerial challenge that successfully diverted the attention of defensive duo Joe Rodon and Davinson Sanchez and the ball ran free for Joe Willock to thump home via the crossbar from barely three yards out. 2-2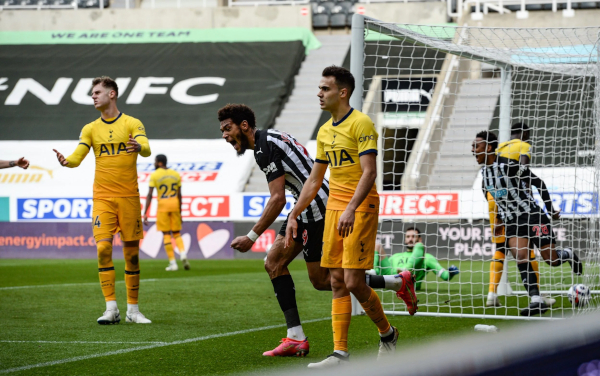 Full time: Magpies 2 Cockerels 2
Steve Bruce said:
"We're pleased but, in my opinion, it should have been three points.

"I thought we were the better side, it's as good as I've seen us play for a long time, especially after the debacle of two weeks ago.
"We've done as well as we could have hoped, we're just disappointed we haven't won it. But you take a point and move on. There was the performance, which I was really pleased with, considering what's happened over the last couple of weeks.

"There's this nonsense about a mole in the dressing room. Blah blah blah, there is nothing wrong with the spirit here....and a togetherness is, in my opinion, always going to be there.

"I alluded to it before the game, we have to it with so much nonsense up here, but after a poor five minutes where we gave the goals away, the response was there for everybody to see. The spirit is never in doubt.
"The performance is what you're looking for after a such a poor one. We all know we let ourselves down a couple of weeks ago, so to come out here and perform against a very good team in Tottenham, I thought they were excellent. I couldn't say anything else.
"When they set standards like they have today, it's important that you stay there. We're in tomorrow to start work on next week. We've got a crucial few weeks and let's get ready for the challenge because there's still a lot of football to be played. But if we stay at that level, then I'm still convinced we'll be OK.
"I was determined I would pick a team who hadn't been away half way around the world and would be fresh. They deserved to win the game and it was the performance I was delighted with."

On injuries:

"Andy Carroll picked up a calf injury, Ryan Fraser picked up a groin injury while he was away with Scotland and hasn't trained for a few days. Fede Fernández felt his calf again too."

On Joelinton:

"That was arguably as good I've seen Joelinton play for us. Probably the easiest thing to do is stick it in the net.
"His touch is immaculate. He plays with great effort and endeavour. But his all round game today was terrific. He has had it tough but the one thing about Joe is he doesn't shy away from it.
"Yes, we have to improve his goal tally but over a tough period he's done very well in certain games. Today, arguably, was his best."
Jose Mourinho commented:

"It is not a good point. We should and we can, with the objective to win so I'm not happy with a point. I don't want to go very deep on my analysis because I feel that what I feel, what I think, what I want to say cannot be with you, it can only be in the dressing room.

"If I analyse the performance separated from so many mistakes that lead to instability and instability leads to hope in the opposition, if I want to analyse it separate from that, I think we were very good in some moments… But I cannot do it. I cannot separate the game from these moments of instability and that's the reason why we didn't the game.

"Every point for Newcastle can be a crucial point. Of course we knew that and until the game was over, they were going to fight. We come to the second half with the intention of killing it and in fact, the biggest chance of the second half was just before the 2-2 where we hit the post.

"But we knew they were going to fight until the end and I think because of that fighting spirit and also because they were probably feeling a bit of fragility, they went until the end and got the point.

"It was not a problem of fight, it was not a problem of attitude, the players wanted to win but I have to be honest and say I saw things on the pitch, not in terms of attitude but in terms of profile, vision, balance, which belongs to the top players, I didn't see in every position.

"We were three points behind Chelsea, now we're two points behind Chelsea, so you can look at two perspectives. But it isn't just about Chelsea, it's about Everton, West Ham and Liverpool so you can say we got one point in relation to Chelsea but lost two to Liverpool so let's see what the other does.

"That's not the point for me in this moment, the point for me is to set up a team that came here with every intention to win and in the end, a little bit of déjà vu in some situations. I believe many of these white hairs, they come with things I'm not used to seeing in football matches at this level."

The Magpies are now winless in their last seven PL games, but have lost just once in five outings.

Since a 1-2 defeat by Crystal Palace in February, Newcastle have remained unbeaten at SJP in four games (one win and three draws) - which is their best run at home this season.

However they've managed just four wins from their 15 PL home games to date. The 2008/09 relegation campaign ended with five victories, while the lowest total recorded in a season when we stayed up was six, recorded in both 2010/11 and 2019/20.

United successfully stopped Spurs from registering what would have been a fourth successive victory on Tyneside for the first time in their history.

Jose Mourinho has won just one of his nine Premier League visits to SJP as a Manager, this a fourth draw to go with four defeats. His only PL success here came with Spurs last season.

Joelinton netted his second PL goal of the season to go with the one from similar range at Crystal Palace in November (when he also had a strike partner alongside him - that time Callum Wilson, today Dwight Gayle).

With his brace in the League Cup, the Brazilian has four goals to his name in all competitions this season - matching his final tally last season (two in the PL and two in the FA Cup). This was the first time that he scored but didn't finish on the winning side, although we're yet to lose when he does net.

Joe Willock now has two goals to his name in a black and white shirt.

He became the third Newcastle player to net in the Premier League this season after arriving from the bench - following on from Dwight Gayle (v West Bromwich Albion home) and Andy Carroll (v Leicester City home).

Matt Ritchie made his first start since a 1-2 home loss to Leicester City in early January, while this was only Dwight Gayle's third of the season. The pair last started together against Liverpool in the final game of 2019/20.


Harry Kane extended his goal total against NUFC to seven - all scored for Spurs (six in the Premier League and one in the League Cup). That's still some way behind Wayne Rooney's tally of 15 (all coming in the PL, 13 for Manchester United and two for Everton).

Spurs in Toon: PL era:

2020/21 drew 2-2 Joelinton, Willock
2019/20 lost 1-3 Ritchie
2018/19 lost 1-2 Joselu
2017/18 lost 0-2
2015/16 won 5-1 Wijnaldum 2, Mitrovic, Janmaat, Aarons
2014/15 lost 1-3 Colback
2013/14 lost 0-4
2012/13 won 2-1 Ba, Ben Arfa
2011/12 drew 2-2 Ba, Sh.Ameobi
2010/11 drew 1-1 Coloccini
2008/09 won 2-1 N'Zogbia, Duff
2008/09 lost 1-2 Owen (LC)
2007/08 won 3-1 Martins, Cacapa, Milner
2006/07 won 3-1 Dyer, Martins, Parker
2005/06 won 3-1 Bowyer, Sh.Ameobi, Shearer
2004/05 won 1-0 Kluivert (FAC)
2004/05 lost 0-1
2003/04 won 4-0 Shearer 2, Robert 2
2002/03 won 2-1 Speed, Shearer
2001/02 lost 0-2
2000/01 won 2-0 Speed, Cordone
1999/00 won 6-1 Shearer 2, Speed, Dabizas, Ferguson, Dyer (FAC)
1999/00 won 2-1 Glass, Dabizas
1998/99 drew 1-1 Ketsbaia
1997/98 won 1-0 Barton
1996/97 won 7-1 Shearer 2, Ferdinand 2, Lee 2, Albert
1995/96 drew 1-1 Ferdinand
1994/95 drew 3-3 D.Peacock, Gillespie, Beardsley
1993/94 lost 0-1

NUFC after 30 games - selected seasons:

2008/09 29 points, 18th, GD -13 R
2015/16 25 points, 19th, GD -26 R
2017/18 32 points, 13th, GD -10
2018/19 34 points, 13th, GD -9
2019/20 38 points, 13th, GD -13
2020/21 29 points, 17th, GD -20
Waffle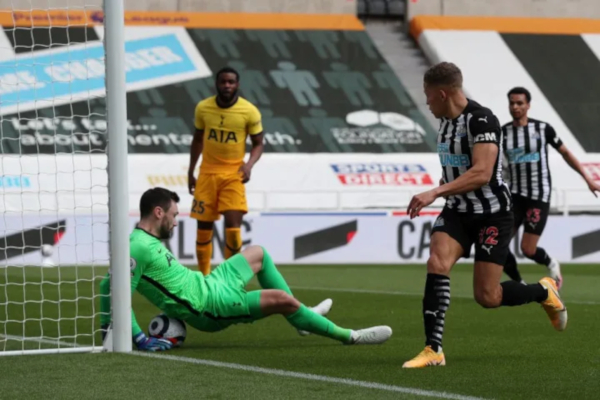 On-loan midfielder Joe Willock came off the bench to net a potentially priceless equaliser at St. James' Park on Sunday, as Newcastle went some way to flushing the Brighton capitulation out of their systems.

Deservedly ahead through a 28th minute strike from Joelinton, United immediately gift-wrapped an equaliser for Harry Kane - who then shot past Martin Dubravka to turn the game around completely in just seven minutes.

However, the point that the home side's overall display warranted arrived with five minutes of normal time remaining, Willock slamming a loose ball into the Gallowgate End net from close range.

There were five changes to the side who lost 0-3 in Sussex last time out; with messrs Manquillo, Clark, Hayden, Willock and Fraser standing down - the latter returning from international duty with a groin problem.

In came Emil Krafth to form a back trio with Dummett and Lascelles, Matt Ritchie and Jacob Murphy played as wing backs, Sean Longstaff took the vacant midfield role and there was a recall for Dwight Gayle, partnered with Joelinton for the first time this season. Two up top at home, like old times...

Recently returning to training, Callum Wilson wasn't risked but there was a return to action from the bench for Allan Saint-Maximin. He would finish the game up front, with Jonjo Shelvey dropping as a makeshift centre half.

Steve Bruce's side almost made a lightning start to proceedings, but Joelinton shot weakly at Hugo Lloris when well-placed.

And with the visiting defence looking out of sorts, Gayle came agonisingly close to a 19th minute opener - seeing Lloris palm away his initial header and his follow-up shot get stuck under the Spurs custodian.

A breakthrough did come though when Ritchie twice got in the way of slack clearances by Spurs players; slipping a pass to Longstaff on the second occasion, who fed it across the box for Joelinton to pick his spot inside the far post at the Leazes End.

Celebrations were soon cut short though as the yellow-clad Cockerels levelled barely 90 seconds later; Krafth's inept attempt at making a clearance in front of his own goal leading to a ricochet that presented Kane with an unmissable opportunity to make it 1-1.

The England striker scored twice here last season and within four minutes had repeated the feat - his and Tottenham's second a confident strike from the right hand of the box that looked to be fractionally onside.

That unsurprisingly quietened United, but the Spurs defence were almost caught out when Gayle spotted Almiron making an unchecked run on goal - only to make a hash of the required pass.

Into the second half and another visible sign of Newcastle's positive approach came from Miggy in the opening seconds, forcing a fingertip save from Lloris.

The Paraguayan then kept his side in it after 67 minutes; Dubravka punching a corner skywards and Japhet Tanganga sending it goalwards to where Almiron headed it clear off the goal line.

Joelinton then missed the chance to restore United's lead, taking down a right wing cross from Krafth but wastefully knocking it wide of the target.

The replacement of Gayle by Saint-Maximin then seemed to derail United's attacking attempts and they were almost caught out by a quick counter-attack that ended in Kane striking a post.

Less than a minute later though the ball was in the net at the other end. Saint-Maximin found Ritchie on the left and his cross to the far post was headed back across the six yard box. With Almiron challenging two defenders, the ball ran free for Willock to finish gleefully.

In addition to the obvious relief at having avoided defeat, there was at least a sense that we were trying to make something happen, rather than simply reacting to what the opposition dictated.

At times this season we've looked afraid of the ball, but an upturn in attacking intent was evident: statistics showed United had more efforts on goal from inside the box today than in any league game since Bruce arrived.

The improved attitude was perhaps related to the return to Matt Ritchie and his competitive approach - or maybe the perilous nature of their situation has finally become evident to the players, along with the fact that their manager ain't going anywhere.

To glorify in the point won though is to fall into Bruce's (clap)trap - on chances, it's another two points lost and a sizeable opportunity to gain that elusive win over a top six side who Kane, apart, weren't at the races.

Despite that though, the Newcastle boss rounded again on his invisible foes and couldn't resist quite literally making a mountain out of a molehill - firstly mentioning the club insider when nobody else was, and then denying that there was a mole at all.

The casual observer would not have concluded that his team had a) drawn not won the game just ended and b) won two of their last 21 fixtures. That's an original way of proving your critics wrong.

Today's display does give at least mild optimism though that we could win at Burnley next week to drag them into the mire - something that before this game looked to be completely reliant on the return of our top scorer.

That of course is tempered by looking at the daunting fixture list that follows it. Lose at Turf Moor and the odds on our survival will lengthen appreciably.

Although fleetingly in the bottom three at one point in late afternoon, United ended the day where they'd started it, in seventeenth - three points ahead of Fulham with a game in hand.

That followed a 1-3 loss for the Cottagers at Aston Villa later, despite the Villans gifted Aleksandar Mitrovic a 61st minute opener. Thankfully Dean Smith's side roused themselves to net three times in quick succession.

Despite that though, Bruce's side will kick off against Burnley in the bottom three if Fulham beat Wolves at Craven Cottage this coming Friday night.


Biffa