Date: Saturday 17th April 2021, 12.30pm.
Live on Sky Sports

Venue: St. James' Park

Conditions: Revitalised






Newcastle

West Ham United

3 - 2

Teams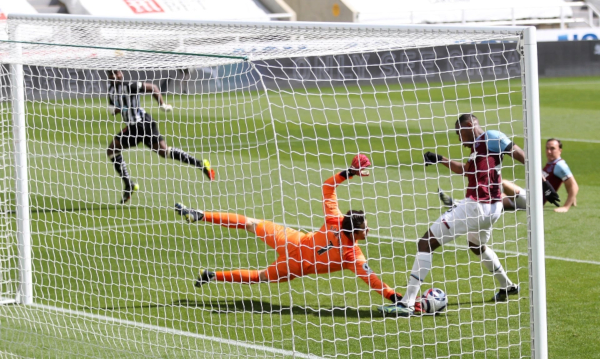 tattered....
36 mins Angelo Ogbonna fought off the challenge of Miggy Almiron on the halfway line and laid the ball back to Craig Dawson who took a heavy touch, allowing Joelinton to intercept.

Despite being on a yellow card, Dawson sent the Brazilian flying but not before he knocked the ball forward to Allan Saint-Maximin, who charged forward. Forced wide as he entered the box, he managed to screw a weak shot that beat Lukasz Fabianski, only for Issa Diop to clear the ball against himself and it bounce into the empty goal at the Leazes End.

Shortly after signalling the goal, referee Kevin Friend showed Dawson a second yellow and then a red card. 1-0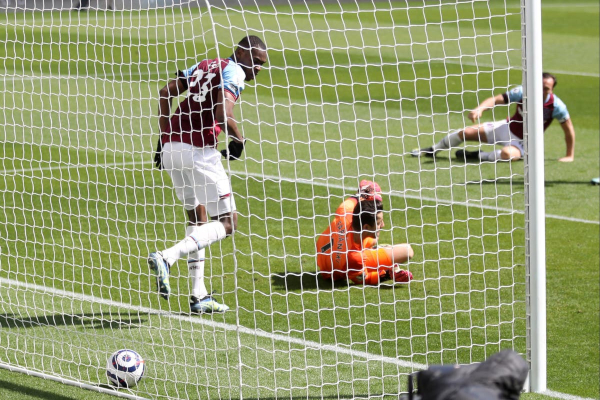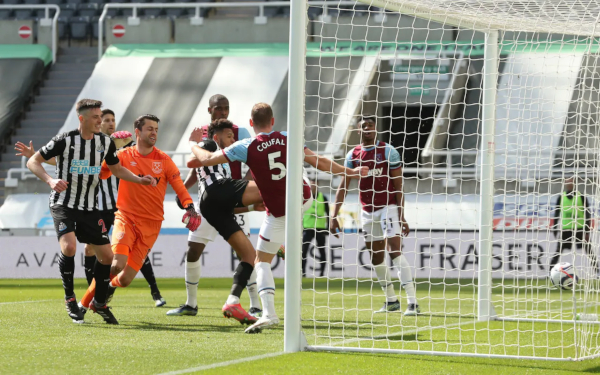 and torn....
41 mins A Matt Ritchie flag kick from the North East corner of the ground appeared to be landing in the hands of an unchallenged Fabianski but the 'keeper inexplicably dropped the ball at the feet of Joelinton, who had the simple task of turning the ball home from a yard out. 2-0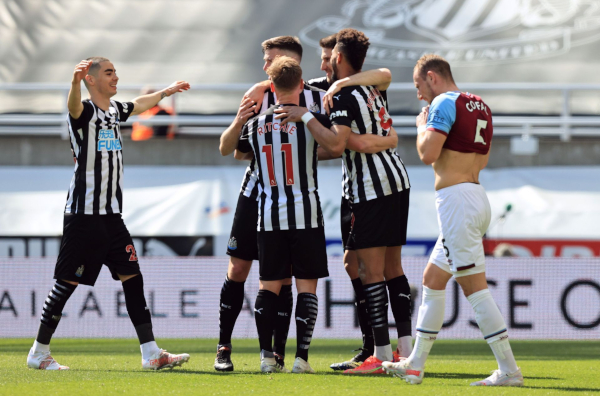 Half time: Magpies 2 Hammers 0
73 mins A throw-in to Jarrod Bowen on the West Ham right saw him swing over a deep cross to the unmarked Issa Diop, who headed firmly past Martin Dubravka into the Leazes End goal. 2-1
80 mins Ciaran Clark got above Tomas Soucek to head away a long throw into the box from the West Ham right, only for VAR to belatedly confirm that the ball had hit the defender's raised arm in front of his head - referee Friend rubber-stamping the call after viewing the incident via a pitchside monitor.

Jesse Lingard then fired in the resultant penalty via the inside of the post.

In slight mitigation of Clark he had raised his arm to jump and it had nowhere to go, with it being stuck on the opponents head. The lack of a protest from either Clark or his colleagues confirmed that the call was harsh but right. 2-2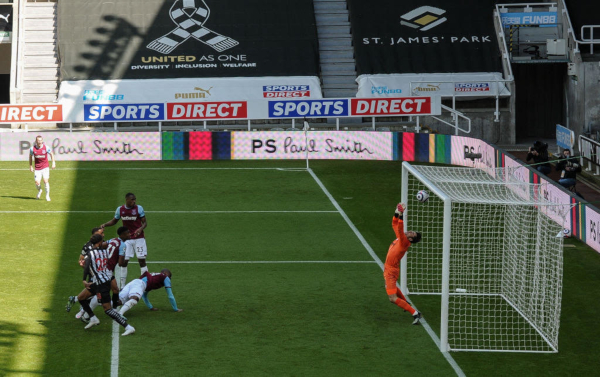 82 mins Matt Ritchie crossed from the left and Joe Willock powerfully headed in from six yards out with his second touch after arriving as a substitute.

Replays confirmed that the scorer was actually looking away from goal and it struck the back of his bonce. 3-2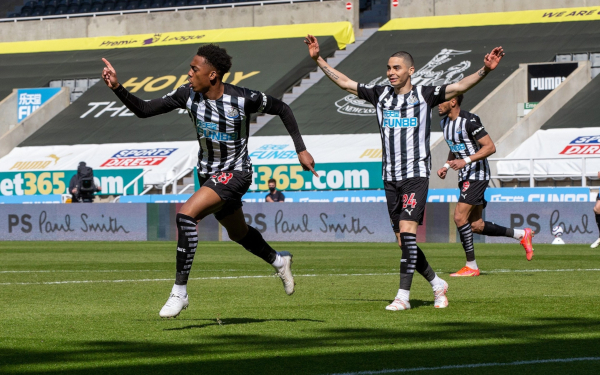 Full time: Magpies 3 Hammers 2
Steve Bruce said:
"I couldn't be more pleased with the way we played first half. We had threat, were dangerous every time, we got men forward.
"All of the stuff in the first half, we didn't do in the second. Everything we asked for at half-time we didn't do.

"It is understandable, you go too deep and we made it comfortable for West Ham.
"I had seen the referee running over to have a look and I couldn't understand why. By all accounts it is a penalty. If it is we have to accept it.

"We tried to change instantly and put two strikers up the pitch. It has paid off.
"It was terrific from (Allan) Saint-Maximin - it is important that he stays well. He has a badly swollen ankle. He is a very very good player.

"To get back-to-back wins and play the way we did, especially first half – second half, we'll forget about that – but first half in particular, I thought we were excellent in our work."
On avoiding relegation:

"It comes with a government health warning this job. With this club there is always a sting in the tail. There always seems to be a drama.
"We had an awful time just after Christmas but very slowly we've done OK in the past few weeks. We've got better but that has come alongside the big players coming back. I want us to finish above where we finished last year.
"We have lost one of our past seven games and are starting to show that bit of consistency.
"I'm not going to take anything for granted. I've always said it's the accumulation of points, and 35, in my opinion, is not enough, so you won't get me jumping and hollering at the moment.

"We've still got six games to play – can we finish above where we did last year? Can we beat last year's points tally? (44). Can we beat where we were? (13th). We'll try our utmost."

On Joe Willock:

"We would love to keep him here. He is the type of player you'd love to build your club around. Whether we can or not I'm not quite sure."

Willock himself added:

"I was working on my heading so I was happy that it paid off today.

"We're getting involved in games way more than we was before you know, we're controlling games more, we're having more opportunities and I think that today we showed what we can do."

"I feel like collectively we've grown and through the hard times we decided we have to stick together."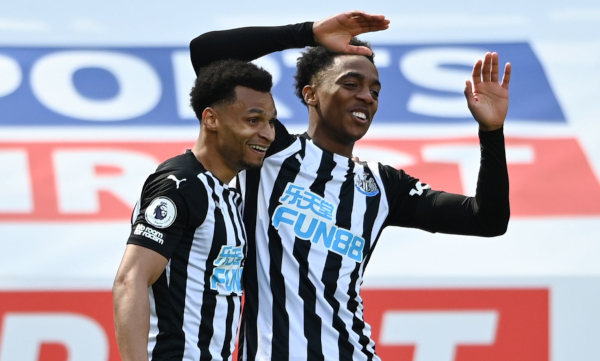 Everybody needs a nutter

David Moyes commented:

"I thought the players showed great character. They came from 2-0 down with 10 men and got right back into the game. There are a lot of good things from it.

"Obviously, we gave away a couple of really poor goals in the first half, then the sending off adds to it as well, but we kept at it and we didn't change.

"We altered things a little bit at half time, but I thought the players put up a great effort, I really did.

"There's no drama. We're not getting too down about it. We've had a couple of really good results, we're doing ok. We think that's probably a chance lost to pick up some points, but it is very hard with 10 men.

"I thought the players did a great job to get back into it. Probably the disappointment is that when we got to 2-2, we couldn't see that last little bit out.

"There's no frustration whatsoever. The players are doing brilliant, we're at it, we came, and we put on a good performance. We didn't get the result we wanted but overall, the players are doing a good job.

"We're without a few injured players and we've put on another decent show. We want to keep trying to score goals, but we need to stop conceding them as well."


Following last week's victory at Turf Moor, The Magpies managed successive PL wins for the second time this season and the first time in 2021.

Newcastle are unbeaten at home in their last five outings, further extending their best run of the season, which was three before this current sequence.

A fifth PL home win of the season matches our previous lowest total in that competition, set in the 2008/09 season. Beginning the game with 19 goals scored at SJP in the PL, we ended with 22 - exceeding last seasons' record low of 20 and the second-worst total of 21 we crawled to 2017/18.

Joe Willock's winner was the 35th PL goal scored by Newcastle so far this season - matching their previous low total set in 1997/98.

Following a 2-0 success at The London Stadium back in September, The Magpies have registered their third PL win double of the season, having also taken six points off both Everton and Burnley. Another way of presenting that is to say over half of our points tally have come from three clubs.

A Newcastle substitute netted for the third successive game and the fifth time in the Premier League this season so far:

Dwight Gayle v West Bromwich Albion (h) 13 minutes
Andy Carroll v Leicester City (h) 3 minutes
Joe Willock v Spurs (h) 6 minutes
Allan Saint-Maximin v Burnley (a) 7 minutes
Joe Willock v West Ham (h) 83 seconds

(minutes/seconds mentioned are the amount of time between the player arriving from the bench and finding the net. 83 seconds sounds good, but Sammy Ameobi took just eight seconds to score against Spurs at White Hart Lane back in October 2014, following his introduction at half time.

Joe Willock now has three PL goals to his name - the last two coming in successive home games when appearing as a substitute.

Joelinton scored his third PL goal of the season - the last two of which have come in successive home games. That exceeds his haul of two in the PL last season. He now has five for the season in all competitions this time round, level with Miguel Almiron as second top scorer behind Callum Wilson.

Issa Diop became the second opposition player to score a PL goal in our favour this season, following on from Luke Shaw of Manchester United - whose effort was also at the Leazes End of SJP.

Newcastle scored two goals in the first half of a PL game for only the second time this season. The first also ended in a 3-2 home win, over Southampton.

Allan Saint-Maximin completed a half century of appearances in all competitions for The Magpies (39 starts).

Mark Gillespie was selected on the bench as goalkeeping cover after Karl Darlow reportedly picked up a knee injury in training.

NUFC after 32 games - last four seasons:
2017/18: 38 points, 10th (finished 10th) (scored 33, conceded 41)
2018/19: 35 points, 14th (finished 13th) (scored 31, conceded 42)
2019/20: 42 points, 13th (finished 13th) (scored 33, conceded 43)
2020/21: 35 points, 15th (finished tbc) (scored 35, conceded 53)
Hammers in Toon - PL era:
2020/21 Won 3-2 og, Joelinton, Willock
2019/20 Drew 2-2 Almiron, Shelvey
2018/19 Lost 0-3
2017/18 Won 3-0 Joselu, Clark, Mitrovic
2015/16 Won 2-1 Perez, Wijnaldum
2014/15 Won 2-0 Sissoko, Gutierrez
2013/14 Drew 0-0
2012/13 Lost 0-1
2010/11 Won 5-0 Best 3, Nolan, Lovenkrands
2008/09 Drew 2-2 Owen, Carroll
2007/08 Won 3-1 Viduka 2, N'Zogbia
2006/07 Drew 2-2 Milner, Solano
2005/06 Drew 0-0
2002/03 Won 4-0 LuaLua 2, Shearer, Solano
2001/02 Won 3-1 Shearer, LuaLua, Robert
2000/01 Won 2-1 Cort, Solano
1999/00 Drew 2-2 Dabizas, Speed
1998/99 Lost 0-3
1997/98 Lost 0-1
1996/97 Drew 1-1 Beardsley
1995/96 Won 3-0 Albert, Asprilla, Ferdinand
1994/95 Won 2-0 Clark, Kitson
1993/94 Won 2-0 Cole 2
Waffle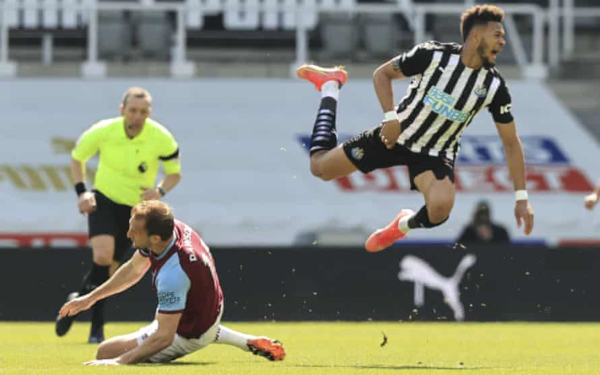 In the week that COVID restrictions began to ease, Newcastle provided some much-needed (PL) table service at Gallowgate on Saturday lunchtime - although the outdoor hospitality from both sides was worryingly abundant...

2-0 up at half time against a Hammers side down to ten men who netted an own goal before gifting Joelinton a second, Steve Bruce's side started snoozing in the afternoon sunshine and were duly punished.

Own goal transgressor Issa Diop was left alone to head home on 73 minutes before VAR confirmed a Ciaran Clark handball in the area and Jesse Lingard fired in the resultant penalty seven minutes later for 2-2.

Belatedly galvanised by conceding that equaliser, Newcastle stormed upfield and Jacob Murphy saw his shot cleared off the line by Ben Johnson.

From their next attack though, Matt Ritchie crossed from the left and Joe Willock headed in what proved to the winner with his first touch, having come off the bench just 83 seconds earlier.

The hosts then survived no less than eight minutes of time added on before they were able to celebrate a result that lifted them two places to the heady heights of fifteenth - nine points clear of the third relegation spot. Phew...

Resisting the temptation to recall Callum Wilson, Bruce made just one alteration from the starting line-up that won at Burnley - replacing Dwight Gayle with Saint-Maximin, who partnered Joelinton up front.

And while the Frenchman was at the heart of everything positive about Newcastle, the Brazilian also played his part in the victory.

Joelinton's appetite for the physical side of the game may sometimes be questioned, but he withstood the tackle that cost Craig Dawson a second booking and made the vital pass to set Saint-Maximin away.

Diop's intervention to try and block a routine effort on goal then saw the defender deflect the ball off one foot on to the other and into the net.

Within five minutes David Moyes looked on aghast at another Hammers calamity; Lukasz Fabianski obligingly dropping Matt Ritchie's corner in his own six yard box to present Joelinton with a tap in.

If there was one low point though, it was the rapidity of Joelinton's exit deep in added time when replaced by Andy Carroll. Thankfully the referee chose not to add any further time on.

The comparative rarity of enjoying a two goal interval lead and numerical superiority seemed to take a toll on the Magpies, who surrendered the initiative and became steadily more sluggish.

Super sub Willock appeared though to serve up a happy ending from another excellent Ritchie delivery, ensuring that the initiative remains with his side going into the final stages of the season.

That's now one just defeat in seven and seven goals scored in their last three games. Hardly the stuff of legend, but a damn sight better than the lame ducks we looked after losing at Brighton.

The remedy was always in our own hands - and thankfully we've started to show that, without having recourse to Wilson's goals.


Biffa