Date: Saturday 24th April 2021, 12.30pm
Live on BT Sport

Venue: Anfield

Conditions: Competitive

Programme: £3.50

Liverpool

Newcastle

1 - 1

Teams
3 mins Sadio Mane clipped a cross from the left hand corner of the United area that Paul Dummett beat Firmino to head towards the far post area.

Mo Salah let the ball bounce beyond him before twisting to bury an unstoppable volley from just outside the corner of the six yard box. Matt Ritchie was the nearest visiting player in attendance but did very little wrong, it was just an outstanding strike. 0-1

Half time: Reds 1 Magpies 0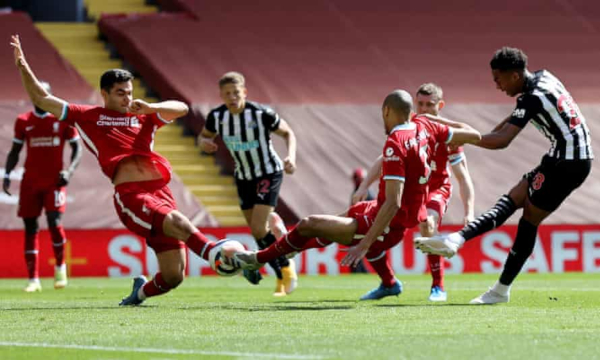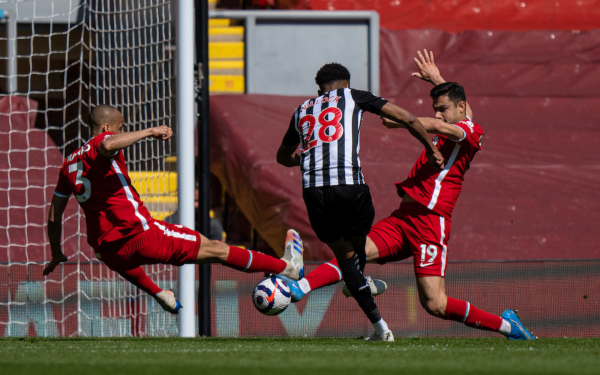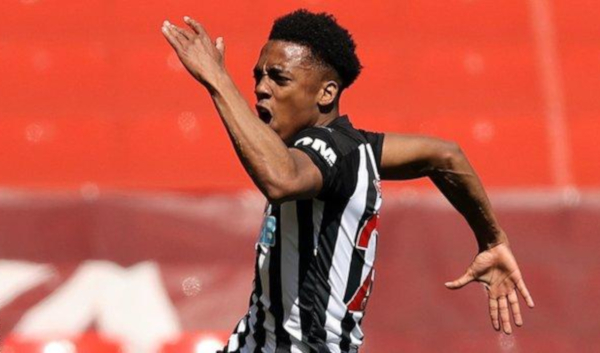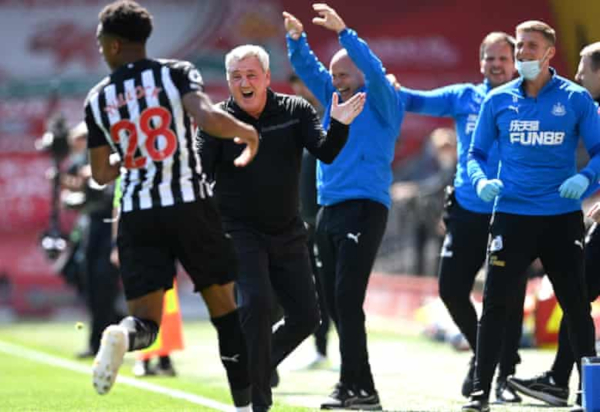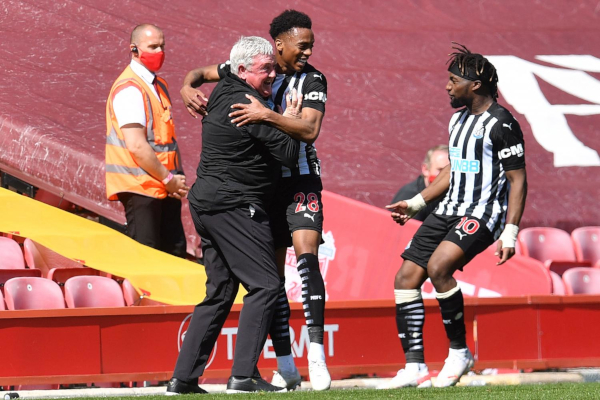 90+5 mins The VAR review of the Callum Wilson "goal" ran down the initial four minutes of added time that had been applied and the game continued long enough to give United the chance to push forward once more.

A throw-in on the Newcastle right was played to Longstaff, who in turn worked it infield to Paul Dummett. His deep cross forward was headed across the box by Dwight Gayle and Joe Willock was first to react, firing in from 12 yards out at the Anfield Road End via a deflection off Firmino.

(From the dark recesses of my mind came a certain parallel with Andy Cole's late winner for a green-clad Newcastle at Hillsborough in 1994). 1-1
Full time: Reds 1 Magpies 1
Steve Bruce:
"We have to do something about VAR, this rule. It ruins the spectacle. It is the rule, VAR is doing its job, but who makes these rules?

"We are good enough to stop the Super League, can we not make our own rules in the Premier League?

"It was an awful one to go against you. We could have won 2-1.

"Joe Willock was devastated yesterday when I told him he was not playing but he has come on in the last three games and scored. I am delighted for him.

"I think he will hate the tag (of super sub) because yesterday I devastated him by not putting him in the team.
"I told him the reasons why, then he picks up a knock in training and it was touch and go whether he makes the bench, so to come on and have that impact again, Iím delighted for him.

"To get three in three, Iím delighted.
"They (Liverpool) are very good up front. They have 300 goals between them. We rode our luck a little time in the first half but I always felt we were a threat.
"Just at the right time our big players have come back and that was vitally important. I was quietly confident when we got the big players back we would be OK.

"Without them we are not quite the same threat. In the first half we had some really good opportunities but missed the pass Ė a number of times we didnít take the right option.

ďBut when youíve got Callum and Allan and Almiron on the pitch you know youíve got a chance, although I didnít think we would score twice in the last minute which was incredible Ė because the first one probably shouldnít have been chalked off.Ē

Jurgen Klopp said:

"Then we were lucky their first goal didnít count, itís like the first present I can remember from VAR and it wasnít enough so Newcastle deserve the point and we deserve, for sure, not more than a point.

"I don't think you can create many more chances or better chances than what we did today. We didn't finish the game off and we didn't play enough.

"It was not complicated. With a few passes, we always came through, we just had to do that again and again. Just keep going and going and let them run.

"The counter-attack can happen but we kept them alive. In the end they deserved the goal. We kept them alive; it feels like a defeat.

"They scored two minutes before, whatever, another one with the new rules... it's unlucky for Wilson but that's how it is now and we didn't even take that present.

"We've been unlucky with VAR this season but today we were and then we gave another chance away. It makes no sense. It's really tough to take.

"Why it happened, I don't know. We just have to keep the ball. In a specific way, we don't fight enough. When we lose the ball, we fight.

"But we don't keep the ball and dominate in the way it was possible to dominate today. We had 70 per cent of the ball but we should have had 80 per cent.

"If you deserve it, you deserve it. I didn't see today that we deserved to play Champions League next season. In another five games? We'll see what we can do. We learn or we don't play Champions League. That's it.

"If we play like this and don't finish games like this off, why should we play Champions League?

"We want to deserve Champions League and we don't want to come and be cheeky, we want to earn it and with these results you don't earn it.

"It's all on the table so go for it. It feels close to being unacceptable but we have to accept it anyway."

A Newcastle substitute netted for the fourth successive game and the sixth time in the Premier League this season:

Dwight Gayle v West Bromwich Albion (h) 13 minutes
Andy Carroll v Leicester City (h) 3 minutes
Joe Willock v Spurs (h) 6 minutes
Allan Saint-Maximin v Burnley (a) 7 minutes
Joe Willock v West Ham (h) 83 seconds
Joe Willock v Liverpool (a) 31 minutes

Joe Willock now has four goals in a Newcastle shirt, all in the Premier League. That takes him level with the likes of Andreas Andersson, Damien Duff, Dietmar Hamann, Alex Mathie, Scott Parker and Andros Townsend.

We're unable to find a single example of a Newcastle player coming off the bench to score in three successive games since they were adopted in 1965.

The late show - NUFC ET goals 2020/21:

Wilson v Spurs (a) 90+7 minutes
Wilson v Everton (a) 90+3 minutes
Lascelles v Villa (h) 90+4 minutes
Willock v Liverpool (a) 95 minutes

Newcastle avoided defeat in both meetings against the reigning Premier League Champions for the first time since the 2011/12 season, when Manchester United were kept at bay both home and away.

Magpies @ Anfield: PL era:

2020/21: Drew 1-1 Willock
2019/20: Lost 1-3 Willems
2018/19: Lost 0-4
2017/18: Lost 0-2
2015/16: Drew 2-2 Cisse, Colback
2014/15: Lost 0-2
2013/14: Lost 1-2 og(Skrtel)
2012/13: Drew 1-1 Cabaye
2011/12: Lost 1-3 og(Agger)
2010/11: Lost 0-3
2008/09: Lost 0-3
2007/08: Lost 0-3
2006/07: Lost 0-2
2005/06: Lost 0-2
2004/05: Lost 1-3 Kluivert
2003/04: Drew 1-1 Ameobi
2003/04: Lost 1-2 Robert (FAC)
2002/03: Drew 2-2 Speed, Shearer
2001/02: Lost 0-3
2000/01: Lost 0-3
1999/00: Lost 1-2 Shearer
1998/99: Lost 2-4 Solano, Andersson
1997/98: Lost 0-1
1996/97: Lost 3-4 Gillespie, Asprilla, Barton
1995/96: Lost 3-4 Ferdinand, Ginola, Asprilla
1995/96: Won 1-0 Watson (LC)
1994/95: Lost 0-2
1993/94: Won 2-0 Lee, Cole

There were three players involved who appeared for Newcastle the last time we avoided defeat at Anfield, back in April 2016: Paul Dummett, Jonjo Shelvey and Gini Wijnaldum - the latter captaining the hosts today.

That same April 2016 game saw United fall behind to a Daniel Sturridge goal after just 2 minutes. That's the last time we conceded quicker to the Reds before today - and another illustration of that "score too early" adage.

Waffle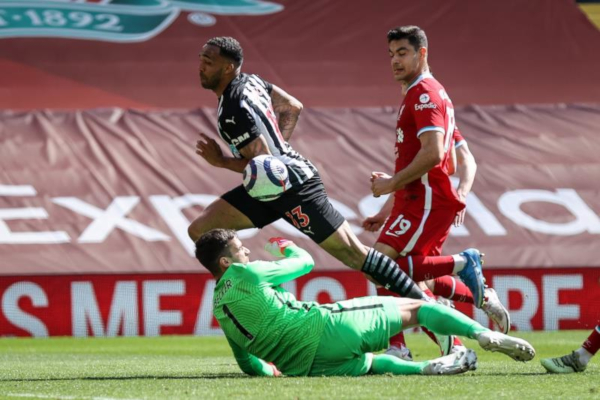 Newcastle extended their unbeaten run to four games on Saturday, despite spending most of the visit to Anfield trailing before Joe Willock came off the bench to level in the fifth minute of added time.

However, that equaliser came only after a controversial VAR call that denied fellow Magpies substitute Callum Wilson an apparent equaliser moments earlier.

Wilson latched on to Allan Saint-Maxmin's through ball and bore down on goal with two Liverpool defenders in pursuit - who both made deliberate contact with him before he shot.

That effort on goal bounced off Liverpool goalkeeper Alisson and back on to Wilson, whose entirely accidental touch was confirmed by replay to be off his arm before he tucked the loose ball home.

Under the current reading of the law, the goal was disallowed after a VAR review by Andy Madley, but he failed to flag up the clear push by Trent Alexander-Arnold that preceded the fateful handball.

Quite how only one goal had been scored in the game by that point was something of a mystery, but once again Newcastle can point to an effective deployment of their substitutions - having ridden their luck when adopting an ultra-deep defensive line after conceding.

Things looked bleak for United when Mo Salah twisted to bury an unstoppable volley with barely three minutes gone. And although an unchanged side created one good chance that Sean Longstaff couldn't finish, the Reds made and missed a succession of opportunities to increase their lead, despite some suicidal attempts by United to play out of their own area.

The interventions of goalkeeper Martin Dubravka would also prove crucial; steady and strong without making headline stops.

Deemed fit to start and targeted by the home side with some robust challenges, Saint-Maximin was United's main forward threat but often lacked support - Joelinton and Miggy Almiron both uninspiring.

Joelinton had done well to work a 55th minute opening but shot weakly, and until the end of normal time that had been Newcastle's last effort on target - the introduction of Wilson, Willock and Gayle having failed to produce any tangible reward. Jonjo Shelvey meanwhile finished up in central defence, emulating the tactical ploy that came to fruition at home to Spurs.

Then came the Wilson incident, prompting an extension to the original four minutes of added time - during which a deep cross into the area from Paul Dummett was headed across goal by Gayle for Willock to beat Alisson from 12 yards via a deflection off Firmino in front of the empty away end.

The point left Newcastle nine points clear of third-bottom Fulham, both sides with five games remaining.

It's a funny old game this football lark, with all that glorious unpredictability caused by the continued imposition of a level playing field. Long may it continue, regardless of the dark deeds of Fenway Sports and their fellow conspirators.

Three points for us today would have been a symbolic smack in the chops, but helping to derail Liverpool's Champions League aspirations will do - after all, that was a competition they turned their nose up at a week ago....

This Magpies side may have ridden their luck and on another day could have shipped four or five goals, but enormous credit is due to them for pushing forward right to the last whistle once again.

The context of Liverpool being repeat offenders when failing at home this season is valid, but for us to go here and not be routinely crushed is a novelty, as was finishing at full strength (although a harsher VAR call could have resulted in Federico Fernandez seeing red not yellow for elbowing Jota).

That Brighton surrender increasingly looks pivotal to our resurgence, being the point when we stopped relying on the deeds of other strugglers and attempted to shape our own destiny.

Quite what happened in the aftermath of that within the dressing room isn't fully known, but in each of the four subsequent games, the players revived themselves from a losing or drawing position to gain a point or three, scoring the final goal of the game on each occasion. That's a habit NUFC have rarely exhibited; we're more used to struggling over the finishing line.

As a consequence, we're seven points better off and the nightmare scenario of travelling to Craven Cottage for a final day showdown continues to diminish. In this most bizarre of seasons, treading water is acceptable, at least from our (remote) viewpoint.

There are still many things that need to be put right at this club, but perhaps there's less wrong with the attitude and aptitude of the first team squad than they themselves led us to believe at times this season.


Biffa

This report is dedicated to life-long Toon fan and proud Geordie Gary Robert Gibson who died recently. Ashington-born Gary was a chef in the Royal Navy, seeing action in the Falklands on HMS Broadsword. Becoming head chef at Sandhurst Military College, he later joined the MoD Guard Service.

Our condolences go to wife Julie-Anne, daughter Kirsty, son James, grandson Finn and all his family and friends. His family asked for this message to be added:

"Gary's reasons for taking his own life can never be understood, but serve as a reminder to pause, and take time to reach out to anyone you know.

"They may appreciate that helping hand, heartfelt gesture of stupidity, pint watching a match, or just the simple company of a friend - as he often did."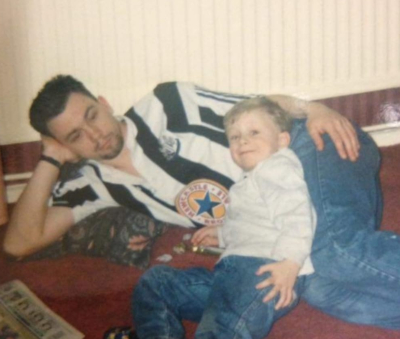 Gary pictured with son James