Date: Sunday 2nd May 2021, 2.00pm.
Live on Sky Sports

Venue: St. James' Park

Conditions: Shy






Newcastle

Arsenal

0 - 2

Teams
5 mins: David Luiz pumped a pass forward down the Arsenal right to Hector Bellerin, who pulled back his cross towards the front post where sole striker Aubameyang had located himself.

The Gabon international made a hash of his attempted first-time shot, but a deflection off Federico Fernandez diverted the ball to Mohamed Elneny on the edge of the box. His accurate if not powerful shot was across Martin Dubravka and although he got a hand to it, the goalkeeper was unable to prevent it nestling in the back of the Gallowgate End net.

Having scored his first Premier League goal at the 66th attempt, the Egyptian midfielder paid tribute to Gunners Coach Steve Round for extra shooting practice in training. Round was a part of Sam Allardyce's staff at NUFC. 0-1
Half time: Magpies 0 Gunners 1
66 mins: Arsenal advanced towards the edge of the United area via a series of passes in the middle of the field involving Dani Ceballos, Aubameyang and Martin Odegaard.

The latter spread it out wide to Gabriel Martinelli in acres of space down the left, as Aubameyang jogged forward unseen towards the back post. When the precise cross arrived at chest height, he claimed his usual goal against us by volleyed in from six yards. 0-2
Full time: Magpies 0 Gunners 2
Steve Bruce said:
"We're disappointed because we haven't got near the performances of late. Arsenal played well. It's a poor goal after four minutes.

"When you're chasing against these lads it's always going to be difficult. Arsenal were the better side today it was as simple as that.
"We are delighted to see we are a bigger threat. Allan Saint-Maximin in the last few weeks has produced all sorts of magic but it wasn't quite there today.

"We've never thought (we're safe from relegation). We have four games left and we still have a lot to play for. We didn't play well enough today against a decent Arsenal team. We have to regroup, go again and get ready for next week.
"It was simply that service to (the forward). I think Allan probably played too deep. He was a little frustrated and got too deep."

On Fabian Schar:

"The way it is at the moment and the rules are... There's no tackles anymore. I don't think it deserves a red. Maybe it's a yellow.
"Is it dangerous? Not really. We're playing Arsenal so you have to get into them. When that stops it becomes very difficult.
"I have sympathy for Fabian Schar. He tries to win the tackle. Maybe a yellow card but certainly not a red."
Mikel Arteta commented:

"This game showed our focus is still there in the Premier League. We believe that anything is possible if you're picking up points and we wanted to put bad results out of the way.

"We refreshed the team because we've played so many games. Thursday was very demanding, but the team was really committed and focused on this game and that's why we won.

"We had a great attitude, some moments of real quality and had total control from the start. We controlled the game and we accelerated when it was needed. The early goal gave us confidence which we needed after the defeat on Thursday.

"We have to do as well as we can and finish as high as we can. You need big performances and we had that today.

About Pierr-Emerick Aubameyang starting:

"We thought he wasn't going to manage that. On Thursday, the day before, he was really struggling, to be fair, he could only manage to play 10 or 15 minutes.

"But the day after and the day after, he started to feel better and it's good to see that he was fine today. He performed well and he scored a goal, so it's a real boost.

About David Luiz starting:

"He felt something in his hamstring, so it's not good news. He's put in such a shift to be back with the team for the last few weeks after the knee surgery and it's a real shame."


Newcastle's third loss to Arsenal in 2021 was their seventh straight defeat by the Gunners in all competitions (six in the Premier League only).

Since a 0-0 draw at SJP in August 2011, The Magpies have conceded at least once to Arsenal in all 18 league and cup meetings. As a consequence, we've lost all but one of those games.

Since United last scored against the Gunners (Ciaran Clark in a 1-2 home loss in September 2018), Arsenal have put 14 goals in our net.

Fabian Schar became the third Newcastle player to be dismissed this season in the Premier League, after Ryan Fraser (Sheffield United away) and Jeff Hendrick (Southampton home) who both received two yellow cards.

The Swiss international managed to last just 18 minutes on the field before seeing red - even faster than fellow substitute Keith Gillespie's 27 minute cameo at Arsenal a day short of 24 years earlier (May 1997).

Arsenal @ SJP - PL era:
2020/21: Lost 0-2
2019/20: Lost 0-1
2018/19: Lost 1-2 Clark
2017/18: Won 2-1 Perez, Ritchie
2015/16: Lost 0-1
2014/15: Lost 1-2 Sissoko
2013/14: Lost 0-1
2012/13: Lost 0-1
2011/12: Drew 0-0
2010/11: Drew 4-4 Barton 2, Best, Tiote
2010/11: Lost 0-4 (LC)
2008/09: Lost 1-3 Martins
2007/08: Drew 1-1 S.Taylor
2006/07: Drew 0-0
2005/06: Won 1-0 Solano
2004/05: Lost 0-1
2003/04: Drew 0-0
2002/03: Drew 1-1 Robert
2001/02: Drew 1-1 Robert (FAC)
2001/02: Lost 0-2
2000/01: Drew 0-0
1999/00: Won 4-2 Speed 2, Shearer, Griffin
1998/99: Drew 1-1 Hamann
1997/98: Lost 0-1
1996/97: Lost 1-2 Shearer
1995/96: Won 2-0 Ginola, Ferdinand
1994/95: Won 1-0 Beardsley
1993/94: Won 2-0 Cole, Beardsley
Waffle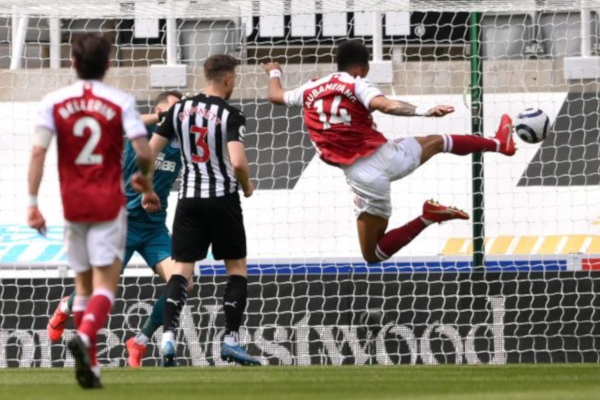 Sunday saw Newcastle's four match unbeaten run come to a juddering halt, as Steve Bruce's side once again failed to solve the perpetual puzzle of how to put the ball in Arsenal's net.

It's now 570 minutes since we scored against the Gunners (Ciaran Clark here in 2018) and our reluctance to get anywhere near their goal today saw Matt Ryan collect a second SJP clean sheet of the season with ease - having leant against a post for 90 minutes as Brighton won 3-0 here last September.

At the other end of the pitch though, Pierre-Emerick Aubameyang had no such problems. The striker had missed the last three Premier League games as he recovered from malaria, but returned to the starting lineup to score against us for the third time this season and a fifth successive outing.

Aubameyang missed an early opportunity to extend his record, but when the ball ran to team mate Mohamed Elneny, he bagged his first league goal to ensure United's wait for a home clean sheet in 2021 would continue.

Falling behind though - or being pegged back after going ahead - has been a hallmark of this season, an upturn in results since the Sussex surrender based on our improved reaction to that scenario.

Today though, there was barely a hint of any revival from a placid United side - who in reverting to type, simply went behind and stayed behind.

Those who swapped a seat in front of the telly for one in a beer garden missed nothing, and in truth had seen this game previously at various points this season, albeit against less illustrious opponents.

Our mastery of the art of doing nothing was to the fore when facing the likes of Brentford, Sheffield United and West Bromwich Albion but today we chose to gaze admiringly at an Arsenal side who were hardly The Unbeatables.

Mikel Arteta's side came into this game eleventh in the table and with one win and one clean sheet in five league outings, both recorded against the already relegated Sheffield United.

That humdrum form was hardly enhanced by playing a bruising Europa League tie against Villarreal in Spain less than 72 hours earlier - and with their domestic season realistically over, Arsenal could be excused for having one eye on the return leg next week.

They still beat us with plenty to spare though, as we returned to the old habits of passive drudgery, prompting thoughts that the weekend-long social media blackout had extended to squad and staff taking a vow of silence.

Even that scenario though shouldn't have mattered; surely the players should have smelt blood and looked to build on Fulham's defeat the previous day with a performance and a result to strengthen their survival hopes.

Instead though, a Newcastle side with eight days to prepare for this game inexplicably lacked intensity. The familiar Bruce soundtrack of praising our opponents to the skies grates on fans, but does over-assessing the magnitude of the task at hand similarly wear the players down?

After turning to the bench for salvation in recent weeks, the club's make-do-and-mend policy was exposed by being unable to name Joe Willock, the lad that we borrowed off the opposition. That's pretty small time.

United started with Callum Wilson and Allan Saint-Maximin for the first time in 11 games, but the Frenchman seldom had possession of the ball, never mind charging at the opposition in full flight as seen lately. Top scorer Wilson meanwhile had just one first half touch of the ball in the Arsenal box.

That's not to blame either of those "big players" exclusively; rather to emphasise that they cannot be expected to dig their colleagues out week after week, especially when lacking support or service.

The first half Saint-Maximin lob that vaguely taxed 'keeper Ryan was to be a high point in our attacking effort, while we just didn't compete enough to gain the opportunity to waste set pieces.

Miguel Almiron's main contribution to proceedings meanwhile was heading Elneny's goalbound effort away from the six yard box on the half hour; the simple expedient of pressurising our wing backs choking the whole team.

After drifting through the first half once again, United began the second period more on the front foot - but hadn't caused the visitors any genuine alarm when a second goal arrived midway through the half; Aubameyang, who volleyed in from close range to seal our first home loss in six games.

Both Joelinton and Dwight Gayle did then appear to no obvious end, given that their side were no more adept in getting the ball forward.

A poor day for the black and whites was then capped by a needless lunge by the returning Fabian Schar on Martinelli, prompting Mike Dean to brandish a harsh red card in the closing seconds that VAR upheld, presumably as there wasn't an obvious error (so if the tackle had earned a booking, then the subsequent review wouldn't have upgraded it).

The reaction of the visiting player to being fouled drew some criticism for having influenced the referee (Dean earlier drawn in by Ceballos to caution Almiron), but Newcastle were complicit in not placing Arsenal under exactly that same sort of situation.

Schar's international colleague Granit Xhaka successfully completed three quarters of the game after a yellow card, as we lacked the guile or energy to tempt him into another indiscretion (Dean having given a "final" warning for a 55th minute elbow aimed at Sean Longstaff).

The manner of this defeat may have suggested that the dressing room feeling is one of job done in terms of claiming their survival bonuses. The reality of the situation however is rather less comfortable.

With each side now having four games to play, United remain nine points clear of third-bottom Fulham with the same goal difference.

And while now face a trip to Leicester City followed by the equally daunting visit of PL champions-elect Manchester City, Scott Parker's side host Burnley before travelling to Southampton.

On that basis, you'd expect the gap to shorten, meaning the closing week of the season with two games played in front of fans may yet be pivotal to our fortunes....and saleability.

And if the task of staying up is completed, the return of Norwich and Watford next season should serve as notice that we will need to improve if we're just not postponing the inevitable: given that we were incapable of beating either The Canaries or The Hornets last time round.


Biffa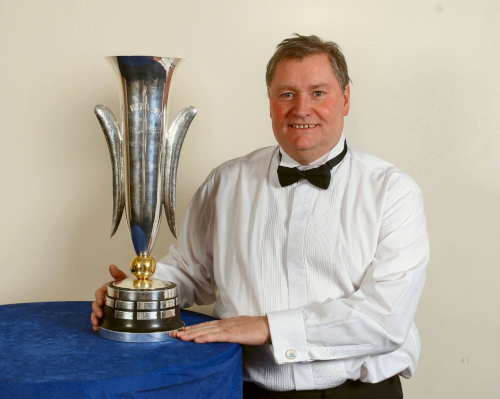 This report is dedicated to the memory of David Craggs.

The former NUFC London Supporters Club Chairman
passed away hours before United's visit to Anfield.
RIP.

We're grateful to both NUFC and Curtis Sport for reproducing this
photograph and text in today's match programme at short notice.