Date: Friday 7th May 2021, 8.00pm
Live on Sky Sports

Venue: King Power Stadium

Conditions: Unforeseen

Programme: £1.50 for downloadable
digital version only.

Leicester City

Newcastle

2 - 4

Teams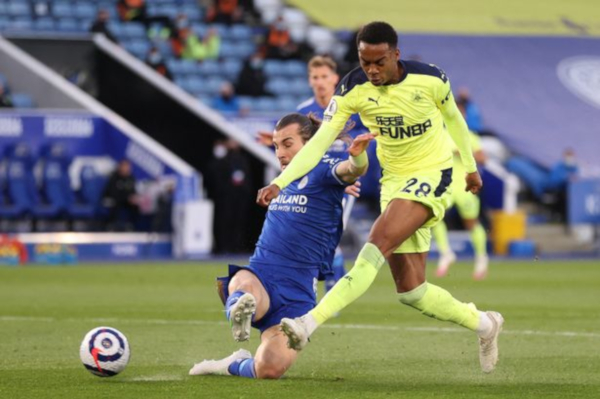 22 mins An exchange of passes on the left hand side of the field just short of the halfway line between Paul Dummett and Matt Ritchie ended with the former pinging the ball forward and into the middle of the field.

Caglar Soyuncu looked in no danger when back-pedalling as he collected the ball, but dawdling in possession for an instant proved disastrous, when Joe Willock robbed him and coolly tucked the ball past Kasper Schmeichel. 1-0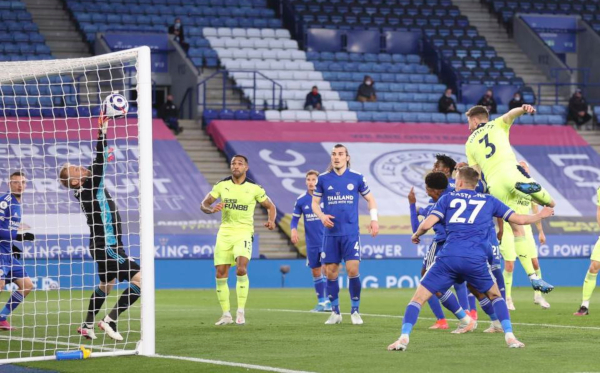 34 mins Barely needing to move from his chosen spot near the edge of City's six yard box and with only the merest of marking attempts from Wesley Fofana, Paul Dummett powered in a header from a Matt Ritchie corner. Schmeichel was only able to palm the ball into his goal. 2-0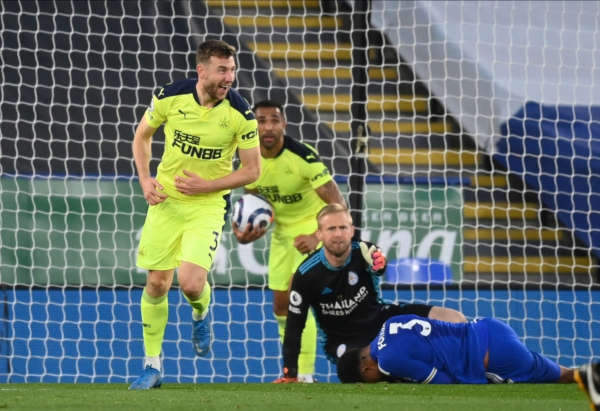 Half time: Foxes 0 Magpies 2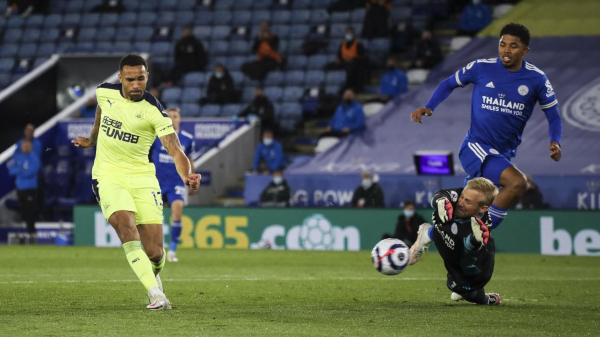 64 mins Ritchie's outstanding ball out of defence down the left flank tempted Timothy Castagne into an abortive back pass that set up Callum Wilson to stroll forward and round Schmeichel to fire into the empty net at the end of the ground nearest the vacant away section. 3-0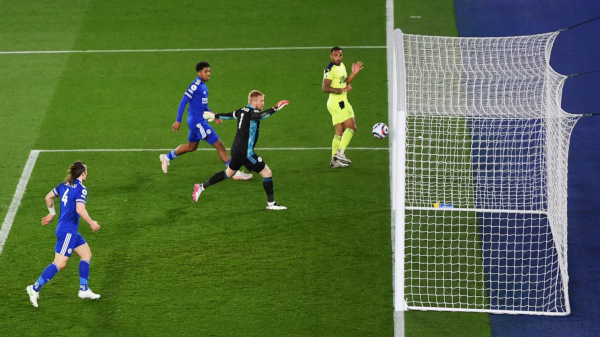 73 mins Callum Wilson seized on Miguel Almiron's pass and dashed into the left hand side of the Leicester area. Hitting the far post with his first (right-footed) effort, he casually returned the rebound left-footed into the net from the narrowest of angles, to the bafflement of Fofana.

Replays confirm that the entire team including Dubravka touched the ball during an elongated 14 man passing move that stemmed from Federico Fernandez initially taking possession outside his own box. 4-0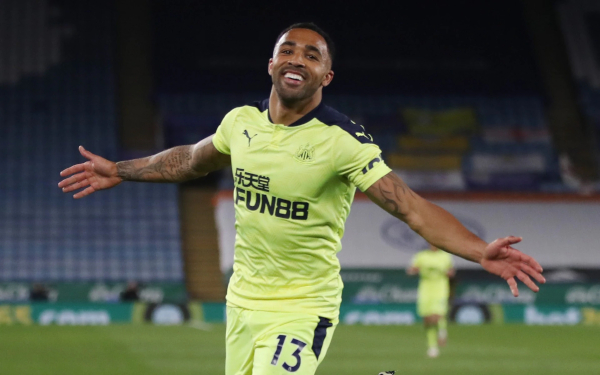 SuperCallumgoesballisticLeicesterareatrocious
(stolen off the internet, not our line)
80 mins Luke Thomas' cross from the left was helped on by Jamie Vardy to Marc Albrighton who blasted the ball into the roof of the net to claim his first Premier League goal since 2018. 1-4

87 mins The in-form Kelechi Iheanacho collected an Ayoze Perez pass and made his way to the edge of the United box. His low shot nestled inside the near post, with neither Dummett or Ritchie close enough to the scorer and Federico Fernandez seemingly preoccupied with hiding his arms lest they come into the contact with the ball and be penalised. 2-4
Full time: Foxes 2 Magpies 4
Steve Bruce:
"Absolutely pleasing, especially the first half. Some of the counter attacking was excellent, delighted with the win.
"We said before the game Joe Willock has forced his way into the team by what he has done as a sub. He is a really smashing young player.
"We knew coming here we needed our goalkeeper playing well and the team playing well. We made it a bit hairy towards the end.
"We are not safe, for the Premier League you can't take it for granted. We are almost there. Until it is done, we have to get ready for the next challenge.
"Once the big players have returned it makes a difference. We have struggled with injuries and Covid-19 and that has been a major change.

"I felt we took a backwards step too early after conceding a poor goal (at home to Arsenal). The energy and drive of the team was pretty evident tonight and we get the early chance to go on the front foot and what a difference it makes."
"We were deadly on the counter attack and the difference was the big lads being fit at the top end of the pitch.
"We could not just see it through at 4-0. It would not be Newcastle otherwise but I am really pleased. My staff have work tirelessly to make sure we got to this position. We have turned it around at the right time.
"I have said quietly for weeks that we'd be okay when we got our big players back. My staff have work tirelessly to make sure we got to this position. We have turned it around at the right time.
"Normally it is enough. We are in the dizzying heights of 13th. We haven't done it yet but we have made big strides in the last few weeks."
On Joe Willock:
"He's enjoying his football. We have taken the reins off him and let him run forward and that was probably what we didn't have enough of in January, that forward-running midfielder who likes to score.

"We'd love to keep him but he has got a big future" (and price tag).

Brendan Rogers said:

"It's a very disappointing result. A key item for me was our concentration from a defensive perspective. We conceded poor goals. We made errors for the goals. This is a stage of the season where you have to be really concentrated in the game.
"For that, we got punished. They've got top players who can hurt you. That was the biggest disappointment. We kept going until the very end. I was proud of the team in terms of the fact that we didn't sink. Sometimes at 3-0 or 4-0 down, the team can stop running, stop working, but they showed their spirit.
"We scored two goals and we could have had five goals ourselves tonight. The 'keeper made a few great saves, but you're never going to win a game if you defend like that and make those mistakes and, unfortunately, that punished us.
"It's very easy to analyse as we made so many mistakes. You can't afford to do that. The goals we conceded were uncharacteristic and it's a time of the season where you've got to be super-concentrated if you are to achieve what you want.

"We lacked concentration and if you do that against good teams, with good players, they'll punish you.

"Too many mistakes ultimately cost us. You can get that with young players, and you can see from the first goal that it was a poor mistake.

On the loss of Evans:
"We were managing a problem with his heel for the last two weeks. It's something which he's been having injections for and got through okay. Just before he finished the warm-up, he was in a lot of discomfort when he came in just before kick-off.
"He tried to stretch it out in the changing room, but he was suffering. We'll just have to wait and see. He's on crutches at the moment, so that was a massive blow for us. I've always said he's the brain in our defence. Whether we play a back four or a back three, he's the one that keeps the line up.
"He pulls the other two guys together. They're young players. I thought Wesley Fofana was outstanding this evening. He got done for a corner, but apart from that, he was aggressive, his concentration was very good. He was excellent, but Jonny's a huge miss when he's not playing for us."

NUFC after 35 games - last four seasons:
2017/18: W11, D8, L16. Gd -9 (scored 35, conceded 44) 41 points
2018/19: W11, D8, L16. Gd -9 (scored 35, conceded 44) 41 points
2019/20: W11, D10, L14. Gd -16 (scored 36, conceded 52) 43 points
2020/21: W10, D9, L16. Gd -18 (scored 40, conceded 58) 39 points
Joe Willock scored for the fourth successive PL appearance - the first Magpie to achieve that since Papiss Cisse in 2012 (he went on to score in six successive games). The Arsenal loanee now has five goals for NUFC.

Paul Dummett netted his fourth goal in our colours, over five years after his third, which came against Manchester United at SJP in January 2016. This was his third PL effort, the other scored v Liverpool at home in October 2013. Making up the numbers was one at Crystal Palace in the League Cup during September 2014.

Callum Wilson's brace took him on to 12 for the season, all in the PL and all scored in the second half of games. His best top flight tally remains the 14 he hit for Bournemouth in the 2018/19 campaign, which were rather more evenly distributed with seven in either half.

The four goals took Newcastle on to 40 for the PL season with three games remaining, two more than they managed in the whole of 2019/20.

The three points took United's away points haul in the PL through the 500 point mark, to 501 from 497 games.

United have now scored 18 goals in their 18 PL away games this season - exactly matching their total in each of the previous three PL seasons, ahead of their final day visit to Fulham. Managing to net just 12 during 2015/16 and 14 in 2014/15, finding the net once at Craven Cottage would leave them with their highest total since they hit 20 in 2013/14.

Following victories at West Ham, Crystal Palace, Everton and Burnley, United won away from home for the fifth time in the PL this season - matching their 2019/20 total. Unlike any of the previous four games, we scored in the first half today.

The Magpies scored four or more goals away from home in the PL for the first time this season and the thirteenth time in 497 attempts:

2020/21 Leicester City 4-2
2019/20 Bournemouth 4-1
2018/19 Fulham 4-0
2013/14 Hull City 4-1
2007/08 Spurs 4-1
2005/06 mackems 4-1
2005/06 West Ham 4-2
2001/02 smoggies 4-1
2001/02 Bolton Wanderers 4-0
2001/02 Leeds United 4-3
1998/99 Derby County 4-3
1998/99 Coventry City 5-1
1993/94 West Ham 4-2

Martin Dubravka reached 100 games for the club since debuting in a 1-0 home win over Manchester United in February 2018 (he's made 98 starts in the PL and two in the FA Cup).

Leicester have now lost eight times at home in the PL this season - one more than Newcastle (they've played one more).

United scored four goals away to Leicester for the first time since December 1990, when they lost 4-5 at nearby Filbert Street in the Second Division.

Magpies @ Foxes - Premier League era:
2020/21 won 4-2 Willock, Dummett, Wilson 2
2019/20 lost 0-5
2018/19 won 1-0 Perez
2017/18 won 2-1 Shelvey, Perez
2015/16 lost 0-1
2014/15 lost 0-3
2014/15 lost 0-1 (FAC)
2009/10 drew 0-0 (Ch)
2003/04 drew 1-1 Ambrose
2001/02 drew 0-0
2000/01 drew 1-1 Speed
1999/00 won 2-1 Shearer, Ferguson
1998/99 lost 0-2
1997/98 drew 0-0
1996/97 lost 0-2
1994/95 won 3-1 Cole, Beardsley, Elliott
1992/93 lost 1-2 O'Brien (Ch)
(At Filbert Street until 2001/02. At Walkers / King Power Stadium thereafter. All PL unless indicated otherwise).

Leicester were forced to hastily alter their published line-up when Jonny Evans pulled up during pre-match preparations. Marc Albrighton stepped up from the bench and Christian Fuchs was added to the substitute roster.

Waffle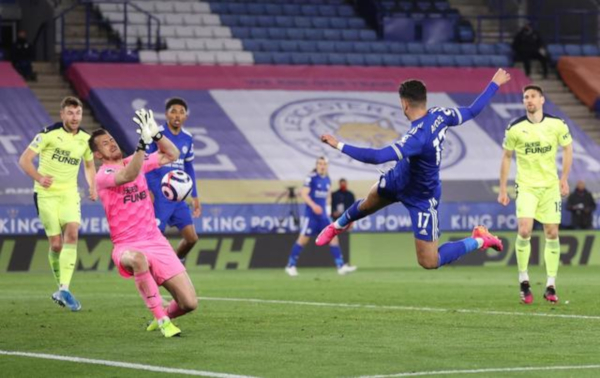 Arguably the most unexpected result of Steve Bruce's 73 Premier League games in charge of Newcastle United arrived at the King Power Stadium on Friday night.

While a 4-2 success against a Leicester City side eyeing Champions League qualification was eye-catching enough, to be leading the Foxes by four clear goals at one point was nothing short of sensational.

The yellow-clad Magpies had already missed two decent chances to open the scoring, when the alertness of Joe Willock saw him catch Caglar Soyuncu dawdling in possession before coolly poking home on 22 minutes.

And that lead was deservedly doubled before the break when the unlikely figure of Paul Dummett powered in a header from a Matt Ritchie corner. The last time he scored, Daryl Janmaat claimed the assist.

A change of ends brought no alteration in the flow of the game, Ritchie's outstanding pass down the left flank tempting Timothy Castagne in an abortive backpass that set up Callum Wilson to stroll forward and fire past Kasper Schmeichel in the 64th minute.

And Wilson was at it again nine minutes later, seizing on Miguel Almiron's pass. Striking the post with his first effort, he slammed the rebound into the net from the narrowest of angles, to the bafflement of Wesley Fofana.

Some late discomfort followed when Marc Albrighton blasted into the roof of the net on 80 minutes and Martin Dubravka was caught out again by the in-form Kelechi Iheanacho six minutes later.

Dubravka's instinctive block to deny old boy Ayoze Perez moments later ended faint hopes of an unlikely Foxes revival and Jamie Vardy's header onto the roof of the net was to be our final moment of anxiety.

Once the dust settled and incredulity subsided, victory wasn't a total shock given that we've now taken maximum points from three out of our last four visits to this venue and City have been somewhat slipshod at home. And aside from the Arsenal aberration, we've had the knack of collecting points recently despite only offering a threat at certain times in the game.

Much was made of avenging the 0-5 loss here last season, but it's overlooked that Newcastle played more than half of that game a man short after Isaac Hayden was red-carded (when the score stood at 0-1).

What was unexpected tonight though - apart from the goal rush - was the manner in which it was achieved; the predictably passive approach quickly giving way to counter attacks at pace, with precision passing and pressing when not in possession: all in stark contrast to last week's no-show.

We even managed to exploit City's weakness for set pieces, although it would be stretching a point to claim that the late free kick Shelvey banjoed forward and somehow gained a free kick from was in anyway scientific...

So many of our victories this season have come as a direct result of Allan Saint-Maximin's endeavours, but although he could have scored the opening goal of the game, he wasn't at the heart of this success (one cynic did wryly comment of that early chance that "Joelinton would have scored it").

If they was one difference to the misdeeds of last week (aside from failing to react to going behind) it's that the intelligent runs of Callum Wilson were matched with some service; superlative passes from Ritchie and Almiron set up him and he did what he's paid for (like Pop Robson, you had total confidence that he'd score, said one veteran toon watcher later).

The home side were undoubtedly wrong-footed by the loss of Jonny Evans in the warm-up and their own support pinpointed a variety of alternative plans to compensate, other than the one Rodgers chose of adding Albrighton.

And there's also that old chestnut of players keeping their boots clean ahead of a Wembley final (Leicester face Chelsea in the FA Cup Final next weekend), something we suffered from back in the days when we got to finals....

To lay the blame elsewhere though for this outstanding result and display is to damn our players with faint praise - at the risk of repeating ourselves, to not be watching this game and these goals live is a tragedy. Wilson and Willock may get a warm feeling from social media adulation, but they haven't half missed out on the spontaneous reaction from the stands.

Victory catapulted United from 17th to "the dizzying" heights of 13th (14th within 24 hours) - opening up a 12 point gap on third bottom Fulham.

A single point from the last three games will guarantee top flight football at SJP next season - and anything other than a Fulham victory over Burnley on Monday night will complete the task without our kicking another ball.

That achievement is hardly cause for street parties, but by our standards, the revival since losing at Brighton has been substantial - aside from last week's damp squib against Arsenal. 11 points from a possible 18 looks rather better when considering the previous 11 came from a possible 54.

A bad night for Leicester then on the fifth anniversary of them lifting the Premier League title, but they could still end up in possession of the FA Cup and a place among the elite of Europe next season.

Victory for Newcastle meanwhile came 66 years to the day that they last lifted domestic silverware.

Like winning the odd battle but never the war, staying up is still no substitute for actual success - no matter how lucrative. That's the task Bruce was set though; the perfect front man for the football club that we are. Mission accomplished, but we never wanted to go to the moon apparently, meaning it isn't lift off United.


Biffa