Date: Friday 14th May 2021, 8.00pm.
Live on Sky Sports

Venue: St. James' Park

Conditions: Freakish






Newcastle

Manchester City

3 - 4

Teams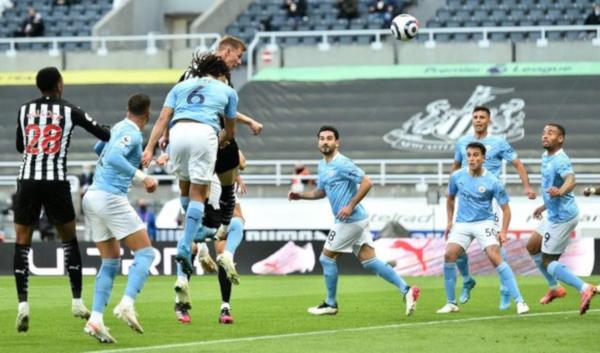 25 mins Jonjo Shelvey's flag kick from the North West Corner found Emile Krafth who powerfully headed beyond Scott Carson into the Leazes goal, Nathan Ake making a futile attempt to out-jump him. 1-0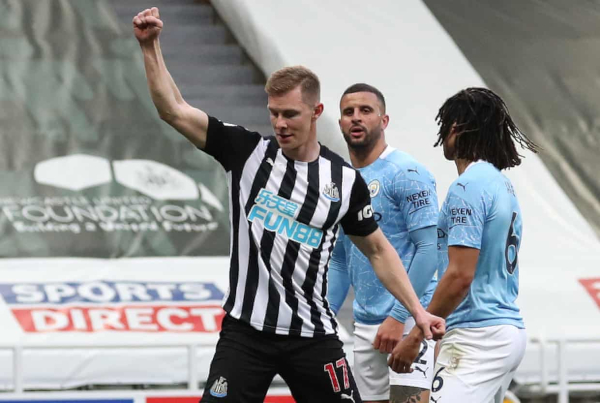 39 mins Joao Cancelo's speculative shot from the edge of the area struck Jacob Murphy's foot en route to beating Martin Dubravka. 1-1
42 mins Ferran Torres met Ilkay Gundogan's free kick from the left with a first-time aerial back heel that survived a lengthy VAR offside review. 1-2
45+6 mins VAR determined that Saint-Maximin wasn't offside as he found Joelinton in the City area and then deemed that Nathan Ake fouled the number 9 at the cost of a penalty.

With match referee Kevin Friend declining to check the pitchside monitor, Joelinton stepped up and hammered in a powerful spot kick. 2-2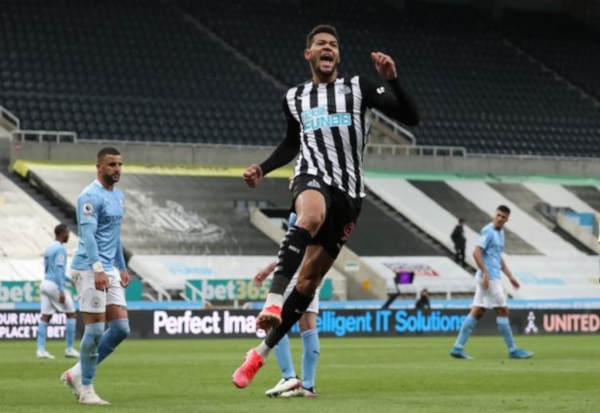 Half time: Magpies 2 Citizens 2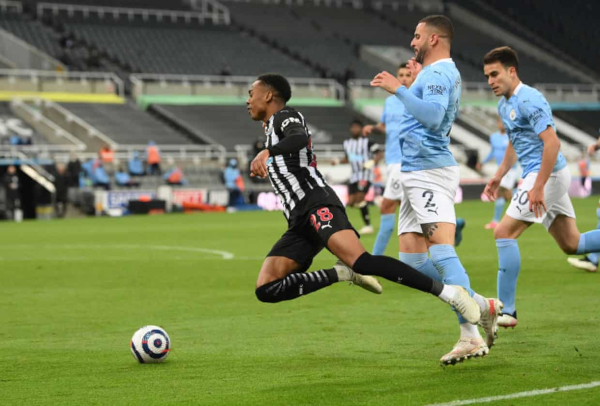 62 mins Joe Willock was impeded by Kyle Walker in the City box and a clear and obvious penalty kick was awarded.

Willock claimed the ball and although Carson blocked his right-footed spot kick, the on-loan Gunner overcame a stumble to fire in the rebound from close range with his left foot.

It's unclear whether Willock was designated to take the penalty kick or it was a question of finders keepers with the ball. Steve Bruce's post-match ramble on the subject mentioned that Matt Ritchie wasn't interested in taking one since he'd missed (at Southampton in March 2020) and that after Joelinton had netted one, "some South American thing" meant he preferred not to attempt a second during the same game. 3-2
64 mins A fierce pull back from Gabriel Jesus on the right hand side of the United box was guided into the roof of the net by Torres at the near post. 3-3
66 mins Torres volleyed home in the loose ball after Cancello's effort came back off Dubravka's far post. 3-4
Full time: Magpies 3 Citizens 4
Steve Bruce said:
"We gave it a right good go but when you play against these, defensively you have to be better than what we were.

"The sloppiness of a couple of goals is the disappointment of the whole evening for me. I mean, how often do you score three against this mob? Not very often.

"So, the disappointing thing is we were a bit naive and our defending had to be a bit better at times. But for the way the went about their work I was delighted with them but we weren't quite good enough.
"Overall our attacking play was good on the counter attack and we just weren't quite good enough on the night.

"The biggest compliment I can pay them is that it's difficult to set up against them. There are large periods where you don't get a kick because they're so good in possession.
"We have to respect that Joe (Willock) is Arsenal's player but if it's possible we'd love to keep him.
"If you're going to do the job in the Premier League you come in for criticism, sometimes it's unjust. I always said when we had our players fit we'd be alright.

"I'm a football manager and I've been doing it a long time but I'm prepared to work away at it and grow an even thicker skin."
Pep Guardiola commented:

"We made mistakes because we are champions, because the players were distracted a little bit in the last days, this is normal. We knew it but the spirit from the first minute until the end was absolutely there.

"I'm really pleased and hopefully we can learn from our distractions. I knew it could happen but at the end we won and now the team are going to celebrate and we're going to prepare to face Brighton.

"I'm pretty sure we'll be more focused to prepare for the final of the Champions League.

About Scott Carson:

"He says straight away to the young guys and the old guys what he believes, because he has incredible experience around locker rooms and in big teams.

"He is an incredible person and we are delighted, not just me but all the players, that today he could play.

About Ferran Torres:

"Not just this evening, of course this evening was important, but his first season in England and his number are exceptional. He came as a winger, but he has to think about a striker. When Sergio, Gabriel were out, he was there. He scored against Leeds and Crystal Palace. He didn't have many minutes, but when he played, he had a sense of goal.

"Yeah, he can be [a number 9]. We will use him, we used him and he was brilliant. His rhythm, especially defensively he has improved a lot. The game at Palace, he makes a turn [in his season] - so good. The movement he makes as a striker, for the [third] goal, it hits the bar [post] and where it goes, he knew it.

"The smell, the strikers know, intuitively where it will arrive. He has this talent and the first goal is fantastic. Very pleased."
With one home game left, Steve Bruce's side have collected 20 points at SJP this season: that's six less than last season and two less than their lowest PL tally of 22 set in 2008/09.

The three goals here boosted our seasonal home tally to 25 ahead of Wednesday's final game at SJP. That's the highest PL return since the 2015/16 campaign.

Conceding four goals though means that we've let in 33 at SJP in 18 PL fixtures - our leakiest defence in any of the 26 seasons of the Premier League.

Emil Krafth scored his first Magpies goal, becoming the 155th player of the 246 to have represented us in the Premier League to get off the mark.

He's the second Swede to net for United, following on from the blonde bombshell himself, Andreas Andersson.

Krafth's goal was Newcastle's 50th of the season (in league and cup), which matched last season's entire total. With two games remaining the Magpies now have a tally of 52 - their highest total in a top flight season since scoring 59 in 2012/13 (they hit the net exactly 100 times in 2016/17).

Joelinton now has four Premier League goals to his name in 2020/21 and six this season in all competitions. Tonight was his first penalty conversion, which took him up to 10 in league and cup matches for United (from 62 starts plus 17 substitute appearances).

Joe Willock scored his sixth goal in our colours and his fifth in successive appearances, the first Magpie to achieve that feat since Papiss Cisse in 2012.

In the club PL scoring list, Willock and Joelinton each have six, a total they share with current colleagues Allan Saint-Maximin and Fabian Schar. Old boys with half a dozen to their name include David Ginola and Joselu.

United's 43 PL goals so far this season have come from 14 different players, compared to last season's final total of 38 goals from 17 players.

Newcastle were awarded two penalties in the same PL game for the first time since a home meeting with Stoke City in December 2013. That day saw Loic Remy denied by Thomas Sorensen but Papiss Cisse convert his later on.

Ferran Torres became the fifth player to have scored a hat trick against Newcastle in the Premier League at SJP, following on from Dwight Yorke (Villa), Michael Owen (Liverpool), Paul Scholes (Manchester United) and Somen Tchoyi (West Bromwich Albion).

United v City @ SJP - PL era:

2020/21 Lost 3-4 Krafth, Joelinton(pen), Willock
2019/20 Lost 0-2 (FAC)
2019/20 Drew 2-2 Willems, Shelvey
2018/19 Won 2-1 Rondon, Ritchie (pen)
2017/18 Lost 0-1
2015/16 Drew 1-1 Anita
2014/15 Lost 0-2
2013/14 Lost 0-2
2013/14 Lost 0-2 (LC)
2012/13 Lost 1-3 Ba
2011/12 Lost 0-2
2010/11 Lost 1-3 Carroll
2008/09 Drew 2-2 Ameobi, og(Dunne)
2007/08 Lost 0-2
2006/07 Lost 0-1
2005/06 Won 1-0 Owen
2004/05 Won 4-3 Robert, Shearer, Elliott, Bellamy
2003/04 Won 3-0 Shearer 2, Ameobi
2002/03 Won 2-0 Shearer, Bellamy
2001/02 Won 1-0 Solano (FAC)
2000/01 Lost 0-1
1995/96 Won 3-1 Ferdinand 2, Beardsley
1994/95 Drew 0-0
1994/95 Won 3-1 Gillespie 2, Beresford (FA)
1994/95 Lost 0-2 (LC)
1993/94 Won 2-0 Cole 2
Waffle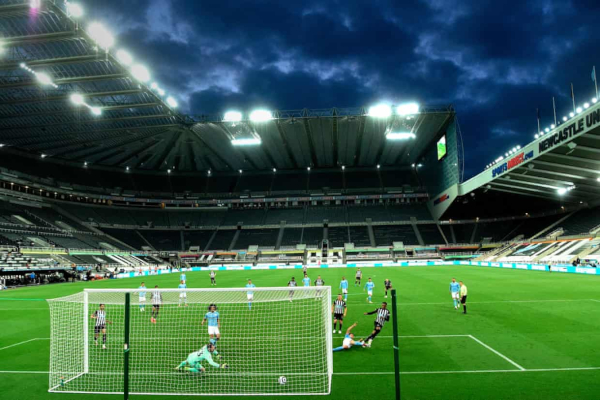 Having clinched the title without kicking a ball on Tuesday - and reportedly partying afterwards - Manchester City inevitably added the record for consecutive away wins to their considerable honours list at SJP on Friday.

Far from strolling to that twelfth away victory though, they encountered a Newcastle team who were patient, precise and fortunate before becoming the latest side to succumb to the rapier-like attack of the Champions.

While the hosts made only the enforced change of Joelinton for Callum Wilson from the side that won at Leicester, Pep Guardiola reshuffled in familiar style.

What wasn't expected though was a belated bow for veteran goalkeeper Scott Carson, on loan at City since 2019 without playing a single senior game.

Carson's last top-flight game had come at Gallowgate a decade ago when with West Bromwich Albion; and although he was to concede three goals as he did that day in a 3-3 draw, he ended up on the winning side this time.

The opening quarter of the game gave precious little hint of what was to come; City perpetually camped in the United half and giving every indication that their title win would be followed by a procession.

That all changed after 24 minutes, when Emil Krafth's pass picked out Allan Saint-Maximin. His ball across the edge of the box into the path of Joelinton allowed him to shoot, but the ball deflected off a defender for a corner.

Both Bruce and Guardiola seemed to think later that Matt Ritchie took the resultant corner at the Leazes End, but it was Jonjo Shelvey's flag kick that reached Krafth, who headed in his first goal for the club.

Shelvey came mighty close to doubling the lead when his 35th minute free kick struck the crossbar, but within four minutes City were level - Joao Cancelo's speculative shot from the edge of the area striking Jacob Murphy's foot en route to beating Martin Dubravka.

If there was an element of fortune about that goal though, the one Spaniard Ferran Torres notched 185 seconds later was pure genius; meeting Ilkay Gundogan's free kick with a first-time aerial back heel that VAR approved.

Darren England would be exercised again though before the half time whistle blew, the VAR referee called upon to determine that Saint-Maximin wasn't offside as he found Joelinton in the City area and then deeming that Nathan Ake fouled the number 9 at the cost of a penalty.

With referee Kevin Friend declining to check the pitchside monitor, Joelinton stepped up and hammered in a powerful spot kick deep into added time.

2-2 at the interval replicated the half time score when City won the First Division Championship here 53 years ago - and their 4-3 away win that day in May 1968 was to be improbably replicated here by full time.

A full eclipse of the blue moon fleetingly appeared possible just after the hour, when Joe Willock was impeded by Kyle Walker in the City box and netted from the rebound after his spot kick attempt was saved.

Willock claimed the ball and although Carson blocked his spot kick, the on-loan Gunner overcome a stumble to fire in the rebound and extend his scoring record to a remarkable five matches.

Reality intruded within 90 seconds however, City's instant reply a pull back from Gabriel Jesus that Torres blasted into the roof of the net for 3-3.

And just two minutes later, Torres had his treble and City had the lead again, on hand to volley in when Cancello's effort came back off a post.

That was to be the end of the scoring, City content to play keep ball to a seldom-seen extent; Newcastle kept waiting to make a double replacement by an elongated passing sequence timed at over three and a half minutes.

Friend blew for full time after adding five minutes on, but the only moment that United had sight of goal had come a good deal earlier, when Willock saw glory and fired high and wide rather than passing.

If the outcome was predictable though, the scoreline and our contribution certainly wasn't: this the first time City have conceded three away goals in the Premier League since December 2019, and the first time we've scored that many against them here since October 2014.

Hopefully United have a few goals left in them for Wednesday's home finale in front of a crowd: incident-packed though this was, being played in front of empty stands meant that it bore no comparison to that day in 1968, or either of the two infamous 3-4s at Anfield for that matter.

No matter how admirable the talents on show, watching them second-hand on TV diminishes the impact of whatever they accomplish.

52,000 punters would have gone home captivated by what they'd seen tonight in this meaningless match, with a few bruised knees when the goals went in. Jigging round the front room just doesn't cut it. Thankfully this appears to have been the conclusion to our year and a bit of small screen purgatory, but what an unforgettable final instalment.

We've been of the opinion that COVID meant Bruce has been spared the anger of home fans, but tonight he and his players have been denied what would have been a deserved ovation for their efforts.

That's not to suggest that we share in the media adulation for April's Manager of the Month and his "achievement" in avoiding relegation again, but rather to acknowledge that this is what we are and the set task was completed.

This may be have been another version of Rafa's short blanket, but like Leicester, it was an entertaining one. That the potential of this team - and club - remains untapped under the current leadership is beyond doubt, but you'd need to be stone-hearted not to enjoy tonight's game in isolation.


Biffa