Date: Sunday 23rd May 2021, 4.00pm
Live on Sky Sports Mix

Venue: Craven Cottage

Conditions: Infiltrated

Programme: £3.50
(every spectator received a free copy upon entry).

Admission: £40

Fulham

Newcastle

0 - 2

Teams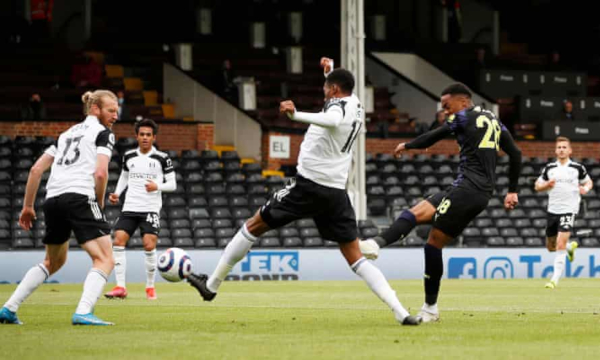 23 mins Jacob Murphy gained possession deep in their own half out on the right touchline, playing a quick pass to Joe Willock, who embarked on a solo run with Franck Zambo trailing in his wake.

That looked to have broken down when Tim Ream and Tosin Adarabioyo jointly blocked the ball inside their own box. However a fortunate ricochet presented possession to Willock and he immediately tucked home a low right-footed effort from 12 yards out at the Hammersmith End. 1-0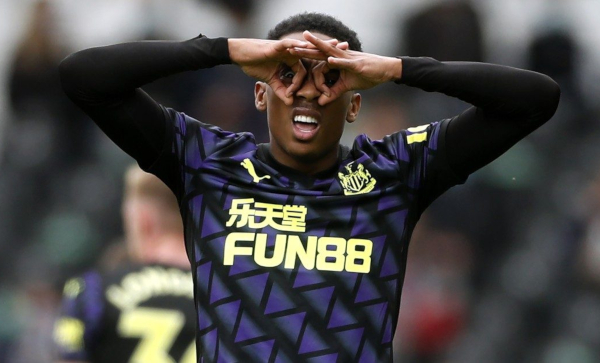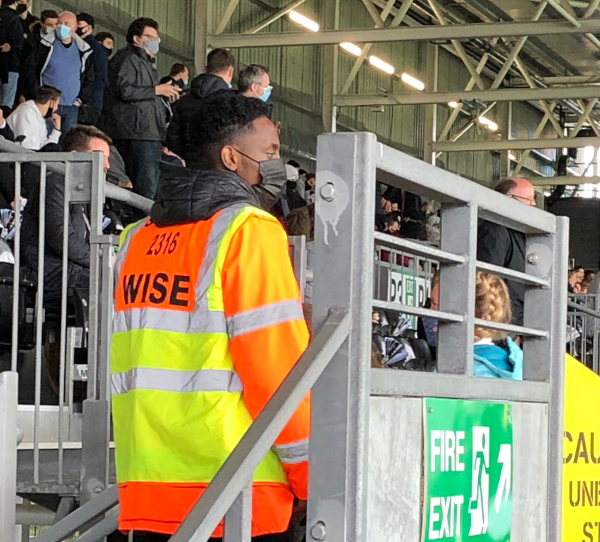 He's here, he's there, he's every flipping where, Joe Willock...


Half time: Cottagers 0 Magpies 1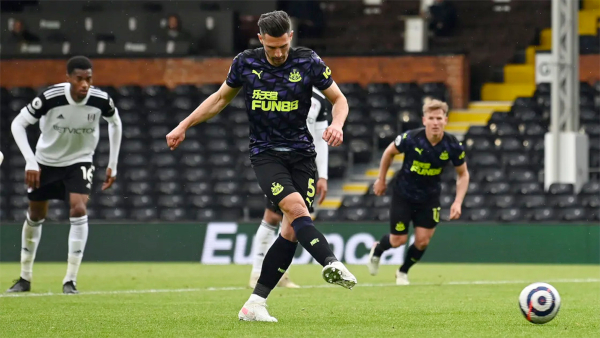 88 mins Matt Ritchie drove into the Fulham box from the left flank and after playing a one two with Willock was clipped from behind by Kenny Tete.

Substitute Fabian Schar nonchalantly rolled the ball inside one upright with Marek Rodak already diving the other way in the Putney End goal. 2-0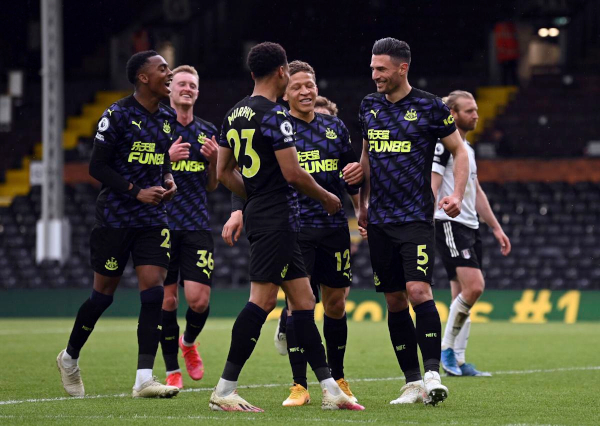 Full time: Cottagers 0 Magpies 2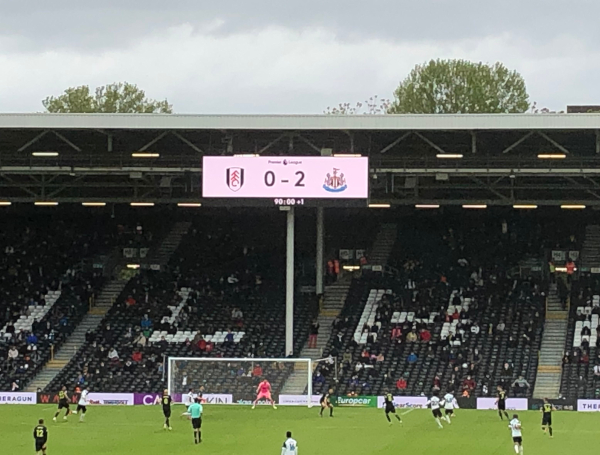 Steve Bruce:
"We'll never say it's an achievement to finish 12th for a club of our stature, but I'm delighted with the way we have ended the season.
"We made hard work of the second half but we defended well. There were a lot of tired bodies but Iím delighted with the way we have finished the season.

"When we really needed the results, the players and staff have worked tirelessly to turn it round.

"At every club, we all want to succeed...."Weíre pleased, donít get me wrong from where we were. Weíve got to do better than that, thatís my job, to knock on the door, and make us better.

"Of course, we can take the club forward, but itís small steps. My aim from day one has been to try and keep Newcastle out of the bottom half of the division, Iíve said that.
"Weíve still got a lot to do in my opinion, but thatís my job and Iím trying my best to achieve it."
On Joe Willock:

"Watching him play you can see a young player enjoying himself and enjoying the freedom that we've given to him, the licence to run forward.
"He's given us something which we certainly didn't have before. He's a very very good player. So I've said now for three or four weeks, we'd love to bring him back.
"He's Arsenal's player of course but let's hope we can test their resolve."

"The goals heís scored, heís in elite company. Unbelievable. So weíre delighted. Can we keep him? Weí will try our very, very best.

ĒWhen you sign a young player, and you take them from London, fair play to his family, who have supported him, and he wanted to come.
"Heís thoroughly enjoyed it, which helps, but, yeah, as an impact, he has to be, with the problems weíve had. He gives us that wonderful running power from midfield, which, I think, is there for everyone to see.Ē

Scott Parker said:

"That game was our season in a snapshot. Certainly, in the second half I thought we played the game in their half for the majority, but we missed some big chances; (Ivan) Cavaleiroís chance that goes over is a massive chance.
"Then they enter our box three or four times, we give away a penalty and the game is done. I didnít like us first half. I thought we lacked intensity, I thought we lacked a stimulus really, the game was flat - I thought both teams were.
ďI thought that in second half we were well improved and we did very well, we just didnít manage to be on the right side of things.
"The fans have been brilliant with me and the team for the time I've been here. I'm forever grateful for that, the support they've given us and the team. I realise how important they are.

"The motivation this season was for the fans, the football club, the players, and for all of us to try and stay in this league and that will never fade away, that will be exactly the same again next year.
"Iím sad that the fans have not been able to experience Premier League football this year; the quality on show, the players and the teams that have been here at the Cottage.
"We need to take a breath a little bit, when you've been in the firing line all year, in terms of the pandemic and things like that, it's wise to take a breather, clear our minds and then sit down and come to a plan of what we need to do which is best for the club.

"Itís a tough league that we are in next year. Seven or eight players leave this team now, seven or eight come back into it from loan spells.
"Itís a new team again, a new stimulus and we need to work out what is the best way to go.Ē
While that mythical 40 points barrier to survive is still spoken of often, 29 points proved sufficient to secure Premier League status this season - the smallest total in the history of that competition.

That means Newcastle's survival was assured by the point collected from a 2-2 home draw with Spurs on Sunday April 4th, their 30th game.

The Magpies collected their sixth PL away victory of the season, managing to win successive games away from SJP for the first time this campaign.

Successive victories over Sheffield United and Fulham mean that Newcastle have ended a top-flight season with back-to-back wins for the first time in the Premier League. The last time they did it was 1987/88 (Division One).

Having scored 18 goals on the road this season ahead of this game to match their final total in the last three campaigns, two more brought the total up to 20 - our best top-flight haul since the 2013/14 season (also 20).

United scored 46 goals in their 38 PL games this season, their highest total in any top-flight season since netting 56 in the 2011/12 season.

Joe Willock scored for the seventh successive game that he's played in and ends his loan spell with eight goals to his name for Newcastle. That puts him level in the all-time club PL scorers list with current Magpies Miguel Almiron, Ciaran Clark and Jamaal Lascelles and old boys Philippe Albert, Lee Clark, Duncan Ferguson and Temuri Ketsbaia.

Fabian Schar extended his scoring total for the club to seven goals, all of which have come in the Premier League. Five of those came in home games, with his two strikes away from SJP both at the same end of Craven Cottage.

The Swiss defender became the third different player to convert a penalty kick for Newcastle in the PL this season, after Callum Wilson (four) and Joelinton (one). Joe Willock missed one. That compares favourably to the club's 2019/20 record of one awarded, none scored (Matt Ritchie).

PL scorers 2020/21:

Callum Wilson 12
Joe Willock 8
Joelinton 4
Miguel Almiron 4
Allan Saint-Maximin 3
Jeff Hendrick 2
Jamaal Lascelles 2
Jacob Murphy 2
Andy Carroll 1
Ciaran Clark 1
Paul Dummett 1
Dwight Gayle 1
Emil Krafth 1
Fabian Schar 1
Jonjo Shelvey 1
own goal 2

Final away game results - PL:

2020/21: won 2-0 at Fulham
2019/20: drew 0-0 at Brighton
2018/19: won 4-0 at Fulham
2017/18: lost 0-1 at Spurs
2015/16: drew 0-0 at Aston Villa
2014/15: lost 1-2 at QPR
2013/14: lost 1-2 at Liverpool
2012/13: won 2-1 at QPR
2011/12: lost 1-3 at Everton
2010/11: drew 2-2 at Chelsea
2008/09: lost 0-1 at Aston Villa
2007/08: lost 1-3 at Everton
2006/07: drew 1-1 at Watford
2005/06: drew 0-0 at Birmingham City
2004/05: lost 0-2 at Everton
2003/04: drew 1-1 at Liverpool
2002/03: drew 2-2 at West Bromwich Albion
2001/02: lost 1-3 at Southampton
2000/01: lost 0-3 at Liverpool
1999/00: drew 0-0 at Derby County
1998/99: lost 0-2 at Leicester City
1997/98: lost 0-1 at Blackburn Rovers
1996/97: drew 0-0 at Manchester United
1995/96: drew 1-1 at Nottingham Forest
1994/95: lost 0-1 at Blackburn Rovers
1993/94: lost 0-2 at Sheffield United

Magpies @ Fulham - PL era:

2020/21: Won 2-0 Willock, Schar (pen)
2018/19: Won 4-0 Shelvey, Perez, Schar, Rondon
2016/17: Lost 0-1
2013/14: Lost 0-1
2012/13: Lost 1-2 Ben Arfa
2011/12: Lost 2-5 Guthrie, Ben Arfa
2010/11: Lost 0-1
2008/09: Lost 1-2 Ameobi
2007/08: Won 1-0 Barton (pen)
2006/07: Lost 1-2 Martins
2005/06: Lost 0-1
2004/05: Won 3-1 Ambrose, Kluivert, Ameobi
2003/04: Won 3-2 Robert, Shearer 2*
2002/03: Lost 1-2 Shearer*
2001/02: Lost 1-3 Speed

(All at Craven Cottage except *Loftus Road)
(All in Premier League except +Championship)

The Puma era as NUFC kit providers ended on a winning note, 11 seasons after it began with a 0-3 defeat at Old Trafford in August 2010. In the side that day and on the bench today, Andy Carroll.

Fourth time lucky for the "prism violet" third kit, this a first win wearing it after trips to Spurs (drew 1-1), Leeds (lost 2-5) and Villa (lost 0-2).

Waffle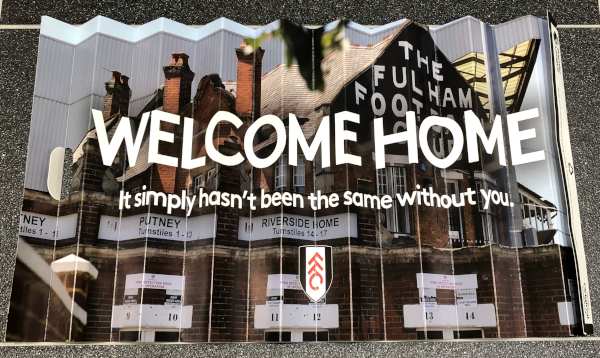 The Cottagers' cardboard wall of sound
A second win over relegated opposition in five days saw Newcastle conclude their season positively on Sunday, attaining a barely believable twelfth place finish after a goal in each half witnessed by 2,000 fans at Craven Cottage.

Two years on from the memorable 4-0 romp here in front of a buoyant away support, it was a rather more sombre afternoon by the Thames as Fulham took their leave of the top flight once again.

Aside from Heathrow-bound flights overhead, the loudest noise came courtesy of the cardboard clackers given out for home diehards to vent their frustrations by braying anything within reach. Surely any fan led review of the game will see these accursed things outlawed?

Beginning without a recognised striker but two on the bench, the Magpies took all three points from a tepid contest despite conceding the bulk of possession to the hosts, for whom old boy Aleksandar Mitrovic was unfit after a season comparable to Ryan Fraser in club versus country impact.

Neither side had come close to engineering an opening before Willock took an opportunity to claim his seventh goal in successive league appearances: emulating Alan Shearer's feat for the club in the Premier League and both Paul Goddard and Len White from the First Division era.

That 23rd minute strike divided the sides at the interval, while the highlight of a turgid second period was a Fabian Schar penalty conversion. Victory ensured that United went level with Wolves on points, while the consequence of Schar's Swiss precision was to match their goal difference. That then meant that we finished above them due to a better goals scored record.

Fulham's lack of a goalscorer was glaringly evident as Ademola Lookman and Ivan Cavaleiro wasted good chances - the latter guilty of an awful 58th minute miss, clearing the bar when an equaliser seemed inevitable. Visiting substitute Dwight Gayle - on for the limping Allan Saint-Maximin - was then equally profligate, heading over the bar from six yards out when unmarked from a free-kick.

The game appeared to be petering out until Matt Ritchie was clipped from behind in the area by Kenny Tete with two minutes of normal time left; referee Chris Kavanagh pointing to the spot with VAR confirming a decision that brought no real protest from home players. And with Ritchie clearly reluctant to take responsibility, substitute Schar came forward and casually tucked the ball inside a post.

That rounded off a victory that was far more impressive on paper than in the flesh, but had a sizeable effect on the club's finishing position and prize pot. Beginning the day in 15th, the 12th place finish resulted in an uplift of around £8.5m from the Premier League prize fund.

Victory also saw Steve Bruce improve on his first season in charge by one point and three places - triggering the inevitable humble pie references in his press call.

A look at the final table and the massive 17 point difference between the two sides underlines the ludicrousness of our belief that we'd finish below Scott Parker's side. That looked a distinct possibility though following the deserved 0-3 defeat at Brighton in March, as we seemed unable to pull out of a rapidly-developing death spiral.

To have recovered from that with something to spare is praiseworthy indeed; just two defeats in nine games and passages of inspired counter-attacking play that would have been celebrated wildly had fans witnessed them first-hand.

To be content with that upturn though is to fall into the usual unrealistic expectations trap. How high could we have finished if we'd not had our own personal mid-season break and attempted to play games without actually attacking? Injuries and the effects of the pandemic this season weren't unique to this club, no matter what you might hear in the media.

Today's 90 minutes encapsulated much of what we've exhibited in 38 games this season: a reasonable result but an unconvincing performance that at times verged on the unwatchable.

On the fourteenth anniversary of his gaining a controlling stake in the club, Mike Ashley was present here to witness our highest finish since 2017/18, matching the 45 points collected in 2018/19.

What he thought of that isn't recorded, but it's hard to believe that he derived any more enjoyment than the fans watching from afar: trapped in a loveless marriage, saddled with a club content to exist, never seeking to prosper or actually develop. He can change that.

Anywhere else there would be optimism that this better-than-anticipated finish would signal genuine forward progress next season. Instead though, our own bleak take is that we'll be firmly back along the also-rans.

Something desperately needs to change.

PS: after another season when our collective experience of football was skewed out of all recognition, it's a relief to conclude with at least a semblance of normal service restored - and relegation averted.

We've lost too many good people to mention them all individually here without becoming endlessly maudlin; apologies to anyone we omitted when posting our periodic tributes.

If nothing else, NUFC didn't add to people's burden and hopefully provided some moments of relief. We hope for better days and remain genuinely appreciative of your support and encouragement.

Biffa