1980-81 Season

Shrewsbury (h) 1-0
Wed Oct 22nd, 1980
11,985
The match programme analyses a footballing white paper called Soccer - The fight for Survival. Whoever wrote the analysis (the programme editor it seems) concludes that three points for a win would be a good idea. Referees are also considered and their match fee of £40 a game (plus expenses) is seen as a little meagre. However, perish the thought that they would ever become professional - many have excellent jobs that they would never give up.... Yellow and red cards are also seen as a hindrance and should be banished from the ref's pocket. More visionary writings.
It could be worse, Russell Cushing's Secretary's Column gives a full page spread devoted to a dull-as-dishwater description of the rules governing signing youngsters. No insight, no scrutiny, just a plain old description. You sad man.
The syndicated national insert juxtaposes Judas Priest, renowned ref Jack Taylor and some of the worst poetry you'll ever see outside of the Sunday Sun. For example, we have Harold Cross from Shropshire (Brookside surely...) enlightening us with his stunning stanzas entitled Female Ref. No-one had heard of political correctness in the 1980's but PC or not this is just rubbish:
"How could John Richards guard his shins,
Distracted by those lovely pins.
Or Emlyn Hughes perform his best
Confronted by a 'forty' chest.
You bet Mel Eves would miss his chance
With a dolly there in fancy-pants"
It doesn't say, but presumably it was Harold Cross, Form 3T, aged 9....
The letters page has three classics; one advocating an ID card scheme, one pleading for plastic protection against the elements for East Stand dwellers and the last enquiring about the new scoreboard. Pulses are set racing with the promise of its launch at the next home game....
The game was played in a monsoon and nearly 5,000 fans stayed in the house after the previous Saturday's home defeat by Swansea. Arthur Cox introduced Chris Withe at left back and Chris Waddle to the attack, both having impressed in the reserves. It wasn't pretty, but Waddle showed glimpses of his skills. The win sent United up to a nosebleed-inducing 7th in the table - it would be downhill from here on in....
Diary entry
"Then picked Bell [Davey] up and went to match. After 46 mins we scored. Bobby Shinton scored. It was dead wet. Wasn't that good a game."
Match report:
Journal Merit Marks: Carr 6, Carney 6, Withe 7, Martin 8, Boam 6, Mitchell 6, Shinton 7, Wharton 6, Waddle 7, Rafferty 6, Hibbitt 6.
The new boys leap to the top of the table with unremarkable 7s. Zico Martin gets a rare 8 with goalscorer Shinton the other non-6 man:
Player

Ave

Goals

Player

Ave

Goals

Lg

LC

FA

Lg

LC

FA

Waddle
7.00

Walker

6.25

Withe
7.00

Shinton

6.22

3

Carr

6.80

Hardwick

6.20

Koenen

6.73

2

Davies

6.14

Rafferty

6.53

2

2

Boam

6.13

1

Martin

6.50

Carney

6.13

Nicholson

6.50

Mitchell

6.11

Kelly

6.44

Cartwright

6.00

Hibbitt

6.42

2

Leaver

6.00

Wharton

6.38

Clarke

5.71

1

Shoulder

6.31

1

1

Barton

5.50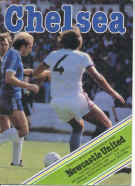 Chelsea (a) 0-6
Sat Oct 25th, 1980
22,916
New boys Waddle and Withe kept their places for the trip to Stamford Bridge and were joined by another debutant - wearsider Bruce Halliday. The Match of the Day cameras were on hand to record this national humiliation and the legend of the unsuccessful white shorts and black and white shirt combo was born. Halliday was immediately dropped, although he was brought back into the side later in the season and eventually made 38 league and cup appearances for United. The trauma of his debut always looked like it had a long-lasting effect on Bruce. Either that or he was just another crap mackem.
Diary entry
(Saturday): "Then listened to Newcastle reports on radio. 0-1 (to Chelsea) 0-2, 0-3 H.T. 0-4, 0-5, 0-6. Heaviest defeat for ages. Then worked out table - we are 9th."
(Sunday): "Then watched Chelsea v United on Match of the Day."
Journal Merit Marks: Carr 7, Carney 5, Withe 5, Martin 6, Boam 5, Halliday 5, Shinton 6, Cartwright 5, Waddle 6, Rafferty 5, Wharton 7. Sub: Koenen 6
A stunning array of 5s as the average mark gained in the 4-0 defeat at Bolton was beaten. Kenny and Kevin emerged with some semblance of pride but not much:
Player

Ave

Goals

Player

Ave

Goals

Lg

LC

FA

Lg

LC

FA

Carr

6.82

Shinton

6.20

3

Koenen

6.67

2

Davies

6.14

Nicholson

6.50

Mitchell

6.11

Waddle
6.50

Boam

6.06

1

Kelly

6.44

Carney

6.00

Wharton

6.44

Leaver

6.00

Rafferty

6.44

2

2

Withe
6.00

Hibbitt

6.42

2

Cartwright

5.80

Martin

6.40

Clarke

5.71

1

Shoulder

6.31

1

1

Barton

5.50

Walker

6.25

Halliday
5.00

Hardwick

6.20
Next time - Graham Taylor brings his hornets up to St. James' as the reserves notch their 10th win in a row.
Niall MacKenzie