Last Match
Southampton 0
Newcastle 1
Premier League
St. Mary's Stadium
Saturday 7th March
Match report

The Never-Ending Tour

Number of Newcastle
games attended by
NUFC.com in 2019/20:

85

Ticket news:
TBC

Project Restart:
Newcastle FA Cup
tie live on BBC
While details of the Premier League schedule and TV listings are awaited, the FA Cup Quarter Final channel selections have now been confirmed.

Exact dates and kick-off times are yet to be announced, but the BBC will show Newcastle's home tie with Manchester City and the Norwich City versus Manchester United match live over the weekend of June 27th and 28th.

BT Sport meanwhile will televise Sheffield United versus Arsenal and Leicester City versus Chelsea over the same weekend.

The Semi Finals are set to be played at Wembley over the weekend of July 18th and 19th, with the Final at the same venue on August 1st.

Project Restart:
PL TV breakdown:
further update
With confirmation received that all 92 outstanding Premier League games are to be televised live in the UK, preparations to release the confirmed schedule continue.

Amazon Prime have four of those games and have now confirmed that they will be free to air and can be viewed without the requirement to take out membership.

The BBC will also broadcast four games without additional charge, while Sky Sports have announced that 25 of their games will be free to air, making a grand total of 33.

Those free to air Sky games are expected to appear on the free-to-air 'Pick' Channel (159 on Sky and 144 on Freeview.)
Of the 59 that remain and will require payment to view, Sky will show 39 and BT Sport have the remaining 20.

Games are expected to resume on June 17th and further details of scheduling and the grounds to be used are understood to be imminent.

Project Restart:
Fan groups lobby
NUFC over refunds
The Football Supporters Association have conducted a survey of the refunds offered by all 20 Premier League clubs to holders of match tickets online here

They confirm that Newcastle remain the only side yet to publish any guidance, contact with them yielding only a "plans yet to be confirmed" statement, mirroring unsuccessful attempts by the Newcastle United Supporters Trust to get an answer.

At stake are season ticket refunds for five PL home games and one-off ticket purchases for the Manchester City home cup tie, the Bournemouth away PL game and both the Sheffield United and West Ham PL home games.

In addition, the club have continued to take direct debits since March for some 2020/21 season ticket holders - an action that no other top-flight club has emulated.

Latest:
Matt finish?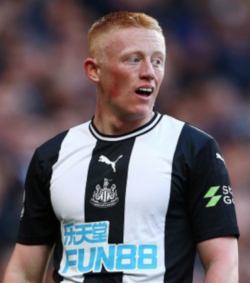 Writing in The Times on Tuesday, Martin Hardy reports that Newcastle midfielder Matty Longstaff has received a five year contract offer from Italian side Udinese.

The 20 year-old is in the final weeks of his current deal at SJP after failing to reach agreement on an improved one, with any new club obligated only to pay United a nominal compensation fee for his development.

Speculation over a move has ramped up in recent months, with press claims of interest from overseas clubs including Borussia Dortmund, Marseille, Atalanta and Inter Milan and rumours of Everton more recently.

Repeating the story, Sky Sports claimed that Udinese had offered Matty a weekly salary of £30,000 - rather more than the claimed £800 he's currently on and an amount that his present club failed to match (their final offer said to be less than £15K).

Academy product Matty made his senior debut under stand-in coach Matt Dawson at the Asia Trophy in China last July, rounding off pre-season with a fine goal against St. Etienne at SJP before Steve Bruce.

Making a competitive senior bow against Leicester City in the League Cup soon after, the younger of the two Longstaff brothers then had a memorable introduction to the Premier League, scoring the winner at home to Manchester United.

On target again in the return game at Old Trafford and netting against Rochdale in the FA Cup, his twelfth and most recent appearance came during the FA Cup replay victory at Oxford back in February.

Matty continues to train with Newcastle, but given the possibility of incurring an injury in the limited time that he may have left as a Magpie , it doesn't seem likely that he'll add to that figure when the Premier League resumes later this month.

His seemingly inevitable departure will increase speculation over the future of Sean Longstaff, under contract until 2022 but not a regular starter under Bruce.

Whether the takeover paralysis has played any part in Matty's unfolding contract situation is unclear, but it does look to be the same muddled thinking that has made our recruitment policy so inconsistent.

The failure of our Academy to develop young English talent meant that we once bought in Jermaine Jenas and Darren Ambrose - and a continuation of that issue resulted in our taking a punt on Jacob Murphy.

Through the Academy then comes Matty, who quickly moves up to the reserve side and more than holds his own, before jumping straight into the Premier League without a loan move to a smaller club.

Rather than fatten up the golden goose to make a killing in a couple of years though, it seems that we lack the belief, desire or talent to actually fashion our raw material into something more valuable.

Almost inevitably we'll spend money on a replacement signing and pay him more, but get less value for money and end up recouping a fraction of the outlay.

Conversely, the extra benefit of having a hometown player in the side rather than some imported mercenary has always been persuasive for us, but that hardly came to pass with Killingworth's own Jack Colback did it? Local isn't always better, but potential is beyond geography.

In terms of a knock-on effect on younger players joining the Academy or staying, Matty's likely loss arguably makes the argument to join United stronger: unlike previous times, there is a route to senior football from Little Benton - it's just not the Newcastle first team....

If you're just a breeding ground for other clubs though, what's the point in funding an Academy? Better then just to take other people's players - or borrow them.

Like much of what has happened at Newcastle since 2007, it's difficult to see what the point is - another reason that we desperately need a change of ownership, regardless of the merits or otherwise of the Saudis.

Matty might still leave under a different administration, but you'd like to that it was a measured decision and part of a coherent strategy. There's precious little evidence of that currently.

'Heed plea:
Soul survivors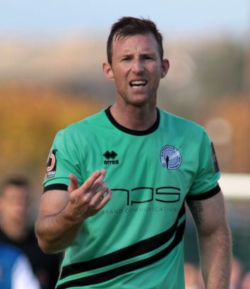 Having won an ownership battle in 2019 that threatened the existence of the club, fans of Gateshead FC are mobilising once again in the face of COVID-19.

Under the banner of Gateshead Soul, a crowdfunding campaign aims to boost the transfer budget of the National League North side when they return to action.

Managed by former Magpie defender Mike Williamson (pictured), the Tynesiders were just outside the playoff places when their season was halted in March.

It still remains to be seen how the current season will resolve itself and when the next campaign will resume.

A variety of donation options from just £5 are available, with different amounts giving access to various merchandise and match experience options.

Find more details online here
Audio:

Recollections
Whilst waiting for football to resume and that "other thing" to conclude, the True Faith fanzine have augmented their regular podcast schedule with a couple of one-offs that are well worth a listen.

The first one is an extended interview here by Marc Corby with former Magpie duo Jamie McClen and Owen Peterson - who both came through the club's academy, Jamie making it into the first team.

Also available from True Faith is a chat between Marc and NUFC fan / shirt collector Gavin Haigh here

Both podcasts are free to air via spotify. Due to the lockdown, interviews were conducted by phone - you might find the McClen / Peterson one an easier listen via headphones rather than speakers.

PS: Gavin gav411@hotmail.co.uk is still looking to add these NUFC match-worn players shirts to his collection:
1968/69 Fairs Cup Final
1975/76 Home
1975/76 Away (Yellow/Green)
1975/76 League Cup Final
1980/81 Home
1985/86 Away (Silver/Blue star)
1987/88 Blue away (Luton)
Plus any NUFC match worn/players shirts from the 1970s and early 1980s.
Update:
Neil Wastell RIP
We're greatly saddened to report that lifelong Newcastle fan Neil Wastell lost his battle with cancer on Sunday.

From Rotherham to Rotterdam and countless streets, stations, bars and terraces in between, "Flapper" was a familiar and friendly face at all of them for decades.

We extend our sincere condolences to Karen, Nigel, Kev and the rest of Neil's family, plus the many friends unable to say their goodbyes due to lockdown.

Heartfelt and fitting tributes have come from many fellow travellers and we'll add our own - simply a cracking lad.

RIP
Recollections:
Toon Teasers
- last lot
Having inflicted dozens of pointless NUFC related questions on you since late March, here are answers to the final selection, for now at least:

1. Jacob Murphy was loaned out by United to Sheffield Wednesday for the current season, but which club signed him on a temporary basis in January 2019?
West Bromwich Albion

2. Which Hungarian-born player appeared for the Magpies during the Championship season of 2009/10?
Tamas Kadar

3. Alan Shearer missed part of the 1997/98 season after being injured in a pre-season game against Chelsea. At what ground was that game played?
Goodison Park

4. Newcastle's most recent three competitive goals in European games were scored by the same player. Who?
Papiss Cisse

5. Andy O'Brien famously put the ball in the mackem net, but in which year - 2001, 2002 or 2003?
2001

6. Which player arrived at Gallowgate ahead of the 1998/99 season with a newly-acquired World Cup winner's medal?
Stephane Guivarc'h

7. Which two lower league clubs did Kevin Nolan manage after leaving Newcastle?
Leyton Orient and Notts County

8. Which former Magpies boss died weeks before two of his former clubs met in the FA Cup this season?
Jim Smith

9. Due to the unavailability of Valley Parade, which venue hosted the Bradford City versus Newcastle League Cup tie in September 1986?
The Odsal Stadium

10. Moussa Sissoko marked his Magpies home debut in February 2013 by scoring twice against which side?
Chelsea

Stinker:

Former Magpie Albert Stubbins features on the cover of "Sergeant Pepper's Lonely Hearts Club Band"; which Beatles- related record also has a Newcastle United player on the cover?
John Lennon's "Walls and Bridges" album cover includes his drawing of the 1952 FA Cup Final.

Picture:

It's Zurab Khizanishvili
Compo:
Beer winner

Current restrictions on pubs etc. mean that brewers are finding alternative ways of reaching customers.

Newburn-based Hadrian Brewery have launched a weekly delivery service across the North East, offering both draught and bottled beers at affordable prices.

Update: Hadrian have now added a range of draught and bottled ciders to their delivery items.

You'll find more details on their website here and their coverage map is here. 10% of every order is donated to local foodbanks. Hadrian bottled beers are also available for national delivery, details on their website.

We bagged a mixed selection of six Hadrian bottles to give away and asked what celebrated event on June 9th Hadrian shared their birthday with.

It was of course the Blaydon Races and from a virtual full house of correct entries received, the beer went to Martin Ryland. Thanks to all who entered.

Project Restart:


PL start date set

The 2019/20 Premier League season is set to recommence on Wednesday June 17th, when the four sides who have played one game less complete their game in hand, ahead of a full fixture list to be staged over the following weekend.

That's Manchester City versus Arsenal and Aston Villa versus Sheffield United.

Remaining NUFC PL games:

Sheffield United (h)
Bournemouth (a)
West Ham (h)
Watford (a)
Spurs (h)
Brighton (a)
Liverpool (h)
Aston Villa (h)
Manchester City (a)

Kick-off times will be as follows:

Fri: 8pm
Sat: 12.30pm, 3pm, 5.30pm and 8pm
Sun: Noon, 2pm, 4.30pm and 7pm
Mon: 8pm
Tue, Wed, Thu: 6pm and 8pm

Six rounds of weekend fixtures at weekends and three midweek sets of games are planned.

A rule change allowing five substitutions to be made is expected to be adopted and VAR is set to remain in place, but other issues are yet to be confirmed.

Among those are the eligibility of players for the rest of the season, in particular whether changes can be made to the squad lists submitted earlier this season.

Scenarios including the return to fitness of players since then and the expiration of outbound loan deals for players have been mentioned, in addition to whether squad members testing positive for COVID-19 once games resume could be replaced whilst unavailable due to self-isolation.

Update:


Generous Geordies: figure increases

Thanks to everyone who supported the NUFC.com shirt auction in aid of the Newcastle West End Foodbank.

We're delighted to say that the final figure raised was £6,207.

Find more about the Foodbank online here



2020/21:


Strip hints

As and when the 2020/21 season gets underway, Newcastle will wear shirts manufactured by Puma for the eleventh successive campaign.

It's believed that a one year extension has been signed with Puma and kit claims have begun to emerge online.

Details remain sketchy, but two change kits will appear, one predicted to be yellow and navy blue and the other violet. There's no mention of on-sale dates as yet.

Fixtures, Tickets etc.
Season 2019/20

Due to the COVID-19 pandemic, all football-related activities have ceased at SJP until further notice.

International Magpies
National Service

International breaks:

2019/20:

Euro 2020 rescheduled:
11.06.2021-11.07.2021.

2020/21:

The calendar was published as follows but is expected to be altered as a result of COVID-19 pandemic - details are awaited.

31.08.2020-08.09.2020
05.10.2020-13.10.2020
09.11.2020-17.11.2020
22.03.2021-30.03.2021

Coxy's Cockup Corner
Whoops, He did it Again...

What's this all about then? Click here
for a rambling explanation of sorts....


On This Day in History
4th June

Born Or Died:
1905 David Leighton Davidson born, Aberdeen. (1930-37)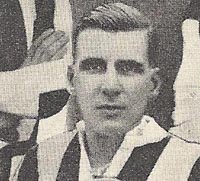 Centre half who began his playing career at local league side Aberdeen Argyll before moving on to Forfar Athletic.

Acquired by Liverpool in 1928, Davidson was then transferred to Newcastle during January 1930 at a cost of £4,000.

Debuting in a 0-2 defeat at Huddersfield the following month, David kept his place in the side for a 3-5 home loss to Sheffield United the following week but was then confined to reserve team duty until that November.

Displacing Jack Hill in the side, he became a regular starter and played at Wembley in the 1932 FA Cup Final victory over Arsenal.

Transfer-listed by United in March 1935 after losing his place, he remained at the club and earned a recall that September - a month before his FA Cup winner's medal was stolen in a burglary at his home in Monkseaton.

What proved to be his final senior game was at Nottingham Forest in October 1936 and he left Gallowgate the following June - opting to join Hartlepools United and signing forms in his home just as a telegram from rivals Darlington requesting his services arrived.

After just a handful of games though, he was allowed to leave on a free transfer that October and signed for Gateshead.

Developing his business as a chiropodist and masseur, Davidson assisted Forest Hall and then became Monkseaton FC boss in 1948.

Later taking charge of Whitley Bay Athletic and scouting locally for West Bromwich Albion, David went on to manage Ashington for over a decade from 1955.

(He did verbally agree to join Gateshead in 1960, only to backtrack within 24 hours and remain at Portland Park).

Davidson passed away in May 1969.

David's son Peter joined Newcastle as an amateur during 1948 and after a spell at the mackems played golf for Northumberland.

What Else?

1949 Vancouver All Stars (a) 5-2 (2-1)
Friendly
Milburn(40,4-1), Mitchell(45) Walker(3-1,5-2)
Stewart(42),Harvey(4-2)
7,408
The fifth game of United's North American tour saw them in action at Callister Park on a pitch that had hosted a rodeo just a week earlier and was virtually grassless.

Jackie Milburn netted twice and added five more at the same venue against the same opposition just three days later.

By the end of the ten game tour we'd scored 79 goals - and he was responsible for 31.

Team: Fairbrother, Cowell, Graham, Harvey, Fraser, Dodgin, Walker, Houghton, Milburn, G.Robledo, Mitchell.

1952 Griqualand West (a)
3-0 (1-0)
Friendly
G.Robledo, T.Robledo, Milburn
8,000
The never-ending South African tour continued with this match in Kimberley.

1972 Santos (Brazil) (a)
2-4 (2-1)
Friendly
Tudor(20), Green(2-1)
Alcindo(35),

Pele(2-2,3-2,61)
28,000
Following a victory and a draw in their two games staged in Thailand, United moved on to face Brazilian opposition in Hong Kong.

John Tudor's header and a fine long range effort from Tony Green gave the Magpies a half-time lead in the National Stadium.

However, the Magpies then encountered the brilliance of Brazilian legend Pele, who hit a 15 minute hat-trick before being substituted in the 65th minute.

"We might as well have been trying to stop a flash of lightning" bemoaned Frank Clark.

The Maestro....and Pele

1983 Yamaha Motor (a)
1-0 (1-0)
Friendly
Waddle(6)
Crowd tbc
The Japan Cup campaign continued with a game in the city of Nagoya, against a side who qualified for the event by winning the previous season's all Japan Championship finals (aka the Emperor's Cup).

The victory meant that United only needed to draw their last game to win the trophy, which was a large blue Jade vase provided by the sponsors, Kirin.

Team: Thomas, Anderson, Wharton, McCreery, Clarke, Carney, Keegan, McDonald, Varadi, McDermott (Martin), Waddle.
1985 Bruce Springsteen & the E Street Band brought their "Born in the USA" tour to SJP, playing on a stage built at the Leazes End.

In the first of two gigs on consecutive nights at SJP, a slightly below capacity crowd of 35,000 was in attendance.

The Boss @ The Mansion on the Hill
Set list:

Born in the USA, Badlands, Out in the Street, Johnny 99, Atlantic City, The River, Working on the Highway, Trapped, Prove it all Night, Glory Days, The Promised Land, My Hometown, Thunder Road, Cover Me, Dancing in the Dark, Hungry Heart, Cadillac Ranch, Downbound Train, I'm on Fire, Pink Cadillac, Racing in the Street, Rosalita, Born to Run, Bobby Jean, Ramrod, Twist & Shout.
1999 Two future Newcastle players caught the eye for England U21s, as they secured a 3-0 victory against Sweden at Huddersfield.

Wimbledon striker Carl Cort netted twice for Peter Taylor's side, while Ipswich Town's promising midfielder Kieron Dyer caught the eye and earned promotion to the full squad.

Dyer would soon be on his way to SJP at a cost of £6m, while Cort joined him just over a year later in a £7m switch.

2003 United duo James Beaumont and Ross Gardner were placed on the transfer list by the club following their unsuccessful action against Academy coaches, Kenny Wharton and Peter Beardsley.

In an unfortunate statement the club announced they were: "delighted with the outcome" and "disappointed that the two players took this course of action."

It went on: "The decision clearly vindicates the support given to Kenny Wharton and Peter Beardsley by the Club."



2005 A bad night for the men in Green, as Ireland surrendered a two-goal lead in Dublin to Israel, who levelled before the interval.

The second half saw the home side search for a winner in vain, with United's Andy O'Brien being sent off in the closing stages - just days before completing a transfer to Pompey.

O'Brien was the victim of some disgraceful play-acting from the Israeli keeper, Dudu Awat, near the end of an enthralling World Cup qualifier which the home side were desperately unlucky not to win.

Shay Given was between the posts, while future Magpie Damien Duff also appeared.

2011 Newcastle 'keeper Tim Krul had a full international debut to remember, keeping a clean sheet as Holland drew 0-0 with Brazil in a friendly match staged in Goiania.


The 23 year-old managed to frustrate both the home side and 54,000 Brazilian fans as he confidently completed 90 minutes.