1898 Gainsborough Trinity (h)
5-2 (4-0)
Division Two
P27, 42pts, 2nd/16
Smith(3-0,85), Peddie(2,2-0,44)
Morris(4-1pen), Scott(4-2)
12,000

1904 Blackburn Rovers (h)
2-1 (1-0)
Division One
P32, 40pts, 2nd/18
Veitch(1-0), Orr(2-1)
Blackburn(1-1)
20,000
Colin Veitch missed a penalty before opening the scoring for United, while Adam Bowman had to retire at half-time with a broken cheek bone for the visitors.
1910 Notts County (a)
2-2 (0-1)
Division One
P32, 39pts, 6th/20
Liddell(69), Shepherd(80)
Dodd(1pen), Matthews(60)
9,000
1915 Tottenham Hotspur (a)
0-0 (0-0)
Division One
P31, 25pts, 16th/20
18,000
An insignificant scoreline, but one which saw inside forward John King keep a clean sheet after playing in goal for the whole 90 minutes. This followed an injury sustained by 'keeper Bill Mellor before kick-off.
1920 Burnley (a)
0-1 (0-0)
Division One
P37, 39pts, 7th/22
Kelly(60)
30,000
Debut for Chris Swan.
1921 Derby County (h)
0-1 (0-0)
Division One
P36, 44pts, 3rd/22
Lyons(90)
35,000
1924 Everton (h)
3-1 (2-1)
Division One
P36, 38pts, 9th/22
Gibson(1-1), Harris(2-1), Seymour(3-1)
Chadwick(16)
12,000
The Toffees went ahead when Wilf Chadwick shot past Mutch after Everton had twice hit the crossbar in the same move.

Gibson then levelled from a free kick before Neil Harris gave United the lead. Visiting goalkeeper Alfie Harland was knocked out as he punched away Stan Seymour's header, colliding with him as Harris netted.

He was replaced by David Raitt for the rest of the first half but recovered to take his place between the posts after half time.

However, the goalkeeper failed to cut out a long cross-shot from Seymour that was deflected into the net from the far post to seal United's first league win in four games.
1926 Burnley (a)
0-1 (0-1)
Division One
P35, 34pts, 13th/22
McCluggage(20pen)
27,674
Tom McDonald missed a second half penalty for United. Clarets goalkeeper Jerry Dawson made his 700th appearance for the Clarets.
1927 Bury (h)
3-1 (2-0)
Division One
P34, 47pts, 1st/22
McKay(14), McDonald(20pen), Clark(3-1)
Hughes(53)
20,000
1929 Arsenal (a)
2-1 (1-0)
Division One
P37, 38pts, 9th/22
Lang(10), Cunningham(65)
Jack(46)
21,699
1930 Birmingham (h)
1-1 (0-0)
Division One
P34, 28pts, 20th/22
Devine(81)
Morrall(46)
30,000
1932 West Bromwich Albion (a)
1-2 (0-2)
Division One
P35, 38pts, 9th/22
Allen(53)
og(Davidson)(20), Glidden(35)
18,614
1934 Middlesbrough (a)
0-1 (0-0)
Division One
P38, 31pts, 18th/22
Warren(65)
17,535

1938 Plymouth Argyle (a)
1-2 (1-1)
Division Two
P34, 33pts, 12th/22
Pearson(15)
McNeil(12), Brown
22,810
The Pilgrims' opener came when Johnny McNeil met a corner and propelled both the ball and visiting goalkeeper Tom Swinburne.



1945 sunderland (h)
0-3 (0-0)
Wartime
Brown, Spuhler, Whitelum
13,000
Newcastle gave a debut to Gateshead goalkeeper George Wood and despite conceding three times, he was almost immediately secured on a professional contract at Gallowgate.

Having previously guested for United, Johnny Spuhler netted for his parent club. Within six months however, he'd made a permanent switch to Middlesbrough.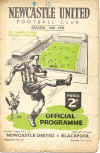 1949 Blackpool (h)
3-1 (2-1)
Division One
P34, 45pts, 2nd/22
Milburn(14,85), Robledo(30)
Fenton(37)
62,672
United stayed second thanks to this fine victory but just four days later were thumped 0-5 at Portsmouth.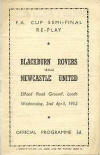 1952 Blackburn Rovers (n) 2-1 (0-0)
FA Cup Semi Final Replay
G.Robledo(57), Mitchell(86pen)
Quigley(78)
54,000
After a 0-0 draw five days earlier at Hillsborough, the teams met again at another neutral ground, this time Elland Road, Leeds.

With just minutes to play and a second replay looming, Newcastle were awarded a penalty following handball in the box.

With the nominated spot kick taker Jackie Milburn injured and nobody else willing to take responsibility, Bobby Mitchell grabbed the ball, spotted it and converted the winner.
Newsreel footage is online here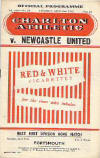 1955 Charlton Athletic (a)
1-1 (1-1)
Division One
P32, 30pts, 19th/22
Hannah(30)
Ayre(1)
24,594
Trailing within a minute of the first whistle at the Valley, George Hannah levelled before Ronnie Simpson save Eddie Firmani's penalty on the hour to preserve a point.


1956 Manchester United (h)
0-0 (0-0)
Division One


P39, 38pts, 9th/22


37,395





1960 Blackpool (h)
1-1 (0-0)
Division One


P36, 40pts, 6th/22


Mitten(88)
Kaye(51pen)
32,152

1969 Tottenham Hotspur (a) 1-0 (0-0)
Division One
P33, 33pts, 12th/22
Horsfield(32)
22,528
Danish-born winger Benny Arentoft made his United debut at White Hart Lane, following a transfer from Scottish side Greenock Morton.

Manager Joe Harvey called this his side's "best away performance of the season" and added that he was "proud of the way we played football and panicked Spurs at the back."
1977 Birmingham City (a) 2-1 (1-0)
Division One


P33, 41pts, 4th/22


T.Craig(11pen), Barrowclough(89)
Fox(75)
20,283

1980 Notts County (h)
2-2 (2-1)
Division Two
P36, 42pts, 4th/22
Cassidy(33), Shoulder(43)
Christie(31), Benjamin(90+2)
22,005
Tristan Benjamin and Geordie boy Trevor Christie scored for the other Magpies.

1983 Grimsby Town (h)
4-0 (2-0)
Division Two
P33, 48pts, 10th/22
Keegan(31), Varadi(41,71), McDonald(87)
20,202
Talk of promotion remained fanciful after this win, but four more victories would put United on the fringe of the race.

1985 A 2-0 win over Birmingham City in the first leg of the FA Youth Cup semi-final put United in the driving seat.

Inspiration at St.Andrew's came from Paul Gascoigne and the goals from Joe Allon and Paul Stephenson - a resounding 5-2 victory in the second leg at SJP confirming our place in the final.

1988 Luton Town (h)
4-0 (2-0)
Division One
P32, 42pts, 11th/21
O'Neill(15,25,81), Goddard(62)
20,565
Having been on the wrong end of a 0-4 away loss five months earlier, revenge was sweet for United, young striker Michael O'Neill going one better than the brace he'd bagged at SJP against Coventry City a week earlier.

The Hatters had extracted the urine down at Kenilworth Road and Toon midfielder Kenny Wharton repaid them in kind here.

"Kenny, Kenny sit on the ball" sang home fans and he did just that - much to the annoyance of the Hatters, particularly their headband-wearing nugget Steve Foster. Happy days.
Youtube footage is onine here

2002 Aston Villa (a)
1-1 (1-1)
Premiership
P32, 60pts, 4th/20
Shearer(3)
Crouch(25)
36,597
The Magpies remained fourth but were denied three points after failing to police Villa's gangly new signing, Peter Crouch. He missed plenty of chances, but brushed off Nicos Dabizas to net once.
NUFC.com match report

2005 Aston Villa (h)
0-3 (0-1)
Premiership
P30, 38pts, 11th/20
Angel(5), Barry(73pen,80pen)
52,306
Newcastle's season imploded in an unbelievable 20 minute spell at St. James' Park in the second half of this game.
Not only did the wheels come off but the doors and the roof were also forcibly removed as three home players were red-carded, with Kieron Dyer and Lee Bowyer disgracefully grappling with each other in the middle of the pitch, continuing to clash in the tunnel.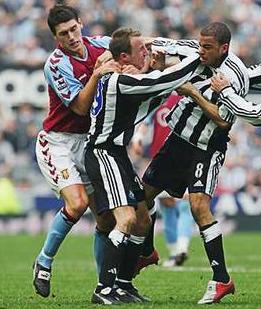 United fell behind early on when Juan Pablo Angel put the visitors ahead with a low drive after some sloppy work from Jermaine Jenas.

Darius Vassell ran through on goal and his shot was saved by Steven Taylor's hand, although the defender deserved an Oscar for clutching his face in mock injury.

Gareth Barry fired a fierce penalty past Shay Given and it was soon 0-3 when clueless whistler Barry Knight judged that Stephen Carr had fouled Vassell, Barry registering his second and Villa's third again from the spot.

Then came the Dyer and Bowyer incident which simply defied belief. By the time Nobby Solano appeared as a late Villa sub, home fans had either flounced out in disgust or were too numb to acknowledge the Peruvian.
NUFC.com match report

2006 Comments from Chairman Freddy Shepherd as reported by the Sunday Mirror:

"Our aim is to have the new management structure in place before the last ball of the season is kicked.

"We don't want to have uncertainty lingering on through the close season and we want supporters and players to finish the season knowing who will be in charge next August.

"We have taken our time, because this is one of the biggest decisions in the history of this club.

"The top clubs are opening up a huge gap between themselves and others. We need to get the right man to ensure we are one of those leading clubs.

"We have had a host of top names declaring their interest but we have kept them secret. When the time is right - and that isn't too far away - we will name the man to lead us into the future."



And that man...? Glenn Roeder. Another big decision Freddy got completely wrong.

2009 "We will give it a right good go" were the words of newly-installed Newcastle boss Alan Shearer at his press conference, having taken over for the remaining eight games of the season, assisted by Iain Dowie.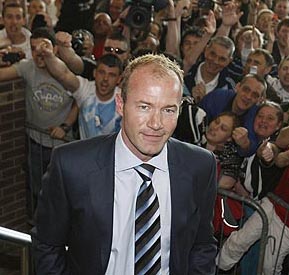 Shearer was introduced to the media before going outside to greet fans mustered in front of Old Milburn reception.

Somewhat prophetically he commented: "All I'm interested in is eight games and eight games only." He was to get his wish....
NUFC.com press conference report


2011 Wolves (h)
4-1 (2-0)
Premier League
P31, 39pts, 9th/20
Nolan(22), Ameobi(45), Lovenkrands(50), Gutierrez(90+3)
Ebanks-Blake(58)
49,939
It wasn't as comfortable as it should have been but Mick Mcmackem's side left SJP with their tails between their legs after a sound beating.

Goals from Kevin Nolan and Shola Ameobi gave United a two-goal cushion at half-time and when Peter Lovenkrands made it 3-0 just after the break it looked to be game over.

After Sylvan Ebanks-Blake had reduced the arrears though the jitters set in until Jonas Gutierrez belatedly struck in added time.
NUFC.com match report



2016 Norwich City (a)
2-3 (0-1)
Premier League
P31, 25pts, 19th/20
Mitrovic(71,86pen)
Klose(45+2), Mbokani(74), Olsson(90+3)
27,137
Two equalising goals from substitute Aleksandar Mitrovic failed to stop United tumbling to their eighth successive away defeat after added-time agony at Carrow Road.

It was a tale of two handballs: one decision went in our favour, allowing Mitrovic to make it 2-2 from the spot with four minutes remaining but City then profited from the use of a hand to win it in added time.
NUFC.com match report


2018 Easter Monday saw the Premier League's basement side West Bromwich Albion jettison manager Alan Pardew and his assistant John Carver after just four months.

Under Pardew's guidance, the Baggies won just once in 18 games, taking only eight points from a possible 54.