Next Match
Liverpool
Premier League
Anfield
Saturday 24th April
Kick-off 12.30pm
Live on BT Sport
Last Match
Newcastle 3
West Ham 2
Premier League
St.James' Park
Saturday 17th April
Match report

The Never-Ending Tour

Number of Newcastle
games attended by
NUFC.com in 2020/21:

25





2020/21:
TV for two

Broadcast details for two further games in the Premier League involving Newcastle have been confirmed as follows:

Sun 02.05.2021 Arsenal (h) 2pm Sky
Fri 07.05.2021 Leicester (a) 8pm Sky

2020/21:


Bairns beaten
at Boro

Boro U18s 3 Newcastle U18s 1

Fresh from Saturday's excellent home win over league leaders Manchester United, Newcastle's youngsters were in action at Hurworth on Wednesday morning.

Just two of the starting line-up from that 3-2 success kept their place in Coach Neil Winskill's side, with first starts at this level for Joel Green, Liam Chrystal and Nathan Robertson.

That much-changed side were almost immediately handicapped by a dubious penalty award from referee Martin Conroy - Calum Kavanagh beating goalkeeper Oliver Marshall with just two minutes played.

The hosts maintained that lead until half time, United's best chance of an equaliser coming when Josh Harrison was clean through but couldn't supply a finish.

Boro meanwhile were aggrieved that a solid-looking penalty claim for a foul on George Gitau was ignored - the referee seemingly trying to level matters up following his earlier rick.

The Magpies draw level six minutes after the restart when Jamie Miley got off the mark for the season with a fine 25 yard strike that flew into the top corner.

However Boro hit back on 66 minutes, retaking the lead through Pharrell Willis - who deservedly wrapped up the points for the Teessiders with three minutes left.

Team: Marshall, Stewart, Green, Robertson (Thomson 46), Brannen (Midgley 67), Nicholson, Chrystal, Miley (Huntley 58), Harrison, Gilchrist, Crossley.
Subs n/u: Ndiweni, Bessant.

The first meeting of the two sides on Tyneside ended in a 3-4 win for Boro - Kavanagh (son of former Ireland international Graham) scoring twice in that game, including a penalty.

Latest:
Six and out

Well, that didn't take long.....

From the BBC, around 11pm Tuesday:

All six Premier League teams involved in the European Super League have formally withdrawn from the competition.

Manchester City were the first club to formally pull out after Chelsea had signalled their intent to do so by preparing documentation to withdraw.

The other four sides - Arsenal, Liverpool, Manchester United and Tottenham - have all now followed suit.

The 12-team Super League was announced on Sunday to widespread condemnation.

Manchester City confirmed they have "formally enacted the procedures to withdraw" from the Super League.

Liverpool said their involvement in the proposed breakaway league "has been discontinued".

Manchester United said they had "listened carefully to the reaction from our fans, the UK government and other key stakeholders" in making their decision to not take part.

Arsenal apologised and said they had "made a mistake", adding they were withdrawing after listening to their fans and the "wider football community".

Tottenham chairman Daniel Levy said the club regretted the "anxiety and upset" caused by the proposal.

Protests by supporters outside Stamford Bridge on Tuesday night forced kick-off in the Chelsea versus Brighton PL game to be delayed.

Latest:
ESL: Premier
League respond

Premier League update, Tuesday:

The Premier League, alongside The FA, met with clubs today to discuss the immediate implications of the Super League proposal.

The 14 clubs at the meeting* unanimously and vigorously rejected the plans for the competition.

The Premier League is considering all actions available to prevent it from progressing, as well as holding those Shareholders involved to account under its rules.

The League will continue to work with key stakeholders including fan groups, Government, UEFA, The FA, EFL, PFA and LMA to protect the best interests of the game and call on those clubs involved in the proposed competition to cease their involvement immediately.

The Premier League would like to thank fans and all stakeholders for the support they have shown this week on this significant issue.

The reaction proves just how much our open pyramid and football community means to people.

* That figure represents the entire PL including NUFC, minus the "dirty half dozen" of clubs expressing their intention of joining the Super League.

2020/21:
Stephenson
strike in vain

Stoke City U23s 2 Newcastle U23s 1

Match report

2020/21:
Youth Cup date set

Newcastle's FA Youth Quarter Final tie against Aston Villa will be played behind closed doors at SJP, with a 7pm kick-off on Tuesday April 27th.

An outcome must be achieved on the night via extra time and penalties required and the tie will be live streamed online.

The Magpies and the Villans last met in this competition at the Semi Final stage in 2010; Villa progressing 2-1 on aggregate.

Quarter Finals:

Newcastle v Aston Villa
Liverpool v Arsenal
Ipswich Town v Sheffield United
West Bromwich Albion v Everton

The winners of our tie will again enjoy home advantage in a one-legged Semi-Final against West Brom or Everton.

2020/21:
Good Will hunting!

Newcastle 3 West Ham 2

Match report

Current PL table - bottom eight:

| | | | | |
| --- | --- | --- | --- | --- |
| Pos | Team | Pld | GD | Pts |
| 13 | Palace | 31 | -19 | 38 |
| 14 | Southampton | 32 | -18 | 36 |
| 15 | Newcastle | 32 | -18 | 35 |
| 16 | Brighton | 32 | -5 | 34 |
| 17 | Burnley | 32 | -19 | 33 |
| 18 | Fulham | 33 | -18 | 27 |
| 19 | West Brom | 31 | -31 | 24 |
| 20 | Sheffield U | 32 | -39 | 14 R |
Latest PL results/fixtures:

Fri 16.04.2021:
Everton 2-2 Spurs

Sat 17.04.2021:
Newcastle 3-2 West Ham
Wolves 1-0 Sheffield United

Sun 18.04.2021:
Arsenal 1-1 Fulham
Manchester United 3-1 Burnley

Mon 19.04.2021:
Leeds United 1-1 Liverpool

Tue 20.04.2021:
Chelsea 0-0 Brighton

Wed 21.04.2021:
Spurs 2-1 Southampton
Aston Villa v Manchester City (8.15pm) Sky

Thu 22.04.2021:
Leicester City v West Brom (8pm) BT

2020/21:
Toon stun
title hopefuls


Newcastle U18s 3 Man United U18s 2




While a five goal thriller eventually favoured Newcastle at St.James' Park on Saturday, a similar home victory was unfolding across the city for the U18s.

Emulating the example of the seniors, the young Magpies built up a two goal lead only to then allow the visitors to draw level - and then summon up a late winner to stun the current league leaders.

The Magpies enjoyed a 1-0 advantage at the interval thanks to a 37th minute shot by Josh Scott and Kyle Crossley then lofted his effort over the goalkeeper to double the lead after 62 minutes.

Constant pressure from the Red Devils saw them gain a foothold when Zidane Iqbal turned in the box to net with a low shot on 75 minutes. Dillon Hoogewerf then headed Charlie McNeil's cross past Max Thompson to tie the scores six minutes later.

Newcastle were to have the final word though, Crossley and James Huntley conbining well for the latter to fire home in the 89th minute.

And while the first team held firm through an additional eight minutes at SJP, the youngsters saw out six minutes of added time before celebrating a first home league success since November - and their first victory over the Red Devils at this level since 2018.

Team: Thompson, Oliver, Midgley, Brannen, Barclay, Crossley, Carlyon, Huntley, Scott (Miley 46), Thomson (Nicholson 84), Ndiweni (Stewart 87).
Subs n/u: Marshall, Robertson.

The borrowers:
Loan lads

Current movements of our six loanees:


Kelland Watts (Plymouth Argyle)
The Pilgrims conceded six goals without replay at home to Charlton Athletic in League One on Tuesday.

It was a night to forget for Kell, who completed the game but picked up a booking and was credited with an own goal.


Freddie Woodman (Swansea City)
A 0-1 home defeat by QPR in the Championship on Tuesday ended any realistic hopes Swansea had of overhauling Watford and taking the second automatic promotion spot after Norwich City.

Freddie played the full game.

Lewis Cass (Hartlepool United)
Weymouth (h) National League, Saturday.

Elias Sorensen (Almere City)
The striker remained on the bench as Almere were beaten 0-3 at Go Ahead Eagles in the Eerste Divisie on Saturday.

Yoshinori Muto (Eibar)
With the Japanese forward still ruled out due to injury, Eibar shipped five goals without reply at Atletico Madrid on Sunday and sit bottom of La Liga.

Florian Lejeune (Deportivo Alaves)
What could be a priceless first La Liga win in nine attempts came on Sunday, with a 1-0 home win over Huesca.

Lejeune was missing due to suspension.

2020/21:
PL crowd return:
no away fans

The Press Association reported on Thursday that all PL clubs would be permitted to play one home and one away game with crowds present this season after the government's May 17th go-live date.

In order to achieve that, the penultimate round of fixtures will move from their weekend slots around May 15th to Tuesday May 18th and Wednesday May 19th.

In Newcastle's case that would see the visit of Sheffield United to Tyneside played in front of some spectators, along with the season-closer at Fulham the following Sunday as already scheduled.

The limit of 10,000 fans or 25% of the capacity if less than 40,000 has again been mentioned, but the Mail report that previous proposals to allow a limited number of away fans have been dropped due to COVID-related travel concerns.

Suggestions that vaccination passports / negative COVID tests will be required as a condition of entry remain unconfirmed.

PS: The PL games that were scheduled for Tuesday May 11th and Wednesday May 12th are now expected to go ahead on the newly-vacated weekend of May 15th.

Manchester City's FA Cup Semi-Final defeat on Saturday means that they'll be heading to SJP on or about May 15th.

Update:


On board



As ordinary members of NUST, we've joined the pledge scheme as outlined further below.

As ever, we don't claim to speak for anyone else, but think it's worthwhile outlining why we signed up.

We've had some brilliant days watching this club, from Barrack Road to Barcelona and most points in between. At present though, Burton and Bristol look back on the itinerary in the short term, with oblivion on the horizon.

To misquote a line from the Likely Lads, the only thing to look forward to currently is the past. Stay up this season for the chance to go through this miserable charade once again, or drop down and stay down.

It's been a long time since we held optimism for those in black and white, but struggling to rekindle any sort of enthusiasm for the club is something that's becoming dangerously common. Indifference is the greatest threat.

The Athletic ran a "state of the Geordie Nation" piece recently, which included Biffa's view of NUFC in 2021:

"This is the lowest since we looked into the abyss in 1981. There was desperation and alienation and the only thing I had then as a 14 year-old was stuff in books.

"I had no direct experience of this club in any way being successful or ambitious. It was content to play dreadful football in a half-derelict, sparsely-populated ground.

"Forty years later you find yourself with similar feelings of alienation and desperation. You can only pity 14 year-olds now.

"Obviously the lockdown has amplified things but as an individual I have never felt less enfranchised, never known such a wilfully constructed gap between the club and supporters.

The pledge scheme may not succeed - and may only truly become relevant if NUFC emulate the downfall of the mackems - but the significance of achieving some sort of fan unity outside the confines of the club cannot be underestimated.

It's not quite Millwall's "no one likes us we don't care" mindset, but multitudes are happy to insult our intelligence and abuse our support, starting with those within the club itself.

There has to be some rallying point, some common ground to be established. We have never been a militant fanbase, never a crowd of "joiners" - witness the small number of domestic supporters clubs when compared to our contemporaries.

Nobody, surely can be content with the current reality of following a club though who barely seek to exist, let alone prosper or excel. If NUFC was a racehorse, both barrels of the shotgun would be loaded.

Exasperation with the state of some clubs caused groups of fans to found their own alternative of the FC United variety, but that chimed with us. Far better to try and change the current face of thing that brought those fans together initially.

No other business would wilfully watch as customers with decades of service reach their own tipping point and walk away - yet do nothing except remain silent.

In the absence of ambition or leadership, this is a fan-led attempt to arrest that decline and ensure that the club exists in a viable form for future generations to support.

In our eyes, the statement of raising a significant amount is as valuable as the actual cash - it proves that there's still a pulse round these parts, despite the perpetual mismanagement that we're subjected to.

Someone at least recognises the plight we're in, shares that frustration and cares enough to try to do something about it. That's good enough for us to buy a few less beers every month and set up a direct debit.

It's got to the point where we've got nothing to lose.

PS: Among those pledging their support on opening day was the son of a sheet metal worker from Gosforth (initials AS), who tweeted: "Well done. I'm in."

Update:
NUST launch
The 1892 Pledge

Thursday saw the Newcastle United Supporters Trust (NUST) launch what they describe as "the most ambitious fan-led project in English football history."

Introductory video online here
Press release:

SUPPORTERS of Newcastle United are launching a bid to buy part of their club.

Newcastle United Supporters Trust (NUST) is spearheading the drive to take a stake in the future of Newcastle United Football Club.

The Trust, which has more than 14,000 members, is asking United supporters to pledge small amounts of money for a fund that aims to buy part of the club when it is sold by the current owner, Mike Ashley.

The 1892 Pledge - named after the year Newcastle United was formed - has been three years in the planning and has already attracted support from the worlds of football, politics and the media.

Through the 1892 Pledge, NUST aims to build a pot of money that can either give supporters a small share of the club if it is sold while in the Premier League or see fans ready to step in to help save the club in the event of relegation and the financial consequences that could see a change of ownership.

Greg Tomlinson, Chair of the Newcastle United Supporters Trust said: "For decades, fans have been told they are the lifeblood of the club, but when major decisions are made, they are always left out.

"It is an unfortunate fact that in football, as in life, money talks. Therefore, we feel that if we as fans really want to be an active part of conversations that will dictate the future of Newcastle United, we have to put our money where our mouth is.
"Raising funds will give us the financial backing to make our voices properly heard as and when the club is eventually sold."

Alex Hurst, Trust board member and the driving force behind the 1892 Pledge, said:

"The 1892 Pledge could mean we, as fans, can invest in our club, that could be in the form of a percentage stake in NUFC if it is sold whilst in the Premier League or, if things take a turn for the worse and the club's fortunes sink further, we would be there standing ready to provide investment and potentially be part of a buying consortium.

"Supporters must have a say in what happens to NUFC and we believe this campaign will give us a real voice in the running of the club - not just now but for years and decades into the future."

Fans are being asked to pay in what they can, when they can to fund the 1892 Pledge.

Supporters are encouraged to set up direct debit payments through a dedicated website - www.1892pledge.co.uk - which will display the total amount raised by fans on a daily basis.

Alex explained: "It is important to stress we are not asking fans to part with their life savings or cash in their pension pots - this is not what Pledge 1892 is about.

"Instead, it's about making small, regular donations of a few pounds a month (or more if people can spare it!) which will build up a fund over time.

"It's also about bringing NUFC supporters together in a common goal, not just fans in the North East and the UK but all over the world.

"We believe there is nothing that fans of this club can't achieve when we are truly united and this is a chance for us to prove it."

The Trust has appointed four 'Guardians' to safeguard the money raised and ensure it can only be used for one of two purposes.

The first purpose is to buy shares in Newcastle United FC.
The second is that if NUST fails in its attempt to buy a part of the club when it is sold because they have failed to raise the funds or a new owner did not want to sell a part of the club to supporters then all of the money would be donated to charities based in the North East of England.

The Guardians of the fund are:
Warren Barton, former NUFC and England defender
Ian Mearns, MP for Gateshead
George Caulkin, North East football reporter for The Athletic
Lee Humble, chartered accountant.

Alex Hurst said: "All four of our Guardians are passionate about Newcastle United and its supporters.

"They believe, as we do, that the future success and viability of the club depends on the fans - even more so with the financial problems brought about by the pandemic.

"Before Covid-19 hit, some people were confident that Premier League clubs could essentially survive on TV money, but that has been blown out of the water over the past 12 months.

"The financial situation faced by clubs across the league, not just NUFC, demonstrates just what a vital role fans play.

"We already have power and financial clout. Imagine what we could do with a proper stake in the club."

In return for the fans' financial backing, NUST would like new owners to allow the Trust to work within the club, either through an executive board position or another role which can allow the Trust, its members and the supporters of Newcastle United to influence the club and its future direction.

Alex said: "There is a huge and ever-growing disconnect between the people who run Newcastle United and the people who support the club.

"This is not just confined to the question of who manages the team - recent polls in the Chronicle and The Athletic have flagged up the intense disaffection which fans have with the entire running of the club.

"This situation is unhealthy and unsustainable. We believe the 1892 Pledge is the first step towards writing a better future for Newcastle United.
"This is an ambitious project designed to begin the hard work of protecting the club for the next generation of Newcastle United fans."
Join NUST for just £2 here

2020/21:
Liverpool (a)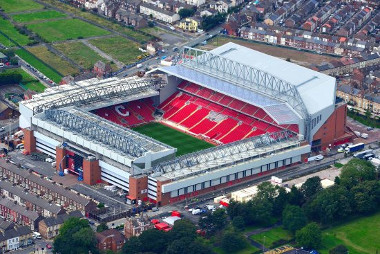 The Magpies visit Anfield on Saturday to face defending PL champions Liverpool in a 12.30pm kick-off.

Live coverage is provided by BT Sport.

NUFC: To follow

LFC: Ahead of our game, Jurgen Klopp's side were held to a 1-1 draw at Leeds on Monday night.

Liverpool's record from their 16 PL home games this season is worthy of note:

WWWWWWW DD LLLLLL W

Referee: Andre Marriner - only the second time we've been overseen by the West Midlands whistler this season, following the 0-2 Boxing Day loss at Manchester City.

Marriner also took charge of our visit to Anfield last season and the epic 2-3 loss to the Reds at SJP in May 2019.

VAR: Andy Madley


Coral offer new sign-ups
£20 in free bets when
you bet £5 here


Latest PL fixtures:
Fri 23.04.2021:
Arsenal v Everton (8pm) Sky

Sat 24.04.2021:
Liverpool v Newcastle (12.30pm) BT
West Ham v Chelsea (5.30pm) Sky
Sheffield United v Brighton (8pm) Sky

Sun 25.04.2021:
Wolves v Burnley (Noon) BBC
Leeds v Manchester United (2pm) Sky
Aston Villa v West Brom (7pm) BT

Mon 26.04.2021:
Leicester City v Crystal Palace (8pm) Sky

Working on the premise that two of Brighton, Burnley, Newcastle, Fulham and West Bromwich Albion will accompany Sheffield United into the Championship, here's how and when that will be decided:

Upcoming PL fixtures - selected:

Sat 01.05.2021:
Brighton v Leeds United (3pm) Prime
Chelsea v Fulham (5.30pm) Sky

Sun 02.05.2021:
Newcastle v Arsenal (2pm) Sky

Mon 03.05.2021:
West Brom v Wolves (6pm) Sky
Burnley v West Ham (8.15pm) Sky

Fri 07.05.2021:
Leicester City v Newcastle (8pm) Sky

Sun 09.05.2021:
Wolves v Brighton (Noon) BBC
Arsenal v West Brom (7pm) BT

Mon 10.05.2021:
Fulham v Burnley (8pm) Sky

From this point, the precise scheduling of all games except the final day is tbc:

Tue 11.05.2021 tbc*:
Brighton v West Ham
Burnley v Leeds United
West Brom v Liverpool

Wed 12.05.2021 tbc*:
Newcastle v Manchester City
Southampton v Fulham

Sat 15.05.2021 tbc*:
Brighton v Manchester City
Burnley v Liverpool
Manchester United v Fulham
Newcastle v Sheffield United
West Brom v West Ham

Sun 23.05.2021:
Arsenal v Brighton (4pm)
Fulham v Newcastle (4pm)
Leeds v West Brom (4pm)
Sheffield United v Burnley (4pm)

* These games may be altered in the event that fans return to stadia from May 17th. Fixture changes would allow each club to play a home game in front of fans in the final week of the season.

It's anticipated that Newcastle won't have a game on 11th/12th, will host Manchester City at SJP on or around the 15th and then face Sheffield United on May 18th/19th.
Stats:

Magpies @ Anfield: PL era:
2019/20: Lost 1-3 Willems
2018/19: Lost 0-4
2017/18: Lost 0-2
2015/16: Drew 2-2 Cisse, Colback
2014/15: Lost 0-2
2013/14: Lost 1-2 og(Skrtel)
2012/13: Drew 1-1 Cabaye
2011/12: Lost 1-3 og(Agger)
2010/11: Lost 0-3
2008/09: Lost 0-3
2007/08: Lost 0-3
2006/07: Lost 0-2
2005/06: Lost 0-2
2004/05: Lost 1-3 Kluivert
2003/04: Drew 1-1 Ameobi
2003/04: Lost 1-2 Robert (FAC)
2002/03: Drew 2-2 Speed, Shearer
2001/02: Lost 0-3
2000/01: Lost 0-3
1999/00: Lost 1-2 Shearer
1998/99: Lost 2-4 Solano, Andersson
1997/98: Lost 0-1
1996/97: Lost 3-4 Gillespie, Asprilla, Barton
1995/96: Lost 3-4 Ferdinand, Ginola, Asprilla
1995/96: Won 1-0 Watson (LC)
1994/95: Lost 0-2
1993/94: Won 2-0 Lee, Cole
UK TV: Live on BT Sport

Overseas TV: To follow

UK Radio: Live on talkSPORT

Local Radio: Live on BBC Newcastle




Tickets/Fixtures
Season 2020/21

NUFC released details of plans to reimburse season ticket holders on 29.10.2020 here

Further information from NUFC followed on 10.02.2021 here

Various options are available depending whether fans are on long-term deals.

Phased refunds or credits are available, but for some these options will run alongside existing direct debit payments - in other words they'll be receiving money back while continuing to pay.

Long-term deals expiring at the end of the 2020/21 season will automatically be extended to cover 2021/22.

Sat 24.04.2021 Liverpool (a) @ Anfield, 12.30pm. Note new KO time. Behind closed doors. Live on BT Sport.

Mon 26.04.2021 U23s v Crystal Palace (h) @ Whitley Park, 1pm. Premier League 2. Note new KO time. Behind closed doors.

Tue 27.04.2021 U18s v Aston Villa (h) @ SJP, 7pm. FA Youth Cup Quarter Final. Behind closed doors.

Sat 01.05.2021 U18s v mackems (a) @ academy of plight, 11am. U18 Premier League. Behind closed doors.

Sun 02.05.2021 Arsenal (h) @ SJP, 2pm. Note new day/KO time. Behind closed doors. Live on Sky Sports.

Sun 02.05.2021 U23s v Aston Villa (a) @ Bodymoor Heath TG, 7pm. Premier League 2. Note new day/KO time. Behind closed doors.

Tue 04.05.2021 U18s v Blackburn Rovers (a) @ Brockhall, 1pm. U18 Premier League. Behind closed doors.

Fri 07.05.2021 U23s v Aston Villa (h) @ Whitley Park, 7pm. Premier League 2. Behind closed doors.

Fri 07.05.2021 Leicester City (a) @ King Power Stadium, 8pm. Note new day/KO time. Behind closed doors. Live on Sky Sports.

Sat 08.05.2021 U18s v Wolves (h) @ Little Benton, 11am. U18 Premier League. Behind closed doors.

PL TV games confirmed to 10.05.2021

2020/21 NUFC programmes:

Hard copy home programmes are produced by Curtis Sport costing £3.50 available online here

2021/22 dates:

PL season:
Begins Saturday 14.08.2021
Ends Sunday 22.05.2022

Championship season:
Begins Saturday 07.08.2021
Ends Sunday 08.05.2022

Other events @ SJP:

Rugby League:

Magic Weekend XIV
(held over from 2020):



Sat 04.09.2021
Castleford Tigers v Salford
St Helens v Catalans Dragons
Leeds Rhinos v Hull FC

Sun 05.09.2021
Huddersfield Giants v Wakefield
Wigan Warriors v Warrington
Leigh Centurions v Hull KR

Rugby League WC Finals

Sat 23.10.2021:
England v Samoa (2.30pm)

International Magpies
National Service

International breaks:

2021/22:
30.08.2021-07.09.2021
04.10.2021-12.10.2021
08.11.2021-16.11.2021
21.03.2022-29.03.2022

Euro 2020 rescheduled:
11.06.2021-11.07.2021.

Coxy's Corner
Whoops, He did it Again...

What's this all about then? Click here for a rambling explanation of sorts....

On This Day in History
21st April

Born Or Died:
1963 Death of Jackie "Jock" Rutherford, 78. (1902-13)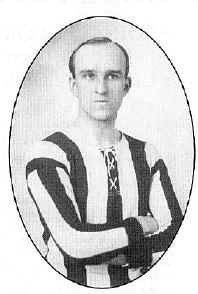 Percy-Main born England International who won three Championships and one FA Cup winner's medal for Newcastle.

Nicknamed "The Newcastle Flyer", Jackie died in Neasden, North London where he'd settled after ending his playing career with Arsenal and then Clapton Orient.

What Else?
1894 sunderland (h)
4-1 (1-1)
Friendly
Willis(1), Quinn(46),
Campbell(3-1), Crate(4-1)
Miller(45)
8,000
Team: Ryder, Jeffrey, Rodgers, Reilly, Graham, McKane, Campbell, Quinn, Willis, Crate, Law.
SMBFC: Doig, Meehan, Wilson, Dale, Auld, D.Hannah, Gillespie, Harvie, Miller, Hyslop, J.Scott.

1900 Stoke (h)
2-2 (0-1)
Division One
P33, 34pts, 6th/18
Alec Gardner(80), Peddie(88)
Bradley(5,65)
12,000

1905 Stoke (h)
4-1 (4-0)
Division One
P31, 44pts, 2nd/18
Orr(5pen,3-0), McClarence(8), Howie(4-0)
Hall
(4-1)
24,352

An emphatic win over relegation-threatened Stoke put United a point behind leaders Everton with a game in hand. The Toffees had lost 0-2 at Manchester City.

According to press reports, boarding around the pitch gave way, resulting in several persons being thrown to the ground. Two men were seriously injured and had to be taken to the infirmary.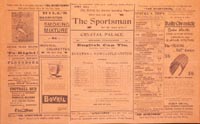 1906 Everton (n) 0-1 (0-0)
FA Cup Final
Young(77)
75,609
United were defeated at the Crystal Palace for the second time in as many years, Alex "Sandy" Young scoring the vital goal.
Despite the result however, both teams still dined together the following evening.

The Yorkshire Post newspaper commented that, "There were times when, to the onlooker, the men from Tyneside seemed to be suffering from incipient paralysis."

Unfortunately that wouldn't be the last time that our cup final displays were eligible for such a description....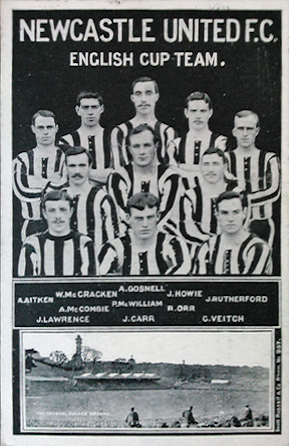 1920 Middlesbrough (a)
1-2 (1-0)
Friendly
Smailes(8)
Butler(47), Ellerington(
1-2)

10,000
North East Counties Cup match.

1923 Stoke (h)
1-0 (1-0)
Division One
P40, 45pts, 4th/22
Spencer(44)
15,000
This defeat all but condemned the Potters to Division Two, leaving them four points adrift with just two games remaining.

1924 Aston Villa (a)
1-6 (1-1)
Division One
44pts, 9th/22
J.Clark(19)
og(Curry)(21)Capewell(1-2), York(62), Walker(1-4,1-5,1-6)
40,000
Not a great end to the league campaign but this was a dress rehearsal for the following week's FA Cup final between the two clubs.

While Villa were at full strength, United selected nine reserves and were subsequently fined for fielding a weakened team.

First choice custodian Sandy Mutch kept his place in the side but suffered a knee injury during this match with the score at 1-3 and his place had to be taken by Andy Aitken.

Mutch missed out on playing in the final.
1928 Arsenal (h)
1-1 (1-1)
Division One
P39, 38pts, 12th/22
Seymour(45)
Shaw(25)
22,819





1930 Liverpool (a)
0-0 (0-0)
Division One
P40, 35pts, 18th/22
40,000
Following home wins over Liverpool and Leeds United on Good Friday and Easter Saturday, Newcastle took a point from Anfield on Easter Monday to aid their successful relegation fight.
1934 Wolves (h)
5-1 (4-1)
Division One
P41, 34pts, 20th/22
Williams(20), J.R.Richardson(27),
Imrie(25,31,59pen)
og(McPhillips)(38)
26,000
1951 Manchester United (h)
0-2 (0-2)
Division One
P40, 45pts, 6th/22
Rowley(7), Pearson(35)
45,209

1956 Chelsea (h)
1-1 (0-1)
Division One
41pts, 11th/22
Milburn(90pen)
Stubbs(2)
24,322
Any early finish to the season. Jackie Milburn's last minute equaliser gave United their 41st point, finishing 11th in Division One.
1958 The Reserves travelled to Goodison Park for a Central League match and lost to Everton by a solitary goal, scored after 18 minutes by Brian Godfrey.

1962 sunderland (a) 0-3 (0-1)
Division Two
P40, 37pts, 11th/22
Herd(19,82), McPheat(76)
57,666
An embarrassing derby day defeat boosted the mackems' promotion hopes. United were the highest placed of seven mid-table teams on 37 points.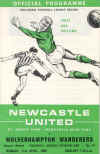 1969 Wolves (h)
4-1 (1-0)
Division One
P39, 41pts, 10th/22
Davies(6), Sinclair(69), Robson(75,89)
Curran(85)
24,986
48 hours after a crushing 1-5 loss at West Bromwich Albion, normal service was resumed at SJP.

The sodden playing surface saw Pop Robson's goalbound effort on 69 minutes stick in the mud - only for Jackie Sinclair to lash it in.

The prolific Robson went on to score twice, with questions asked of visiting goalkeeper Phil Parkes for both goals.

1973 Liverpool (h)
2-1 (1-1)
Division One
P40, 44pts, 6th/22
Tudor(43,66)
Keegan(24)
36,810
A rare dent in Liverpool's championship season, as United hit back after going behind to a Keegan header. Tudor nodded an equaliser, and then capitalised on a Tommy Smith mistake in the box to hit the winner.
1977 Future Magpies manager Jack Charlton quit as Middlesbrough boss after just less than four years in charge at Ayresome Park.

1979 Fulham (h)
0-0 (0-0)
Division Two
P37, 35pts, 12th/22
11,924
The unlucky John Brownlie broke his collarbone and was stretchered off as his colleagues failed to break the deadlock.

1986 West Ham United (a) 1-8 (0-4)
Division One
P40, 60pts, 10th/22
Whitehurst(76)
Martin(3,64,84pen), Stewart(11), Orr(35), og(Roeder)(43), Goddard(81), McAvennie(83)
24,735
This Monday night visit to Upton Park was memorable for all the wrong reasons, as the Magpies fielded no less than three 'keepers - Martin Thomas, Chris Hedworth and Peter Beardsley - and Alvin Martin scored one against each of them for his treble.
NUFC.com match report
Youtube footage is online here

1990 Plymouth Argyle (a)
1-1 (1-1)
Division Two
P43, 76pts, 3rd/24
McGhee(25)
Tynan(11)
11,702
After six successive victories this was a reasonable point, but made a play-off spot look more likely than automatic promotion.

Fighting broke out between opposing fans in a surprisingly hostile atmosphere inside Home Park on a sunny Saturday afternoon.

1999 Sheffield Wednesday (a) 1-1 (1-0)
Premiership
P34, 43pts, 11th/20
Shearer(45pen)
Scott(52)
21,545
A second Alan Shearer spot kick in successive games put United ahead at Hillsborough - although the award looked fortunate, with Rob Lee going to ground under the lightest of contacts from Owls 'keeper Pavel Snricek.

Danny Wilson's side collected a point though when Philip Scott scored the only goal of his brief playing career for Wednesday.
NUFC.com match report

2001 mackems (a)
1-1 (0-0)
Premiership
P33, 43pts, 13th/20
O'Brien(78)
Cartron(67)
48,277
Andy O'Brien ingratiated himself with Toon fans in the best way possible by putting the ball in the mackems' net. That effort secured a welcome point and extended our unbeaten run on wearside to eight games.
NUFC.com match report

2003 Aston Villa (h)
1-1 (1-0)
Premiership
P35, 62pts, 4th/20
Solano(37)
Dublin(69)
52,015
Not a great day at the office for United as they failed to build on Nobby Solano's first half free-kick. Makeshift centre back Dion Dublin then ambled forward for a corner and headed the equaliser unchallenged.
NUFC.com match report
2004 Chris Eagles scored twice for Manchester United's Reserves at Moss Lane, Altrincham with Andy Ferrell getting a late reply for Newcastle in the 1-2 defeat.
NUFC.com match report
2006 The Premier League gave Newcastle permission for Glenn Roeder to continue in his temporary position as caretaker manager until the end of the season.
It had been thought that the game against West Bromwich Albion would have been his last - the trip to Birmingham City and visit of Chelsea coming outside the declared 12 week maximum dispensation for a boss who lacked the Pro Licence qualification.

However, the club announced that their request for an extension had been granted.
2007 United's U18s lost their four-game winning run and a chance of making the end-of-season playoffs, after a 3-4 loss to Liverpool at Melwood.

Three down at half time, the young Magpies, recovered to level by the hour through Callum Little and a Ryan Donaldson brace.

Charlie Barnett then scored the decisive goal via a cruel deflection. The Liverpool midfielder would soon find himself at SJP, appearing for United's first team the following pre-season while on a short trial.



2012 Stoke City (h)
3-0 (2-0)
Premier League
P34, 62pts, 4th/20
Cabaye(14,57), Cisse(18)
52,162
Papiss Cisse scored for the sixth successive game, as his side made it half a dozen wins on the bounce and retained their unlikely bid for a Champions League place by ascending to fourth spot.
NUFC.com match report
2017 A 2-0 victory against Boro at the Riverside ensured a third-place league finish for the U23s, and home advantage for their Premier League 2 Division Two play-off.

Tom Heardman and Adam Wilson netted.
NUFC.com match report