Next Match
Fulham
Premier League
Craven Cottage
Saturday 1st October
Kick-off 3pm
Last Match
Newcastle 1
Bournemouth 1
Premier League
St. James' Park
Saturday 17th September
Match report

The Never-Ending Tour

Number of Newcastle
games attended by
NUFC.com in 2022/23:

30

Fulham (a) SOLD OUT
Brentford (h) Family section only left
Man U (a) ST sale now, 80pts
Everton (h) Family section only left
Spurs (a) ST sale now, 120pts
Internationals:
Saturday's action

Magpies on national service today:

Ryan Fraser (Scotland):
Sat 24.09.2022 Ireland (h) won 2-1 NL
Another outing from the bench for Fraser, arriving as a 59th minute replacement at Hampden.

Northern Ireland (Jamal Lewis):
Sat 24.09.2022 Kosovo (h) won 2-1 NL
The Newcastle full back was named in the starting line-up, lasting 77 minutes in Belfast before making way for SJP old boy Shane Ferguson. Northern Ireland trailed 0-1 at that point.

Ireland (Jeff Hendrick):
Sat 24.09.2022 Scotland (a) lost 1-2 NL
The midfielder wasn't called upon.

Switzerland (Fabian Schar):
Sat 24.09.2022 Spain (a) won 2-1 NL
Success for the Swiss in Zaragoza, but Fabian was an unused substitute.

Alex Murphy (Ireland U19s):
Sat 24.09.2022 Wales (a) won 2-0 ECQQ
Success for Ireland in Bangor, with the Magpies defender keeping his place in the starting XI.

Premier League:
Rail strike updates

Saturday October 1st Fulham (a)

LNER update:

LNER is running a limited number of trains on Saturday 1 October due to strike action.
Do not travel to and from stations north of York. No trains will run north of York in either direction.
A limited number of trains will run between London King's Cross and York, in both directions.
There will be a limited train service each way between Doncaster and Leeds.
RMT union update:

The national rail dispute will see strike action on: Network Rail, Chiltern Railways, Cross Country Trains, Greater Anglia, LNER, East Midlands Railway, c2c, Great Western Railway, Northern Trains, South Eastern, South Western Railway, Transpennine Express, Avanti West Coast, West Midlands Trains, GTR (including Gatwick Express) on October 1st.
In separate disputes, Arriva Rail London members, Hull Trains and bus workers at First Group Southwest will also take strike action on October 1st.

ASLEF union update:

Members at 12 companies – Avanti West Coast; Chiltern Railways; CrossCountry; Greater Anglia; Great Western Railway; Hull Trains; LNER; London Overground; Northern Trains; Southeastern; TransPennine Express; and West Midlands Trains – will strike on 1 and 5 October.

Saturday October 8th Brentford (h)

LNER strike guidance for October 8th is awaited and will appear online here

LNER trains between Newcastle and Edinburgh will be diverted via the West Coast Main Line, meaning longer journeys. Other LNER services will also be amended.
Between Newcastle and Edinburgh, there will be one train per hour instead of the usual two and journeys will be at least 90 minutes longer as they will go via Carlisle.

There will also be rail replacement coaches between Newcastle and Edinburgh, stopping at Morpeth, Alnmouth, Berwick-upon-Tweed, Reston and Dunbar.

Between London and Newcastle there will be one train per hour instead of the usual two.

Track upgrade information here
The Borrowers:
Loan lads

Matty Longstaff (Colchester United):
The midfielder played for the opening 73 minutes of a 0-1 home loss to Rochdale in League Two on Saturday.

Dan Langley (Gateshead):
A clean sheet for the Toon custodian as the Tynesiders won 1-0 at Maidenhead United in the National League on Saturday.

Former Magpie Dan Ward was on target.

Rodrigo Vilca (Universitario):
Alianza Atletico (a) Primera Division, Saturday September 30th.

Jeff Hendrick (Reading):
Huddersfield Town (h) Championship, Saturday October 1st.

Lucas De Bolle (Hamilton Academical):
Dundee (h) Scottish Championship, Saturday October 1st.

Martin Dubravka (Manchester United):
Manchester City (a) Premier League, Sunday October 2nd.

Ciaran Clark (Sheffield United):
Currently unavailable due to injury.

Isaac Hayden (Norwich City):
Currently unavailable due to injury.

Kelland Watts (Peterborough United):
Currently unavailable due to injury.

Internationals:
The history Mag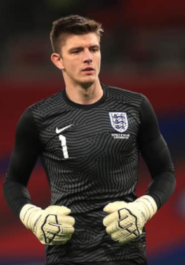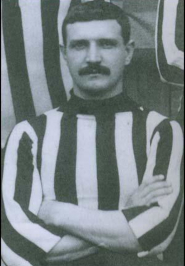 Friday's international selections:

England (Nick Pope, Kieran Trippier):
Fri 23.09.2022 Italy (a) lost 0-1 NL
The Newcastle goalkeeper was named in the starting line-up, making him only the second current Magpie custodian to have represented England at senior level, after Matt Kingsley back in 1901.

Kieran Trippier began on the bench in Milan and remained there, defeat confirming Nations League relegation for Gareth Southgate's side.

Bruno Guimaraes (Brazil):
Fri 23.09.2022 Ghana (n) won 3-0 FR
Although said to be unavailable due to injury, our man was among the 16 substitutes named by Brazil for the kickabout in Le Havre.

Miguel Almiron (Paraguay):
Fri 23.09.2022 UAE (n) won 1-0 FR
A full 90 minutes for Miggy as Paraguay were victorious in Vienna.

Johnny Emerson (Scotland U18s):
Fri 23.09.2022 France (a) lost 1-5 FR
The young Magpie began Friday's game in Limoges on the bench - participation tbc.

Lewis Miley (England U17s)
Fri 23.09.2022 Czech Republic (n) won 3-0 FR
Lewis was named among the substitutes for the tournament opener in Poland - participation tbc.

RLWC:
RL World Cup
ticket giveaway




The Rugby League World Cup kicks off at St.James' Park on Saturday October 15th and for anyone looking to experience the world-class action live, tickets for the England against Samoa game are still on-sale.

Tickets are only sold on the Official RLWC2021 website online here

We have pairs of tickets up for grabs in a free-to-enter competition to be in with a chance of winning, just predict the final score in Newcastle's next Premier League game, at Fulham on Saturday October 1st.

Email predictions to comps@nufc.com with a subject line of RLWC:

Closing date is Noon on Friday September 30th. No age limit, prize consists of two match tickets only, any other transport or matchday expenses are excluded.

One entry per person please: should more correct predictions be received than there are prizes, a random draw of correct predictions will take place. Should less correct predictions than prizes arrive, there will be a random draw including all predictions received.

Internationals:


Isak fitness concern

From the Swedish FA, Thursday:

Alexander Isak missed Wednesday's training due to a feeling*. On Wednesday evening, Alexander was examined by, among others, our medical team and it was established that he will not be available for games against either Serbia or Slovenia.

Alexander will therefore leave the squad.

(* we're interpreting that as an unspecified ailment).

Sweden coach Janne Andersson:

"It is of course sad mainly for Alex but also for us as a team. But after speaking with both our medical team and Alex, it is the right decision for him to leave.

"I hope he is back as soon as possible. Currently, we will not take out any new players. Now the full focus is on the preparations against Serbia on Saturday."

Alexander Isak:

"It feels very sad to have to leave the team. I had longed to play in the blue and yellow shirt again. I wish the boys the best of luck on Saturday and Tuesday."

Sweden face Serbia in Belgrade on Saturday and then host Slovenia in Stockholm on Tuesday.

Isak is the second Magpie to withdraw from international duty, Elliot Anderson failing to join up with Scotland U21s due to an unspecified injury.

Bruno Guimaraes meanwhile missed Friday's Brazil game due to a swollen thigh but hasn't been ruled out of their game on Tuesday as yet.

PS: On-loan goalkeeper Martin Dubravka has left the Slovakia squad due to injury.

Internationals:
Call-ups

Latest international selections:

Chris Wood (New Zealand):
Sun 25.09.2022 Australia (h) Auckland FR

Thu 22.09.2022 Australia (a) lost 0-1
A narrow defeat for the Kiwis in Brisbane, Wood captaining the side and playing for the opening 71 minutes.

Toon-linked youngster Garang Kuol was an unused substitute for the home side.

Lucas De Bolle (Scotland U21s):
Sun 25.09.2022 Northern Ireland (h) Paisley FR

Thu 22.09.2022 Northern Ireland (a) won 3-1 FR
The Newcastle midfielder remained on the bench for Thursday's victory in Belfast. Fellow Magpie Elliot Anderson dropped out of the squad due to injury.

Johnny Emerson (Scotland U18s):
Sun 25.09.2022 Estonia (n) Limoges FR

Wed 21.09.2022 Poland (n) lost 0-1 FR
Midfielder Emerson was in the starting XI for Scotland's tournament opener in Limoges. Fellow Magpie Charlie McArthur was in the original selection but looks to have been replaced - reason unknown.

England (Nick Pope, Kieran Trippier):
Mon 26.09.2022 Germany (h) Wembley NL

Bruno Guimaraes (Brazil):
Tue 27.09.2022 Tunisia (n) Paris FR

Miguel Almiron (Paraguay):
Tue 27.09.2022 Morocco (n) Seville FR

Lewis Miley (England U17s) tbc:
Date tbc Norway (n) FR
Date tbc Romania (n) FR

Alex Murphy (Ireland U19s):
Tues 27.09.2022 Hungary (n) Bangor ECQ

Wed 21.09.2022 Gibraltar (n) won 6-0 Denbigh ECQ
A 90 minute outing for the Newcastle defender, who hit the woodwork with one shot and registered an assist.

Ryan Fraser (Scotland):
Wed 28.09.2022 Ukraine (n) Krakow NL

Wed 21.09.2022 Ukraine (h) won 3-0
Fraser made a memorable return to international football in the 76th minute at Hampden Park - his 80th and 87th minute corners head in by Lyndon Dykes for the second and third Scotland goals.

Ireland (Jeff Hendrick):
Tue 27.09.2022 Armenia (h) Dublin, NL

Northern Ireland (Jamal Lewis):
Tue 27.09.2022 Greece (a) venue tbc NL

Switzerland (Fabian Schar):
Tue 27.09.2022 Czech Rep (h) St. Gallen NL

Latest:
Elliot extended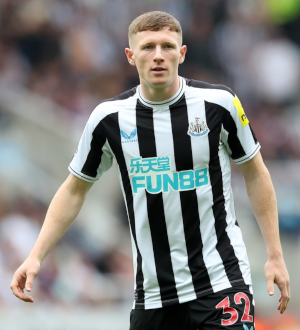 From NUFC, Wednesday:

Newcastle United is delighted to confirm that Elliot Anderson has signed a new long-term contract with the club.

The 19-year-old has committed his future to the club after breaking into the Magpies first team this season under Eddie Howe, making four appearances - three of them coming in the Premier League - so far in 2022/23.

Whitley Bay-born Anderson came through United's Academy before making his senior Newcastle debut in an FA Cup tie at Arsenal in January 2021, with a top flight bow coming against the same opposition later that month.

He spent the second half of last term on loan at Bristol Rovers where he impressed, scoring the goal which sealed promotion to League One for Joey Barton's men on the final day, before returning to Tyneside, with Howe handing him his first competitive start in last month's Carabao Cup win over Tranmere Rovers.

Elliot Anderson said: "I'm really happy. I love playing for Newcastle United, and committing my future to the club is something I've really wanted to do.

"It was my aim coming back into pre-season to work hard and earn the opportunity to stick around. I have really enjoyed being with the first team group, so hopefully I can keep improving and contribute to the team."

Newcastle United head coach, Eddie Howe, added: "We are all delighted with Elliot's development. He is a natural talent, but he also has an excellent work ethic and always wants to learn.

"I know our supporters will be especially pleased to see another local boy coming through from the Academy into the first team. Elliot has earned that chance, and he has set a great example to our young players.

"He is just at the start of his journey at this level but he has a very exciting future ahead and we are delighted that his journey will continue here."

The Magpies' sporting director, Dan Ashworth, said: "Our strategy is not just about who we can buy, it is also about who we have and how we nurture and develop our best young talent.

"It's crucial for the club and our Academy to provide a pathway for our young players and a belief that if they are good enough, they will get an opportunity to play.

"Steve Harper with the Academy and Eddie Howe and his staff have been brilliant with Elliot. They have given him an opportunity and some great coaching and development to enable him to get to this level.

"Elliot has shown he has the attributes to have a successful career at this level and we hope he will be here for a long time to come."

U21s:
Late heartache
for Magpies

Barnsley 2 Newcastle U21s 0

Match action online here (youtube)

Update:
SJP in frame for
Euro 2028 bid

From ITV, Wednesday:

Newcastle has launched a bid to be a host city for matches in Euro 2028.

Both Newcastle City Council and Newcastle United have thrown their hat into the ring for St James' Park to host fixtures at the competition.

If successful, it would be one of at least ten stadiums used during the tournament.

Earlier this year, the UK and Ireland put forward a joint bid to host the tournament in 2028 and will find out if they have been successful in September 2023.

Bidding nations will have to put forward a final dossier to UEFA in April, meaning decisions on potential host cities will have to be made in the coming months.

With a capacity of more than 52,000, St James' Park is the eighth biggest stadium in England and the fourth largest outside of London.

The ground has previously played host to international fixtures at Euro 1996 and the 2012 London Olympics - as well as other sporting occasions, like the 2015 Rugby World Cup and rugby's Heineken Cup final in 2019.

A Newcastle City Council spokesperson said: "This is fantastic news for the city, and demonstrates that we can compete with the rest of the UK to host major events.

"The tournament is viewed by three billion people worldwide, and hosting it would put Newcastle on an international stage and bring significant social and economic benefits to the city.

"At this stage, the FA have requested an early response from bidding cities that they can commit to meeting the requirements necessary to qualify as a potential host city. The process is extremely competitive as we go up against many other leading football cities with stadiums that meet the requirements of the FA and UEFA."

City councillors are due to meet next month to discuss what commitments local authorities and Newcastle United would have to make to stage matches during the Euros.

The Times lists the stadia in contention as:

Wembley, Tottenham Hotspur Stadium, London Stadium, Villa Park, Stadium MK, Old Trafford, the Etihad, Everton's planned Bramley Moore Dock ground, Stadium of plight and St James' Park.

Canning along the Benfield Road:
Wor Beer update




A restock of the AnarchyBrewCo / Wor Flags beer in cans is imminent and orders can be made here with an expected dispatch date of Friday September 30th.

50p from each can of the 4.3% Light Pale Ale sold goes to help fund the excellent Wor Flags displays at SJP.

* Wor Beer is available on draught in city centre bars and local outlets with cans currently in stock at CentrAle on Central Station and the Dog & Rabbit in Whitley Bay.
Premier League:
Fulham (a)

Newcastle return to Premier League action following the international break when they face Fulham at Craven Cottage on Saturday, October 1st.

It's an old-fashioned 3pm start.

NUFC: Jonjo Shelvey, Emil Krafth and Karl Darlow remain out, while Allan Saint-Maximin's return from a hamstring problem has been delayed by another unspecified ailment.

There's optimism that Callum Wilson will be available, but the fitness of fellow forward Alexander Isak is unclear after he withdrew from the Sweden squad.

Find Coral's markets online here

FFC: Marco Silva's side will be without ever-present Joao Palhinha due to suspension after he collected his fifth booking. The midfielder has scored twice already this season in the PL.

The Cottagers are unbeaten at home in their opening three PL games; sharing four goals with Liverpool, beating Brentford by the odd goal in five and notching up a 2-1 victory over Brighton.
On the road Fulham began with a 0-0 draw against Wolves before successive 1-2 losses to Arsenal and Spurs and a 3-2 win at Nottingham Forest.

A certain Serbian has scored six of his side's 12 PL goals so far this season, including at least one in each of Fulham's three PL home games to date.

Referee: tbc

VAR: tbc


Located on platform 12 at Central Station, CentrAle stock a bewildering variety of local, domestic and international beers plus selected wines and spirits.

They have further stocks of Anarchy's Wor Beer, with 50p from every sale helping to fund the Wor Flags fan-led displays.


UK TV: None

NORD VPN products protect and secure your online activity. Click here for fast and secure sport streaming guidance.

Overseas TV: tbc

UK Radio: tbc (if any)

Local Radio: Live on BBC Radio Newcastle

Travel:

The Piccadilly line between Heathrow and Acton Town is closed on Saturday and Sunday.

Find TfL updates here

The RMT union have now joined ASLEF in taking strike action on October 1st, which is predicted to bring the railway network to a standstill - and also affect services the day before and the day after.
Find National Rail updates here

Stats:

Magpies @ Fulham - PL era:
2020/21 Won 2-0 Willock, Schar (pen)
2018/19 Won 4-0 Shelvey, Perez, Schar, Rondon
2016/17 Lost 0-1
2013/14 Lost 0-1
2012/13 Lost 1-2 Ben Arfa
2011/12 Lost 2-5 Guthrie, Ben Arfa
2010/11 Lost 0-1
2008/09 Lost 1-2 Ameobi
2007/08 Won 1-0 Barton (pen)
2006/07 Lost 1-2 Martins
2005/06 Lost 0-1
2004/05 Won 3-1 Ambrose, Kluivert, Ameobi
2003/04 Won 3-2 Robert, Shearer 2*
2002/03 Lost 1-2 Shearer*
2001/02 Lost 1-3 Speed
(All at Craven Cottage except *Loftus Road)
(All in Premier League except +Championship)
Latest PL fixtures:

Sat 01.10.2022:
Arsenal v Spurs (12.30pm) BT
Bournemouth v Brentford (3pm)
Crystal Palace v Chelsea (3pm)
Fulham v Newcastle (3pm)
Liverpool v Brighton & Hove Albion (3pm)
Southampton v Everton (3pm)
West Ham v Wolves (5.30pm) Sky

Sun 02.10.2022:
Manchester City v Manchester United (2pm) Sky
Leeds United v Aston Villa (4.30pm) Sky

Mon 03.10.2022:
Leicester City v Nottingham Forest (8pm) Sky




Fulham have confirmed that 700 seats in the upper tier of their new Riverside Stand will come into use for our visit.

They went on general sale to home fans only at the eye-watering price of £90 for adults and £60 for juniors.

That should ensure a crowd of over 25,500 for our visit, although still some way off the eventual capacity of around 30,000.

Newcastle received the anticipated 2,300 places at the Putney End and unlike previous seasons, the so-called neutral sections are no longer available, with the home club issuing this guidance:

"Bookings made by supporters who live in Newcastle (and local areas) who do not hold a booking history with Fulham FC will be cancelled as this match is on General Sale to home supporters only."

Carabao Cup:
Palace (h) LC date set

Newcastle's Carabao Cup Third Round tie against Crystal Palace will be played on Wednesday November 9th.

Kick-off at SJP is at 7.45pm and an outcome must be achieved on the night, with the tie going to penalties in the event of a draw at 90 minutes.

The game won't be on live TV in the UK and ticket pricing and sale details are tbc.

Third Round:
Tue 08.11.2022:
Bournemouth v Everton
Brentford v Gillingham
Bristol City v Lincoln City
Burnley v Crawley Town
Leicester City v Newport County
MK Dons v Morecambe
Stevenage v Charlton Athletic
Wolves v Leeds United

Wed 09.11.2022:
Arsenal v Brighton
Liverpool v Derby County
Manchester City v Chelsea Sky
Newcastle v Crystal Palace
Nottingham Forest v Tottenham Hotspur
Southampton v Sheffield Wednesday
West Ham v Blackburn Rovers

Thu 10.11.2022:
Manchester United v Aston Villa Sky

Premier League:
TV alterations

The Premier League have confirmed details of their live TV selections for November - also revealing a further change to a previously-altered Newcastle live game.

That alteration sees the Spurs away game move from the advertised Saturday 5.30pm slot on October 22nd to Sunday October 23rd at 4.30pm, live on Sky.

Both United's November PL games are live on TV:

Sun 06.11.2022 Southampton (a) 2pm Sky
Sat 12.11.2022 Chelsea (h) 5.30pm Sky

On the plus side, a further shift for the Spurs game gives Eddie Howe's side an extra day to recover from playing Everton the previous Wednesday night.

From a supporter perspective however, it's another low blow. Holding off on booking transport and hotels etc. until TV fixture changes are confirmed is one thing, but to then go back and alter games again on a whim is quite another.

F*cking the fans, yet again.

Premier League:
The Bourne inadequacy

Newcastle 1 AFC Bournemouth 1

Match report



Tickets/Fixtures
Season 2022/23

Season tickets are sold out.

Club memberships are sold out (U13 memberships still on sale).

Season Ticket holders have member rights and the chance to buy one ticket for home or away games, subject to availability.

The £30 adult price cap for PL away tickets has been extended until the end of 2024/25.

Fri 30.09.2022 U21s v Boro U21s (a) @ Heritage Park, Bishop Auckland, 7pm. Premier League 2 Division Two.

Sat 01.10.2022 U18s v Stoke City U18s (h) @ Little Benton, 11am. U18 Premier League.

Sat 01.10.2022 Fulham (a) @ Craven Cottage, 3pm. Premier League. SOLD OUT. Allocation: 2,300.

Sat 08.10.2022 U18s v Manchester United U18s (a) @ Carrington, 12.30pm. U18 Premier League Cup.

Sat 08.10.2022 Brentford (h) @ SJP, 3pm. Premier League. Limited public sale (online) now - family section only left.

Fri 14.10.2022 U21s v Aston Villa U21s (a) @ Bodymoor Heath, 6pm. Premier League 2 Division Two. Note new date.

Sat 15.10.2022 U18s v Derby County U18s (h) @ Little Benton, 1pm. U18 Premier League.

Sun 16.10.2022 Manchester United (a) @ Old Trafford, 2pm. Premier League. ST holder sale now, 80 points. £30 adults, £22.50 18-20s, £20 Over 65s / 16-17s, £10 U16s. Allocation: tbc (NB: safe standing area tickets are a separate option within the ticket website).

Tue 18.10.2022 U21s v Lincoln City (a) @ Sincil Bank aka LNER Stadium, 7pm. EFL Trophy.

Wed 19.10.2022 Everton (h) @ SJP, 7.30pm. Premier League. Live on Amazon Prime. Member sale now, family section only left. Limited public sale (online) Wed 05.10.2022.

Sat 22.10.2022 U18s v Everton U18s (a) @ Finch Farm, 12.30pm. U18 Premier League.

Sun 23.10.2022 U21s v Southampton U21s (h) @ Whitley Park, 2pm. Premier League 2 Division Two.

Sun 23.10.2022 Spurs (a) @ Tottenham Hotspur Stadium, 4.30pm. Premier League. Live on Sky Sports. Note further new date and KO time. ST holder now. £30 adults, £22.50 18-21s, £19 over 65s, £17 U18s. Allocation: tbc.

Sat 29.10.2022 U18s v Manchester United U18s (h) @ Little Benton, 12.30pm. U18 Premier League.

Sat 29.10.2022 Aston Villa (h) @ SJP, 3pm. Premier League. Member sale Wed 28.09.2022, Limited public sale (online) Wed 12.10.2022.

Mon 31.10.2022 U21s v mackem U21s (h) @ SJP, 7pm. Premier League 2 Division Two.

Mon 14.11.2022 PL season halts.

Mon 26.12.2022 PL season restarts.

Sun 28.05.2023 PL season ends.

Home game on sale dates:

Wed 09.11.2022 Palace (LC)
ST/Member tbc
Public tbc

Sat 12.11.2022 Chelsea
ST/Member tbc
Online public tbc

NUFC Live on TV:

Wed 19.10.2022 Everton (h) 7.30pm AP
Sun 23.10.2022 Spurs (a) 4.30pm Sky
Sun 06.11.2022 Southampton (a) 2pm Sky
Sat 12.11.2022 Chelsea (h) 5.30pm Sky

(Selections made up to Sun 13.11.2022).

Amazon Prime will show the PL fixture round including our visit to Leicester City in December.

Live TV confirmation dates:
NB: all "approximate dates"

Dec/Jan Tue 11.10.2022
Feb Tue 06.12.2022
Mar Wed 25.01.2023
MW35 Thu 23.03.2023
MW36 Thu 30.03.2023
MW37 Thu 07.04.2023
MW38 after 20.05.2023

Carabao Cup Round dates:
(NUFC entered in Round 2)

R3: w/c Mon 07.11.2022
Wed 09.11.2022 Crystal Palace (h)

R4: w/c Mon 19.12.2022
QF: w/c Mon 09.01.2023
SF1: w/c Mon 23.01.2023
SF2: w/c Mon 30.01.2023
F: Sun 26.02.2023 (Wembley)

FA Cup Round dates:
(NUFC enter in Round 3 draw due on or around Mon 28.11.2022)

R3: Sat 07.01.2023
R4: Sat 28.01.2023
R5: Wed 01.03.2023
QF: Sat 18.03.2023
SF: Sat 22.04.2023
F: Sat 03.06.2023 (Wembley)

Papa Johns Trophy dates:
(NUFC U21s in Northern Group E)

Tue 30.08.2022 Doncaster Rovers (a) drew 0-0 (lost on pens)
Tue 20.09.2022 Barnsley (a) lost 0-2
Tue 18.10.2022 Lincoln City (a) 7pm

R2: w/c Mon 28.11.2022
R3: w/c Mon 12.12.2022
QF: w/c Mon 09.01.2023
SF: w/c Mon 30.01.2023
F: Sun 19.03.2023 (Wembley)

U18 Premier League Cup:
(NUFC U18s in Group C)

Sat 03.09.2022 Arsenal (h) won 4-2
Sat 08.10.2022 Man United (a) 12.30pm
Sat 05.11.2022 Aston Villa (a) 11am

U21 Premier League Cup:
(NUFC U21s in Group E)

Mon 14.11.2022 Bristol City (a) 1pm
Mon 21.11.2022 Crystal Palace (h) 7pm
Mon 28.11.2022 Sheffield United (a) 3pm
Mon 05.12.2022 Sheffield United (h) 7pm
Mon 12.12.2022 Bristol City (h) 5pm
Mon 19.12.2022 Crystal Palace (a) 7pm

Other events @ SJP:

Rugby League WC Finals:

Sat 15.10.2022:
England v Samoa (2.30pm)
More details online here

Sam Fender:

Fri 09.06.2023/Sat 10.06.2023:
with Inhaler, Holly Humberstone.
SOLD OUT.
International Magpies
National Service

International breaks:

2022/23:
19.09.2022-27.09.2022
21.11.2022-18.12.2022 (WCF)
20.03.2023-28.03.2023

Coxy's Corner
Whoops, He did it Again...

What's this all about then? Click here for a rambling explanation of sorts....


On This Day in History
24th September

Born Or Died:
1877 Thomas Bruce Niblo born, Dunfermline. (1898-1902 & 1907-08)
Forward who began his career with Hamilton Academical and moved to SJP from now- defunct Scottish League side Linthouse.

Making his debut in a 1-0 away win at Loughborough Town in April 1898 and was a regular starter the following season.

Losing his place in the team during the 1901/02 campaign, a transfer taking Tom to Middlesbrough was agreed but turned out to be a loan rather than a permanent deal.

Moving on instead to Aston Villa (where he won a Scottish cap against England), Nottingham Forest and Watford, a second stint on Tyneside came in 1907 - although he never appeared for the first team.
Subsequently playing for both Aberdeen and Raith Rovers back in his native Scotland, Niblo was injured while fighting in WW1 and died in 1933.

1933 John Nesbitt born, Washington.
(1955-59)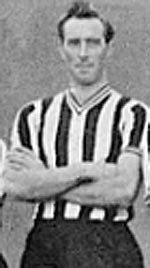 Defender and former Coldstream Guardsman who was signed from South Shields in December 1955.
John's senior debut came 24 hours after his 24th birthday in September 1957, when he deputised for Bob Stokoe in a 0-0 home draw against Sheffield Wednesday.

Two further first team outings followed that season - a 3-2 win at Arsenal and 0-3 reverse at Leeds - before he moved on, joining non-league side Horden CW.

1947 James Curran born, Macclesfield
(1964-66)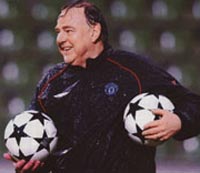 Goalkeeper who was on the books of Manchester United as a youngster, but was restricted to junior and reserve team outings before moving on to Newcastle.

Failing to make a first team appearance at Gallowgate. Jimmy joined Crewe Alexandra and had later spells at both Oldham Athletic and Witton Albion.

Returning to Old Trafford as a youth coach in 1974, Curran served the Red Devils for the next 28 years as a physiotherapist.

1966 Franz Carr born, Preston
(1991-93)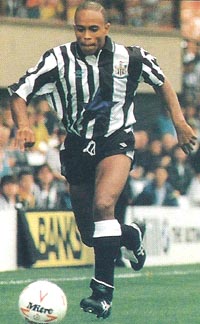 Ooh ah indeed - a winger who could run like the wind and show good ball skills, but unfortunately for him (and us) only very occasionally in the same passage of play....

Having been spotted by Blackburn Rovers scout Fred O'Donoghue as a schoolboy, Carr moved on to Nottingham Forest and was capped by England U21s.

However, he found himself out of favour and loaned to Sheffield Wednesday and West Ham before being brought to SJP by Ossie Ardiles at a cost of £250K in May 1991.

Carr scored on his Magpies debut at Upton Park against then-tenants Charlton Athletic, although we lost that season opener 1-2.

The end for Carr at United came in January 1993 when Kevin Keegan allowed him to join Sheffield United on loan - a move that was made permanent three months later.

Later spells with Leicester City, Aston Villa, Italian side Reggiana, Bolton and West Brom then followed before Carr tried his hand in the USA with the Pittsburgh Riverhounds.

He was last heard of living in Nottingham and working as a player's agent.

1994 Lewis Aird born, Newcastle.
(2011-14)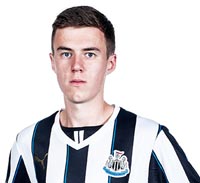 Defender who began playing as a schoolboy for Newcastle at the age of 12, joining from Walker Central.

Accepted into United's Academy ahead of the 2011/12 season, Lewis was part of a young Magpies Reserve XI who won 2-1 at Berwick Rangers in July 2011.

However, medial and cruciate knee ligament injuries sustained delayed his U18 debut and sidelined Aird for a year - his 18th birthday coinciding with a return to training.

Featuring just once from the bench for the second string in competitive fixtures during the following season, Lewis was loaned out to Team Northumbria.

Following his release by United, he accepted a scholarship at Northeastern University in Boston, USA, playing for their Huskies side while studying Physiotherapy.

What Else?
1898 Stoke (a)
0-0 (0-0)
Division One
P4, 1pt, 18th/18
12,000
Debut for Joe Rogers, who went on to play over 50 times for United, at outside right. He helped his gain their first point of the season but they remained bottom.
1904 Small Heath (a)
1-2 (1-2)
Division One
P4, 5pts, 7th/18
Veitch(8)
Jones(3,
1-2)

15,000
The hosts - formerly Small Heath Alliance and later Birmingham and then Birmingham City - won for the first time that season, while the visiting Magpies surrendered their unbeaten record.

1908 Carlisle United (a)
3-4 (1-4)
Friendly
Allan(1-2,2-4,3-4)
Sanderson(0-1,1-3), Baxter(0-2,1-4)
7,000
Coinciding with the visit of Princess Louise to Carlisle to lay the foundation stone for an extension to the Cumberland Infirmary, the Magpies played in a fundraiser for the project, staged at Devonshire Park.

Team: Sinclair, Pudan, Thompson, Willis, Veitch, Gardner, Gosnell, Soye, Allan, G.Rutherford, J.Rutherford.

1910 Middlesbrough (h)
0-0 (0-0)
Division One
P5, 5pts, 8th/20
40,000

1919 Derby County (h)
0-0 (0-0)
Division One
P7, 8pts, 7th/22
25,000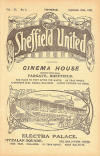 1921 Sheffield United (a)
1-1 (0-1)
Division One
P7, 9pts, 4th/22
Harris(49)
McCourt(15)
31,500
A fifth goal in six games for Neil Harris helped the Magpies salvage a point at Bramall Lane.

1927 Cardiff City (a)
1-3 (1-3)
Division One
P7, 10pts, 1st/22
Gallacher(33)
Curtis(3), L.Davies(35), Ferguson(37)
35,000
Debut for Tommy Lang at outside left. He went on to play over 200 times for United, striking the goal against Chelsea which took the club to a Wembley final in 1932.

Fellow newcomer Jack Little was rather less successful, making three appearances before moving on a free transfer to Southport.
1928 Blackburn Rovers (a)
0-2 (0-1)
Division One
P8, 6pts, 17th/22
og(Hudspeth)(30), Roscamp(0-2)
14,750
Having netted an own goal to put Rovers ahead, Frank Hudspeth's miserable day at Ewood Park was completed when his second half penalty kick was saved.

1930 Hearts (Scotland) (h)
2-3 (1-1)
Friendly
Chalmers(25), Devine(68)
Battles jnr(28), Bennie(78), Jaap(85)
5,000
United faced Scottish opposition in a midweek testimonial match for Andy McCombie - who had played for the Magpies between 1904 and 1910 before joining the SJP backoom staff.

The visiting players were presented with attaché cases as souvenirs of the game.

Team: Burns, Harris, Fairhurst, MacKenzie, Hill, McDonald, Boyd, Chalmers, Hutchinson, Devine, Lang.

1932 Chelsea (a)
1-0 (1-0)
Division One
P6, 10pts, 3rd/22
Boyd(32)
51,857
United's first win at Stamford Bridge in nine attempts was achieved thanks to a goal from Jimmy Boyd and Albert McInroy's 50th minute penalty save from Tommy Law.
1938 Southampton (h)
1-0 (1-0)
Division Two
P8, 9pts, 7th/22
Cairns(45)
35,000
Victory over the Saints was achieved despite the hosts playing for 75 minutes with ten men, after Jimmy Gordon departed with a broken ankle.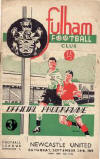 1949 Fulham (a)
1-2 (1-0)
Division One
P9, 7pts, 17th/22
Milburn(34pen)
R.Thomas(60), Jezzard(70)
40,000
Beaten 3-6 at Charlton Athletic two weeks earlier, things were little improved for the Magpies in West London.

1951 Tottenham Hotspur (a) 1-2 (1-1)
Charity Shield
Milburn(17)
Murphy(19), Bennett(56)
27,660
A defeat at White Hart Lane in the Charity Shield for the Magpies, but later in the season they returned in the FA Cup and won when it really mattered.

Team: Simpson, Duncan, McMichael, Harvey, Brennan, E.Robledo, Walker, G.Robledo, Milburn, Hannah, Mitchell.
1952 Manchester United (a) 2-4 (1-0)
Charity Shield
Keeble(35,69)
Rowley(48,53), Byrne(63)
Downie(75),
11,381
A miserable attendance at Old Trafford as the Charity Shield was lost again, with the home side fielding ex-Magpie 'keeper Ray Wood.

This match was to be the only senior game Neville Black played in - a Pegswood-born forward who found his way to the first team barred by the abundance of talent at SJP.

Team: Simpson, Cowell, Batty, E.Robledo, Stokoe, Casey, Walker, G.Robledo, Keeble, Black, Mitchell.

1955 Tottenham Hotspur (a) 1-3 (0-3)
Division One
P9, 8pts, 14th/22
Milburn(69)
Stokes(23,27), Clarke(32)
41,096
Coming into this game bottom of the table, Spurs hit United with a ten minute, three goal salvo.

Jackie Milburn netted a consolation for the Magpies and after the game learned that injury to Stanley Matthews meant that Milburn had been recalled by England for the first time in four years.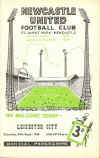 1960 Leicester City (h)
1-3 (0-1)
Division One
P10, 8pts, 15th/22
McGuigan(70)
Leek(1,48), Cheesebrough(50)
21,161
Future Magpie Ken Leek opened the scoring after 50 seconds and added a second after the break before the Foxes went 3-0 up.
John McGuigan reduced the arrears for United, who "looked a poor and nerve-racked side" in the estimation of the Birmingham Daily Post scribe.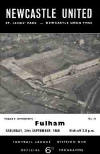 1966 Fulham (h)
1-1 (0-1)
Division One
P9, 7pts, 16th/22
Noble(78)
Earle(2)
20,427
Absent from this Craven Cottage stalemate was United boss Joe Harvey, away on a scouting mission as he looked to strengthen a side that had won just twice in their opening ten league and cup games.

1977 Coventry City (h)
1-2 (1-1)
Division One
P7, 2pts, 22nd/22
Gowling(41)
Wallace(37,66)
22,484
Losing their previous five games, United fell behind when future mackem Ian Wallace poked the ball home from close in at the Gallowgate End.

Alan Gowling picked his spot to level before the break, but City won it when Jim Blyth's long kick downfield reached Wallace and he steered it over Mick Mahoney.
Youtube footage is online here

1983 Barnsley (a)
1-1 (0-0)
Division Two
P7, 11pts, 7th/22
Waddle(84)
Cunningham(52)
14,085
Peter Beardsley made his United debut at Oakwell as a substitute but at the other end, Jeff Clarke sustained a leg injury which was to keep him out for the rest of the year.

1988 Charlton Athletic (a)
2-2 (0-1)
Division One
D.Jackson(72), Tinnion(78)
Williams(45), Lee(85)
6,088
With the score at 1-0 to Charlton, the Addicks were reduced to ten men after referee Mike Reed dismissed Paul Miller for spitting at an opponent.

Future Mag Rob Lee got the second goal for the "home" side in a game played at their temporary home of Selhurst Park.
Youtube footage is online here

1989 mackems (a)
0-0 (0-0)
Division Two
P7, 11pts, 7th/24
29,499
After a four year break, the derby fixture returned, played on a Sunday with a noon KO at Joker Park on police advice.

As usual there was more action off the pitch than on it, as Jim Smith's side came for a point and got it in a game of few chances.

1991 Crewe Alexandra (a) 4-3 (2-3)
League Cup 2nd
Round 1st Leg
Hunt(37), Peacock(43,68,78)
Evans(2,6), Callaghan(30)
4,251
Our first visit to the Alex for 95 years saw the Railwaymen motor into a 3-0 lead and also strike the frame of Pavel Srnicek's goal twice before the interval.

Eventually United woke up and clawed their way back to an unlikely victory, thanks to Andy Hunt and a Gavin Peacock hat trick.
Youtube footage is online here

1994 Liverpool (h)
1-1 (0-0)
Premier League
P7, 19pts, 1st/22
Lee(50)
Rush(70)
Albert(82-second yellow)
34,435
After opening the season with six consecutive Premier League wins, United lost their 100% record and saw Barry Venison limp off against his old club with a hamstring injury.

John Barnes set up fellow future Magpie Ian Rush to level, before our defensive options were further weakened by the dismissal of Philippe Albert.

1995 Chelsea (h)
2-0 (1-0)
Premier League
P7, 18pts, 1st/20
Ferdinand(41,57)
36,225
Les Ferdinand's seventh and eighth Premier League goals for the club were enough to defeat Glenn Hoddle's side at SJP and leave Newcastle top of the table with 18 points from a possible 21.

The visitors included ex-Magpie Gavin Peacock plus a trio of players who would subsequently have off-field roles for Newcastle: Ruud Gullit, Steve Clarke and Dennis Wise.



1996 Halmstads (Sweden)
(a) 1-2 (1-0)
UEFA Cup 1st Round
2nd Leg
Ferdinand(43)
Arvidsson(74)
M.Svensson(81)
7,847
Some United fans were left stranded in England after booking a non-existent excursion. Happily, the perpetrator was tracked down, found guilty of deception and imprisoned.

Live TV coverage was provided by an obscure cable company of a game that later saw Kevin Keegan accuse his players of complacency after the 4-0 first leg win.

1997 Everton (h)
1-0 (0-0)
Premier League
P5, 12pts, 7th/20
Lee(87)
36,705
United's positive start to the season continued with a fourth league victory in five outings - although this Wednesday night success was a world away from the 3-2 Champions League win over Barcelona a week earlier.

Visiting defender Slaven Bilic was red carded on 72 minutes for pulling a goalbound Tino Asprilla down before Rob Lee shot home via the inside of the bar after Ian Rush's first effort was blocked.

Managed by Howard Kendall, the Toffees included old boy Steve Watson and future Magpies Gary Speed and Duncan Ferguson.

2002 Feyenoord (Netherlands) (h) 0-1 (0-1)
Champions League Group E Match 2
Pardo(4)
40,540
Two games, two defeats left us bottom of Group E and already favourites to tumble out of the competition.

There was no lack of effort from the home side, but despite registering 20 shots on target. no breakthrough came. Bobby Robson said after the game that his side "need a bit of luck", which would duly come to pass....
NUFC.com match report

2003 NAC Breda (Netherlands) (h)
5-0 (2-0)
UEFA Cup First Round 1st Leg
Bellamy(31,37), Bramble(59), Shearer(77), Ambrose(89)
36,007
A phenomenal 3,500 NAC fans travelled and their black & yellow colours appeared in bars across Tyneside in something of a friendly invasion.

Half time hero was Brian Kilcline, clad in a pair of black & white tartan trousers and sporting a wild hair and wizard's beard combo. He received a fine reception, although it's possible some fans in Level 7 thought it was actually Billy Connolly...
NUFC.com match report

2005 Manchester City (h) 1-0 (1-0)
Premiership
P7, 8pts, 11th/20
Owen(18)
52,280
Michael Owen's first home Toon goal ended a seven game winless streak at SJP.

United's record signing beat England colleague David James as we made it two wins in a row and sat in mid-table, with eight points from seven games.
NUFC.com match report

2006 Everton (h)
1-1 (1-1)
Premiership
P6, 7pts, 12th/20
Ameobi(14)
Cahill(41)
50,107
Titus Bramble and Tony Hibbert were given their marching orders at SJP but neither side could convert one of the numerous chances to claim all three points.
Shola Ameobi gave United an early lead, but within ten minutes had limped off with an ankle problem. A later scan showed that no serious damage had been incurred.
NUFC.com match report



2008 Tottenham Hotspur (h) 1-2 (0-0)
Carling Cup 3rd Round
Owen(90)
Pavlyuchenko(62), O'Hara(66)
20,577
A fourth successive United loss and a rare success for visiting boss, Juande Ramos.

Off the field, speculation about two former Spurs favourites was rife: claims that Terry Venables would assist caretaker boss Chris Hughton and that Paul Gascoigne had died. Both parties concerned denied the rumours....
NUFC.com match report

2009 Aston Villa confirmed that their unwanted striker Marlon Harewood had completed a three month loan move to SJP.
Chris Hughton told reporters that he was:

"Delighted to have him on board, he brings with him both physical presence and experience, which is what we're looking for at the moment.

"Hopefully he will give us more options, which we need with Shola Ameobi still injured for the foreseeable future."

2011 Just hours before they inflicted a league defeat on Blackburn Rovers, United were paired with them in the Fourth Round of the Carling Cup - our third successive away draw.



2011 Blackburn Rovers (h) 3-1 (2-1)
Premier League
P6, 12pts, 4th/20
Ba(27,30,54)
Hoillett(37)
46,236
At the sixth time of asking, Demba Ba opened his account with a treble as Rovers' run of five successive wins on Tyneside was thankfully ended.

Future Magpie defender Grant Hanley was an unused substitute for Steve Kean's side.
NUFC.com match report



2014 Crystal Palace (a)
3-2aet 2-2 (1-1)
Capital One Cup 3rd Round
Riviere(36,48pen), Dummett(112)
Gayle(25pen), Kaikai(90+2)
Abeid(100-second yellow)
13,773
Paul Dummett was the unlikely hero at Selhurst Park as ten-man United won in extra-time to set up a visit to cup holders Manchester City.

Emmanuel Riviere's first goals for the club looked to have sent Alan Pardew's side through but Sullay Kaikai grabbed a dramatic late leveller.

Despite the loss of Mehdi Abeid in extra time after a second yellow card, Dummett's brave header won the tie for the Magpies.
NUFC.com match report

2016 Aston Villa (a)
1-1 (1-0)
Championship
P9, 16pts, 5th/24
og(Elphick)(28)
Tshibola(88)
32,062
Conceding a late equaliser thanks to Aleksandar Mitrovic's brainless loss of possession and goalkeeper Matz Sels losing his bearings, Newcastle dropped down to fifth in the table.
Gifted a goal by Roberto Di Matteo's Villans, United missed numerous chances to wrap up the points, with Dwight Gayle and Mo Diame both at fault.

Cheick Tiote's first appearance of the season came after Jack Colback withdrew from the squad, amid reports that the Ivorian midfielder could leave in the coming days to join a club in the UAE.
NUFC.com match report



2017 Brighton & Hove Albion (a)
0-1 (0-0)
Premier League
P6, 9pts, 9th/20
Hemed(51)
30,468
United's three-game winning run came to a halt as they visited the Amex Stadium in the top flight for the very first time - Seagulls boss Chris Hughton finally beating his old side at the seventh attempt.

Pleasingly, some of the 3,000 travelling supporters spotted and admonished former Toon manager turned TV pundit Graeme Souness as he left the ground post-match.

Not forgiven, not forgotten.
NUFC.com match report