Next Match
Fulham
Premier League
Craven Cottage
Saturday 1st October
Kick-off 3pm
Last Match
Newcastle 1
Bournemouth 1
Premier League
St. James' Park
Saturday 17th September
Match report

The Never-Ending Tour

Number of Newcastle
games attended by
NUFC.com in 2022/23:

30

Fulham (a) SOLD OUT
Brentford (h) Family section only left
Man U (a) ST sale now, 60pts
Everton (h) Family section only left
Spurs (a) ST sale now, 100pts

Internationals:
Today's action

Miguel Almiron (Paraguay):
Tue 27.09.2022 Morocco (n) Seville FR

Northern Ireland (Jamal Lewis):
Tue 27.09.2022 Greece (a) venue tbc NL

Switzerland (Fabian Schar):
Tue 27.09.2022 Czech Rep (h) St. Gallen NL

Alex Murphy (Ireland U19s):
Tue 27.09.2022 Hungary (n) Bangor ECQ

Lewis Miley (England U17s)
Tue 27.09.2022 tbc Romania (n) FR

Ireland (Jeff Hendrick):
Tue 27.09.2022 Armenia (h) Dublin, NL

Internationals:


Monday update

England (Nick Pope, Kieran Trippier):
Mon 26.09.2022 Germany (h) drew 3-3 NL

Having conceded just two goals in his previous nine international appearances, Nick Pope picked the ball out of his net three times in 35 minutes at Wembley.

Gareth Southgate's side recovered from a 0-2 deficit to snatch a 3-2 lead before the Germans found a late leveller - aided by Pope's fumble. Trippier remained unused on the bench.

RLWC:
RL World Cup
ticket giveaway




The Rugby League World Cup kicks off at St.James' Park on Saturday October 15th and for anyone looking to experience the world-class action live, tickets for the England against Samoa game are still on-sale.

Tickets are only sold on the Official RLWC2021 website online here

We have pairs of tickets up for grabs in a free-to-enter competition to be in with a chance of winning, just predict the final score in Newcastle's next Premier League game, at Fulham this Saturday.

Email predictions to comps@nufc.com with a subject line of RLWC:

Closing date is Noon on Friday September 30th. No age limit, prize consists of two match tickets only, any other transport or matchday expenses are excluded.

One entry per person please: should more correct predictions be received than there are prizes, a random draw of correct predictions will take place. Should less correct predictions than prizes arrive, there will be a random draw including all predictions received.

Premier League:
Rail strike updates

Saturday October 1st Fulham (a)

LNER update:

LNER is running a limited number of trains on Saturday 1 October due to strike action.

Do not travel to and from stations north of York. No trains will run north of York in either direction.

A limited number of trains will run between London King's Cross and York, in both directions.

There will be a limited train service each way between Doncaster and Leeds.

RMT union update:

The national rail dispute will see strike action on: Network Rail, Chiltern Railways, Cross Country Trains, Greater Anglia, LNER, East Midlands Railway, c2c, Great Western Railway, Northern Trains, South Eastern, South Western Railway, Transpennine Express, Avanti West Coast, West Midlands Trains, GTR (including Gatwick Express) on October 1st.

In separate disputes, Arriva Rail London members, Hull Trains and bus workers at First Group Southwest will also take strike action on October 1st.

ASLEF union update:

Members at 12 companies – Avanti West Coast; Chiltern Railways; CrossCountry; Greater Anglia; Great Western Railway; Hull Trains; LNER; London Overground; Northern Trains; Southeastern; TransPennine Express; and West Midlands Trains – will strike on 1 and 5 October.

Saturday October 8th Brentford (h)

LNER strike guidance for October 8th is awaited and will appear online here

LNER trains between Newcastle and Edinburgh will be diverted via the West Coast Main Line, meaning longer journeys. Other LNER services will also be amended.

Between Newcastle and Edinburgh, there will be one train per hour instead of the usual two and journeys will be at least 90 minutes longer as they will go via Carlisle.

There will also be rail replacement coaches between Newcastle and Edinburgh, stopping at Morpeth, Alnmouth, Berwick-upon-Tweed, Reston and Dunbar.

Between London and Newcastle there will be one train per hour instead of the usual two.

Track upgrade information here

Premier League:
Fulham (a)

Newcastle return to Premier League action. against Fulham at Craven Cottage on Saturday.

It's an old-fashioned 3pm start and all 2,300 away section tickets were sold.

An unspecified number of purchasers were contacted by NUFC on Monday and told that they wouldn't be receiving tickets after all, due to apparent over-selling.

Following victories there in May 2019 (4-0) and May 2021 (2-0), United go in search of a third consecutive win at Craven Cottage - something that they've never previously achieved.

NUFC: Jonjo Shelvey and Karl Darlow remain out, but there's optimism that Callum Wilson will feature after missing the last four games due to injury.

Footage of Allan Saint-Maximin training this week has raised hopes of a return to action for him, while Bruno Guimaraes has been seen in the gym at Darsley Park after his early return from the Brazil squad.

It's anticipated that Alexander Isak will miss at least one game with the issue that prevented him featuring for Sweden, while the availability of Chris Wood and Elliot Anderson is yet to be determined.

Find Coral's markets online here

FFC: Marco Silva's side will be without ever-present Joao Palhinha due to suspension after he collected his fifth booking. The midfielder has scored twice already this season in the PL.

The Cottagers are unbeaten at home in their opening three PL games; sharing four goals with Liverpool, beating Brentford by the odd goal in five and notching up a 2-1 victory over Brighton.

On the road, Fulham began with a 0-0 draw against Wolves before successive 1-2 losses to Arsenal and Spurs and a 3-2 win at Nottingham Forest.

A certain Serbian has scored six of his side's 12 PL goals so far this season, including at least one in each of Fulham's three PL home games to date.

Mitrovic also maintained his scoring form with a hat-trick for Serbia against Sweden in the Nations League on Saturday.

However, that was followed by some media speculation in Serbia that he was carrying an injury. It remains to be seen whether he'll face Norway on Tuesday.

PS: Mitro is yet to score or finish on the winning side in three games for Fulham against Newcastle; two draws at SJP and the 4-0 game at Craven Cottage. He was unavailable for our 2-0 visit in 2021.

Referee: Darren England - Doncaster whistler last encountered taking charge of the 2-0 home win over Arsenal in May.

VAR: Mike Dean


Located on platform 12 at Central Station, CentrAle stock a bewildering variety of local, domestic and international beers plus selected wines and spirits.

They have further stocks of Anarchy's Wor Beer, with 50p from every sale helping to fund the Wor Flags fan-led displays.

The 10% discount for away travellers will be operating on Friday, just show your Fulham match ticket. CentrAle won't be open on Saturday, with Central station closed due to the rail strikes.

UK TV: None

NORD VPN products protect and secure your online activity. Click here for fast and secure sport streaming guidance.

Overseas TV: tbc

UK Radio: None

Local Radio: Live on BBC Radio Newcastle

Travel:

Metro: In addition to the ongoing line closure between South Shields and Pelaw, the train strike on Saturday will result in a service suspension between Pelaw and South Hylton. That's because that section of track is controlled by Network Rail.

Train: The RMT have joined ASLEF in taking strike action on Saturday, which is predicted to bring the railway network to a standstill - and also affect services the day before and the day after.
Find National Rail updates here

Tube: The Piccadilly line between Heathrow and Acton Town is closed on Saturday and Sunday.

Find TfL updates here

Stats:

Magpies @ Fulham - PL era:
2020/21 Won 2-0 Willock, Schar (pen)
2018/19 Won 4-0 Shelvey, Perez, Schar, Rondon
2016/17 Lost 0-1+
2013/14 Lost 0-1
2012/13 Lost 1-2 Ben Arfa
2011/12 Lost 2-5 Guthrie, Ben Arfa
2010/11 Lost 0-1
2008/09 Lost 1-2 Ameobi
2007/08 Won 1-0 Barton (pen)
2006/07 Lost 1-2 Martins
2005/06 Lost 0-1
2004/05 Won 3-1 Ambrose, Kluivert, Ameobi
2003/04 Won 3-2 Robert, Shearer 2*
2002/03 Lost 1-2 Shearer*
2001/02 Lost 1-3 Speed
(At Craven Cottage except *Loftus Road)
(Premier League except +Championship)
Latest PL fixtures:

Sat 01.10.2022:
Arsenal v Spurs (12.30pm) BT
Bournemouth v Brentford (3pm)
Crystal Palace v Chelsea (3pm)
Fulham v Newcastle (3pm)
Liverpool v Brighton & Hove Albion (3pm)
Southampton v Everton (3pm)
West Ham v Wolves (5.30pm) Sky

Sun 02.10.2022:
Manchester City v Manchester United (2pm) Sky
Leeds United v Aston Villa (4.30pm) Sky

Mon 03.10.2022:
Leicester City v Nottingham Forest (8pm) Sky




This game will see 700 seats in the upper tier of their new Riverside Stand occupied for the first time; sold to home fans at the eye-watering price of £90 for adults and £60 for juniors.

That should ensure a crowd of over 25,500 although still some way off the eventual capacity of around 30,000.

Internationals:
Call-ups

Latest international selections:

Miguel Almiron (Paraguay):

Fri 23.09.2022 UAE (n) won 1-0 FR
A full 90 minutes for Miggy as Paraguay were victorious in Vienna.

Ireland (Jeff Hendrick):

Sat 24.09.2022 Scotland (a) lost 1-2 NL
Hendrick wasn't called upon and remained among the unused replacements.

Northern Ireland (Jamal Lewis):

Sat 24.09.2022 Kosovo (h) won 2-1 NL
The Newcastle full back was named in the starting line-up, lasting 77 minutes in Belfast before making way for SJP old boy Shane Ferguson. Northern Ireland trailed 0-1 at that point.

Switzerland (Fabian Schar):

Sat 24.09.2022 Spain (a) won 2-1 NL
Success for the Swiss in Zaragoza, but Fabian was an unused substitute.

Ryan Fraser (Scotland):
Wed 28.09.2022 Ukraine (n) Krakow NL

Sat 24.09.2022 Ireland (h) won 2-1 NL
Another outing from the bench for Fraser, arriving as a 59th minute replacement at Hampden.

Wed 21.09.2022 Ukraine (h) won 3-0
Fraser made a memorable return to international football in the 76th minute at Hampden Park - his 80th and 87th minute corners head in by Lyndon Dykes for the second and third Scotland goals.

Alex Murphy (Ireland U19s):

Sat 24.09.2022 Wales (a) won 2-0 ECQQ
Success for Ireland in Bangor, with the Magpie again named in the starting XI.
Wed 21.09.2022 Gibraltar (n) won 6-0 Denbigh ECQ
A 90 minute outing for the Newcastle defender, who hit the woodwork with one shot and registered an assist.

Lewis Miley (England U17s)

Sun 25.09.2022 Norway (n) lost 1-2 FR
The young Magpie was named in the starting XI for this Syrenka Cup tie.

Fri 23.09.2022 Czech Republic (n) won 3-0 FR
Lewis was named among the substitutes for the tournament opener in Poland - participation tbc.

Lucas De Bolle (Scotland U21s):

Sun 25.09.2022 Northern Ireland drew 1-1 (h)
The midfielder was in the starting XI for Sunday's friendly at St.Mirren's home ground in Paisley and played 61 minutes, setting up his side's opening goal.

Among those present was Newcastle's assistant loans co-ordinator, Peter Ramage.

Thu 22.09.2022 Northern Ireland (a) won 3-1 FR
The Newcastle midfielder was an 84th minute arrival from the bench in Belfast.

Johnny Emerson (Scotland U18s):

Sun 25.09.2022 Estonia (n) won 4-1 FR
A first international strike for the young Magpie as the Scots posted a resounding victory in Limoges.

Fri 23.09.2022 France (a) lost 1-5 FR
The young Magpie began Friday's game in Limoges on the bench.

Wed 21.09.2022 Poland (n) lost 0-1 FR
Emerson was in the starting XI for Scotland's tournament opener in Limoges.

England (Nick Pope, Kieran Trippier):

Fri 23.09.2022 Italy (a) lost 0-1 NL
The Newcastle goalkeeper was named in the starting line-up while club colleague Kieran Trippier remained on the bench.

Chris Wood (New Zealand):

Sun 25.09.2022 Australia (h) lost 0-2 FR
Wood started the game in Auckland but was replaced after 32 minutes with a rib/side injury.

He tried to carry on but left the field in some pain, later complaining of breathing difficulties.

Thu 22.09.2022 Australia (a) lost 0-1
A narrow defeat for the Kiwis in Brisbane, Wood captaining the side and playing for the opening 71 minutes.

The Borrowers:
Loan lads

Matty Longstaff (Colchester United):
The midfielder played for the opening 73 minutes of a 0-1 home loss to Rochdale in League Two on Saturday.

Dan Langley (Gateshead):
A clean sheet for the Toon custodian as the Tynesiders won 1-0 at Maidenhead United in the National League on Saturday.

Former Magpie Dan Ward was on target.

Rodrigo Vilca (Universitario):
Alianza Atletico (a) Primera Division, Saturday.

Jeff Hendrick (Reading):
Huddersfield Town (h) Championship, Saturday.

Lucas De Bolle (Hamilton Academical):
Dundee (h) Scottish Championship, Saturday.

Martin Dubravka (Manchester United):
Manchester City (a) Premier League, Sunday.

Ciaran Clark (Sheffield United):
Currently unavailable due to injury.

Isaac Hayden (Norwich City):
Currently unavailable due to injury.

Kelland Watts (Peterborough United):
Currently unavailable due to injury.

U21s:
Boro at Bishops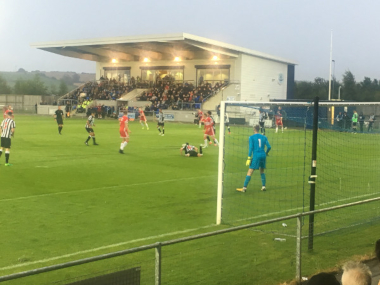 Newcastle's U21 side return to PL2 action on Friday night when they face Boro at Bishop Auckland's Heritage Park.

It's a 7pm start and admission is £3 on the gate (no concessions).

Following home wins over Derby County and Nottingham Forest, Elliott Dickman's side go in search of a third successive win to try and keep pace with a leading pack of sides that include their opponents.

Boro have won all three of their PL2 games at Bishops this season, with their only loss in six league outings at the Riverside.

The most recent meeting of the two sides saw the Teessiders run out 4-2 winners at the Riverside back in April. Newcastle had triumphed 4-1 in the corresponding game at Gallowgate earlier in the season.
Update:
SJP in frame for
Euro 2028 bid

From ITV, Wednesday:

Newcastle has launched a bid to be a host city for matches in Euro 2028.
Both Newcastle City Council and Newcastle United have thrown their hat into the ring for St James' Park to host fixtures at the competition.
If successful, it would be one of at least ten stadiums used during the tournament.
Earlier this year, the UK and Ireland put forward a joint bid to host the tournament in 2028 and will find out if they have been successful in September 2023.
Bidding nations will have to put forward a final dossier to UEFA in April, meaning decisions on potential host cities will have to be made in the coming months.
With a capacity of more than 52,000, St James' Park is the eighth biggest stadium in England and the fourth largest outside of London.
The ground has previously played host to international fixtures at Euro 1996 and the 2012 London Olympics - as well as other sporting occasions, like the 2015 Rugby World Cup and rugby's Heineken Cup final in 2019.

A Newcastle City Council spokesperson said: "This is fantastic news for the city, and demonstrates that we can compete with the rest of the UK to host major events.
"The tournament is viewed by three billion people worldwide, and hosting it would put Newcastle on an international stage and bring significant social and economic benefits to the city.
"At this stage, the FA have requested an early response from bidding cities that they can commit to meeting the requirements necessary to qualify as a potential host city. The process is extremely competitive as we go up against many other leading football cities with stadiums that meet the requirements of the FA and UEFA."
City councillors are due to meet next month to discuss what commitments local authorities and Newcastle United would have to make to stage matches during the Euros.

The Times lists the stadia in contention as:

Wembley, Tottenham Hotspur Stadium, London Stadium, Villa Park, Stadium MK, Old Trafford, the Etihad, Everton's planned Bramley Moore Dock ground, Stadium of plight and St James' Park.
Canning along the Benfield Road:
Wor Beer update




A restock of the AnarchyBrewCo / Wor Flags beer in cans is imminent and orders can be made here with a dispatch date of this coming Friday, September 30th.

50p from each can of the 4.3% Light Pale Ale sold goes to help fund the excellent Wor Flags displays at SJP.

* Wor Beer is available on draught in city centre bars and local outlets with cans currently in stock at CentrAle on Central Station and the Dog & Rabbit in Whitley Bay.
Carabao Cup:
Palace (h) LC date set

Newcastle's Carabao Cup Third Round tie against Crystal Palace will be played on Wednesday November 9th.

Kick-off at SJP is at 7.45pm and an outcome must be achieved on the night, with the tie going to penalties in the event of a draw at 90 minutes.

The game won't be on live TV in the UK and ticket pricing and sale details are tbc.

Third Round:
Tue 08.11.2022:
Bournemouth v Everton
Brentford v Gillingham
Bristol City v Lincoln City
Burnley v Crawley Town
Leicester City v Newport County
MK Dons v Morecambe
Stevenage v Charlton Athletic
Wolves v Leeds United

Wed 09.11.2022:
Arsenal v Brighton
Liverpool v Derby County
Manchester City v Chelsea Sky
Newcastle v Crystal Palace
Nottingham Forest v Tottenham Hotspur
Southampton v Sheffield Wednesday
West Ham v Blackburn Rovers

Thu 10.11.2022:
Manchester United v Aston Villa Sky

Premier League:
TV alterations

The Premier League have confirmed details of their live TV selections for November - also revealing a further change to a previously-altered Newcastle live game.

That alteration sees the Spurs away game move from the advertised Saturday 5.30pm slot on October 22nd to Sunday October 23rd at 4.30pm, live on Sky.

Both United's November PL games are live on TV:

Sun 06.11.2022 Southampton (a) 2pm Sky
Sat 12.11.2022 Chelsea (h) 5.30pm Sky

On the plus side, a further shift for the Spurs game gives Eddie Howe's side an extra day to recover from playing Everton the previous Wednesday night.

From a supporter perspective however, it's another low blow. Holding off on booking transport and hotels etc. until TV fixture changes are confirmed is one thing, but to then go back and alter games again on a whim is quite another.

F*cking the fans, yet again.

Premier League:
The Bourne inadequacy

Newcastle 1 AFC Bournemouth 1

Match report



Tickets/Fixtures
Season 2022/23

Season tickets are sold out.

Club memberships are sold out (U13 memberships still on sale).

Season Ticket holders have member rights and the chance to buy one ticket for home or away games, subject to availability.

The £30 adult price cap for PL away tickets has been extended until the end of 2024/25.

Fri 30.09.2022 U21s v Boro U21s (a) @ Heritage Park, Bishop Auckland, 7pm. Premier League 2 Division Two.

Sat 01.10.2022 U18s v Stoke City U18s (h) @ Little Benton, 11am. U18 Premier League.

Sat 01.10.2022 Fulham (a) @ Craven Cottage, 3pm. Premier League. SOLD OUT. Allocation: 2,300.

Sat 08.10.2022 U18s v Manchester United U18s (a) @ Carrington, 12.30pm. U18 Premier League Cup.

Sat 08.10.2022 Brentford (h) @ SJP, 3pm. Premier League. Limited public sale (online) now - family section only left.

Fri 14.10.2022 U21s v Aston Villa U21s (a) @ Bodymoor Heath, 6pm. Premier League 2 Division Two. Note new date.

Sat 15.10.2022 U18s v Derby County U18s (h) @ Little Benton, 1pm. U18 Premier League.

Sun 16.10.2022 Manchester United (a) @ Old Trafford, 2pm. Premier League. ST holder sale now, 60 points. £30 adults, £22.50 18-20s, £20 Over 65s / 16-17s, £10 U16s. Allocation: tbc (NB: safe standing area tickets are a separate option within the ticket website).

Tue 18.10.2022 U21s v Lincoln City (a) @ Sincil Bank aka LNER Stadium, 7pm. EFL Trophy.

Wed 19.10.2022 Everton (h) @ SJP, 7.30pm. Premier League. Live on Amazon Prime. Member sale now, family section only left. Limited public sale (online) Wed 05.10.2022.

Sat 22.10.2022 U18s v Everton U18s (a) @ Finch Farm, 12.30pm. U18 Premier League.

Sun 23.10.2022 U21s v Southampton U21s (h) @ Whitley Park, 2pm. Premier League 2 Division Two.

Sun 23.10.2022 Spurs (a) @ Tottenham Hotspur Stadium, 4.30pm. Premier League. Live on Sky Sports. Note further new date and KO time. ST holder sale now, 100 points. £30 adults, £22.50 18-21s, £19 over 65s, £17 U18s. Allocation: tbc.

Sat 29.10.2022 U18s v Manchester United U18s (h) @ Little Benton, 12.30pm. U18 Premier League.

Sat 29.10.2022 Aston Villa (h) @ SJP, 3pm. Premier League. Member sale Wed 28.09.2022, Limited public sale (online) Wed 12.10.2022.

Mon 31.10.2022 U21s v mackem U21s (h) @ SJP, 7pm. Premier League 2 Division Two.

Mon 14.11.2022 PL season halts.

Mon 26.12.2022 PL season restarts.

Sun 28.05.2023 PL season ends.

Home game on sale dates:

Wed 09.11.2022 Palace (LC)
ST/Member tbc
Public tbc

Sat 12.11.2022 Chelsea
ST/Member tbc
Online public tbc

NUFC Live on TV:

Wed 19.10.2022 Everton (h) 7.30pm AP
Sun 23.10.2022 Spurs (a) 4.30pm Sky
Sun 06.11.2022 Southampton (a) 2pm Sky
Sat 12.11.2022 Chelsea (h) 5.30pm Sky

(Selections made up to Sun 13.11.2022).

Amazon Prime will show the PL fixture round including our visit to Leicester City in December.

Live TV confirmation dates:
NB: all "approximate dates"

Dec/Jan Tue 11.10.2022
Feb Tue 06.12.2022
Mar Wed 25.01.2023
MW35 Thu 23.03.2023
MW36 Thu 30.03.2023
MW37 Thu 07.04.2023
MW38 after 20.05.2023

Carabao Cup Round dates:
(NUFC entered in Round 2)

R3: w/c Mon 07.11.2022
Wed 09.11.2022 Crystal Palace (h)

R4: w/c Mon 19.12.2022
QF: w/c Mon 09.01.2023
SF1: w/c Mon 23.01.2023
SF2: w/c Mon 30.01.2023
F: Sun 26.02.2023 (Wembley)

FA Cup Round dates:
(NUFC enter in Round 3 draw due on or around Mon 28.11.2022)

R3: Sat 07.01.2023
R4: Sat 28.01.2023
R5: Wed 01.03.2023
QF: Sat 18.03.2023
SF: Sat 22.04.2023
F: Sat 03.06.2023 (Wembley)

Papa Johns Trophy dates:
(NUFC U21s in Northern Group E)

Tue 30.08.2022 Doncaster Rovers (a) drew 0-0 (lost on pens)
Tue 20.09.2022 Barnsley (a) lost 0-2
Tue 18.10.2022 Lincoln City (a) 7pm

R2: w/c Mon 28.11.2022
R3: w/c Mon 12.12.2022
QF: w/c Mon 09.01.2023
SF: w/c Mon 30.01.2023
F: Sun 19.03.2023 (Wembley)

U18 Premier League Cup:
(NUFC U18s in Group C)

Sat 03.09.2022 Arsenal (h) won 4-2
Sat 08.10.2022 Man United (a) 12.30pm
Sat 05.11.2022 Aston Villa (a) 11am

U21 Premier League Cup:
(NUFC U21s in Group E)

Mon 14.11.2022 Bristol City (a) 1pm
Mon 21.11.2022 Crystal Palace (h) 7pm
Mon 28.11.2022 Sheffield United (a) 3pm
Mon 05.12.2022 Sheffield United (h) 7pm
Mon 12.12.2022 Bristol City (h) 5pm
Mon 19.12.2022 Crystal Palace (a) 7pm

Other events @ SJP:

Rugby League WC Finals:

Sat 15.10.2022:
England v Samoa (2.30pm)
More details online here

Sam Fender:

Fri 09.06.2023/Sat 10.06.2023:
with Inhaler, Holly Humberstone.
SOLD OUT.
International Magpies
National Service

International breaks:

2022/23:
21.11.2022-18.12.2022 (WCF)
20.03.2023-28.03.2023

2023/24:
tbc

Coxy's Corner
Whoops, He did it Again...

What's this all about then? Click here for a rambling explanation of sorts....


On This Day in History
27th September

Born Or Died:
1916 Death of Charles Randall, 34.
(1908-11)

1979 Jordan Tait born, Berwick-upon-Tweed (1996-99)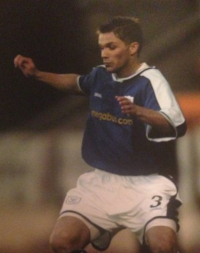 Academy defender who was part of the Newcastle side that won the Northern Intermediate title in 1998.

Released a year later, Jordan signed for second tier Norwich City after impressing in a trial match for their reserves.

Joining Oldham Athletic in 1999 and making his senior competitive bow in a League Cup tie that August, Tait had moved on to play for Darlington by the following season - initially on loan.

2001 saw him at Arbroath and he later played for Ross County, Ayr United, St.Johnstone, Berwick Rangers, Stenhousemuir and Scottish Junior club Arthurlie.

Combining playing with youth coaching at several clubs, Tait also worked for the Scottish FA and served as a police officer.

Later coaching at Ottowa South United Soccer Club in Canada and Finnish side Kemi Kings, by 2018 Jordan had returned to England and joined the coaching staff at Middlesbrough's Academy.

1986 Craig Baxter born, Newcastle.
(2003-06)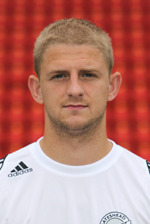 Right back who graduated from United's Academy into the reserve side, debuting against Notts County at Meadow Lane in February 2004.

Released by the Magpies in 2006, Craig moved over the Tyne to Gateshead, becoming an integral part of the team and facing his former club in numerous friendlies.

Released in 2012, Craig joined Northern League Bedlington Terriers before returning to the International Stadium a year later.

2016 then saw him exit the Tynesiders in favour of South Shields, remaining there until signing for Dunston UTS in 2021.

1987 Michael Terrell born, Gateshead.
(2003-06)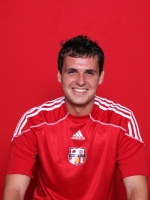 Midfielder who joined United following his release by the smoggies.

Appearing at Academy and Reserve level, Michael's only second string goal came in a 3-0 home victory over Boro in March 2006.

Released by United in 2006, he later won a soccer scholarship at the University of The Incarnate Word in San Antonio, Texas, USA (nicknamed "The Cardinals").

Remaining at the university in a coaching role, Michael later took up a similar position at Albion Hurricanes FC in Houston.

What Else?
1902 West Bromwich Albion (a)
1-6 (1-3)
Division One
P4, 6pts, 5th/18
Rutherford(40)
Lee(3), Buck(25,50), Simmons(30), Stevenson(70), McLean(84)
22,160
Having won their opening three games without conceding a goal, United returned to earth with a bump at The Hawthorns.

"Newcastle Disunited" punned the Athletic News - and it could have been even worse had Matt Kingsley not denied Jackie Kifford from the penalty spot at 1-5.

1904 Sunderland (h)
1-2 (1-1)
Friendly
Appleyard(25)
Bridgett(10), Gemmell(50)
18,761
This exhibition match was kicked off by Admiral of the Fleet, Lord Charles Beresford and among those attending were around 2,500 seamen, allowed ashore from the many naval vessels anchored on the Tyne.
1913 Sheffield Wednesday (h)
3-1 (1-0)
Division One
P5, 5pts, 11th/20
Hall(11), Low(69), Hibbert(3-1)
Wilson(89)
30,000
1919 Liverpool (a)
1-1 (0-1)
Division One
P8, 9pts, 9th/22
Booth(55)
Pagnam(36)
30,000
1922 Glasgow Celtic (Scotland) (h)
1-1 (0-0)
Friendly
Harris(1-1)
Cassidy(0-1)
8,000
A Wednesday visit from the Scottish side saw the visitors take a second half lead before Neil Harris levelled from close range.

United fielded Roddie MacKenzie of Inverness Clachnacuddin at right half during his month-long trial period on Tyneside.

A £100 transfer fee was subsequently agreed for the player who won Championship and FA Cup honours in a 13 year career at the club.

Team: Bradley, Russell, Hudspeth, MacKenzie, Mooney, Finlay, Keen, Hagan, Harris, McDonald, Richardson.
1924 Bury (h)
2-2 (1-0)
Division One
P9, 9pts, 8th/22
Urwin(40), Seymour(60)
Bullock(65), Stevenson(80)
35000
Tommy Urwin's first goal since arriving from Middlesbrough put United ahead and Stan Seymour doubled the advantage - only for the Shakers to hit back and nick a point.
1930 Bolton Wanderers (a)
3-0 (2-0)
Division One
P8, 10pts, 6th/22
J.R.Richardson(13), Lindsay(18,89)
20,000
What on the face of it was a routine win at Burnden Park was slightly less clear-cut: the Trotters striking Albert McInroy's crossbar at 0-0 and the Magpies custodian keeping the home side at bay with a series of fine stops.


1933 A crowd of 10,000 were present at St. James' Park for a match to benefit the family of former Magpie Wilf Low - who had died in a car crash.

Representative "North" and "South" sides faced each other, with the Northern XI running out 6-0 winners.

Derby County's Sammy Crooks hit a hat-trick, Newbiggin-born Ernie Thompson of Blackburn Rovers netted twice and Liverpool's Jimmy MacDougall was also on target.

1941 York City (h)
5-3 (3-1)
Wartime
Stubbins(1-0,4-2pen,5-2pen) Watters(2-0), Birkett(3-0)
Brennan (3-1,3-2,83)
7,900
United maintained their unbeaten home record for the season, in part thanks to scoring three times in seven first half minutes.
1947 Fulham (a)
0-3 (0-2)
Division Two


P10, 12pts, 5th/22


Shepherd(10), S.Thomas(35), Grant(55)
41,500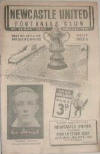 1952 Manchester City (h)
2-0 (1-0)
Division One
P9, 9pts, 11th/22
Milburn(16pen), Hannah(79)
48,961
After scoring from the spot, Jackie Milburn was injured in a tackle and missed the rest of the year while recovering from a cartilage operation. He scored on his return to the team.
1958 Portsmouth (h) 2-0 (1-0)
Division One


P10, 11pts, 10th/22


Bottom(18pen,77)
42,302

1969 Wolverhampton Wanderers (h)
1-1 (1-1)
Division One


P12, 10pts, 14th/22


Robson(29pen)
McCalliog(68)
38,072



1972 Ayr United (Scotland) (h)
2-0 (1-0)
(2-0 on aggregate)
Texaco Cup
Smith(32), Tudor(86)
14,550
Reserve striker Paul Cannell made his first senior start for Newcastle, against Ally McLeod's Honest Men.

Another one-time Magpies reserve forward was in the opposition side - Phil McGovern - on a night when Jimmy Smith scored and was deservedly voted man of the match.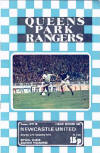 1975 Queens Park Rangers (a) 0-1 (0-1)
Division One
P10, 9pts, 14th/22
Leach(40)
22,981
United lost the first of what became three visits to Loftus Road that season, returning to win 3-1 in the League Cup and then drawing 0-0 in the FA Cup.
Meanwhile, a freak storm at Gallowgate caused the reserve game against Sheffield United to be abandoned in the 75th minute, with the score at 1-1. Kenny Mitchell's goal was erased from the records.

There had been no such problems earlier in the day for the junior side, Alan Guy's goal enough beating the mackems at Benwell.

1980 Bristol Rovers (a)
0-0 (0-0)
Division Two
P8, 9pts, 8th/22
5,171
Future Magpies custodian Martin Thomas earned the Pirates a point in a game played at Ashton Gate due to fire damage at Eastville.

Also in the Rovers side that day were a pair of former Newcastle players, Aidan McCaffery and Stewart Barrowclough.

1986 Norwich City (a)
0-2 (0-1)
Division One
P8, 5pts, 20th/22
Drinkell(4,68)
15,735
Another fruitless trip to Norfolk, City making it five games unbeaten against United at Carrow Road.

Steve Bruce was in the home line-up having failed to complete a move to SJP months earlier before signing an improved contract to remain a Canary.
Youtube footage is online here
1987 The end of a brief and unhappy stay on Tyneside for midfielder Glyn Hodges, who was reunited with his former Wombles manager Dave Bassett - now at Watford - for £300K.



1988 Sheffield United (a)
0-3 (0-2)
League Cup 2nd Round
1st Leg
Deane(5,33), Stanicliffe(77)
17,900
The first leg of a League Cup tie against the third tier Blades provided no respite from the five game winless league run that Willie McFaul's side were on.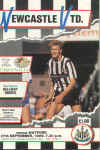 1989 Watford (h)
2-1 (2-1)
Division Two
P8, 14pts, 6th/24
Gallacher(32), Quinn(43)
Wilkinson(8)
17,008
Paul Wilkinson looped a header past Gary Kelly before John levelled after Mark McGhee helped on John Anderson's long ball.

The comeback was completed when Kevin Brock and McGhee exchanged passes in the box before in-form Mick Quinn beat Tony Coton for his tenth goal of the season.
Youtube footage is online here

1994 Royal Antwerp (Belgium) (h)
5-2 (4-0)
(10-2 on aggregate)
UEFA Cup 1st Round
2nd Leg
Lee(10), Cole(26,39,88), Beardsley(36pen)
Kiekens(75), Severeyns(77)
29,737
After Rob Lee's hat trick heroics in Belgium, it was the turn of Andy Cole to take home the match ball after running Antwerp ragged.
Youtube footage is online here

1996 United loaned Jimmy Crawford to Rotherham United, the midfielder making playing 11 times for the third-tier Millers.

1997 Chelsea (a)
0-1 (0-0)
Premier League
P6, 12pts, 10th/20
Poyet(75)
31,563
A week on from winning 1-0 at West Ham - and beating Everton by the same score at SJP in midweek - United were outwitted at Stamford Bridge.

Uruguayan Diego Poyet scored his first goal against the Magpies; sadly for us though. it would be far from his last....

2004 United reserves lost 0-2 to Nottingham Forest at Kingston Park, ex-Magpie Ross Gardner appearing for the visitors.
NUFC.com match report
2005 A Newcastle Academy XI were in friendly action at Monkseaton College, securing a 2-0 victory in blustery conditions. Carl Finnigan and Johnny Rowell netted.
2006 Spotted on Tyneside was old boy Pavel Srnicek, said to be under consideration for a short-term return to his former club, as United's goalkeeping woes continued.

2008 Blackburn Rovers (h) 1-2 (0-2)
Premier League
P6, 4pts, 19th/20
Owen(51pen)
Samba(31), Roque Santa Cruz(41)
44,935
A fourth consecutive league defeat (and fifth in all competitions) was witnessed by newly-installed interim boss Joe Kinnear.
Farcically though he was forced to watch from the stands - serving the first of a two-match touchline ban oustanding from 2004.

JFK still managed to get himself in hot water, swearing live on TV while defending owner Mike Ashley on BBC's Football Focus:
"He's the one who's cleared the debts, he's the one who's put the money in. He's the one who's got Newcastle out of the s***."

Awful defending and a non-existent offside call saw United 0-2 down before rookie Rovers 'keeper Jason Brown had dirtied his gloves.
And although Michael Owen won and then converted a penalty shortly after the restart, salvaging a point never looked likely
NUFC.com match report

2010 Paddy McLaughlin and Phil Airey were on target as Newcastle reserves beat Wolves 2-1 at AFC Telford's Bucks Head ground.
NUFC.com match report

2012 A staggering announcement from the official website:

"Newcastle United have today given manager Alan Pardew and his three senior coaching staff, John Carver, Steve Stone and Andy Woodman, new eight-year contracts up to the end of the 2019/20 season.

"The club has awarded the long-term contracts to ensure it has the stability necessary to achieve consistent success in the Premier League and European club competition".



2020 Tottenham Hotspur (a) 1-1 (0-1)
Premier League
P3, 4pts, 9th/20
Wilson(90+7pen)

Moura(25)
BCD

A ludicrous handball decision in added time allowed United to pilfer a point; Andy Carroll's header hitting a stray arm and Callum Wilson dispatching the spot kick.

Ahead through Lucas Moura's first half goal, only Karl Darlow stood between Spurs and a resounding victory - the visiting 'keeper making 11 noteworthy stops and the goal frame another two.
NUFC.com match report